Secure, private, untraceable, unlinkable, and fungible digital currency – these features distinguish Monero. While Bitcoin and other cryptocurrencies can also be considered fungible assets, Monero further obscures the transaction history of all XMR, making all tokens equally indistinguishable. Not only do the wallet addresses and transactions between users limit traceability, but those features are maintained within the XMR token itself, as Monero included fungibility as a feature of its token.
Twelve months ago, Monero (XMR) remained the worst-performing crypto asset. The privacy-focused coin is down from $500, to $180 in the past months. Pushing below key support levels amid a strong drop level. XMR suffered even a bigger loss following an announcement that Bittrex would be pulling out its support for the cryptocurrency and a few others that were put into the same bucket as Monero.
Perhaps, in the final hours of 2022, we can see a Phoenix-like Monero rising from the ashes. This Monero price prediction aims to look at the past price performance of Monero and future results and help cryptocurrency investors to make wise decisions, however, note that this advice is not financial.
Today's Monero price is $155.03 with a 24-hour trading volume of $62,841,932. Monero is up 1.18% in the last 24 hours. The current CoinMarketCap ranking is #27, with a live market cap of $2,816,974,730. It has a circulating supply of 18,170,029 XMR coins and the max. supply is not available.
What is Monero?
Monero is a cryptocurrency established based on tenets of privacy, even though it is an open-source cryptocurrency. Monero (XMR) is very much like other cryptocurrencies but with outstanding features that differ from other cryptocurrencies.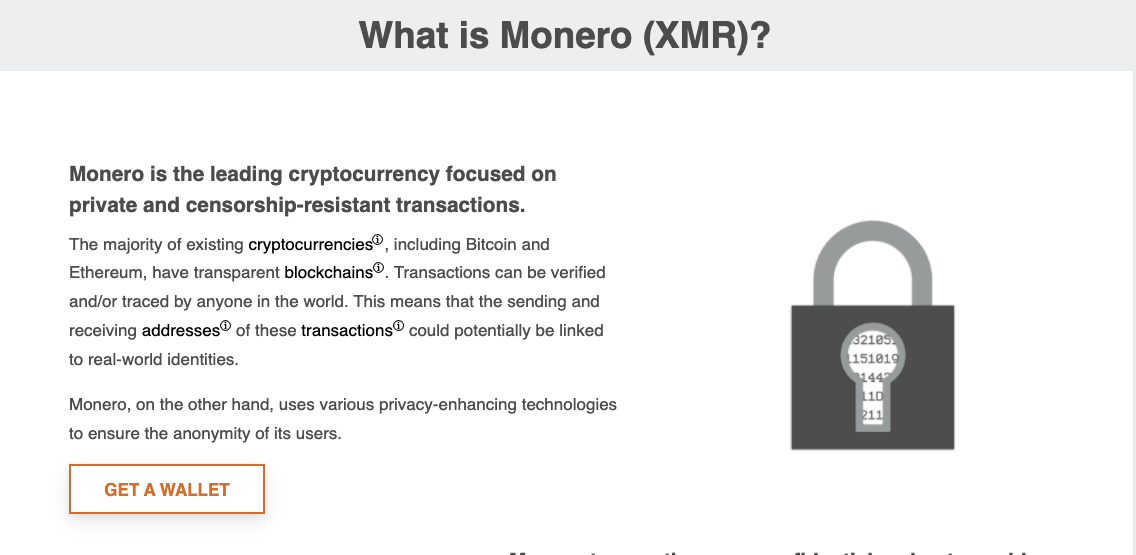 The privacy-focused cryptocurrencies aim to make the world easy to use and stress-free, while it is coupled with its privacy scheme attached to its anonymity. It assures users that all trading is untraceable, cementing traders' privacy and shielding holders from external forces.
This article will cover details of these privacy coins and the reason for their privacy and anonymity, along with the monero price forecasts for 2022 and beyond. There are plenty of things to consider before moving on to the monero (XMR) price analysis.
Reliable and confidential transactions
One of the most favorable options for traders and investors is trading any digital asset which guarantees privacy.
Monero (XMR) cryptocurrency is based on the open-source crypto design that uses stealth addresses for extra privacy. These randomly created addresses align with each project execution mainly scheduled for the receiver.
Using those addresses ensures the specific address the coin is being sent to remains hidden, preventing the receiver's identification.
This then means that any individual can trade without anyone knowing the source, amount, or destination. Thus, the XMR is a secure asset because your portfolio is safe even if governments around the globe decide to launch a crackdown on cryptocurrency.
Monero will undoubtedly succeed with its anonymous nature, so many investors could not take their eyes off trading the cryptocurrency or purchasing Monero to hold.
The Monero blockchain is pretty efficient with a good performance. Monero ring signatures are composed of the actual signer, who is then combined with non-signers to form a ring.
The group of ring signatures can be used to validate confidential transactions by implementing confidential ring transactions quickly.
The digital currency automates privacy transactions with the assistance of stealth addresses regardless of the strength attached to any of the trusted platforms wherein the storage is created.
Security of Monero coin
The security of the Monero coin was brought to the limelight by Monero's price predictions. It gives confident hope to investors that want to be saved from the oppressions of certain authorities just for engaging in cryptocurrency when they buy monero or sell monero.
Being a recap: Crypto is diving into a new world with secured sources, of which Monero Network has continued to maintain an apex seat for a long time.
Records have equally shown that crypto-mining malware is less effective as the security wall of the Monero network is seated on the rock, and hence chances of holders losing money rapidly are low.
There are so many rich-in-content platforms and currencies compared to scarce powerful anonymity-developed marketing platforms that are safe havens against oppressions, intimidations, unnecessary and rivalry threats of whichever type that tend to limit the operational tasks of such person.
Getting along with those limited platforms is no longer unachievable. Monero cryptocurrency and others have paid the sacrifices for that.
Monero's price maintains the front seat, and the coin has always been at the forefront based on monero price predictions. Monero coin privacy and the specifically designed platform have often been quite excellent, which has solved all the issues; and made them secure for any major exchanges.
However, conducting your own research and own due diligence is advisable as it represents the perfect path for getting self-satisfactory information about the crypto market.
Implications of Monero Price Forecasts
XMR Price Prediction positive implications
People should always acknowledge that Monero has proven to be one of the cryptocurrencies that run personally. The strength of these characteristics uses stealth address as a security pattern for investors' cryptos against external or internal invasion. The pros that are in favor of monero are listed below.
Linkage of any transaction in Monero to any individual is impossible.
The non-static surging in Monero ensures fees would not end up being exorbitant regardless of how the usage increases. Zero limits are in operation by blockchain.
Monero allows the possibility of selecting the person who sees or accesses your transaction. It is quite unaffordable for any authority to monitor one's operation.
Transactions in Monero cannot be traced.
Based on the past performance, positive things can be said, which makes it a good investment.
XMR Price Prediction negative implications
Whatever is laced with positivity will have, at least, a trail of negativity. Here are the negative aspects of Monero. Right from inception, much E-billfold is yet undeveloped. Jaxx or many other solution platforms do not exist.
The pattern of securing Monero such that the cryptocurrency is accurately tied is much more cumbersome than other cryptocurrencies across the globe.
This is presumed to be the sole cause of its inability to be more widely accepted by the community. It appears very hard to secure.
Recall that Monero doesn't rely on the operational level of bitcoin to exist? Yeah, this might be a valid reason why developing an application that works with its blockchain seems unfeasible.
Monero New Developments
Monero (XMR) uses cutting-edge encryption to offer its users a high level of privacy and security. The cryptocurrency's salient features include. Private transactions are allowed on the Monero and other protocols thanks to proofs with zero knowledge. When the money being sent has been encrypted, the transaction is regarded as secret. Any group member can create ring signatures, which are digital signatures. Due to ring signatures, it is difficult to pinpoint the origin of a Monero transaction because it cannot be tracked. A hard fork was used to implement the update; this irreversible alteration to the blockchain is not backward compatible, thus nodes must either accept it or diverge onto a different network.
The connection between transactions and node IP addresses is hidden because to Monero's Dandelion++ functionality. Thus, transaction secrecy is enhanced.
In addition to other privacy-protecting cryptocurrencies, Monero was delisted from a number of important exchanges, including Bittrex and Kraken in the UK. Some exchanges, including Coinbase, won't even list Monero (COIN).
This is because it's challenging to conduct know-your-customer and anti-money laundering (AML) checks on Monero users (XMR).
Ledger and Trezor, two well-known hardware wallets, both support the cryptocurrency, therefore Monero is still growing strong. The well-known Cake wallet, which previously solely supported Monero, now takes Litecoin (LTC), Bitcoin (BTC), and Haven (XHV).
Several intriguing improvements have been included as part of the update, including
Fee adjustments will increase overall network security and reduce charge volatility. The multi-signature technique will be improved, and crucial security fixes will be implemented.
Bulletproofs+ has taken the place of the current Bulletproofs algorithm. Bulletproofs+ increases transaction size and transaction speed. Overall performance is expected to improve by 5%–7%.
The number of signers needed for a ring signature will rise from 11 to 16 for each transaction.
A new technique called view tags will speed up wallet synchronization by 30% to 40%.
More than 300 developers from around the world have backed Monero. 71 developers collaborated on the most recent upgrade, highlighting the power of the Monero developer community.
Monero Technical Analysis
Monero price analysis reveals that the cryptocurrency has been following a bullish trend displaying further opportunities for positive activities, with the price of XMR/USD moving under the $156 mark. On September 3, 2022, the cost of Monero experienced a flash crash and reached $150, but it further increased to $155, which is the current price of Monero today, on September 4, 2022.
Monero price analysis reveals the market's volatility illustrates significant decreasing characteristics. The price of XMR/USD that is subject to change will change as the volatility fluctuates to either extreme; before that, the cost of Monero will remain stable and around the respective support and resistance values. As of now, the Monero price appears less prone to volatile change. As a result, Bollinger's band's upper limit is at $166, which serves as the strongest resistance for Monero. Conversely, the lower limit of Bollinger's band is available at $139, which represents the strongest support for Monero.
The XMR/USD price appears to be crossing over the curve of the Moving Average, indicating a bullish trend. Nevertheless, the Monero price seems to move upward, making the cryptocurrency track an increasing movement regarding its trading price. As a result, the price is set to break the resistance and reverse the market.
Monero price analysis reveals that the Relative Strength Index (RSI) is 51, indicating that the cryptocurrency falls in the central-neural category, not showing signs of devaluation or overvaluation. Furthermore, the RSI path appears to be following an upwards direction indicating that the price of Monero is experiencing an inclining value. The RSI score increases because of the dominance of buying activities.
Monero price analysis has deduced that the bulls control the market with the massive opportunity for further bullish activity. Although the market appears to show potential for a reversal, we can't be sure if it will happen. However, the breakout could be a silver lining for the Monero cryptocurrency, as their market is engulfed in bullish dominion. The bears could be the new victors of the market in the near future.
Monero Price Predictions by Authority Sites
Trading Beasts
With regards to its Monero XMR price prediction, TradingBeasts exercised caution. According to the website's 2022 Monero price forecast, the currency will be worth $156.90 in September. The currency will likely maintain its current value for the remainder of this year with a little downward trend, reaching a value of $156.76 in December, according to the publication.
Wallet Investor
According to WalletInvestor's Monero future price predictions, the currency will cost $218.83 in a year and $432.10 in five years. According to the website, the Monero Coins will surpass $300 in December 2024. The website's Monero predictions indicate the price of Monero for 2025 and predict a year-end value of $381.53.
Digital Coin Price
According to DigitalCoinPrices' Monero coin price prediction, the currency will reach $238.10 in September of this year. In 2023, 2024, and 2025, respectively, the forecaster predicts average values of $248.37, $249.99, and $318.73. It predicts that Monero Coins will trade at a lower price of $285.31 in 2026 but will then carry on with a general upward trend, resulting in a Monero price estimate of $759.65 for 2030, if the crypto market favors it.
Cryptopolitan
Monero Price Prediction 2022
In 2022 the price of Monero is predicted to reach a minimum level of $186.93. The XMR price can reach a maximum level of $205.94 with an average trading price of $193.68.
Monero Price Prediction 2023
The price of Monero is predicted to reach a minimum level of $274.24 in 2023. The Monero price can reach a maximum level of $331.39 with an average price of $284.21 throughout 2023.
Monero Price Prediction 2024
In 2024 the price of Monero is predicted to reach a minimum level of $398.75. The XMR price can reach a maximum level of $484.73 with an average trading price of $412.97.
Monero Price Prediction 2025
The price of Monero is expected to reach a minimum level of $601.24 in 2025. The XMR price can reach a maximum level of $680.43 with an average price of $617.76 throughout 2025.
Monero Price Prediction 2026
Monero price is forecast to reach the lowest possible level of $872.83 in 2026. As per our findings, the XMR price could reach a maximum possible level of $1,055.37 with the average forecast price of $897.54.
Monero Price Prediction 2027
In 2027 the price of Monero is forecasted to be at around a minimum value of $1,255.71. The Monero price can reach a maximum of $1,506.78 with the average trading value of $1,291.62
Monero Price Prediction 2028
The price of Monero is predicted to reach a minimum value of $1,843.14 in 2028. The Monero price could reach a maximum value of $2,176.30 with the average trading price of $1,894.81 throughout 2028.
Monero Price Prediction 2029
In 2029 the price of Monero is expected to reach a minimum price of $2,658.22. The XMR price can reach a maximum price of $3,242.27 with an average value of $2,752.96.
Monero Price Prediction 2030
The price of Monero is predicted to reach a minimum value of $4,227.14 in 2030. The Monero price could reach a maximum value of $4,665.22 with the average trading price of $4,364.79 throughout 2030.
Monero Price Prediction 2031
Monero price is forecast to reach the lowest possible level of $6,503.75 in 2031. As per our findings, the XMR price could reach a maximum possible level of $7,355.52 with the average forecast price of $6,721.99.
Monero Price Predictions by Industry Influencers
Lewis Jackson
Lewis Jackson, a crypto analyst on Youtube, asserts that the price of Monero is heading towards a breakout in 2022. The Youtuber predicts the price of the privacy coin will hit $2,019 by the end of this year, and if Bitcoin is going to rise too, the breakout could be strongly bullish in the coming months. Lewis claims that buying the crypto at the fibs points will yield 2X your investment, these fibs are around the 100 and 200-levels.
By analyzing the market cap, Invest with Fire Youtube channel analyst claims that Monero needs to grow by 254X from Monero's price today and exceed the total market capitalization of Bitcoin, which will have a positive impact on the future price. Such an increase would raise the price of the privacy coin to $10,000.
Assuming that the entire cryptocurrency market valuation reaches $6 – $10 trillion, most of the coins will rise in value, including the total market cap for Monero. In fact, the chances of trading above the exponential moving average Hence, raising the chances of Monero reaching $10K. The Youtuber has also bet on a thriving Monero community that will add to the popularity of the coin, as well as attracts retail investor accounts who have an affinity for high risk within a limited period.
Conclusion
Monero is not available on all exchanges because of its status as a "privacy currency" You may purchase Monero through a variety of exchanges, including Coinbase and Kraken.
In comparison to the few powerful anonymity-developed marketing platforms that are safe havens against oppressions, intimidation, needless and competition threats of any sort that tend to limit such a person's operational responsibilities, there are numerous rich-in-content platforms and currencies. It is no longer impossible to get along with those constrained platforms. Monero coin and others have made the necessary sacrifices.
May 2021 marked the highest point in Monero history. However, you still need to exercise caution. Cryptocurrency values have the potential to fluctuate greatly. You must conduct your own due diligence and should never risk more than you can afford to lose.
Monero's price remains in the lead, and Monero price forecasts show that the currency has always been in the lead. Monero's privacy and particularly created platform have frequently been fantastic, resolving all concerns and making them secure for any large exchanges.
Monero's price projections brought the security of the coin to light. They provide investors with optimism that they will be freed from the persecution of some authorities simply by buying or selling Monero.
Regardless of the strength associated with any of the trustworthy platforms where the storage is established, the digital currency automates privacy transactions with the use of stealth addresses. On the other hand, we recommend conducting your own study and due diligence because it is the best way to obtain self-satisfactory knowledge of the crypto market.
Due to the increasing desire for financial privacy, Monero is a fantastic long-term investment. It has persisted in demonstrating how much better than other currencies it is at protecting the privacy of its users. Additionally, it can make it very hard for anybody to track the quantity of currency being traded and avoid revealing its worth.
However, there is an erroneous claim linking Monero money to illicit funds like those used in drug trafficking. Contrary to what some have claimed, this is not a get-rich-quick scam or a money-laundering operation. It is only a cryptocurrency that protects users' privacy. It is entirely up to them what they want to do with their money.
Disclaimer. The information provided is not trading advice. Cryptopolitan.com holds no liability for any investments made based on the information provided on this page. We strongly recommend independent research and/or consultation with a qualified professional before making any investment decisions.