Aave Price Prediction 2023-2032: Is AAVE a Good Investment?
Aave Price Prediction 2023-2032
How much is Aave worth today?
Today's live Aave price is $96.84, with a 24-hour trading volume of $121,329,509. Aave is down 1.82% in the last 24 hours. The current CoinMarketCap ranking is #44, with a live market cap of $1,420,123,406. It has a circulating supply of 14,664,402 AAVE coins and a max. Supply of 16,000,000 AAVE coins.
Aave price analysis: AAVE price dent to $96.84 after the latest bearish turn
Aave price analysis shows a bearish trend.
Support for AAVE/USD price is present at $95.60.
Aave price is facing rejection at $100.
Aave price analysis on 5th December indicates that the cryptocurrency has dropped by 1.82% in the past 24 hours to $96.84, down from its highest intraday level of $100.52. This indicates a bearish outlook over the short term and a wider cryptocurrency market trend. The bears have maintained their momentum against the bears, pushing AAVE down to create support at $95.60.
Aave price analysis 24-hour chart: Bearish trend holds as AAVE drops toward the $95 level
The Aave price analysis 24-hour chart indicates that the bears have maintained their momentum against the bulls. The bears have driven the AAVE price from an opening of $99.81 to a low of $95.60, now acting as an immediate support level for 24 hours.
AAVE/USD 24-hour price chart: Tradingview
The Relative Strength Index (RSI) for AAVE/USD is slightly below the overbought region at 68.09, which shows that the current price action could be in consolidation mode before a potential breakout in either direction. The Bollinger bands have also shown a downward trend as the bands are moving closer to each other. The upper and lower bands remain unchanged at $97.25 and $57.53, respectively, indicating that the price could stay within these ranges in the near future.
AAVE/USD 4-hour chart: Sideways action likely as AAVE price trends lower
The 4-hour chart for AAVE/USD shows that the bears have kept AAVE below $100, an important level of resistance in this timeframe. The bulls have attempted to break through this level on multiple occasions, but the bears have been able to push AAVE back toward the $95 level.
AAVE/USD 4-hour price chart: Tradingview
The moving average convergence divergence (MACD) indicator is in the bearish zone, with the MACD line below the signal line. The RSI has also stayed neutral at 48.09, indicating that neither side dominates in momentum. The Bollinger bands have also shown a sideways action over the past few hours, with the upper and lower bands currently at $ 98.51 and $93.52, respectively.
What to expect from Aave price analysis?
Overall, the Aave price analysis displays a bearish outlook, and AAVE/USD continues to face strong resistance at $100. The immediate support for the cryptocurrency remains at the $95.60 level, which could be tested if further downside pressure appears. Technical indicators also indicate a bearish trend in the near term, with sideways action likely to occur before a potential breakout in either direction.
Recent AAVE News
Aave Considers Base as V3's New Location After Curve's Security Breach
In the rapidly evolving world of decentralized finance (DeFi), security remains a paramount concern. Aave, a prominent player in the DeFi sector, is reportedly contemplating a strategic shift in response to recent security incidents in the industry. The latest buzz suggests that Aave is keen on establishing its Version 3 (V3) on the Base platform, a decision influenced by the recent security breach at Curve.
Curve, another major DeFi platform, recently fell victim to a significant hack, shaking the confidence of many in the DeFi community. This incident has prompted several platforms, including Aave, to reassess their security protocols and infrastructure. The potential move to Base is seen as a proactive step by Aave to bolster its security measures and ensure the safety of its users' assets.
While the final decision is yet to be made, the shift underscores the importance of robust security mechanisms in the DeFi space. As the industry continues to grow, platforms like Aave are taking the necessary precautions to safeguard their reputation and users' funds. This potential move also highlights the dynamic nature of the DeFi landscape, where platforms must remain agile and responsive to emerging threats and challenges.
Aave Price Predictions 2023-2032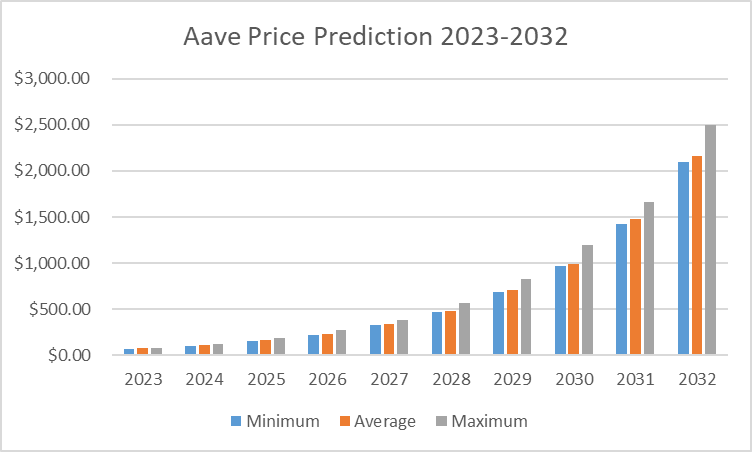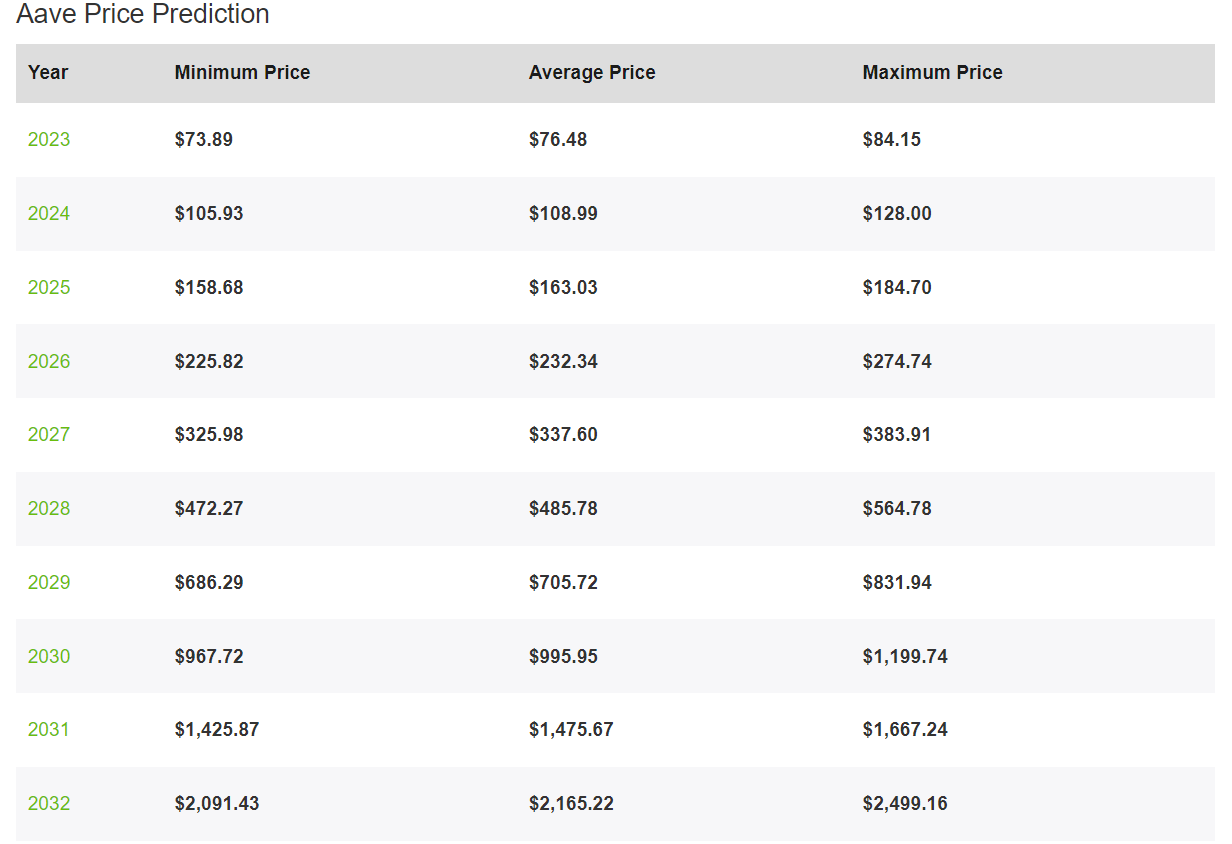 Aave Price Prediction 2023
Our forecast for 2023 suggests that the Aave price might touch the lowest level of $73.89. Based on our calculations, the AAVE price could hit the highest possible mark of $84.15, maintaining an average price of $76.48.
Aave Crypto Price Prediction 2024
The anticipated minimum price of Aave for 2024 stands at $105.93. Aave's price could increase to a maximum of $128.00, while the average trading price might settle at $108.99 throughout the year.
AAVE Price Prediction 2025
Our thorough technical analysis of AAVE's past price data indicates that in 2025, Aave's price might fall to a minimum level of $158.68. However, the AAVE price could climb to a maximum of $184.70, maintaining an average trading price of $163.03.
Aave Price Prediction 2026
In our forecast for 2026, the Aave price is expected to drop to the lowest level of $225.82. Simultaneously, the AAVE price might touch the highest possible mark of $274.74, with an average Aave cost of $232.34.
Aave Price Prediction 2027
In 2027, the value of a single Aave token could touch a minimum level of $325.98. The AAVE price might hit the highest level of $383.91 while maintaining an average price of $337.60 throughout the year.
Aave Price Prediction 2028
Our comprehensive technical analysis of AAVE's past price data suggests that in 2028, the Aave price might hit a minimum of $472.27. The Aave's value could reach a peak of $564.78, with the average trading price possibly being $485.78.
Aave Price Prediction 2029
The minimum predicted price of Aave for 2029 is expected to be $686.29. The Aave price could increase to a maximum of $831.94, maintaining an average trading price of $705.72 throughout the year.
Aave Price Forecast 2030
The forecast and technical analysis for 2030 suggests a minimum Aave price of $967.72. The AAVE price has the potential to touch a maximum of $1,199.74, with the expected average price settling at $995.95.
Aave (AAVE) Price Prediction 2031
Based on our forecast and technical analysis, the Aave price might reach a minimum of $1,425.87 in 2031. The AAVE price can touch a peak of $1,667.24, with the average trading price possibly being $1,475.67.
Aave Price Prediction 2032
Our prediction for 2032 suggests a minimum Aave price of $2,091.43. The Aave price might reach a maximum of $2,499.16, with the average price expected to be $2,165.22 throughout the year.
Aave Price Prediction By Wallet Investor
According to the price prediction by Walletinvestor analysts, the AAVE price will be 7.373 USD at the beginning of 2025 and 3.885 USD at the beginning of 2028. According to the price prediction by Long Forecast analysts, the AAVE price will be 49.6 USD at the beginning of 2025 and 102.9 USD at the beginning of 2028.
Aave Price Prediction By DigitalCoinPrice
Digital Coin Price's Aave price prediction forecast gives a promising price trend for Aave's future potential. In 2024, experts at DigitalCoinPrice anticipate that Aave's price will surpass the $155.99 mark. As the year concludes, the decentralized finance token is projected to attain a minimum value of $139.28 while having the potential to reach an impressive peak of $165.06.
Fast forward to 2032, Aave's price is predicted to break through the $1,259.43 threshold. By year's end, the DeFi token is expected to settle at a minimum value of $1,222.54. Moreover, Aave's price could achieve a remarkable high of $1,263.56.
AAVE Price prediction by Coincodex
Coincodex's analysis suggests a short-term bearish outlook for Aave (AAVE), with a predicted price increase of 2.28%, potentially reaching $ 92.89 by November 10, 2023. The market sentiment is currently neutral, with the Fear & Greed Index also reflecting this sentiment at a score of 48. Aave's recent market performance shows moderate volatility, with a 5.81% fluctuation rate and a balanced number of green days over the past month. This combination of factors may present a buying opportunity for investors considering the current market conditions and future growth potential.
Looking ahead with an optimistic lens, Aave's value could experience significant growth by 2026. If Aave follows a growth pattern similar to Facebook's historical trajectory, its price could be an impressive $2,394.80. Alternatively, aligning with the more gradual growth rate of the internet's adoption, Aave's price is projected to reach $274.72 by 2026. These projections are speculative and based on the premise that Aave's adoption curve will mirror these historical growth trends.
Aave Price Prediction By Market Sentiment
Born from the vision of creating a more accessible and transparent financial system, Aave has carved a niche as a decentralized lending and borrowing platform. Moreover, the price of the Aave token has remained stable despite several macro conditions and market turmoil, making it a good investment option, according to its market sentiment. Several analysts believe that Aave will continue to surge shortly and attain a price of $500 in 2024.

For instance, a Youtube-based crypto analyst who goes by the name Lee the Captain predicts that Aave's price will cross the $2000 mark by 2024. The market expert has given three reasons behind this bullish prediction. First, he believes that Aave's ecosystem is growing quickly and has the potential to rival traditional financial institutions in terms of lending volume.
AAVE Overview
AAVE's Price History
ETHLend started in 2017 as a peer-to-peer digital asset lending and borrowing platform. It generated $16.2 million during an initial coin offering (ICO). During the same ICO that 1 billion units of LEND coins were sold, with 300 million reserved for the AAVE team.
ETHLend was given a new name in 2018, AAVE, with ETHLend becoming a subsidiary. Note that AAVE means ghost in Finnish. In January 2020, the protocol officially went live on the Ethereum mainnet. By August of the same year, the AAVE token rose to be the second DeFi protocol to get to $ 1 billion in total value locked, with MakerDao being the first.
In the same month (August), AAVE was awarded an EMI (Electronic Money Institution) license by the FCA, which saw LEND rapidly rise by 30% to a new ATH at the time. Around the same time, a second version of the AAVE protocol was announced and was released on 3 December of the same year. Other features were reported simultaneously, involving a trading desk, a game studio, and a payment system.
Aave's proposal to upgrade its protocol was passed unanimously by its community. Following Aave v3's mainnet launch on 16 March, AAVE token surged as much as 114% to a near three-month high of $261.29 hit on 1 April 2022.
More about the AAVE Network
What's AAVE?
Aave is simply an Ethereum-based money market where users can borrow and lend various digital assets, from stablecoins to altcoins. Aave (AAVE) is also the native cryptocurrency of the Aave platform: a decentralized finance (DeFi) platform where users can borrow a range of cryptocurrencies and lend assets in exchange for interest payments, all without needing an intermediary.
Decentralized lending system
Users of AAVE now require a traditional financial institution to manage their money. They need to trust the code used to write the program, and they won't be disappointed. If you're wondering about AAVE, it's an acronym for African American Vernacular English. No matter, know that among several emerging DeFi cryptocurrencies, Aave is a decentralized lending system that allows users to lend, borrow, and earn interest on crypto assets without intermediaries.
The AAVE software allows a lending pool capable of lending or borrowing up to 17 different crypto coins, some of which include ETH, BAT, and MANA. And just like other DeFi systems, if you want to borrow AAVE, you need first to deposit collateral. The equivalent of whatever you post is what will be given to you as a loan. The borrower then collects the funds as a unique token called aToken. The aToken is assigned the worth of another asset and then encoded so that lenders receive interest when they deposit.
5th highest TVL
Aave, along with the likes of Uniswap (UNI), Compound (COMP) and Curve, is considered one of Ethereum's blue-chip DeFi protocols. Aave is also deployed on layer-1 network Avalanche (AVAX) and Ethereum's layer 2 protocol Polygon (MATIC).
According to DeFi total value locked (TVL) aggregator DefiiLlama, the Aave protocol has the fifth highest TVL across all blockchain at $14.3bn, as of 4 April. Aave protocol is currently the top DeFi platform in terms of TVL on Avalanche and Polygon.
AAVE Founder
AAVE was developed by Stani Kulechov in 2017. Stani hails from Finland, and he is a programmer and an entrepreneur. He started the AAVE cryptocurrency. He is majorly into cryptocurrency, blockchain, and fintech.
He graduated with a Law Master's degree in 2018. He graduated from the University of Helsinki. While at the university, he worked as a Trainee at a Law Firm named Castrén and Snellman between January and May 2017. He was still a trainee between August and November of the same year at Bird and Bird. He then became a Member of the Legal Aid Committee of the Law Students Association of Pykäläry.
While he was at the university for his Master's, finance struck his interest, becoming involved with FinTech. The concepts of smart contracts and the Ethereum blockchain became appealing to him, and he was motivated to develop a decentralized financial system.
Where to buy AAVE?
Steps to Buy Aave
Step 1 – Open an Online Account. The 1st step to buying Aave begins with opening an account with an exchange that supports Aave. …
Step 2 – Buy a Wallet (Optional). After deciding where you want to purchase Aave and opening your account, you can open a wallet to store your tokens safely.
Step 3 – Make Your Purchase.
Crypto.com App users can now purchase AAVE at true cost with USD, EUR, GBP, and 20+ fiat currencies and spend it at over 60M merchants globally using the Crypto.com Visa Card.
Coinbase customers can now buy, sell, convert, send, receive, or store AAVE, in all Coinbase-supported regions, except New York State. Same steps as on top.
AAVE Latest Developments
The Aave DAO gave the development team the green light to launch its decentralized stablecoin GHO. Aave users will mint the stablecoin against their collateral on the platform. The proposal for a stablecoin was made on 7 July 2022 by Aave Companies (development team of Aave protocol) for the launch of GHO, an overcollateralized and US dollar-pegged stablecoin. Upon due consideration by the Aave community, 12 votes were against the proposal, while 17 abstained; the proposal received 99.9% approval from the community, which committed over 500,000 AAVE tokens. The approved proposal also included that Aave V2 on Ethereum will be the first facilitator for GHO. Ethereum will enable to provide liquidity by generating and burning GHO tokens when needed.
Further discussions on GHO are ongoing on the Aave governance forum.
Also Read:
Conclusion
The Aave ecosystem has continued to draw investors since its launch with a growing community and the earning opportunities it provides investors by enabling them to lend, borrow, and earn interest on crypto assets without intermediaries. Defi projects like Aave are also prone to attacks by bad actors who take advantage of vulnerabilities in the system.
Exploits on Defi protocols this year have resulted in the loss of millions of investor funds; while Aave has not been attacked, blockchain bridges threaten the Aave platform's security. The price of Aave is anticipated to continue rising into the future.
The Aave ecosystem has continued to draw investors who use the platform to explore opportunities its ecosystem presents, including Defi, DAO, and NFTs. Through the protocol's latest update, users can now log on to some of the hottest opportunities within the Aave ecosystem.
The proposal to deploy Aave on zkSync 2.0 passed, and the integration of their open-sourced liquidity protocol will ensure the safety and scalability of Defi protocols. JP Morgan transacted on a public blockchain using Aave smart contracts is a huge milestone for DeFi, representing a massive step towards bringing traditional financial assets into DeFi.
The analysts' consensus is that as long as the price is trading above this area (a long-term descending parallel channel since reaching an all-time high price of $527.80 in May 2021), an eventual breakout seems to be the most likely scenario. A weekly close below it would invalidate the bullish hypothesis and suggest that new lows are expected.
You can buy Aave on top-tier crypto markets like Binance, Huobi global, and Coinbase.
This guide has given you an exhaustive analysis of Aave's future price trends; however, always seek a second opinion from a financial advisor before investing in the crypto markets. Also, you may take a look at our GUIDES on Crypto Investing.
How high will Aave go?
Favorable market conditions will push Aave to a maximum trading price of $3,488.67 in 2032.
Where can I buy Aave?
Aave is listed on Binance, Gate.io, Coinbase exchange, KuCoin, and Huobi Global.
Why should I buy AAVE?
AAVE has been audited and given a clean bill of health by financial and programmers. The protocol is open-source, meaning that anyone can interact with the program to enrich their projects.
What can I do on Aave?
Once you are on the Aave platform you can deposit, borrow, earn, govern and innovate on the Aave protocol.
Is AAVE undervalued?
AAVE is a long-term bet with a stellar team and connections. Few projects are in DeFi and are as good/professional as AAVE. Unsurprisingly, AAVE is also the first large mover into institutional DeFi as they've cultivated those relationships starting in Europe.
Everything might seem overvalued right now as hype must be built up for the community, but if and once the bubble bursts, if you don't buy back in, you will be crying in a few years' time maxima.
How do I navigate the multi-chain scene (Polygon, Avalanche, Harmony, Fantom, Binance Smart Chain, Terra, and Solana)?
We've mapped out the fiat on-ramp/off-ramp and how to move liquidity between these chains to take advantage of liquidity mining incentives and new projects that pop up on these chains. My home base CEX is Crypto.com since they have direct USDC and MATIC withdrawal to Polygon. 
How do I protect my DeFi funds?
If you have more than $5,000 in crypto and are using Metamask Extension, you HAVE to watch this guide to learn how to use decentralized apps like PancakeSwap https://www.youtube.com/watch?v=EG-E77E1o2M.
Is Aave a good investment?
Yes. Aave has utility with over $20B locked in its ecosystem.
Disclaimer. The information provided is not trading advice. Cryptopolitan.com holds no liability for any investments made based on the information provided on this page. We strongly recommend independent research and/or consultation with a qualified professional before making any investment decisions.