Binance Coin Price Prediction 2023-2032: Is BNB Ready for the Bull Run?
Binance Coin Price Prediction 2023-2032
Binance coin and the entire crypto market have seen little gains in the past few days, as prices have been consolidating in tight regions. BNB prices have dropped by 14.11% since touching $248.9 in August 2023.
What does the future hold for Binance Coin?
How much is BNB worth?
The current Binance coin price is $231.12 with a 24-hour trading volume of $839,104,841. BNB is down 0.06% in the last 24 hours. The current CoinMarketCap ranking is #4, with a live market cap of $35,069,313,783 USD. It has a circulating supply of 151,697,752 BNB coins and the max. supply is not available.
Binance Coin Price Analysis: BNB value depreciates to $231 as bears takeover
TL;DR Breakdown
Binance Coin price analysis predicts a downtrend.
Coin value has dropped to $230.9 low.
Strong support is found at $219 end.
The latest one-day and four-hour Binance Coin price analysis for 06 December 2023 confirms a bearish trend for the cryptocurrency. A considerable rise in bearish strength has been observed since yesterday, as the selling pressure is increasing continuously. As a result of the latest bearish retrieval, coin value has depreciated below $231 margin.
BNB price analysis on a daily timeframe: Downside extends further as price drops below $231
The recent one-day Binance Coin price analysis shows signs of a downward swing for the day. The bears have been occupying the leading position since the past 24-hours as the selling activity is intensifying continuously. Because of the rise in bearish strength, BNB/USD value has reduced to $231 low. On the other side, its Moving Average (MA) value stepped up to $229.5 because of the recent bullish strike. 
Although the past week proved favorable for the bulls, currently the circumstances are going in favor of the sellers. The volatility has slightly decreased which is a bullish hint regarding the coming market trends. As a result, the upper band of the Bollinger bands indicator is now at $249 while its lower band is at $219. The Relative Strength Index (RSI) indicator confirms the downtrend as its overall value has decreased to an index 47.4 today. 
Binance Coin price analysis on the 4-hour chart: Cryptocurrency discovers recovery above $230 horizon
The latest four-hour Binance Coin price analysis gives out a favorable prediction for the buyers. Although the bears remained dominating during the early hours of the day, currently the trend is relatively bullish. The bulls have remained successful in securing the lead as BNB/USD value climbed up to $230.9. Moreover, the Moving Average value has improved up to $231.1 because of the upswing.
The four-hour price chart shows a decreasing volatility which is a bullish hint regarding the coming market trends. Moreover, the upper and lower values of the Bollinger bands indicator have shifted as well. Currently, the upper Bollinger band occupies $234.1 end whereas the lower Bollinger band is present at $227. The RSI graph displays an ascending curve as its overall value has improved up to 52.15 amidst recovery.
What to expect from Binance Coin price analysis
The one-day and four-hour Binance Coin price analysis confirms a declining trend for today. Red candlesticks have been dominating the price chart since yesterday, as the coin value depreciated to $231. On the opposite side, the four-hour price analysis depicts a bullish movement in the past few hours which is an encouraging sign for the buyers.
Recent News/Opinion on BNB
Binance Streamlines Liquidity Pools and Discontinues Crypto Pairs.
In a strategic move to optimize trading experiences and enhance market efficiency, Binance has decided to discontinue several liquidity pools on its Binance Liquid Swap service. The affected pairs, including AVAX/USDT, BCH/USDT, DOT/BNB, MATIC/BTC, SHIB/DOGE, SOL/BNB, TRX/USDT, USDC/USDT, and BCH/BNB, will be removed from the platform by December 6. This decision aligns with Binance's broader strategy to streamline offerings and phase out BUSD support by February 2024. While impacting liquidity providers, the goal is to concentrate liquidity, reduce slippage, and ensure better transaction prices for users, reflecting Binance's commitment to market optimization.
BNB Drops, BTCETF Rises Amid Regulatory Dynamics.
Binance's native token, BNB, has plummeted over 10% in response to potential criminal charges and a rumored $4.3 billion settlement facing Binance and its CEO. Despite regulatory challenges, large BNB whales are accumulating the token, signaling optimism among major stakeholders. In contrast, Bitcoin ETF (BTCETF) is gaining traction as an investment avenue, with major asset managers filing for SEC approval. BTCETF employs a deflationary model tied to ETF approval milestones, attracting over $1.3 million in its presale. The prospect of institutional capital influx, coupled with regulatory optimism, positions BTCETF as a potential hedge amid uncertainty surrounding Binance and BNB.
Binance Empowers 150 Million Users with Innovative Web3 Wallet
Binance, the world's leading cryptocurrency exchange, has introduced an exciting new feature within its mobile app – the Web3 wallet. Announced at the Binance Blockchain Week conference in Istanbul, this wallet promises to revolutionize the way users interact with digital assets. By combining security and accessibility, it utilizes multiparty computation (MPC) to split private keys into three parts, with users retaining control over two, ensuring enhanced protection against security breaches.
While this innovative wallet is unavailable to users in the United States due to regional restrictions, it underscores Binance's commitment to enabling self-sovereign finance in a user-friendly and secure manner. This move comes as Binance explores additional crypto services, responding to recent reports of a declining market share in spot trading, while competitors like Upbit thrive.
Binance Expands DeFi Options with USDC.e Deposits, Withdrawals, and Conversions on Arbitrum Network
Binance has introduced deposits, withdrawals, and conversions of USD Coin Bridged (USDC.e) on the Arbitrum network. Users can now easily access and utilize USDC.e on the platform, marked as "ARBUSDCE." This move reflects Binance's commitment to expanding its decentralized finance (DeFi) offerings. It complements the existing support for native USD Coin (USDC) on Arbitrum, providing users with a broader range of options.
Binance Adds Support for Native USD Coin on Polygon Network
Binance, a leading cryptocurrency exchange, has announced its support for Circle's native USD Coin (USDC) on the Polygon network, further strengthening the partnership between financial platforms and blockchain networks. As part of this integration, there will be a dual token system, with Binance continuing to support the bridged version of USDC while also recognizing the native USDC on Polygon. Some operational adjustments are expected, including a temporary halt in deposit and withdrawal services for the existing USDC on Polygon. However, key services like trading and Binance Earn will remain unaffected, ensuring a smooth user experience.
Greenfield: Decentralized Data Storage and Management
Greenfield, a novel blockchain on the BNB Chain ecosystem, introduces a user-centric, decentralized data storage solution. It enables users to securely upload, control access to, and redundantly store data across a decentralized network of providers. With blockchain-managed access rights and granular control, users own and manage their data, reducing data-related risks. Greenfield offers high performance, interoperability with BNB Smart Chain, and data monetization options, including data marketplaces. It also supports decentralized web hosting, content licensing, and cross-chain data management, making it a versatile addition to the Web3 landscape.
Also Read:
Binance Coin Price Predictions 2023-2032
Price Predictions by Cryptopolitan
As the crypto landscape continues to evolve, it's essential to stay informed about potential price trends and developments in one of the industry's leading assets. Join us as we explore what the years 2023 to 2032 may hold for BNB and gain valuable insights into its potential price movements.
| | | | |
| --- | --- | --- | --- |
| Year | Minimum Price ($) | Average Price ($) | Maximum Price ($) |
| 2023 | 266.93 | 276.56 | 307.41 |
| 2024 | 395.87 | 409.70 | 463.99 |
| 2025 | 590.59 | 606.98 | 691.19 |
| 2026 | 866.16 | 890.44 | 1,015.52 |
| 2027 | 1,322.39 | 1,358.01 | 1,507.91 |
| 2028 | 1,983.47 | 2,051.37 | 2,272.97 |
| 2029 | 2,996.18 | 3,098.75 | 3,453.14 |
| 2030 | 4,249.59 | 4,373.54 | 5,142.74 |
| 2031 | 6,367.47 | 6,542.41 | 7,502.15 |
| 2032 | 9,619.25 | 9,880.94 | 11,091.37 |
Binance Coin Price Prediction 2023
Our Binance Coin (BNB) price prediction for 2023 anticipates that the asset may undergo a substantial upswing to achieve a peak valuation of $307.41. Our data models also suggest that the average trading price of BNB over the year could be around $276.56. In a less bullish market scenario, our estimates point to a floor price of $266.93 for the asset.
Binance Coin Price Prediction 2024
In regard to our Binance Coin (BNB) price forecast for 2024, our analytics indicate that the digital asset may touch a peak value of $463.99. Our models forecast an average trading value of $409.70, with a potential minimum price of $395.87.
Binance Coin Price Prediction 2025
Looking ahead to 2025, our price forecast for Binance Coin suggests that the cryptocurrency could reach a maximum price of $691.19. Our estimations also propose an average value of $606.98 for BNB. In more conservative market conditions, the asset could still maintain a floor price of about $590.59.
Binance Coin Price Prediction 2026
With respect to our Binance Coin price prediction for 2026, we posit that BNB could scale up to a maximum price of $1,015.52. Our models project that even in a less favorable market, the asset could still achieve a base price of $866.16, with an expected average price of $890.44.
Binance Coin Price Prediction 2027
For the 2027 financial year, our Binance Coin price evaluation infers that BNB may reach a maximum valuation of $1,507.91. On the average, our calculations point to a trading price of approximately $1,358.01. The minimum price for the digital asset, according to our analytics, could be close to $1,322.39.
Binance Coin Price Prediction 2028
Our Binance Coin price forecast for 2028, suggests that the ongoing growth of the Binance ecosystem will contribute significantly to BNB's future price action. Our projections foresee a maximum price of $2,272.97, an average price of $2,051.37, and a minimum trading value of $1,983.47.
Binance Coin Price Prediction 2029
For the year 2029, our Binance Coin price analysis predicts a sustained upward trajectory for the asset, potentially reaching a maximum price of $3,453.14. We also forecast an average trading price of about $3,098.75, and a minimum price of $2,996.18.
Binance Coin Price Prediction 2030
According to our Binance Coin price prediction for 2030, BNB could attain a maximum market valuation of $5,142.74. In addition, our forecasts suggest an average market price of $4,373.54 and a minimum price of $4,249.59.
Binance Coin Price Prediction 2031
Based on the Binance Coin price prediction for 2031, our analysis indicates that BNB could achieve a maximum market value of $7,502.15. The average projected price could be around $6,542.41, while the floor price might be approximately $6,367.47.
Binance Coin Price Prediction 2032
Per our Binance Coin price prediction for 2032, we anticipate the possibility of BNB achieving a maximum price of $11,091.37. We predict a minimum price of $9,619.25 and an average price of $9,880.94.
Binance Coin Price Prediction by Wallet Investor
Wallet Investor's technical analysis presents a pessimistic long-term outlook for Binance Coin (BNB). According to their algorithmic forecasts, BNB's price could potentially drop to $111.857 by the year 2024. Furthermore, their 5-year projection indicates a substantial 65.65% decline in the cryptocurrency's value.
Coincodex Binance Coin (BNB) Price Prediction
Coincodex's forecasts reveal diverse price paths for Binance Coin (BNB) across various timeframes. In the short term, a 5-day projection suggests a price upswing to $271.72. Over a month, BNB's value is anticipated to stabilize at approximately $444.47. The 3-month and 6-month predictions indicate even more significant growth, with BNB potentially reaching $678.59 and $635.86, respectively. Looking further ahead, the 1-year forecast exhibits optimism, projecting an increase to $721.88.
Binance Coin Price Prediction by Technewsleader
Technewleader's forecast paints a bright picture for the Binance Coin (BNB) cryptocurrency, indicating robust growth in the years to come. In 2023, they anticipate a maximum price of $311.45, with a projected price range from $396.17 to $483.46 in 2024. As we move into 2025, the minimum expected trading price for BNB stands at $597.96, while the maximum price is envisioned to soar to $702.41. If this upward trend persists, Technewleader's forecast suggests that BNB's maximum trading price could experience a substantial surge, potentially reaching $3,007.61 by the year 2029. In 2032, BNB's price may fluctuate within the range of $8,606.21 to $9,872.05.
Binance Coin Price Predictions by Industry Influencers
More Crypto Online analyses BNB's chart, looking at the five waves up. He suggests that wave five of one might have topped, and wave two might have started. The analyst pointed out a support area for Wave 2 on the chart, which ranges between $213 and $234. He explained that in most cases, he would like to see a wave 2 retracement reach the 50% Fibonacci retracement level at $227, but acknowledges the shallow nature of wave 2 corrections.
The analyst expressed cautious optimism about the current situation, pointing out that there are five waves up, and the move down appears fairly impulsive. More Crypto Online anticipates gaining more clarity over the next few days regarding whether Wave 2 is in progress. He concludes by providing some rough price targets for a third wave rally; suggesting that if wave two retraces only to the 50% Fibonacci level, potential targets could be $288, but more likely $304, $315, or even $333.
Binance Coin Overview
A year ago, the observation was that BNB and LINK were the only two coins that really steadily went up during the bear market. It is quite likely that as BNB continues to grow in popularity, we will see wider use of BNB. With the introduction of the Binance Card, BNB could almost be used anywhere, though technically speaking, with every transaction, it will be converted into fiat. A good indicator would be market performance. Let's take a look at how BNB compares with other altcoins.
BUSD and Binance-Peg BUSD is available on multiple blockchains, including Ethereum, BNB Smart Chain, and BNB Beacon Chain. Now Binance-Peg is also available on Avalanche and Polygon. Binance-Peg BUSD support on Avalanche and Polygon provides traders with a fast and safe way to transfer the USD-backed stablecoin across different platforms. All users are now able to explore the Avalanche and Polygon ecosystem with Binance-Peg BUSD more safely and efficiently. In the future, the Binance BUSD team is committed to bringing more use cases into its ecosystem. Follow BUSD updates on CoinMarketCap.
Binance Price History
The varying price differences of Binance Coin (BNB) can be studied better using Crypto Volatility Index (CVIX). CVIX helps analyze the price dynamics and helps to ponder on essential elements that affect the current and future Binance coin prices. CVIX also carefully visualizes the algorithmic methods that demonstrate the market sentiment of BNB, either in a positive or negative light.
Binance Coin had a remarkable 2019. It was positive in many aspects, and although the currency slowed a little in the second half of the year, it had a significant push by the end of 2019, primarily because of the IEO that was launched later that year. Binance coin price closed in 2019 with a gain of over 150%. However, in the following year (2020), a noticeable downward pattern was noticed. It was ongoing for more than six months, mainly due to the pandemic at the beginning of the year. The downward trend was seemingly more extended than usual.
A significant characteristic of many cryptocurrencies is volatility, and the Binance coin suffers from the same. Binance coin has shown a lot of potential over the short-term price analysis. Let's see what experts have to say about the BNB.
Coinfan's Binance coin prediction is that BNB holds an optimistic future as the current price rally might continue till the end of the year. Take a look at this progression in BNB prices.
More on the BNB Network
What is Binance Coin?
The Binance coin is listed on the Binance trading platform as an individual coin, a digital asset, trading with the BNB symbol. Binance coin started in 2017 and is backed by blockchain. BNB coin runs on ERC20 Ethereum. the Binance ecosystem is designed to support a range of utilities, such as trading fees, listing fees, exchange fees, etc.
Furthermore, the main reason why Changpeng Zhao (founder of Binance Exchange) initiated the BNB coin was to remove many trading problems hindering the crypto market. The vision he had made solved those problems and, at the same time, made Binance coin a top competitor with other crypto exchanges.
Who are the founders of the Binance exchange?
Changpeng Zhao and He Yi started the Binance coin in July 2017. They first began Binance as an Initial Coin Offering (ICO), but today, Binance has become one of the most significant crypto coins globally.
The crypto token has garnered support from other partnerships, which has helped its usage spread. It includes a partnership with Asia's premier high-end live video streaming platform, Uplive, which sells virtual gifts for BNB tokens to Uplive's 20 million-strong user base.
Binance coin is also supported by the platform, the mobile app, and the VISA debit card of Monaco, the pioneering payments and cryptocurrency platform.
Fortunately, price predictions are meant to cover price forecasts for Binance coins for a prolonged period. Therefore, short-term trends are not primarily instrumental in determining the future price of a coin. As a result, the Binance coin price prediction for 2022 onwards will focus on historical price actions and price predictions from market experts.
Binance 's CEO, Changpeng Zhao, visited El Salvador 4 months ago. His company, being the biggest cryptocurrency exchange in the world, and El Salvador, being the first country to adopt bitcoin as legal tender, something big is brewing. According to the Secretariat of Communications of the Presidency of the Republic of El Salvador, Binance's CEO is visiting the country "along with other entrepreneurs, who are interested in knowing the investment possibilities."
Is there a maximum supply of BNB coins?
Yes, a maximum supply of 170,532,785 BNB coins is available, and a total supply 153,432,897 have been distributed as of April 2021. Binance whitepaper says that half of the top supply was used for the ICO and public sale of the token.
BNB crushed it throughout 2021 as the Crypto Coin of 2021 and cemented itself as the third more popular coin in the world by market capitalization. Not a small feat, considering the phenomenal year that altcoins had. Several projects had their moment in the sun, capturing capital, headlines, and attention. No one got near Binance Coin, though. The award was given by Arcane Research.
Binance Coin adoption and technology
Binance coin is famous for many reasons, but a significant reason is that it holds about 1 billion in trading volume every day. Binance seems to have a very bright future, but it needs stability. To do that (bring stability) and avoid sudden market fluctuations, BNB will have to be burnt using a systematic approach.
BNB had the potential to have an initial coin offering (ICO) of 100 million, and upon its launch, it hit the potential in July 2017, and $15 million was successfully raised. The generated funds were used to make the ecosystem larger by using a large sum of the money for marketing purposes, an exciting business opportunity that provided crypto startups a chance to be listed on the Binance cryptocurrency exchange platform.
Another essential characteristic that makes BNB unique and a center of attraction for adoption is that other digital assets can be traded for BNB. It can pay the Binance 0.1% trading fee when users move their crypto coins from the exchange to a private wallet. The price is typically charged in addition to the withdrawal fee.
However, Binance does not support smart contracts and uses the Tendermint Byzantine-Fault-Tolerance (BFT) consensus protocol which allows multiple nodes (Validator nodes, accelerator nodes, etc.) to be used in transactions, validation, and authentication processes at different stages.
Another vital advantage of the Binance coin is that it can be used in particular ICO investments using the Binance launchpad program; this creates a flawless framework where other virtual tokens can be traded. This creates an excellent opportunity and allows for extra credit and debit cards to be supported on the Binance cryptocurrency exchange platform, the digital currency, and the mobile app.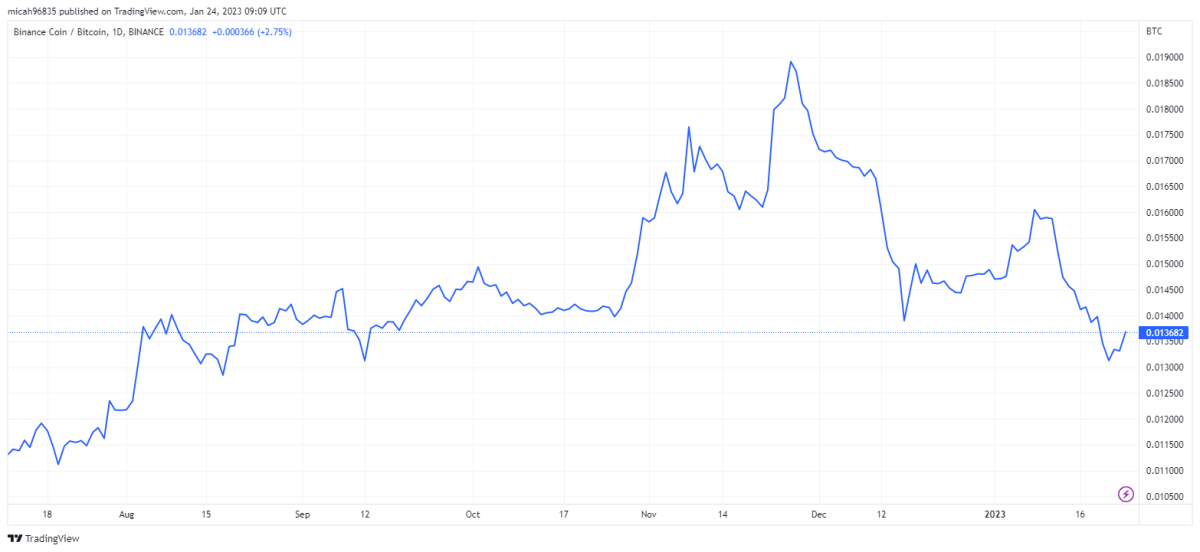 Learn More About Binance NFT Marketplace
Conclusion
The Binance Coin ecosystem has continued to draw investors who use the platform to explore opportunities its ecosystem presents, including Defi, the crypto market, and NFTs. The token has risen to glory within a short time as more applications are built on the smart chain. It has several use cases, making it engraved in the trading experience of several traders using the Binance crypto exchange platform.
With Binance Chain expertise, users can deploy smart contracts that fit their application needs or virtual machines that dictate exactly how the blockchain should operate. Binance has built one of the most secure trading platforms in the world where users can enjoy different security features, such as KYC, 2FA, and Anti-Phishing Code, to protect themselves against nefarious actors. Users can also rest assured that their funds are SAFU in Binance.
Currently, BNB is among the top five largest cryptocurrencies by market cap. Despite the current market downturn, the price predictions of BNB are relatively optimistic since the token demonstrates healthy growth behavior, and the trading platform continues to grow and amass new users. The overall development of the Binance exchange could directly translate to the positive growth of the BNB coin.
If the market stabilizes and further developments and collaborations continue in the Binance ecosystem, as we have had with the Binance chain, massive adoptions are imminent in the forthcoming years, which could result in BNB breaking through the $1000 mark. For instance, Paysenger, Mean Finance, Buff Network, Weave6, MIM, and Hinkal, among others, are some of the latest projects coming to the BNB chain. While the prospects of BNB look good, the crypto market still remains volatile, and investors are reminded to do their due diligence and approach the Binance coin market with the utmost caution.
Is Binance Coin a good investment?
As one of the fastest-growing cryptocurrencies, Binance Coin has a large following of market enthusiasts who are confident in the coin's future. Not to mention, it is the coin that powers Binance, the world's largest crypto exchange. So, BNB could be a profitable investment based on its past price data.
Where to buy Binance Coin (BNB)
Binance Coin (BNB) is listed on several exchanges including Binance, FTX, KuCoin, Gate.io, Binance.US, and Huobi Global.
How do I deposit BNB?
The moment you activate the dropdown menu, you should see your profile, click on "Deposit," and you will be directed to the deposit page. Once you get to the deposit page, you will select which coin you want to deposit. Binance supports the deposit of over 150 cryptocurrencies.
However, you will see a "Wallets" button at the bottom of your screen after logging in on mobile. Click it, and it directs you to your wallets page, then selects deposit and after you are redirected to the deposit page, you choose or search for the coin you want to deposit. You then follow the steps you are directed to follow, and your coin should be deposited.
How do I check the balance on my Binance account?
If you want to check your balance on Binance, you log in and go to the "Funds" section, and then you go to the "Balances" subsection. You will then see a list of cryptocurrencies; there are different coins, usually very long. On the left part of your screen, you will see the icons of each crypto coin and the name, On mobile, however, if you log in and go to your "Wallets" below the deposit button, you will see your "Portfolio" above the deposit button, and you will see your "Total Value (BTC)." There, you can check your balance.
Disclaimer. The information provided is not trading advice. Cryptopolitan.com holds no liability for any investments made based on the information provided on this page. We strongly recommend independent research and/or consultation with a qualified professional before making any investment decisions.