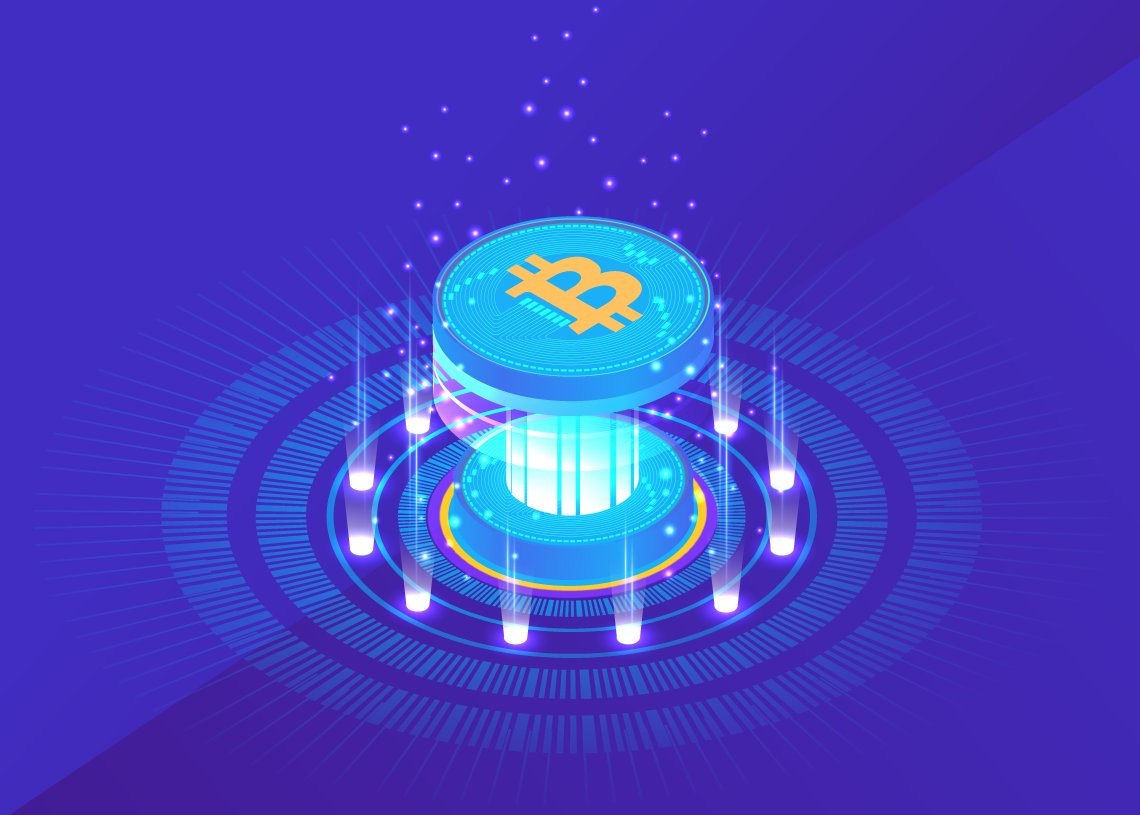 Bitcoin Price Prediction 2023-2032: Will Bitcoin Bulls Rally?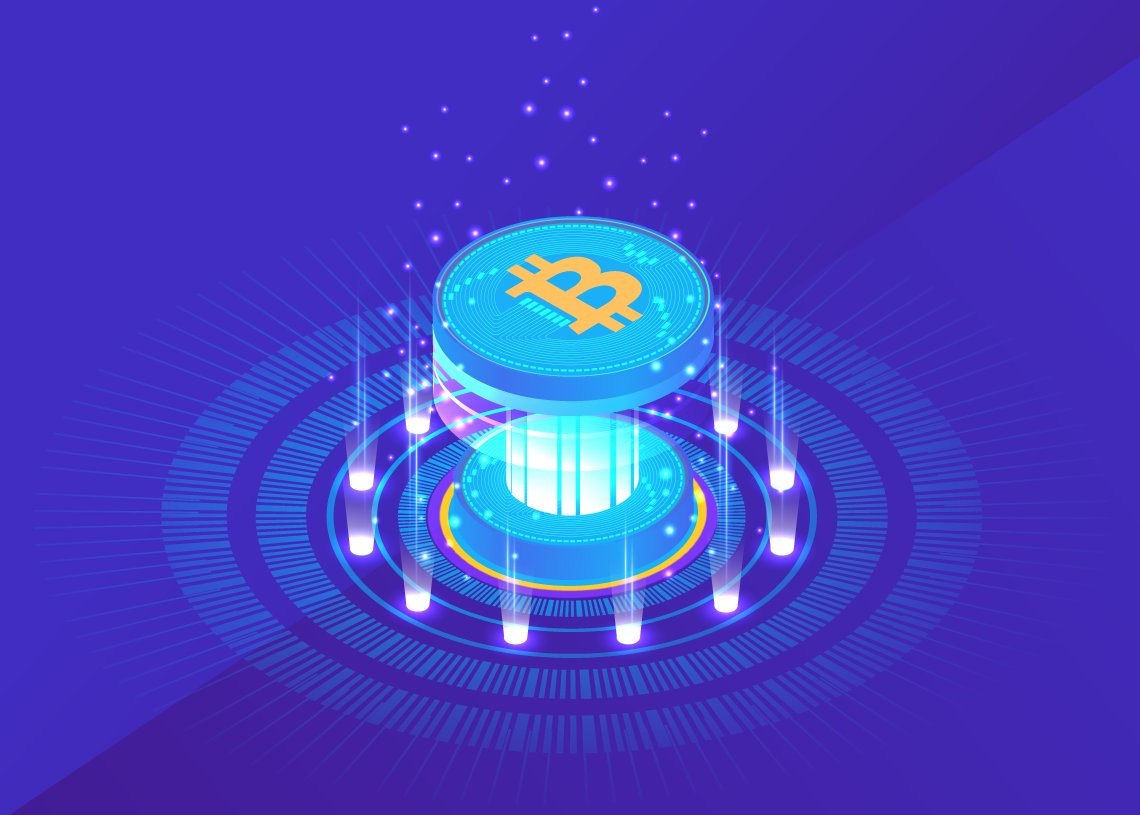 BTC Price Predictions 2023-2032
How much is Bitcoin (BTC) worth?
Today, the price of Bitcoin stands at $43,945, with a trading volume over the past 24 hours reaching $25.7 billion. Its market capitalization is $858 billion, and it currently commands 54% of the market share. Over the last 24 hours, the BTC price has experienced a 0.91% increase. As for its circulating supply, 19.46 million BTC are in circulation out of a maximum possible supply of 21 million BTC.
Bitcoin price analysis: BTC price attempts to hold above $44K but faces selling pressure
TL; DR Breakdown
BTC price analysis shows that Bitcoin initiated a failed attempt to hold above $44K, resulting in a consolidation
Resistance for BTC is present at $44,554
Support for BTC/USD is present at $41,270
The BTC price analysis for 7 December confirms that bulls sparked a solid buying pressure as BTC price attempted to hold above the $44K level. However, BTC price failed to meet buying demand, resulting in multiple rejections and a consolidation.
BTC price analysis 1-day chart: Bitcoin price faces a decline in buying demand
Analyzing the daily price chart of Bitcoin, BTC's price is witnessing minor selling demand as the price failed to surge above $44K. Bears are currently attempting to send the BTC price in a fear region below $42K as BTC price continues to tumble. However, the $44K level might soon weaken as buyers show enough strength to hold BTC price. The 24-hour volume has declined to $19.72 million, showing a decreased interest in trading activity today. BTC price is currently trading at $43,945, increasing by over 0.9% in the last 24 hours.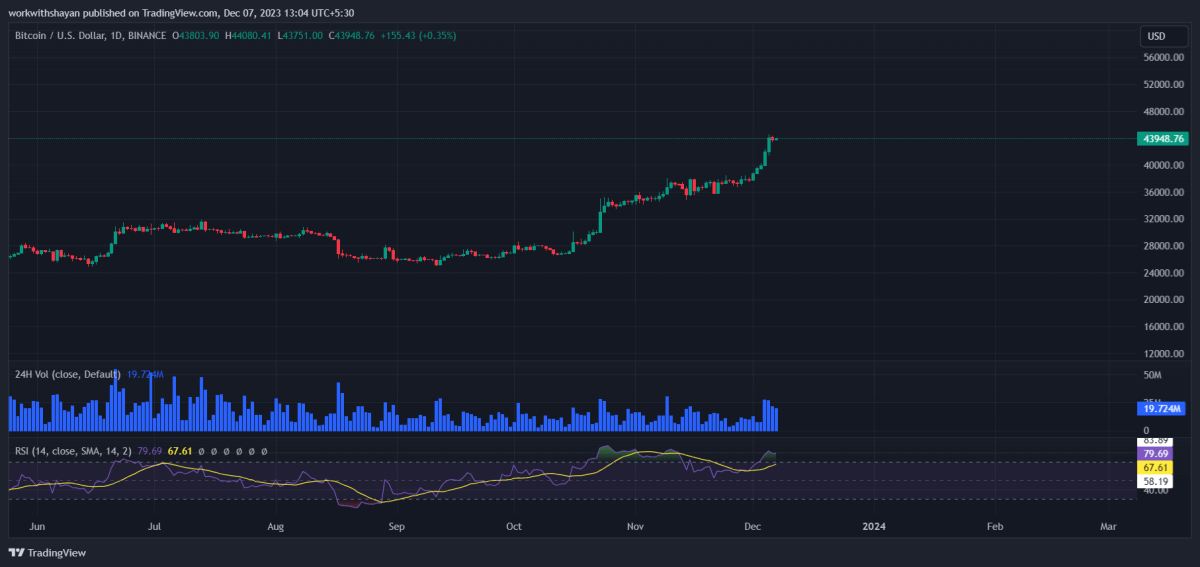 The RSI-14 trend line has surged from its previous level and currently trades in the overbought region at 79-level, hinting that sellers are losing momentum. The SMA-14 level suggests volatility in the next few hours.
BTC/USD 4-hour price chart: Bears aim for a decline below EMA20
The 4-hour Bitcoin price chart suggests that bears are strengthening their position above EMA20 as BTC price faces a consolidated momentum. Currently, they are attempting for an immediate decline; however, bulls hold buying confidence.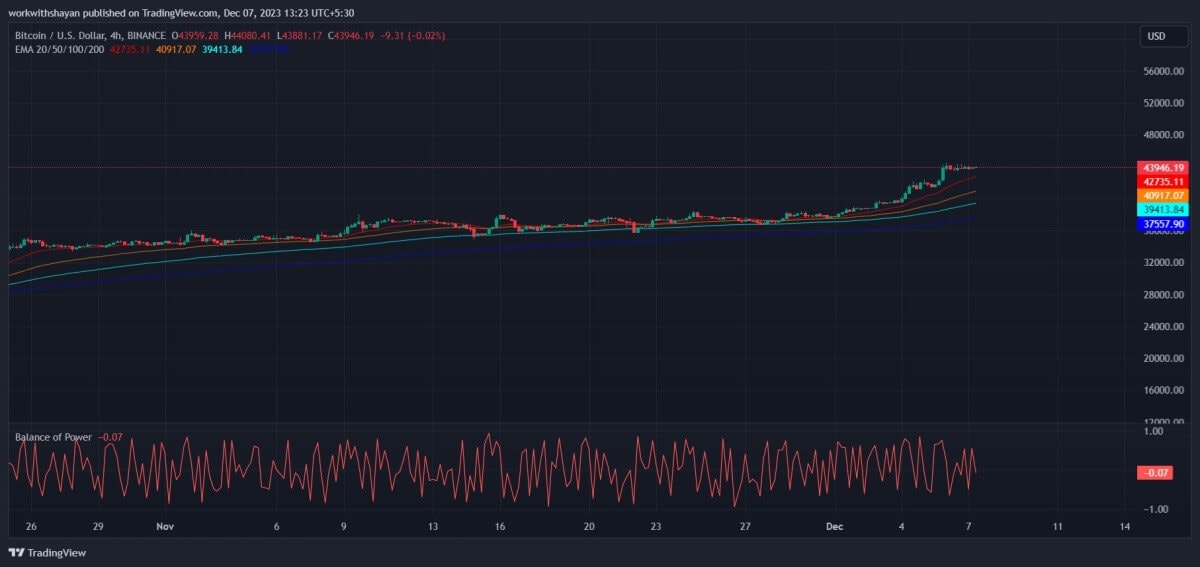 The BoP indicator is trading in a negative region at 0.07, showing that short-term sellers are taking a chance to accelerate a downward trend.
Additionally, the MACD trend line has formed bearish candles below the signal line, and the indicator attempts a negative momentum, strengthening short-position holders' confidence.
What to expect from BTC price analysis next?
The hourly price chart confirms that Bitcoin attempts to drop below the immediate support line; however, bulls are eyeing for further recovery rally in the upcoming hours. If BTC's price successfully holds its momentum above $44,554, it will fuel a bullish rally to $48,221.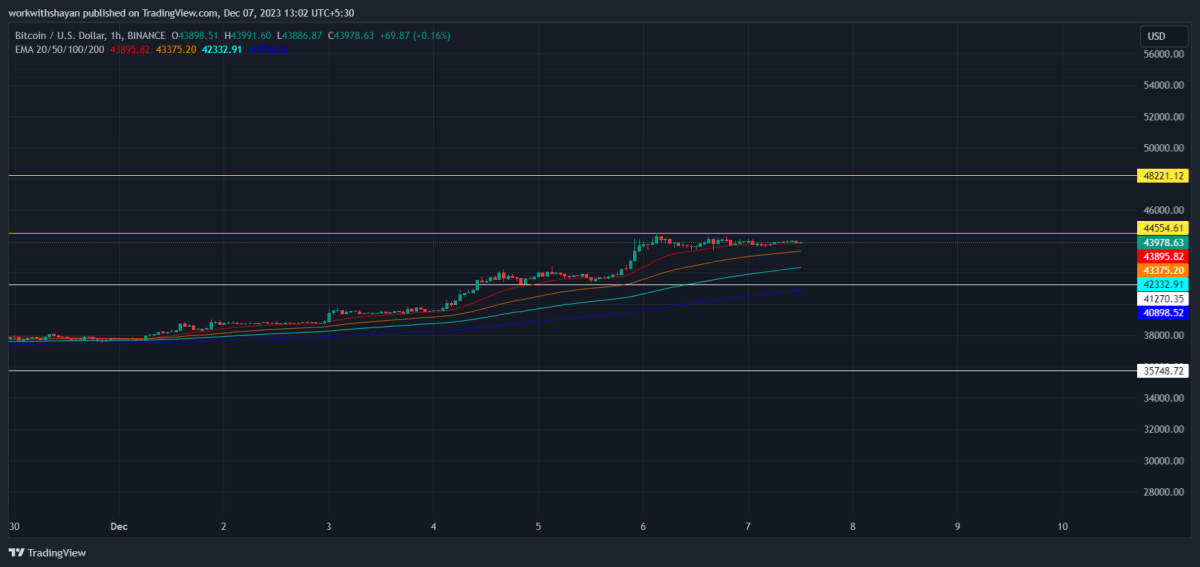 If bulls fail to initiate a surge, BTC price may drop below the immediate support line at $41,270, which may begin a bearish trend to $35,748.
Recent News
BlackRock receives funding: BlackRock announced in a new SEC filing that it secured $100,000 as initial funding for its Bitcoin ETF, with an investor buying 4,000 shares at $25 each.
BlackRock Meets The SEC: BlackRock and Nasdaq met with the U.S. Securities and Exchange Commission to discuss a potential spot Bitcoin exchange-traded fund (ETF). BlackRock presented two models for their iShares Bitcoin Trust, but the SEC's response and decision on approving a spot BTC ETF remain unclear.
WisdomTree amends S-1 form: WisdomTree updated its spot Bitcoin (BTC) ETF prospectus in a revised Form S-1 submission to the U.S. Securities and Exchange Commission (SEC). This follows their June 2023 reapplication for a spot Bitcoin ETF, seeking approval to list and trade shares of the WisdomTree Bitcoin Trust on the CBOE's BZX Exchange.
SEC Delays Spot Bitcoin ETF: The U.S. Securities and Exchange Commission (SEC) has postponed its decisions regarding the approval of spot bitcoin ETF applications submitted by Franklin Templeton and Global X, as indicated in a recently issued notice.
Grayscale Vs SEC Discussion: The SEC is discussing with Grayscale Investments the conversion of GBTC to a bitcoin ETF, a move that could significantly impact the crypto market. The industry eagerly anticipates such approvals as they could simplify investor access to cryptocurrencies.
Valkyrie amends spot Bitcoin ETF filing: Valkyrie Investments has modified its application for a Bitcoin ETF with the U.S. SEC, proposing a fund that lets investors buy shares tied to Bitcoin value, to be traded on Nasdaq as "BRRR."
Grayscale Court Victory: The D.C. Circuit Court concluded its case between the SEC and Grayscale, overturning the SEC's denial of Grayscale's bitcoin ETF application. This reaffirms the court's earlier decision criticizing the SEC's initial rejection as unfounded, affecting Grayscale's $17 billion trust.
Tesla's Bitcoin Holdings: In its Q3 2023 report, Tesla revealed unchanged Bitcoin assets, maintaining its $184 million stake. This consistency follows its major sell-off in Q2 2022, where it sold about 75% of its Bitcoin, amounting to over 30,000 BTC for $936 million. The company is reallocating funds to double its AI computing power.
SEC Again Delays BTC ETF: The SEC stated that it would extend the timeframe for making a decision on the Bitcoin ETF applications submitted by ARK 21Shares, BlackRock and GlobalX among others.
Bitcoin Adoption Fund: Nomura's digital arm, Laser Digital Asset Management, has launched a Bitcoin Adoption Fund for institutional clients. This is the first of many digital investment options by Nomura, a Japanese financial giant with over $500 billion in assets. The new fund offers direct Bitcoin exposure.
Franklin Templeton Files For Spot Bitcoin ETF: Franklin Templeton entered the competitive field of Bitcoin ETFs by filing for one, to be held by Coinbase, and traded on Cboe BZX Exchange. They have not yet revealed the product's ticker symbol.
Grayscale Forces The SEC: Grayscale Investments called on the SEC to expedite the approval of its proposed Bitcoin ETF, following a court win. A D.C. Court of Appeals panel ruled that the SEC's rejection of the ETF was unjustified, briefly boosting Bitcoin's price by nearly 7%.
SEC Delays Spot Bitcoin ETF Applications: According to filings, the U.S. Securities and Exchange Commission (SEC) has postponed its decision on a series of spot Bitcoin ETF applications until October. These applications were submitted earlier this year by various firms, including BlackRock, WisdomTree, Invesco Galaxy, Wise Origin, VanEck, Bitwise, and Valkyrie Digital Assets.
Grayscale's Bitcoin ETF Gets A Greenlight: The D.C. Court of Appeals ruled in favor of Grayscale against the SEC, allowing the conversion of its Bitcoin Trust to an ETF. This decision could influence other firms like BlackRock and Fidelity aiming to launch bitcoin ETFs.
Europe's First Bitcoin ETF: London's Jacobi Asset Management has unveiled its Bitcoin ETF on Euronext Amsterdam on 15 August. This marks Europe's inaugural Bitcoin ETF launch, outpacing the U.S. in its debut. The ETF is listed under the ticker BCOIN.
Tether BTC Mining Software: Tether developers plan to launch new JavaScript libraries for Bitcoin mining hardware like WhatsMiner, AvalonMiner, and Antminer. Paolo Ardoino, CTO of Bitfinex and Tether, hinted on X (previously Twitter) that some mining software might become open-source. The main goal is to improve mining efficiency and operations.
Bitcoin ETF Vs. SEC: Bloomberg Intelligence ETF analysts have increased their predictions for the approval and launch of at least one spot Bitcoin (BTC) exchange-traded fund (ETF) in the U.S. this year. Analysts James Seyffart and Eric Balchunas now believe there is a 75% chance of a spot Bitcoin ETF launching this year, up from their previous estimate of 65%. This comes after a series of recent developments.
Several leading institutions, including BlackRock, Fidelity, WisdomTree, and Valkyrie, have submitted applications for a spot Bitcoin ETF in recent months, aiming to make Bitcoin investment more accessible.
Although the Securities and Exchange Commission (SEC) has previously rejected such applications, many experts believe there's a high likelihood that at least some of these applications will be approved. BlackRock's application, in particular, is considered promising, given its track record of rarely having an ETF application denied.
Bitcoin Price Predictions 2023-2032
Price Predictions By Cryptopolitan
| | | | |
| --- | --- | --- | --- |
| Year | Minimum ($) | Average ($) | Maximum ($) |
| 2023 | 42,119.13 | 46,067.79 | 47,384.02 |
| 2024 | 64,634.71 | 66,938.10 | 77,807.95 |
| 2025 | 92,046.02 | 95,392.93 | 1,13,792.57 |
| 2026 | 1,36,139.22 | 1,39,954.94 | 1,60,960.69 |
| 2027 | 1,98,355.35 | 2,05,353.09 | 2,35,675.67 |
| 2028 | 2,84,405.26 | 2,92,619.39 | 3,45,617.11 |
| 2029 | 4,09,313.61 | 4,21,018.39 | 4,90,898.30 |
| 2030 | 6,08,695.00 | 6,29,745.92 | 7,16,210.78 |
| 2031 | 9,10,555.43 | 9,42,042.72 | 10,84,161.77 |
| 2032 | 13,71,528.68 | 14,09,210.39 | 16,03,338.68 |
Bitcoin Price Prediction 2023
The price of 1 Bitcoin is expected to reach a minimum level of $42,119.13 in 2023. The BTC price can reach a maximum level of $47,384.02 with the average price of $46,067.79 throughout 2023.
Bitcoin Price Prediction 2024
The price of Bitcoin is predicted to reach a minimum level of $64,634.71 in 2024. The Bitcoin price can reach a maximum level of $77,807.95 with the average price of $66,938.10 throughout 2024.
BTC Price Forecast for 2025
As per the forecast and technical analysis, in 2025 the price of Bitcoin is expected to reach a minimum price value of $92,046.02. The BTC price can reach a maximum price value of $113,792.57 with the average value of $95,392.93.
Bitcoin (BTC) Price Prediction 2026
Bitcoin price is forecast to reach a lowest possible level of $136,139.22 in 2026. As per our findings, the BTC price could reach a maximum possible level of $160,960.69 with the average forecast price of $139,954.94.
Bitcoin Price Prediction 2027
The price of Bitcoin is predicted to reach a minimum value of $198,355.35 in 2027. The Bitcoin price could reach a maximum value of $235,675.67 with the average trading price of $205,353.09 throughout 2027.
Bitcoin Price Prediction 2028
According to our deep technical analysis on past price data of BTC, in 2028 the price of Bitcoin is predicted to reach a minimum level of $284,405.26. The BTC price can reach a maximum level of $345,617.11 with the average trading price of $292,619.39.
Bitcoin (BTC) Price Prediction 2029
According to our deep technical analysis on past price data of BTC, in 2029 the price of Bitcoin is forecasted to be at around a minimum value of $409,313.61. The Bitcoin price value can reach a maximum of $490,898.30 with the average trading value of $421,018.39.
Bitcoin Price Forecast 2030
Bitcoin price is forecast to reach a lowest possible level of $608,695.00 in 2030. As per our findings, the BTC price could reach a maximum possible level of $716,210.78 with the average forecast price of $629,745.92.
Bitcoin (BTC) Price Prediction 2031
The price of Bitcoin is predicted to reach a minimum value of $910,555.43 in 2031. The Bitcoin price could reach a maximum value of $1,084,161.77 with the average trading price of $942,042.72 throughout 2031.
Bitcoin Price Prediction 2032
As per the forecast price and technical analysis, in 2032 the price of Bitcoin is predicted to reach a minimum level of $1,371,528.68. The BTC price can reach a maximum level of $1,603,338.68 with the average trading price of $1,409,210.39.
Bitcoin Price Prediction By Coincodex
According to the Bitcoin price prediction by Coincodex, the price of Bitcoin is anticipated to increase by 8.11%, reaching $47,787 by December 13, 2023. Coincodex's technical indicators suggest a current market sentiment of Bullish, and the Fear & Greed Index indicates a level of 72, classified as Greed. In the past 30 days, Bitcoin has experienced 16 out of 30 green days, representing 53% of the time, with a price volatility of 5.52%. Based on this forecast from Coincodex, it is considered a favorable time to invest in Bitcoin.
Considering the historical price trends of Bitcoin and Bitcoin halving cycles, the projected lowest price for Bitcoin in 2024 is estimated to be around $29,564. Furthermore, next year, the price of Bitcoin is anticipated to potentially climb as high as $101,872 following interest from Bitcoin miners.
Bitcoin Price Prediction By Digital Coin Price
According to Digital Coin Price's Bitcoin price prediction, the price of BTC is expected to surpass $99,544.15 in 2024. By the end of the year, Bitcoin is projected to attain a minimum price of $94,153.10. Additionally, the BTC price has the potential to achieve a maximum level of $114,311.68.
The forecast data analysis indicates that the price of BTC is projected to exceed $839,768.04 in 2032. By the conclusion of the year, Bitcoin is anticipated to achieve a minimum value of $830,931.94. Moreover, the BTC price has the potential to reach a peak of $842,294.81.
Bitcoin Price Prediction By CryptoPredictions.com
According to CryptoPredictions.com, Bitcoin is forecasted to begin January 2024 at a value of $36,167.979 and end the month at $38,239.133. Throughout January, the maximum projected price for BTC is estimated to be $46,800.350, while the minimum price is anticipated to be $31,824.238.
BTC Price Overview

The price of Bitcoin had experienced notable peaks and troughs in its value. Despite this volatility, the unique nature of the Bitcoin network and its limited supply of coins has attracted the attention of investors and traders worldwide. The blockchain technology underlying Bitcoin enables secure and transparent transactions without the need for intermediaries, making it an attractive alternative to traditional financial systems.
In recent years, Bitcoin has trended upwards, with significant increases in value occurring in 2017 and 2021. This growth has been driven by a variety of factors, including increased adoption and acceptance of Bitcoin as a form of payment, as well as speculation by investors and traders. Today, Bitcoin is trading at +56654654.6% above its all-time low in July 2010.
While the future of Bitcoin's price remains uncertain, many experts predict that the trend towards increased adoption and acceptance of digital currencies will continue to drive demand for Bitcoin and other cryptocurrencies.
BTC Price history
Bitcoin's (BTC) price again reached an all-time high in 2021, as values exceeded over 65,000 USD in November 2021. That particular price hike was connected to the launch of a Bitcoin ETF in the United States, whilst others in 2021 were due to events involving Tesla and Coinbase, respectively.
Tesla's announcement in March 2021 that it had acquired 1.5 billion U.S. dollars worth of the digital coin fueled mass interest. The market was noticeably different by the end of 2022, however, with Bitcoin prices reaching roughly 17194.91 as of January 10, 2023, after another crypto exchange, FTX, filed for bankruptcy.
Large BTC holders – 'whales' – are said to make up two percent of anonymous ownership accounts, and own approx 92 percent of BTC. As most people who use cryptocurrency-related services worldwide are retail clients rather than institutional investors, Bitcoin prices are difficult to measure, as movements from one large whale already have a significant impact on this market.
More on Bitcoin
What is Bitcoin?
Launched in 2009, Bitcoin is a decentralized digital currency powered by blockchain technology. Satoshi Nakamoto created the coin to overcome the shortcomings of government-issued currencies without requiring a controlling authority.
Bitcoin (BTC) was created out of the need for a cryptography-based e-payment system rather than the conventional trust-based system. Cryptocurrency acts as a store of value and a payment method for any transaction process in the crypto space. It is often dubbed "digital gold."
Bitcoin's current cryptography is based on an impenetrable algorithm (SHA-256) designed by the United States National Security Agency (NSA) in 2016, after the collapse of the SHA-1 algorithm. This algorithm makes it impossible to crack the Bitcoin network.
Since the launch of Bitcoin in 2009, its value has risen dramatically, from less than 0.01 USD in May 2010 to over 67,000 USD in November 2021. Bitcoin is expected to attain newer feats in the coming years as more institutional investors and traders continue to turn to cryptocurrency.
What Influences Bitcoin's Price?
The world's premier cryptocurrency, Bitcoin, has recently taken a substantial hit, dipping below the $25.5K threshold and reaching its lowest value in three months. This downward trend follows a lawsuit initiated by the U.S. Securities and Exchange Commission (SEC) against Binance, a leading cryptocurrency exchange, and its founder and CEO, Changpeng Zhao (CZ).
The news of this legal dispute sparked a swift wave of Bitcoin selling, causing a ripple effect across the majority of other cryptocurrencies. The market strain has escalated as the SEC has expanded its legal pursuits to encompass Coinbase, another key contender in the cryptocurrency exchange market.
Crypto experts posit that if Bitcoin can hold its resistance level at $26,000, we might see a bounce back in the coming months. However, if this level is breached, Bitcoin could potentially tumble to its lowest ever value of $20,000.
Yet, the experts also caution that the current rise in interest rates and a more stringent monetary policy might hinder Bitcoin from making a significant recovery in the near term.
Despite these hurdles, the year 2023 holds promise for Bitcoin advocates who see it as a "digital safe-haven" or "virtual gold". These enthusiasts are confident that Bitcoin can offer investors a substantial hedge or attractive yields during periods of market instability.
Bitcoin Challenges
Despite its success, Bitcoin has faced several criticisms, especially its energy-hungry mining system. According to an energy consumption tracker developed by the University of Cambridge, Bitcoin mining was estimated to consume 100 TWh per year, about one-third of the UK's total energy consumption in 2016.
In addition, BTC's criminality potential has positioned it for more scrutiny, as it has facilitated numerous dark web dealings, such as acquiring illegal weapons, money laundering, etc.
The most significant and long-standing challenge of Bitcoin is scalability. Bitcoin's underlying technology limits its performance in terms of transaction completion timeframe, with an insufficient capacity of 3-7 TPS. As more transactions are initiated on the network, processing delays will surface. Several proposals have been put forward to nip this concern in the bud, but a favorable long-term fix remains unclear.
How do you buy and sell Bitcoin?
You can buy and sell Bitcoin through cryptocurrency exchanges or peer-to-peer platforms. To purchase Bitcoin, you typically need to create an account with a cryptocurrency exchange, fund your account, and place an order to buy Bitcoin.
What is Bitcoin's role in the broader financial system?
Bitcoin and other cryptocurrencies are seen by some as a disruptive force that could challenge traditional financial systems and provide greater financial freedom and autonomy for users.
Where to store Bitcoin?
The best ways to store Bitcoin include hardware wallets, paper wallets, and software wallets. Hardware wallets are considered the most secure, as they store private keys offline and require physical confirmation of transactions. Paper wallets, which involve printing out private keys and keeping them in a secure location, are also considered secure but require careful handling. Software wallets, which run on computers or mobile devices, are a great option, but more vulnerable to hacking and malware attacks.
What drives the value of BTC?
Bitcoin's value is determined by supply and demand factors, such as market sentiment, adoption rates, regulatory changes, and investor speculation. Bitcoin's decentralized nature, scarcity, and high-security features also contribute to its value in the market.
Conclusion
As the crypto market leader, Bitcoin cryptocurrency is one digital asset with massive potential for mainstream adoption. Several businesses already accept Bitcoin as an alternative to fiat currencies, with the latest club member being the Spanish company Telefonica. The telecommunication giant recently partnered with crypto exchanges Bit2Me to enable settlements in Bitcoin, among other cryptocurrencies.
According to our BTC price forecast, Bitcoin's long-term prospects are looking good, with several possibilities of future price appreciation. Our expectations are also backed by Bitcoin price history. Bitcoin could be a significant portfolio addition for many BTC investors in years to come. However, before you buy Bitcoin or any other cryptocurrency, do remember to conduct your own research, taking into account all risks involved.
Is Bitcoin a Good Investment?
According to analysts, it is good to buy Bitcoin before it's too late and the entire world starts to accept Bitcoin, and it turns into a global currency. Fiat currencies won't hold much value in the future as the crypto market surges to new heights despite the bearish market we see now. Our analysis shows that blockchain technology adoption will surge, and more investors will acquire digital assets, making Bitcoin a good investment.
How many Bitcoins are left to be mined?
There are a total of 21 million Bitcoin to be ever created. 19.26 million have already come out of the mining farms that perform hashing algorithms that help Bitcoins blockchain network and related companies to do their work. Therefore, most Bitcoin has already come into existence (around 90 percent), and one would think about what would need to change to get more Bitcoin after the total maximum is exceeded. The answer is – you will have to acquire them through crypto exchanges.
How high can Bitcoin price rise?
Favorable market conditions will push BTC to a high price of $1,162,379.70.
What's causing Bitcoin prices to drop?
Some factors leading to the fall of Bitcoin's price include rising interest rates, growing inflation, potential recession, and of course, the persistent global economic woes.
Where to buy Bitcoin?
Bitcoin is the largest cryptocurrency in the market and is available on virtually all exchanges. You can buy bitcoin from Binance, FTX, Coinbase Exchange, KuCoin, Gate.io, and many others.
Disclaimer. The information provided is not trading advice. Cryptopolitan.com holds no liability for any investments made based on the information provided on this page. We strongly recommend independent research and/or consultation with a qualified professional before making any investment decisions.