Shiba Inu Coin Price Prediction 2023-2032: Is SHIB Skyrocketing Soon?
Shiba Inu Price Prediction 2023-2032
Let's walk through Shiba Inu's tracks through time to help decide whether SHIB is an excellent addition to your crypto portfolio. Let's see what Elon Musk will do to help push the meme coin. After our walkthrough of the Shiba Inu price predictions, we will hopefully be more aware of SHIB value,
How much is SHIB worth?
Today's live Shiba Inu price is USD 0.000007419, with a 24-hour trading volume of $119.73M. Shiba Inu is up 0.05% in the last 24 hours. The current CoinMarketCap ranking is #18, with a live market cap of $4.37B. It has a circulating supply of 589.35T SHIB coins, and the max. Supply is not available.
Shiba Inu price analysis: SHIB shows bullish potential amid stiff resistance at $0.000007600
Shiba Inu price analysis shows a bullish trend
The $0.000008500 hurdle remains a key resistance for the bulls
Support for SHIB is seen at $0.000007350
The Shiba Inu price analysis on 2nd Oct shows that the cryptocurrency trades in bullish territory. SHIB is trading at $0.000007419; on the daily chart, it has been forming higher highs and lows today. The resistance at $0.000007600 remains a key hurdle for the bulls to overcome before aiming for the next level of $0.000008000.
Meanwhile, support for SHIB is seen at $0.000007350, which has acted as a cushion against further losses. If the support level holds firm, SHIB could inch closer to the resistance and break above it soon. The recent rally followed by a downtrend indicates a possible reversal in momentum and could open the door for further price appreciation.
Shiba Inu price analysis 1-day chart: Bullish momentum restores as SHIB aims for $0.000008000.
According to the daily chart, the Shiba Inu price analysis shows that a bullish trend is gaining momentum. The bulls have recovered from their recent losses and appear to be inching toward the immediate resistance at $0.000007600. If they break past that level, SHIB could surge up to $0.000008000 or higher.
SHIB/USD 1-day chart, By: TradingView
Technical indicators such as the RSI and MACD show that the bulls are regaining strength. The RSI has climbed to 48 indexes, indicating bullish momentum, while the MACD line is moving higher toward the positive region. The Money Flow Index (MFI) is at 53.23, suggesting increasing buying pressure. If the current trend holds, SHIB could soon break past the resistance and aim for higher levels.
Shiba Inu price analysis 4-hour chart: Recent developments and further indications
The hourly chart for SHIB/USD shows that there has been an increase in buying pressure. The buyers push for higher levels and aim to break past the $0.000007600 resistance. The sellers are attempting to contain the bullish momentum but have been unsuccessful.
SHIB/USD 4-hour chart, By: TradingView
The MACD indicator is relatively flat and is above the zero line, indicating a steady momentum. The RSI is also hovering at 52.13, indicating a breakout on the upper side is on the cards. The Money Flow Index is still above 50, increasing buying pressure.
What to expect from Shiba Inu price analysis
Overall, Shiba Inu price analysis suggests that the bulls are attempting to break past the $0.000007600 resistance levels. If they manage to do so, SHIB could surge higher and reach more significant highs soon. However, the buying pressure needs to increase to counter the selling pressure and turn this into a reality. SHIB needs to close above $0.000007400 and remain there for some time to confirm the uptrend.
Shiba Inu Recent News
Shiba Inu's Token Burn in September Drops by 60% from August
In September, Shiba Inu (SHIB) experienced a significant reduction in burned tokens, marking a 60% decrease from August's figures. This drop represents over 2.3 billion SHIB tokens, amounting to roughly $17,500, which were burned through 426 transactions.
This data, showcased by Shibburn on October 1st, contrasts sharply with August's impressive burn rate of about 5.7 billion SHIB tokens, valued at around $46,000. The Shiba Inu team's burning strategy aims to decrease SHIB's circulating supply, enhancing its scarcity and potential future value.
Despite the decreased burn rate, the popular meme-coin has seen positive momentum, boasting a 3% weekly growth and 4.4% over a fortnight. Notably, with a higher burn rate in August, SHIB reached a peak of $0.00001119, which is 32% above its present value.
Shiba Inu Ecosystem Sees 940% Burn Rate Spike Amidst Soaring Shibarium Transactions
The cryptocurrency Shiba Inu ($SHIB), inspired by meme culture, has experienced a monumental increase in its burn rate, skyrocketing by 940% within the past 24 hours. Consequently, over 164 million $SHIB tokens have been dispatched to dead wallets, diminishing the circulating supply. The substantial burns, monitored by Shibburn, a dedicated platform, took place in 50 distinct transactions, with one notable transaction annihilating 100 million $SHIB tokens, significantly contributing to the burn rate elevation.
This surge in burn rates is synchronic with the growing transaction levels of Shibarium, the Shiba Inu ecosystem's layer-2 scaling solution. After a brief reactivation, the network is witnessing transactions reaching unprecedented levels. The network explorer, Shibariumscan, reveals that the transactions on the Shibarium network have surpassed the 3.2 million mark, with over 860,000 blocks being processed.
However, the augmented burn hasn't propelled the anticipated cryptocurrency value. Some market analysts project potential price ascents with increased adoption. To enhance SHIB's utility, the development team is proactively forming partnerships. Recently, TAG Heuer, a renowned Swiss watchmaker, and the financial giant HSBC, incorporated SHIB and other cryptocurrencies as payment options for their goods and services, reflecting a growing acceptance in diverse market sectors.
This development might bolster Shiba Inu's market stance, as expanding the utility and rising adoption are pivotal for its future growth and valuation in the competitive crypto market. Despite the immediate lack of price surge, the ongoing community efforts and burgeoning partnerships paint a promising picture for SHIB's prospective market journey.
Shiba Inu Announces "Shiba Hub" App Integration with Shibarium
Shiba Inu is set to expand its digital frontier by introducing a groundbreaking application named the Shiba Hub. Described by Shiba Inu's head marketer, Lucie, as an "exceptional gateway", this application seeks to heighten the experience for the SHIB community by seamlessly integrating with the recently introduced Shibarium network.
Although Lucie remained tight-lipped about specific features and release dates, her revelations ignited curiosity within the Shiba Inu fan base. A promotional clip suggests the Shiba Hub might be a linchpin in the Shibarium Metaverse, distinguishing SHIB from its competitors. This "super app" is designed for users unfamiliar with the advanced metaverse realm of Shibarium, facilitating easy interactions within the community.
Emphasizing its user-centric design, the app offers personalization options. It's constructed to cater to regular user activities, enabling them to tailor features, dApps, protocols, and more to their preferences. Notably, a builder with a user-friendly drag-and-drop function will be available, allowing fans to craft unique experiences.
Lucie hinted at an upcoming graphic for Shibarium, likely offering further insights into the Shiba Hub's future. With this move, it's clear that Shiba Inu is deepening its footprint in the cryptocurrency ecosystem.
Shiba Inu Price Predictions 2023 – 2032
Price Predictions by Cryptopolitan
Shiba Inu (SHIB) has sustained its long-term price pattern, but its short-term trend faces a potential breakdown. Nonetheless, investor interest in SHIB has continued to soar, with several platforms supporting the asset and its ecosystem tokens. The latest addition to this list is Blockbank, an all-in-one financial platform that prides itself on being a leading neo-banking institution. On April 24, block bank announced the inclusion of SHIB on its centralized finance (CeFi) platform, with support for deposits and withdrawals via the Ethereum and BNB Smart Chain networks already in place. Can the recent updates push the Shiba Inu SHIB price to newer heights? Let's get into Shiba Inu's future predictions for 2023 to 2032.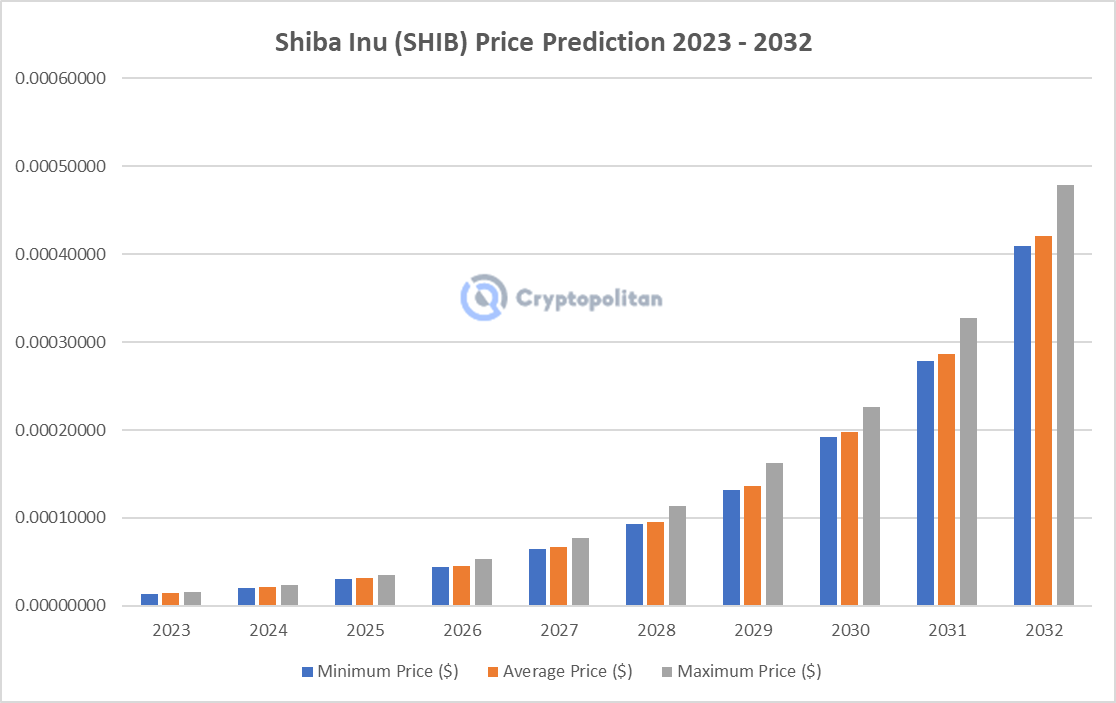 | | | | |
| --- | --- | --- | --- |
| Year | Minimum Price ($) | Average Price ($) | Maximum Price ($) |
| 2023 | 0.00001352 | 0.00001404 | 0.00001580 |
| 2024 | 0.00002064 | 0.00002120 | 0.00002375 |
| 2025 | 0.00003004 | 0.00003110 | 0.00003521 |
| 2026 | 0.00004438 | 0.00004562 | 0.00005349 |
| 2027 | 0.00006511 | 0.00006694 | 0.00007704 |
| 2028 | 0.00009271 | 0.00009539 | 0.00011383 |
| 2029 | 0.00013210 | 0.00013592 | 0.00016295 |
| 2030 | 0.00019203 | 0.00019747 | 0.00022582 |
| 2031 | 0.00027898 | 0.00028688 | 0.00032789 |
| 2032 | 0.00040942 | 0.00042089 | 0.00047841 |
Shiba Inu Price Prediction 2023
In our 2023 Shiba Inu price prediction, we anticipate a minimum trading price of $0.00001352 and an average value of $0.00001404 for the token. With several scheduled ecosystem upgrades, we expect Shiba Inu to experience a surge in value and potentially reach a maximum price of $0.00001580.
Shiba Inu Price Prediction 2024
In 2024, we anticipate a rise in Shiba Inu's value, with a projected minimum price of $0.00002064 and an average price of $0.00002120. If Shiba Inu's growth trajectory persists, we predict that its value could reach as high as $0.00002375 at its peak.
Shiba Inu Price Prediction 2025
According to our Shiba Inu price forecast for 2025, the minimum price of SHIB will be $0.00003004, while the average price is expected to be around $0.00003110. There is potential for significant growth in the value of Shiba Inu during this period, with the token possibly reaching a maximum price of $0.00003521 by the end of 2025.
Shiba Inu Price Prediction 2026
In our SHIB price prediction for 2026, we anticipate a potential trading price range for Shiba Inu, with a minimum level of $0.00004438 and an average predicted value of $0.00004562. Additionally, we expect the price of SHIB to potentially surge up to a maximum level of $0.00005349 by the end of 2026.
Shiba Inu Price Prediction 2027
We anticipate that the price of Shiba Inu in 2027 could reach a minimum value of $0.00006511, with an average trading price of $0.00006694. Based on Shiba Inu's price prediction for 2027, there is a possibility that the price could even reach a maximum of $0.00007704 during the year.
Shiba Inu Price Prediction 2028
Based on our SHIB price prediction for 2028, the Shiba Inu token is anticipated to experience a bullish trend with a predicted floor price of $0.00009636 and an average trading value of $0.00009911. The highest potential price for 2028 is estimated to reach $0.00011383, reflecting a significant increase in the token's valuation.
Shiba Inu Price Prediction 2029
Our Shiba Inu price prediction for 2029 suggests that the minimum price level could be $0.00013210. The SHIB token is expected to experience significant growth, with a maximum potential price value of $0.00016295, and an average projected value of $0.00013592.
Shiba Inu Price Prediction 2030
In our prediction for Shiba Inu's performance in 2030, we anticipate that the cryptocurrency's value may drop to a low of $0.00019203 by year-end. However, we expect the average trading price to be $0.00019747, and the maximum estimated price to reach as high as $0.00022582.
Shiba Inu Price Prediction 2031
Based on our Shiba Inu price prediction for 2031, the minimum price of SHIB will be approximately $0.00027898, while the average price is expected to be around $0.00028688. The maximum estimated value for SHIB in 2031 is predicted to reach $0.00032789.
Shiba Inu Price Prediction 2032
Our Shiba Inu coin price prediction for 2032 suggests that the Shiba Inu token's value will continue to increase. The minimum price is predicted to be $0.00040942, indicating that the price is not expected to fall below this level. The average trading price is estimated to be $0.00042089, indicating steady growth. Meanwhile, the maximum estimated price for 2032 is $0.00047841, indicating a potential surge in price.
Price Prediction by DigitalCoinPrice
DigitalCoinPrice has expressed a bullish outlook on SHIB's price performance in the future. Their Shiba Inu price prediction for 2024 indicates that the token could have an average trading price of $0.0000261 during that year. The website further forecasts a continued bullish momentum for the next decade, with the token's price reaching an average of $0.0000737 by 2029. Additionally, they predict that SHIB could attain its all-time high of $0.000198 by 2032, and its average price is expected to be around $0.000197.
Price Prediction by Technewsleader
According to Technewsleader, the price of SHIB is expected to rise over the next year, with a predicted value of $0.00002075 based on current market trends and factors such as supply, demand, and news events. The website also forecasts that in the next 5 years, the price of SHIB could potentially reach a high of $0.00006618, contingent upon specific conditions.
Looking further ahead, Technewsleader projects that by 2029, the price range of SHIB could be between $0.00013855 and $0.00016588. By 2032, the website anticipates that the price of SHIB could increase to $0.00052422.
Price Prediction by Wallet Investor
According to Wallet Investor, Bitcoin is expected to experience a significant decrease in market price in the coming months, potentially falling to as low as 0.000001086 USD by 2024. As a result, Wallet Investor does not consider Bitcoin to be a favorable long-term investment opportunity for investors based on this prediction.
Price Prediction by Market Experts
Price Opinion from Wealthy Coin on YouTube
Shiba Inu has had a good year so far in 2023, and the environment is growing and gaining attention from the general public and investment banks worth a trillion dollars.
Whales have been buying a significant amount of Shiba Inu tokens, and one whale recently bought 311 billion tokens in two big payments.
The latest additions of a Shiba/USD trading pair on cryptocurrency platforms and changes to the Shiba Inu game and metaverse have contributed to the increased interest in Shiba Inu.
Finder's panel of experts predicts a potential 350% increase in the price of Shiba Inu in about 30 months.
BlackRock Inc. and Fidelity Investments have both shown interest in the cryptocurrency market, which could be good for the Shiba Inu market financially.
Shiba Inu Overview

Shiba Inu Price History 2020 – 2023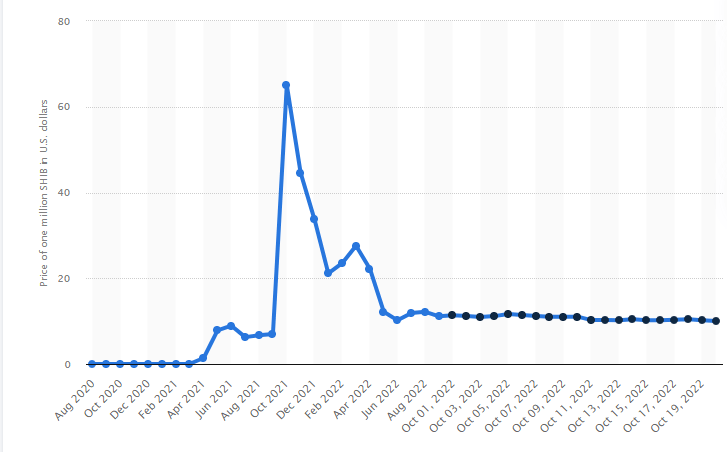 Memecoin Shiba Inu saw its price grow by over 300 percent within the same month, marking a trading fury reminiscent of Dogecoin in early 2021. Indeed, the SHIB coin ranked as one of the biggest cryptos in the world based on 24h trading volume in October 2021 – with trading activity being almost as high as Ethereum's. Originally starting out as a fun token based on the famous Japanese dog breed, the digital currency grabbed mainstream attention in 2021 probably because of its low barrier of entry: Even after its price spikes, Shiba Inu was one of the cheapest coins available, especially when compared to the price of 99 other cryptocurrencies. Combine this with survey information that most consumers in the U.S. and the UK invest in crypto either for growth or fun. Shiba Inu is probably seen by many as a relatively simple, "quick win" investment.
More on Shiba Inu
What is Shiba Inu (SHIB)?
Shiba Inu (SHIB) was developed to answer a simple question: What would happen if a cryptocurrency project was 100 percent run by its community?
SHIB is a token designed to be an Ethereum-compatible alternative to Dogecoin (DOGE). Like DOGE, SHIB is intentionally abundant — with an initial circulating supply of one quadrillion coins. The Shiba Inu ecosystem also supports projects such as an NFT art incubator and a decentralized exchange called Shibaswap.
Who created Shiba Inu?
An anonymous developer named Ryoshi launched SHIB in August 2020. The project began with a total supply of one quadrillion tokens — a truly vast number.
Shiba Inu has realized significant gains following its recent listings on popular crypto exchanges like Binance. However, there are bold critics of this ranking by market cap. However, on 6 April 2022, the price of several of the most popular cryptocurrencies fell today as investors evaluated moves by the Federal Reserve, which is desperately trying to rein in surging inflation.
Shiba Inu was initially listed on ShibaSwap, a decentralized exchange platform for Shiba Inu. The token, however, was created anonymously, just like Bitcoin, with the founder calling himself, Ryoshi.
Shiba has since grown over time, and now the token is listed as one of the most popular cryptocurrencies in the world, with a stable ranking consistently above #20 on CoinMarket1cap.
Shiba Inu has an inherent relationship with other tokens such as LEASH and BONE, used as governance tokens on Shiba Inu's Decentralized Autonomous Organization.
One famed investor bought $5,000 Shiba Inu in late 2020, which was worth over $5 billion at its peak. This being said, that same investor is now barely a billionaire –– Shiba Inu has depreciated nearly 75% from its all-time high.
Shiba Inu (SHIB) has existed for quite some time now, and it has repeatedly been known as one of the cryptocurrencies with vibrant community backing. The token is inspired by the Dogecoin crypto and has since become one of its major rivals. Let's see if our Shiba Inu Price Prediction can help shine a light thru the crypto winter in 2023.
SHIB Milestones
Since its launch, the cryptocurrency has grown immensely, and today, it is one of the top 20 cryptocurrencies ranked by its market capitalization. Going with the current news of what is happening in the crypto world, it is likely that this token's price will continue going up, giving an even better reason to invest in SHIB.
The Shiba Inu burning has surpassed a significant milestone of 4.4 billion tokens and gained more bullishness from highly-interested crypto investors. This ongoing Shiba Inu burning strategy can increase the cryptocurrency price in the near future with a constant value in the top cryptocurrency list. It has been speculated that ShibaSwap 2.0 is set to support a new burning mechanism for this Shiba Inu burning strategy. This can skyrocket SHIB to the next level, as expected by its community.
Introducing the NEW https://shib.io website, new @shib_iothemv branding, and the WAGMI Temple Alpha preview! Now you can purchase #shibthemetaverse lands easy as 1-2-3. Let us know what you think #shibarmy!
Shiba Inu Applications
There are several broad aspects to consider when determining the application of a cryptocurrency. The meme coin, for instance, borrows several qualities from different cryptocurrencies, making it relatively similar to other meme coins.
Although these tokens are often referred to as meme coins, it is evident that they sometimes offer value that can't be found achieved when using mainstream tokens like Bitcoin and Ethereum.
So, what are some of the merits of Shiba Inu that warrant its usage?
SHIBA INU is built on the Ethereum blockchain and borrows several security features from its parent blockchain. Therefore, the Shiba Inu prediction analyzes the technology used behind a particular cryptocurrency to determine its longevity in the crypto space. Since the Ethereum blockchain is quite stable, the Shiba coin has a promising future.
Due to its relatively low transaction fees, the SHIB can essentially be used as an online currency – one of the main goals of developing Bitcoin, according to Satoshi's Bitcoin Whitepaper.
PROS of investing in Shiba Inu
Shiba Inu has a large and vibrant following on social media, including crypto celebrities like Elon Musk and Vitalik Buterin.
The Shiba Inu ecosystem is rapidly expanding with a dedicated team of developers. Shiba Inu intends to grow into more than just a meme coin and provide real utility to the community.
SHIB has impressive cryptocurrency market listings and is accepted as a means of payment by many merchants.
CONS of investing in Shiba Inu
Shroud of Mystery. The lead developer Shytoshi Kusama uses a pseudonym, and investors only learn of developments through sporadic articles on social media. There's no centralized hub keeping track of announcements and developments – meaning we're almost relying on the words of an anonymous source.
Unclear tokenomics. The BONE token expected to be used for governance and gas fees on Shibarium has a limited supply of 250 million tokens. How the tokens will be migrated to Shibarium and used for gas and governance is unclear.
There is stiff competition in the layer-2 blockchain, metaverse, and collectible play-to-earn gaming space. It is unclear how it will compete against these cryptocurrencies with a decentralized base and general anonymity among lead developers.
There's little information on how the Shi decentralized stablecoin will be backed up. Decentralized stablecoins face a lot of criticism.
But what's this about Shiba Inu Whale Moves 25 Trillion $SHIB From Crypto Exchange To Cold Storage?
An unknown Ethereum address has transferred almost 25 trillion Shiba Inu tokens worth over $250 million from a top crypto exchange to a self-custody wallet, according to on-chain data reported by crypto analytics firm Santiment. The SHIB tokens were moved from an Ethereum address categorized by Etherscan as belonging to US crypto exchange Crypto.com to a new wallet.
The movement of tokens could adversely affect the market price (a trading strategy). So, please watch out before you decide about coin selection. Are SHIB whales cautioning SHIB's retail traders and investors? Taking up the 3rd spot as one of the most held cryptos is Shiba Inu, with the whales holding about $653,600,200 SHIB at the moment.
A Metaverse project named "SHIB: The Metaverse" was launched as detailed in an official post on its website. The developers of the famous meme coin described the virtual reality space as the creation of an enabling environment for growth and sharing.
Where to buy Shiba Inu
Shiba Inu's fast growth to fame and rise in crypto has helped it secure listings on cryptocurrency exchanges. Binance, KU coin, Gate.io, Kraken, FTX, Poloniex, MEXC, OKX, Lbank, and Crypto.com. According to Coinmarketcap, these exchanges offer deep Shiba liquidity. Factors to consider include security, liquidity, fees, regulation, and insurance.
You can also buy ShibaInu Coin on Shiba Swap. Simply create a Metamask wallet, send ETH to the wallet, connect the wallet to Shibaswap, and then swap ETH for Shib.
Shib Update 5.10
This update concerns the latest developments in the Shib Ecosystem, aligned with Ryoshi's vision of decentralizing all industries using Shib platforms and financial products. The update is about Shibarium, Shi, and Shibaswap.
Shibarium
Shibaswap
Shibarium is an L2 Blockchain for Ethereum (utilizing $BONE ). It is the backbone of all the Shib projects in development and will offer a scaling and low-cost solution for many projects. The Shib team is planning a Shibarium Hackathon to help educate the community on Shibarium and reward teams with funds to build on Shibarium.
The decentralized exchange is completed and continually evolving. Shiba Swap is a token exchange feature on the Shiba ecosystem. The platform is anticipated to provide low transaction fees and fast token swaps. It will offer a more accessible entry into a plethora of tokens in the crypto space.
Shi
The Shi project is also nearing completion following experimental research on the previous and current stablecoins. The Shib army will have an excellent stablecoin solution. The developer did not provide timelines but hinted at test runs beginning soon.
Conclusion
Big developments are coming for the Shiba Inu network. The community is lively and shares the news. These will affect the value of Shiba Inu. The crypto market has been downward this year, and Shiba Inu has not been spared.
SHIB's low price, limited utility, and rocketing prices- that go either direction, stand to be the biggest challenge facing SHIB. Technically speaking, Shiba Inu could reach a penny if enough capital is invested in dog-themed cryptocurrencies. Shiba Inu would need trillions in capital to reach $0.01, and institutions would need to purchase SHIB, which seems highly unlikely.
Shiba Inu has had a wild run since its inception following its meme and humble beginnings. Shiba Inu and Doge currently dominate the meme coin market. In an attempt to take the mantle, the Shiba Inu ecosystem is rapidly developing to create utility for its huge following. The developments are expected to raise Shiba Inu's valuation in the future. In the long term, the value of SHIB will grow as the utility of the coin grows; speculators are likely to drop out of the project in favor of other promising undervalued cryptocurrencies.
The Shiba Inu community is hopeful about the future of their coin. Many signs suggest that this token's popularity will only grow as it gains adoption over the next two decades. According to the current price fluctuations and past performance, it looks likely that Shiba Inu will reach new highs in the coming years as crypto adoption continues to increase worldwide.
However, it is important to note that nothing is guaranteed regarding cryptocurrency predictions, and short-term market fluctuations can cause massive shifts in price projections for any coin. Ultimately, the best way to determine if SHIB will be worth investing in is by keeping up with the latest news and trends within the crypto sphere.
The price predictions are not investment recommendations and should not be taken as such. The future value of Shiba Inu depends on many factors, including global acceptance, market cap, token demand and supply, technical infrastructure, development, and the number of other coins in circulation.
The creators of this cryptocurrency are focused on making the burn rate grow with the utilization rate of the platform. Crypto investors can access around 550 trillion coins in the cryptocurrency market.
Despite its high volatility, the Shiba Inu ecosystem is snowballing with high adoption from the crypto community. While it has been declared a meme coin, there are a lot of developments in the pipeline for Shiba Inu. These include the new Shi stablecoin scheduled for release before the end of the year. Such upgrades will maintain Shiba's viability into the future.
According to the long-term price projection, the SHIB digital assets are anticipated to be profitable with a bullish trend despite all the price changes of the SHIB tokens and significant risk. Remember that information about the Shiba Inu coin is only for informational purposes. Knowing an approximate SHIB price is helpful, but as with any coin, you need to analyze the price action. Before making any investment decisions, always do your own research beyond.
Where can I buy Shiba Inu?
You can buy Shiba Inu on  Uniswap decentralized exchange and Binance cryptocurrency exchanges.
What are Shiba Inu dogs?
Shiba Inus are a type of short dog with prick ears, short paws white markings on their face and chest (white ventral collar) and a brown outer coat with a spirited boldness and good nature. Shibas were originally bred in Japan to hunt small game and dog sports. Their grooming requires regular bathing and daily brushing unlike most breeds (Other dogs). It is a number 1 companion dog after undergoing obedience training. Hip dysplasia is one of the common health conditions for Shibas. Organizations involved with Shibas include the American kennel club, the national breed club, and the Shiba Inu rescue association.
Is SHIB a good investment?
Shiba Inu is a good investment due to the support of its big, thriving community
Where can I buy Shiba Inu coins?
You can buy Shiba Inu at Binance, Okex and Bitfinex.
Disclaimer. The information provided is not trading advice. Cryptopolitan.com holds no liability for any investments made based on the information provided on this page. We strongly recommend independent research and/or consultation with a qualified professional before making any investment decisions.