Bitcoin Cash (BCH) is one of the oldest and best-known digital currencies that trade basically every crypto exchange. Bitcoin cash began its journey when it was forked from Bitcoin in 2017. You can easily buy Bitcoin Cash.
Since then, Bitcoin's cash value has reached an all-time high of $4,000 during the 2017 bull run.
In this article, we will try to look at the future price of BCH using popular forecasts and solutions and if it is a profitable investment for you.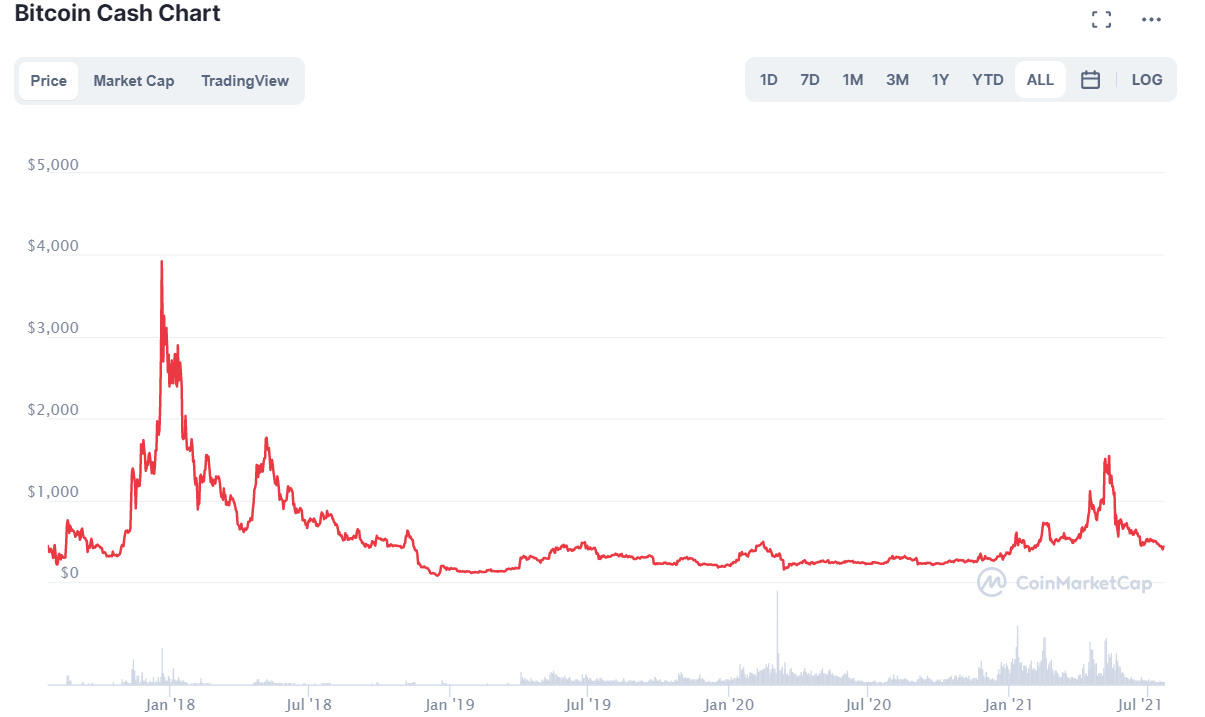 BCH technical analysis/overview
Over the past years, during price swings, most of the gain from 2017 was lost as the market saw heavy retracement during 2018 as it ended the year below $100.
Bitcoin Cash price today saw a surge and reached the $435 mark, with a total market capitalization of over $8 billion as BCH slowly but surely prepares for the future.
This Bitcoin cash price prediction will use this price to make future predictions.
The following graph shows that the price of Bitcoin Cash increased after the price drop in the month of June, wherein investors were losing money rapidly.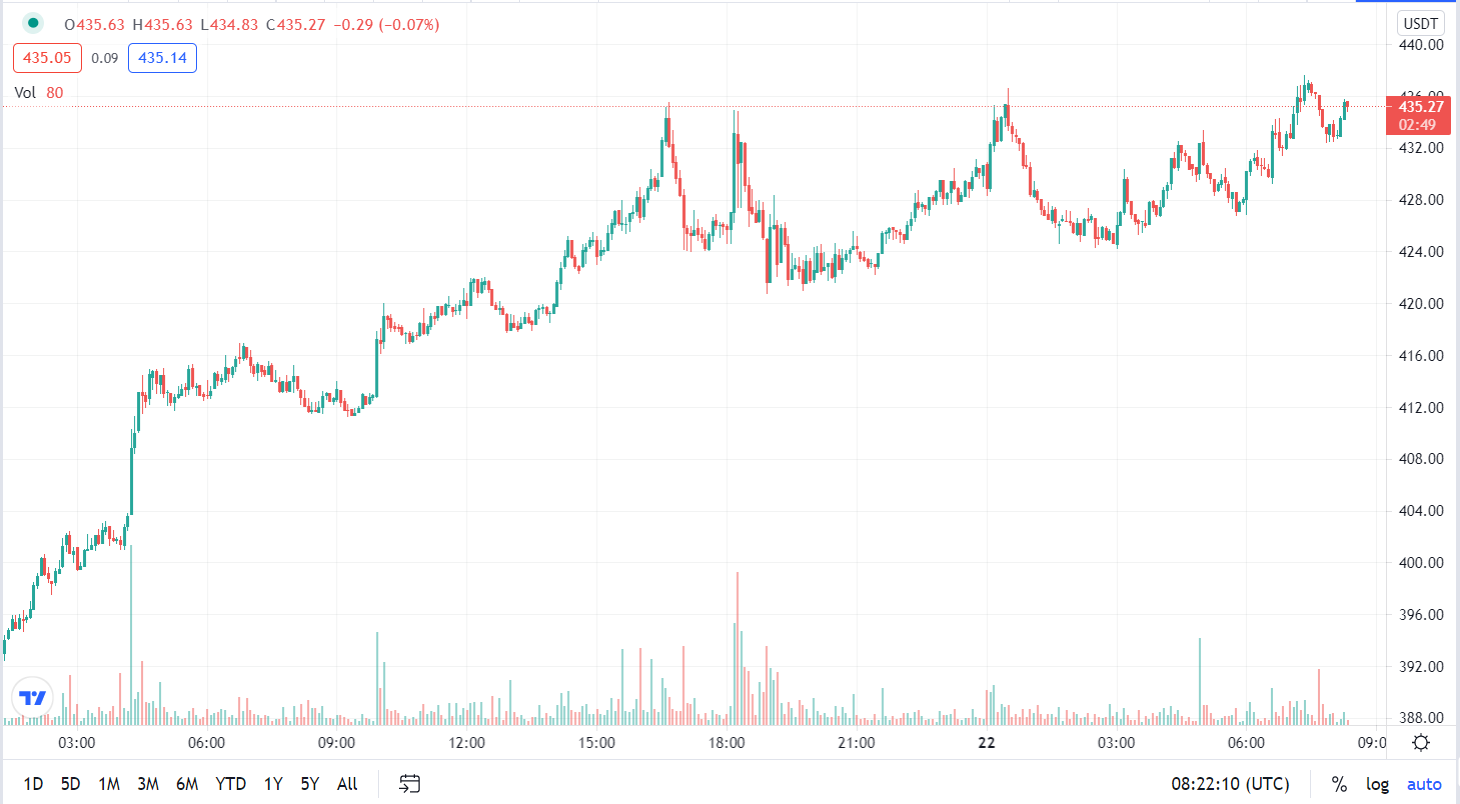 If we look at the current technical analysis of the 4-hour chart of BCH, we can see that the currency is currently trying to break out of the upper end of the Bollinger Bands.
Although, it can also be seen that currently, the coin is gradually moving above the 50-day Moving Average and going for the 100-day Moving Average.
For this to be considered a bullish scenario, the coin must take over the 50-day and 100-day MAs and hold its position without dropping down any further.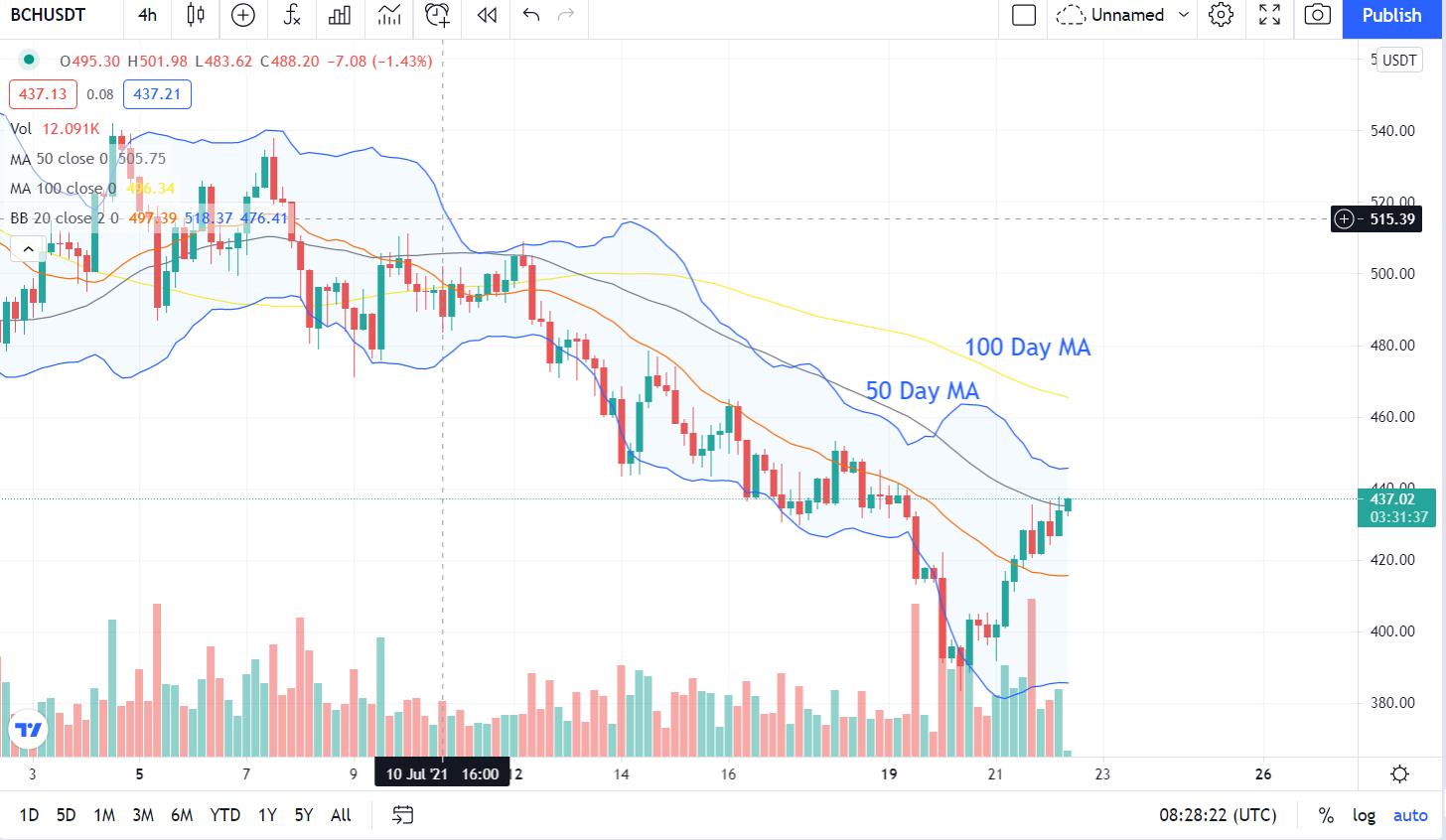 Trading volume reached around $1,160,356,738.09, meaning that it is one of the most actively traded cryptocurrency assets in the markets, even in this bearish trend that we are experiencing.
Hence, BCH deserves its spot in the top 20 largest cryptocurrencies. With a current supply of 18,796,088 BCH coins and a max. Supply of 21,000,000 BCH coins in the market, BCH is ranked at number 12.
Therefore, let's take a closer look at the Bitcoin Cash price prediction for the upcoming years.
What is Bitcoin Cash?
Bitcoin Cash cryptocurrency was created as a result of a hard fork from the Bitcoin network in 2017. Due to a rise in popularity for Bitcoin among investors, its network got congested, sparking debates on how to solve this issue.
The idea of increasing block size limits was proposed. However, this caused a divide in the developer and miner community, which resulted in a new blockchain being split from the existing Bitcoin blockchain.
Therefore, the Bitcoin Cash blockchain was created and distributed to every BTC holder for free.
Later, in 2018 Bitcoin Cash had another fork, resulting in the creation of Bitcoin Cash and Bitcoin SV. Additionally, in 2020 a second major hard fork created Bitcoin Cash ABC.
Bitcoin ABC and Bitcoin SV did not manage to gain much popularity. However, Both of these coins are still available on practically every major cryptocurrency exchange.
Since its creation in 2017, Bitcoin Cash has seen a market cap of over $60 billion during the 2017 bull run. Right now, it trades just below the $10 billion caps after finding minimum value support at $200 last year.
Thereafter, it had regained some bullish momentum and returned above $1,000 in the month of May. Now, it is down, trading at $435.
Just like Bitcoin mining, the Bitcoin Cash network uses something called ASIC miners to validate network transactions in a process called mining, with various Bitcoin miner pools distributed across the world.
Due to increased block size, BCH is considered to be harder to mine since it requires more energy per block.
Additionally, BCH was the first of all cryptocurrencies to introduce and effectively test the Segregated Witness (SegWit) upgrade, which separates the transaction data to allow for more transactions to be sent at once.
Another advantage that BCH has over Bitcoin is the ability to develop smart contracts by using CashScrypt.
Bitcoin Cash Overview
Bitcoin Cash Overview
Coin
Symbol
Price
Marketcap
Change
Last 24h
Supply
Volume (24h)

BCH
$

532.78

$

10.02 B

4.00%

18.81 M
$

2.84 B
Bitcoin Cash Network & Signals
GALAXY SCORE
The Galaxy Score indicates how healthy a coin is by looking at combined performance indicators across markets and social engagement. Display the real-time Galaxy Score of any coin.
Bitcoin Cash price history
Bitcoin Cash currency traders have seen huge volatility over the past weeks. However, firstly, let`s take a look at what happened to the BCH price over the past years. As we can see on the long-term chart, the coin price reached $4,000 during the bull run in 2017.
A further downside was quickly rejected
Bitcoin Cash price history
Bitcoin Cash currency traders have seen huge volatility over the past weeks. However, firstly, let`s take a look at what happened to the BCH value over the past years.
As we can see on the long-term chart, the coin price increased to $4,000 during the bullish trend in 2017.
A further downside was quickly rejected.
Over the first weeks of 2018, the BCH price moved significantly lower together with the Bitcoin price until support was found at the $600 mark.
From there, BCH regained some of the retracement and reached a local several-day price high of $1,800.
Over the second half of 2018, the Bitcoin Cash forecast price became even more bearish as analysts predicted a complete crash. At the end of 2018, the lowest point was finally reached at $62.
A brief push higher followed, with a further consolidation range established between the $200 support and $450 resistance, where the coin spent the second half of 2019 and 2020.
On the technical chart for BCH over the past year, we saw that the price action had turned bullish once more after breaking through resistance around $36 at the end of 2020.
The price of the cryptocurrency asset saw an increased demand that led to a test of the $600 mark. From there, BCH/USD retraced and retested the $360 previous resistance as support.
After some consolidation, the crypto market reversed and starting moving higher in February.
After several weeks of bullish momentum new high of around $750 was reached, which meant that a clear medium-term higher high was made.
Thereafter, in the month of May, the entire cryptocurrency market was at its peak, and BCH crossed $1,000.
Therefore, Bitcoin Cash's future price looks promising, and we can increase the forecasted Bitcoin Cash price for this year to over $1,800, where previous major resistance was met.
This, however, is just an estimate and not accurate investment advice.
Bitcoin Cash price prediction: What to expect?
Overall we have an expected maximum price of $4,000 for this year as the bearish cycle might stay for a couple of weeks since Bitcoin invalidated the Wyckoff distribution pattern.
However, there is a lot more institutional investment this time around, so accurate prediction is hard to make.
Too many whales are getting into cryptocurrencies despite the worldwide crackdown on the crypto industry and exchanges like Binance.
If we consider that BCH increased from $250 to $4,000 during the previous bull run, we could see similar returns this time.
Last year, BCH found support around the $200 mark, meaning that we could see similar price development for Bitcoin Cash.
Much of future gains depend on the overall altcoin and BTC price development over the next year. Likely the digital currency will follow the rest of the market.
A lot of regulation issues have been developing around Bitcoin as of now.
The good news that came was that Tesla might resume Bitcoin payments. It would mean that the market will gradually stabilize and reach newer heights.
Market prediction for Bitcoin Cash price
As we see bullish Bitcoin price prediction for the end of this year from every major analyst, we expect the same for BCH/USD predictions. However, the reality is that Bitcoin Cash has not performed as well as the overall cryptocurrency market so far.
The price prediction ranges from negative to very bullish overall, and the future price estimates largely depend on what factors are taken into account. Therefore, let's take a look at some of the most popular predictions around.
TradingBeasts Bitcoin Cash Price Prediction
Analysts like crypto ground and PrimeXBT are bullish regarding the price of Bitcoin cash, while the Trading Beasts have updated their charts claiming that the price of BCH by the beginning of 2022 will be a maximum of $547.686 and a minimum of $372.427.
The average price is put around $438.149.
Crypto Ground Bitcoin Cash Price Prediction
Crypto Ground is more optimistic for the price of Bitcoin Cash. 1-year Bitcoin Cash prediction is set at $711.5026, meaning that we should see it move it upwards this year. However, for the 5 year period, they are bullish and expect a high price of $3,144.6507.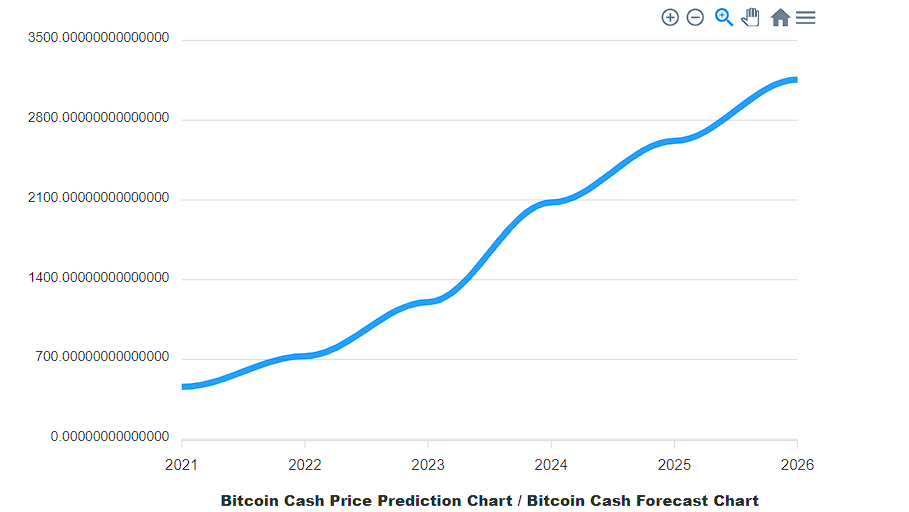 PrimeXBT Bitcoin Cash Price Prediction
PrimeXBT also estimates a similar target for 2025 of around a minimum price of $5,000 – $12,000 as the maximum, indicating a very rough and volatile movement over the next years. For this year, the estimate for BCH/USD is around $500 – $4,000, meaning that we will see much higher price gains.
By 2022, it might reach as much as $2,000 and a min of $1000, while 2023 price prediction is set for the range between $2,500 – $3,500.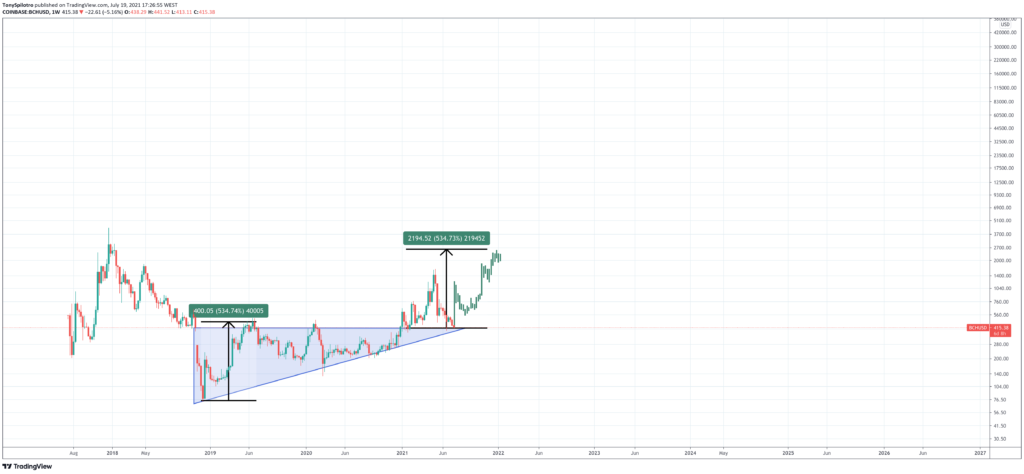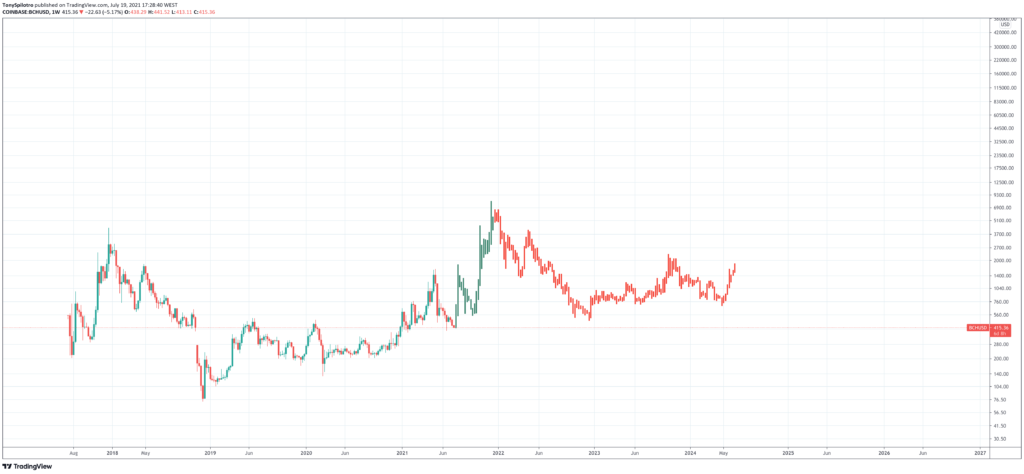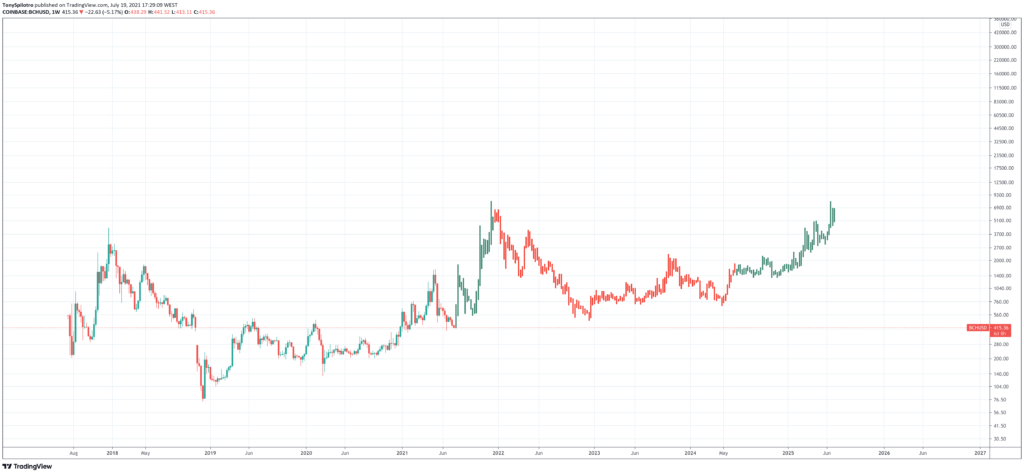 Wallet Investor Bitcoin Cash Price Prediction
Wallet investor has made a declaration on the price of Bitcoin Cash. According to the website, we can see that the coin will reach $672.675 by 2022, and by the end of 5 years from now, the price of Bitcoin Cash will be around $1587.260.
Digital Coin on the price of Bitcoin Cash
According to Digital Coin price, it is possible that Bitcoin Cash price changes to $587.06 by the end of 2021, $837.62 by 2022, and $1,028.84 by the end of 2023. A further change in price reveals the highest value of $2,159.86 by the end of 2028.
Longforecast on the price of BCH
Longforecast is not very optimistic regarding the price of BCH as they have mentioned a bearish outcome in their long-term forecast for the coin. According to Longforecast, BCH will revolve in the range of $313-387 by December 2021.
While the value of the coin has been predicted with optimistic outcomes from most of the analysts, Longforecast has been bearish with their predictions.
CryptoRating Bitcoin cash price forecast
BCH predictions by CryptoRating have been volatile. The current CVIX is currently around 57 and is turning red. It is important for traders to brace for impact as the Bitcoin cash market will be devoured by bears, and high volatility will follow.
The current price of Bitcoin Cash is $431.45, established on the back of the 3.51% increase in the last 24 hours. In the past 30 days, the price of Bitcoin Cash has decreased by -5.44%, while its accomplishments on the 1-year time frame amount to 74.83%.The expected volatility for the next 10-15 days is at its highest values.

cryptorating.com
Cryptopolitan's Bitcoin Cash price prediction 2021
Overall, Bitcoin Cash is still one of the best-known cryptocurrencies and is available for trading on practically every crypto exchange. As of now, it trades below $500 and has returned above the total capitalization of $8 billion, meaning that bullish momentum has regained control over the crypto after several years of sideways momentum.
Therefore, we have a bullish price prediction for Bitcoin Cash for 2021 and expect Bitcoin Cash to reach the next major resistance at $1,800 by the end of this year. However, as always, it depends on the overall sentiment for cryptocurrencies over the next months.
What is the future of Bitcoin Cash?
Currently, Bitcoin Cash is ranked in the top 20 (At 12), and we expect it to keep increasing in price over the next years. Several additional features, such as smart contracts, are getting traction with the developers on the blockchain using the CashScrip protocol.
If the current popularity increase for smart contracts continues and the network keeps operating as before, we should see a bullish future for this cryptocurrency. There are chances that we might see the coin move up in the coin ranking.
Bitcoin Cash price prediction 2025
The current 2025 price prediction for Bitcoin Cash is that it will get past the $4,000 mark. As mentioned, several other price prediction articles mentioned even higher price targets, while others are more conservative and predict that the market will move sideways over the next years.
We are bullish for Bitcoin Cash price predictions overall. When looking at the recent price moves, we can see that BCH/USD is regaining its bullish momentum from a technical analysis standpoint.
Right now, Bitcoin Cash needs to be a driving force to break the local highest point at $1200, from which we could see a quick move towards the next major resistance, around $1,800.
Alternatively, if the overall crypto prices start stagnating, we could see Bitcoin Cash continue moving sideways for the next years, as seen during 2019 and 2020, maintaining its market capitalization.
Between 2021 and 2023, BCH will start gathering momentum to propel it to a price of above $1,000 in the next five years. This makes buying and holding for the long term a good investment decision. BCH is the parent coin of BCH ABC and is way ahead of it.
It must be noted that the values mentioned above for Bitcoin Cash price predictions or any of the cryptos are calculated using different metrics. Therefore, their algorithm accuracy may differ in the result of the analysis. For example, Crypto Ground predicted the following price: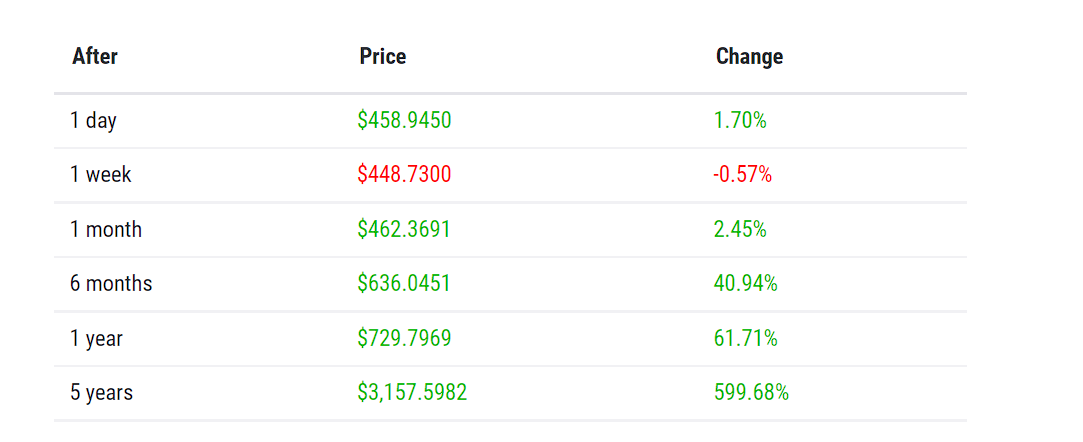 The cryptocurrency market is extremely volatile, and thorough research should be done by the traders before investing in Bitcoin Cash, BTC, Ethereum, or any other cryptocurrency in the crypto industry.
It is important that you research very closely every asset you invest in. BCH is present on all major exchanges and can be traded on Binance, Coinbase, ByBit, etc. If you are looking to buy BCH using fiat, all these platforms can help you.
Also, you need to conduct your own research and not take our prediction as investment advice as the crypto world is highly volatile. There are chances that you might end up hurting yourself easily. You need to invest in the technology you understand and know about. Before jumping into an investment, it is imperative to gather the necessary information behind each and every coin.
Disclaimer. The information provided is not trading advice. Cryptopolitan.com holds no liability for any investments made based on the information provided on this page. We strongly recommend independent research and/or consultation with a qualified professional before making any investment decisions.