Zilliqa Price Prediction 2023-2032: What's the future for ZIL?
Zilliqa Price Predictions 2023-2032
The short growth span has made relatively new coins like Zilliqa (ZIL) more interesting among crypto traders and investors. Will this growth be cut short by doubts about the safety of crypto exchanges? Are Zilliqa Price Predictions affected by crypto exchanges' fiasco?
Noticeable are two immediate market responses that can affect crypto prices after the FTX fiasco:
Roughly $3.7 billion in BTC and $2.5 billion in ETH withdrawn
Over $2 billion in stablecoins was also taken off exchanges
From one perspective, less Bitcoin in circulation could be good as the prices rise with the scarcity of the coin, and when the BTC price goes up, prices of altcoins are pulled up with it, simple demand-and-supply economics. Ranting about BTC and the need for crypto regulation is tantamount to barking up the wrong tree because FTX is the extreme opposite of Bitcoin and decentralization.
The crypto community should pull in together to make their coins more popular and make others know how the crypto network is special. For one, users should rally around ZIL in the coming years. Some questions need answers and founders should strive to complete the roadmap for their startups.
Zil as a stablecoin is ranked as the Top 3 stablecoins by the proportion of the total supply of non-USD fiat-backed stablecoins. Zilliqa's smart contracts are the backbone of the XSGD infrastructure.
How much is ZIL worth?
Today's Zilliqa price is $0.023233 with a 24-hour trading volume of $26,587,542. Zilliqa is up 3.24% in the last 24 hours. The current CoinMarketCap ranking is #95, with a live market cap of $368,651,966. It has a circulating supply of 15,867,699,447 ZIL coins and a max. supply of 21,000,000,000 ZIL coins.
Also Read:
What is Zilliqa (ZIL)?
Zilliqa (ZIL) is the native token/cryptocurrency of the Zilliqa blockchain. It serves several roles within the blockchain network, with the primary role being used as a digital currency within the network.
What is the Zilliqa blockchain network?
Zilliqa is a decentralized blockchain network that enables developers to develop decentralized applications (DApps) for enterprises using smart contracts and sharding technologies. It is based in Singapore and was launched in 2017, co-founded by Amrit Kumar, the current president; Yaoqi Jia, its current chief scientific officer; Xinshu Dong, who is currently a board member; and Max Kantelia, who is a board member and an adviser.
Zilliqa was the first public blockchain network around the world to use sharding, which refers to the use of side chains (or smaller blockchain networks attached to the mainnet) to perform certain tasks instead of burdening the mainnet with everything.
In a nutshell, sharding makes a blockchain network more scalable as it avoids the congestion in the mainnet. Besides the side chains responsible for processing transactions within the blockchain network, a Zilliqa user can develop a decentralized application and attach it to Zilliqa's mainnet as a side chain.
By integrating sharding, the Zilliqa blockchain has remained highly scalable as its user base continues to grow.
How does Zilliqa Network work?
Zilliqa was developed to solve scalability concerns, one of the biggest concerns among legendary blockchains like Bitcoin and Ethereum. By using Sharding, Zilliqa has achieved high scalability.
There are multiple shards (side chains) attached to Zilliqa'a mainnet responsible for processing a very high throughput of transactions in a cost-effective, speedy and efficient manner. Zilliqa can process thousands of transactions within a second compared to Bitcoin, where transactions can take up to 10 minutes to be processed.
Because of its scalability, Zilliqa is an ideal blockchain for processing complex computational tasks like financial modeling and data mining, making it a perfect choice for data-based academic research, internet of things (IoT) applications, training neural network training, and machine learning applications.
What are the benefits of using Zilliqa (ZIL)?
Though a relatively new blockchain technology compared to Bitcoin and Ethereum, the Zilliqa blockchain offers a wide range of benefits to its Zilliqa (ZIL) users. These benefits include:
Zilliqa is a public decentralized blockchain network meaning it has no central coordinator(s), and users do not have to worry about their transactions being handled by middlemen or a central authority since there are none.
Anyone can purchase the Zilliqa (ZIL) cryptocurrency on a cryptocurrency exchange like Binance, OKEX, Huobi, TRANSAK, UPbit, Changelly, SimpleSwap, BitFinex, or KuCoin, among others, and use it for staking, buying merchandise from Zilliqa Merchadize store, covering smart contract execution fees, and covering transaction fees.
By using sharding, Zilliqa can handle large transfers within minutes without becoming congested.
Zilliqa provides developers with a smart contract-enabled programming language called Smart Contract Intermediate-Level Language (Scilla).
They allow developers to develop DApps and allow parties to execute agreements efficiently without third parties.
Zilliqa integrated enterprise-grade security features that have gone a long way in ensuring that hackers cannot access its transactions or the DApps developed on the blockchain. It has never been hacked since it was invented, and developers have been developing exciting DApps that run on the blockchain.
By using sharding, Zilliqa has avoided congestion, which is a major contributor to rising miner fees and gas prices on other blockchains.
Zilliqa (ZIL) Price History
Zilliqa conducted an Initial Coin Offering (ICO) that ended in January 2018, raising ether (ETH) worth $22 million. At the time of the ICO, one ZIL coin was going for 1 ZIL = 0.0000084656 ETH, and only 30% of the ZIL's total supply of 21 million ZIL coins was up for the ICO sale.
Originally the ZIL cryptocurrency was an ERC20 token since the Zilliqa blockchain had been launched on the Ethereum blockchain. However, the Zilliqa blockchain introduced its mainnet in 2019, and the ERC20 was swapped with Zilliqa (ZIL) tokens.
The current circulating supply is about 11,670,142,875 ZIL tokens out of the total 21,000,000,000 ZIL tokens generating a market capitalization of $1.2 billion.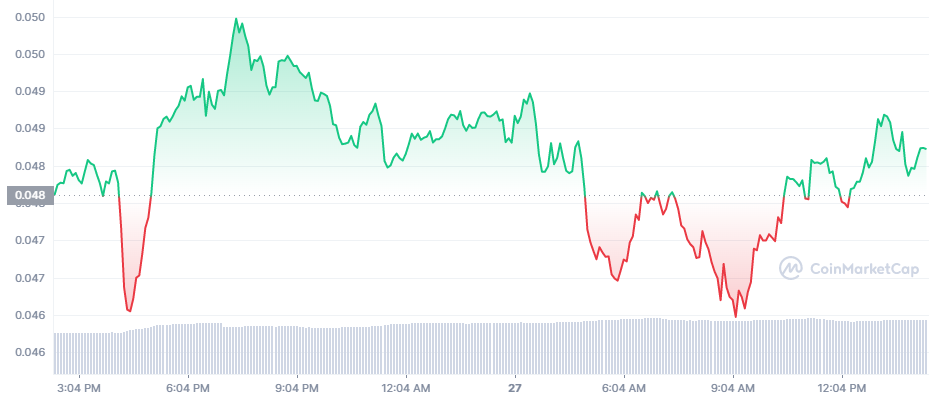 The coin hit its all-time high market price of $0.2563 on May 06, 2021.
Its all-time low of $0.002477 was recorded on March 13, 2020, when most cryptocurrencies were struggling with a persistent bearish trend.
However, the Zilliqa price predictions are based on our proprietary algorithms and technical analysis. The actual prices may differ slightly from our predictions. Although we are confident in our forecasts, investing in digital assets is very risky. Always do your own research before making any investment decisions.
Zilliqa Latest Developments
The Zilliqa team is thrilled to announce its collaboration with @teamrrqofficial for their membership program based on blockchain technology, with the added security provided by #Zilliqa. This membership program enables fans to own digital assets, offering exclusive access to team initiatives and exciting benefits.
Zilliqa is building its gaming console!
6 months in, and our gaming team already developed the Unity SDK, WEB3WAR, and the gaming hub. But the one thing that brings everything together — is hardware. That's right. Zilliqa is building its very own gaming console! Hear them talk about it!

@Zilliqa
The ZIL/JPY trading pair went live on OKCoinJapan on 10 November 2022 at 5 PM JST (GMT +9), with customers able to buy, sell, trade, and hold ZIL on the platform. ZIL is the 20th digital asset to be listed on the exchange and offers the first direct on-and-off ramp to the Zilliqa ecosystem for Japan's user base. This means that the Asian crypto market is making brisk business despite the collapse of FTX.
Zilliqa Technical Analysis
The ZIL/USDT pair is currently trading within an ascending channel, indicating a bullish trend in the market. However, the recent rejection of the price from the daily resistance level at $0.035 suggests that the market could turn bearish.
If the market continues to decline, it could retest the Fibonacci area, a significant support level. In such a scenario, traders should be vigilant and consider applying risk management strategies to avoid potential losses.
Zil had a demand zone at $0.028 and has since broken below the demand area to establish a more bearish trend. The Relative strength index shows that Zilliqa is currently oversold. However, a rebound to the upside could be imminent if the bulls take over from the current price zone.
Traders must stay updated with the latest market trends and analyze various technical indicators to make informed trading decisions. With effective risk management strategies, traders can minimize losses and maximize profits in the volatile cryptocurrency market.
Zilliqa Price Predictions by Cryptopolitan
Zilliqa (ZIL) is a blockchain platform that provides high throughput and low transaction fees for decentralized applications (dApps). Like most cryptocurrencies, Zilliqa's value is prone to fluctuations and can be influenced by various factors, such as market trends, adoption rates, and regulatory developments. Market trends have been bearish in recent weeks, leading to a 17% price drop in the last month.
Investors may wonder what the future holds for Zilliqa and whether a recovery is imminent. To shed some light on this, we have analyzed the potential price trajectory for ZIL from 2023 to 2032. Our insights offer a glimpse into what investors may expect in the coming years.
| | | | |
| --- | --- | --- | --- |
| Year | Minimum Price ($) | Average Price ($) | Maximum Price ($) |
| 2023 | 0.033 | 0.034 | 0.040 |
| 2024 | 0.049 | 0.051 | 0.058 |
| 2025 | 0.072 | 0.074 | 0.086 |
| 2026 | 0.11 | 0.11 | 0.13 |
| 2027 | 0.17 | 0.17 | 0.20 |
| 2028 | 0.24 | 0.25 | 0.28 |
| 2029 | 0.34 | 0.35 | 0.41 |
| 2030 | 0.50 | 0.51 | 0.60 |
| 2031 | 0.69 | 0.72 | 0.85 |
| 2032 | 1.03 | 1.06 | 1.22 |
Zilliqa Price Prediction 2023
Based on our analysis of ZIL's technical indicators, we predict that the token will experience bullish momentum throughout 2023, with a potential high of $0.040. The expected average price for the year is $0.034, with a minimum price of $0.033. This bullish trend is driven by Zilliqa's strategic partnerships that are set to facilitate the launch of innovative solutions in areas such as peer-to-environment (P2E) strategies, token issuance, and non-fungible token (NFT) activations. These developments are expected to contribute to the long-term growth of the ZIL token.
Zilliqa Price Prediction 2024
Our technical analysis suggests that Zilliqa is poised for continued growth in 2024, with the price expected to reach a maximum of $0.058. The average price for the year is predicted to be $0.051, with a minimum of $0.049. The anticipated price surge is driven by the planned introduction of EVM support on the network, which will make it easier for developers and applications to migrate to the Zilliqa ecosystem, potentially increasing the adoption level of the token. This move is expected to further cement Zilliqa's position as a leader in the blockchain industry and contribute to the long-term growth of the ZIL token.
Zilliqa Price Prediction 2025
Our analysis of Zilliqa's technical indicators suggests a bullish market for ZIL in 2025, with the token expected to reach a maximum trading price of $0.086. The average trading price for the year is predicted to be $0.074, with a minimum price of $0.072.
Zilliqa Price Prediction 2026
Based on our Zilliqa price prediction for 2026, we predict a bullish market for ZIL with a maximum trading price of $0.13. The token is also expected to have an average trading price of $0.11 and a minimum price of $0.11.
Zilliqa Price Prediction 2027
According to our Zilliqa price prediction for 2027, we predict that the cryptocurrency will exhibit a bullish pattern in 2027, reaching a maximum price of $0.20. This represents a substantial gain of 809.09% from the current market value. However, investors should also be aware of the potential for a minimum price of $0.17 and an average price of $0.17 during this period.
Zilliqa Price Prediction 2028
Based on our Zilliqa price prediction for 2028, we anticipate that the cryptocurrency will experience a bullish trend in 2028, with its value increasing to a maximum price of $0.28. This represents a significant gain from the current market value. Additionally, we predict that the average price of Zilliqa will be around $0.25, and the minimum price will be $0.24.
One factor that could contribute to this positive price trend is Zilliqa's investment in the gaming industry. The platform plans to develop tools to assist gaming studios in building on the Zilliqa network. This move could attract more users to the platform, resulting in increased demand for the token and potentially driving its price up further.
Zilliqa Price Prediction 2029
As per our analysis and Zilliqa (ZIL) price prediction for 2029, we anticipate a consistent increase in its value throughout the year. This trend is expected to result in a peak price of $0.41 for ZIL, which would represent the highest point it is likely to reach that year. On average, we predict that the price of ZIL will be around $0.35, indicating a sustained upward trajectory. Moreover, we anticipate a minimum price of $0.34, indicating that even the lowest point of its value will likely remain above current levels.
Zilliqa Price Prediction 2030
Our Zilliqa price prediction for 2030 suggests that ZIL will experience a notable increase in value, with a projected trading range of $0.50-$0.60. Based on these figures, we expect the average price of ZIL to be around $0.51.
To support this projected growth, there are plans in place to expand the Zilliqa user community through various initiatives. These include forging partnerships within the ecosystem, moderating and engaging with the community across multiple platforms, and other strategies designed to increase Zilliqa's visibility and adoption. If these efforts are successful, they could contribute positively to Zilliqa's price growth in the long term.
Zilliqa Price Prediction 2031
Zilliqa (ZIL) is predicted to reach a maximum market price of $0.85 by 2031, with an average price of $0.72 and a minimum price of $0.69. These price predictions are based on the potential for widespread adoption of cryptocurrencies in the coming years.
Zilliqa Price Prediction 2032
Based on our ZIL price forecast for the year 2032, Zilliqa is anticipated to experience consistent price increases over the course of the year. We project that the maximum price for ZIL will reach $1.22, while the average price is expected to be around $1.06 and the minimum price to be approximately $1.03. These price predictions suggest that Zilliqa has the potential to continue its upward trajectory and achieve significant growth in the coming year.
Wallet Investor Zilliqa Price Prediction
According to Wallet Investor's forecast, the value of Zilliqa (ZIL) is expected to experience a significant drop of 88.36% in 2024, resulting in a price of 0.00256 USD. As a result, Wallet Investor considers ZIL to be an unfavorable option for long-term investment. This prediction suggests that there may be significant challenges or obstacles facing Zilliqa that could impact its long-term growth potential.
Cryptopredictions.com Zilliqa Price Prediction
According to Cryptopredictions.com, the Zilliqa (ZIL) market is expected to close in 2023 with an average trading price of $0.02814, a minimum price of $0.02391, and a maximum market price of $0.03517. In 2024, ZIL is predicted to experience gains throughout the year, with a price range of $0.02891 to $0.04252 by December.
Looking ahead to 2025, Cryptopredictions.com forecasts that the price of ZIL will continue to rise, reaching an average value of $0.03911 by mid-year. By the end of 2025, the minimum and maximum trading prices of ZIL are expected to be $0.03592 and $0.05282, respectively.
For 2026, Cryptopredictions.com predicts that ZIL will maintain its upward momentum, with an average price of $0.04856, a minimum price of $0.04127, and a maximum market price of $0.06070 by December. These price predictions suggest that Zilliqa has the potential to experience significant growth in the coming years.
Coincodex Zilliqa Price Prediction
Coincodex's analysis of Zilliqa (ZIL) suggests that the token's price will be $0.021547 in five days and $0.021185 in one month. If Zilliqa's price movement correlates with the growth of the broader technology sector, Coincodex predicts that the token could be a profitable investment opportunity in the coming years.
In particular, if Zilliqa's development trajectory aligns with that of the internet, Coincodex projects that the token's price could reach $0.070804 in 2024 and $0.118008 in 2026. On the other hand, if Zilliqa's price movement mirrors that of prominent technology firms like Facebook, Coincodex anticipates that ZIL could reach a price of $0.209049 in 2024 and $1.028701 in 2026.
Zilliqa Price Predictions by Industry Influencers
According to @StarTradingFriend, the price of the ZIL coin has been continuously falling, and he advises waiting for a proper breakout before entering a trade. The entry price is suggested to be around 0.1865, with a stop loss to prevent major losses. The first target is 0.35827, and the next target is 0.4842. StarTradingFriend suggests always trading the breakouts and drawing trend lines to identify the movement of the candles.
Conclusion
The future price of ZIL, according to the price forecast of Zilliqa, shows the optimistic growth of the crypto coin. Zilliqa operates on a strong platform that is expected to realize impressive future results according to the forecasts.
The launch of the metaverse project – "metapolis," in April spurred Zilliqa to a new level of publicity, leading to massive price pumps. Following that success, Zilliqa is looking to explore another sector of the blockchain industry
Recently, Zilliqa announced plans to delve into the Web3 gaming space, with the launch of a hardware game console and gaming hub slated for 2023. Based on this trend, interested investors in Zilliqa can be assured of continuous development and expansion of the network.
According to our predictions, Zilliqa is an excellent portfolio addition for long-term investors, with the potential to record massive profits in the coming years. Nevertheless, remember to do your diligence and consult market experts before making any investment decision. This is not investment advice, and more research should be conducted before investing in the Zilliqa coin.
Is ZIL a good investment?
Many things affect ZIL's price. The rate of supply and demand, the awareness, competition faced, and developments made all affect the price, and since the network is in constant growth, we expect that the price will constantly rise. Ultimately, ZIL can be a good investment.
What does buffered deposit mean?
If you're getting the 'buffered deposit' error when trying to unstake your ZIL, just wait for up to 24 hours and try again.
What are signs for a bullish trend for ZIL?
The main pointers for a long-term bullish trend of the ZIL digital coin prices include DApps, NFTs, Staking, Zilliqa Initial Launch Offering (ZILO), and the increasing adoption of Zilliqa blockchain users owing to its scalability and security features.
What's the role of DApps in the Zilliqa?a ecosystem?
Zilliqa DApps ecosystem is expected to expand in the future as more DApps developers seek alternative blockchains to Ethereum due to the increasing gas prices on the Ethereum blockchain. With more DApps launched on Zilliqa, ZIL token users will also increase, and thus the bullish ZIL cryptocurrency price prediction in the long term.
How do I make money with staking?
Besides trading the ZIL token on various crypto exchanges, Zilliqa also allows non-custodial staking through a propriety system referred to as the Zillion portal. The current APY for staking ZIL on the platform is about 6% which is considerably high compared to staking other cryptocurrencies elsewhere, making ZIL staking a good investment and a coveted yield farming option.
How can Zilliqa users profit from NFTs?
Zilliqa team also launched an NFT marketplace called ZILSTAR, in partnership with Polaris Sports, where users can buy and sell iconic football stars. Learn more here: Zillistars NFT marketplace
What is Zilliqa coin used for?
Zilliqa coin (called ZIL) is the native coin used on the Zilliqa blockchain. Zilliqa uses sharding technology to increase the number of transactions the blockchain can handle. Zilliqa coins are used to pay for computing power on the Zilliqa blockchain.
How high can ZIL go?
Favorable market conditions will push ZIL to a high price of $1.22 in 2032.
Disclaimer. The information provided is not trading advice. Cryptopolitan.com holds no liability for any investments made based on the information provided on this page. We strongly recommend independent research and/or consultation with a qualified professional before making any investment decisions.