The crypto world has gone from being just a hobby or vocation for one or two tech-oriented people to being a globally known digital asset acknowledged by many governments and financial authorities all over the world in just a short time. This short growth span has made relatively new coins like Zilliqa (ZIL) get awareness among crypto traders and investors.
In a bid to make the ZIL coin a little bit more popular, we will look at the Zilliqa crypto network, the current performance of the ZIL coin in the market, and how it is likely to perform in the market in the coming years. We will also look at some questions that potential and current investors and traders are likely to ask.
What is Zilliqa (ZIL)?
Zilliqa (ZIL) is the native token/cryptocurrency of the Zilliqa blockchain. It serves several roles within the blockchain network, with the primary role being used as a digital currency within the network.
Zilliqa Overview
Zilliqa Overview
Coin
Symbol
Price
Marketcap
Change
Last 24h
Supply
Volume (24h)

ZIL
$

0.052283

$

747.16 M

8.41%

14.32 B
$

187.99 M
What is the Zilliqa blockchain network?
Zilliqa is a decentralized blockchain network that enables developers to develop decentralized applications (DApps) for enterprises using smart contracts and sharding technologies. It is based in Singapore and was launched in 2017 co-founded by Amrit Kumar, the current president; Yaoqi Jia, its current chief scientific officer; Xinshu Dong, who is currently a board member; and Max Kantelia, who is a board member and an adviser.
Zilliqa was the first public blockchain network around the world to use sharding, which refers to the use of side chains (or smaller blockchain networks attached to the mainnet) to perform certain tasks instead of burdening the mainnet everything.
In a nutshell, sharding makes a blockchain network more scalable as it avoids the congestion in the mainnet. Besides the side chains responsible for processing transactions within the blockchain network, a Zilliqa user can develop a decentralized application and attach it to Zilliqa's mainnet as a side chain.
By integrating sharding, Zilliqa blockchain has remained highly scalable as its user base continues to grow.
How does Zilliqa Network work?
Zilliqa was developed to solve scalability concerns, one of the biggest concerns among legendary blockchains like Bitcoin and Ethereum. By using Sharding, Zilliqa has achieved high scalability.
There are multiple shards (side chains) attached to Zilliqa'a mainnet responsible for processing a very high throughput of transactions in a cost-effective, speedy and efficient manner. Zilliqa can process thousands of transactions within a second compared to Bitcoin, where transactions can take up to 10 minutes to be processed.
Because of its scalability, Zilliqa is an ideal blockchain for processing complex computational tasks like financial modeling and data mining, making it a perfect choice for data-based academic research, internet of things (IoT) applications, training neural network training, and machine learning applications.
What are the benefits of using Zilliqa (ZIL)?
Though a relatively new blockchain technology compared to Bitcoin and Ethereum, Zilliqa blockchain offers a wide range of benefits to its Zilliqa (ZIL) users. These benefits include:
Zilliqa is a public decentralized blockchain network meaning it has no central coordinator(s), and users do not have to worry about their transactions being handled by middlemen or a central authority since there are none.
Anyone can purchase the Zilliqa (ZIL) cryptocurrency on a cryptocurrency exchange like Binance, OKEX, Huobi, TRANSAK, UPbit, Changelly, SimpleSwap, BitFinex, or KuCoin, among others, and use it for staking, buying merchandize from Zilliqa Merchadize store, covering smart contract execution fees, and covering transaction fees.
By using sharding, Zilliqa can handle large transfers within minutes without becoming congested.
Zilliqa provides developers with a smart contract-enabled programming language called Smart Contract Intermediate-Level Language (Scilla).
They allow developers to develop DApps and allow parties to execute agreements efficiently without third parties.
Zilliqa integrates enterprise-grade security features that have gone a long way in ensuring that hackers cannot access its transactions or the DApps developed on the blockchain. It has never been hacked since it was invented, and developers have been developing exciting DApps that run on the blockchain.
By using sharding, Zilliqa has avoided congestion, which is a major contributor to rising miner fees and gas prices on other blockchains.
The fees are currently above 34,738.778 Tx, as shown in the image above.
Historical data of Zilliqa (ZIL) price
Zilliqa conducted an Initial Coin Offering (ICO) that ended in January 2018, raising ether (ETH) worth $22 million. At the time of the ICO, one ZIL coin was going for 1 ZIL = 0.0000084656 ETH, and only 30% of the ZIL's total supply of 21 million ZIL coins was up for the ICO sale.
Originally the ZIL cryptocurrency was an ERC20 token since the Zilliqa blockchain had been launched on the Ethereum blockchain. However, Zilliqa blockchain introduced its mainnet in 2019, and the ERC20 was swapped with Zilliqa (ZIL) tokens.
The current circulating supply is about 11,670,142,875 ZIL tokens out of the total 21,000,000,000 ZIL tokens generating a market capitalization of $1.2 billion.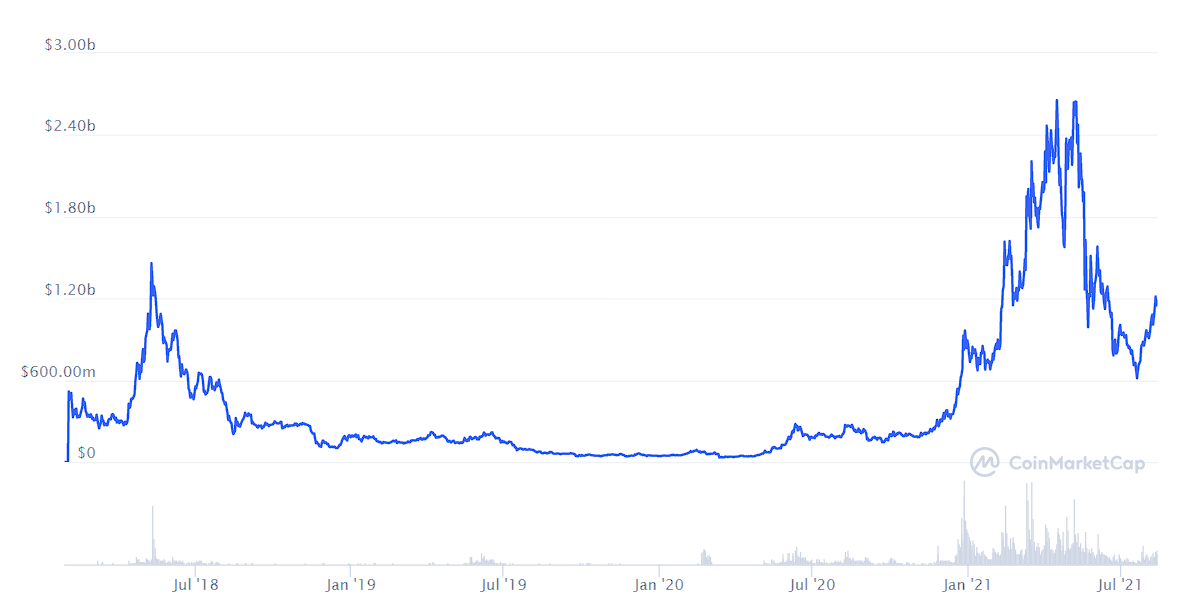 The coin hit its all-time high market price of $0.2563 on May 06, 2021.
Its all-time low of $0.002477 was recorded on March 13, 2020, when most cryptocurrencies were struggling with a persistent bearish trend.
ZIL price technical analysis
Zilliqa shows weak development in a falling trend channel in the medium long term. This signals increasing pessimism among investors and indicates further decline for Zilliqa. The currency has support at points 0.05 and resistance at points 0.08. Volume has previously been high at price tops and low at price bottoms. This weakens the falling trend and could be an early signal of a coming trend break. The RSI curve shows a falling trend, which supports the negative trend. The currency is overall assessed as technically neutral for the medium long term.
Recommendation one to six months: Hold (Score: 8)
Coincodex relies on sentiments to project that the value of Zilliqa will drop by -14.90% and reach $ 0.052592 by January 24, 2022. According to their technical indicators, the current sentiment is Bearish while the Fear & Greed Index is showing Extreme Fear. Zilliqa recorded 14/30 (47%) green days with 10.03% price volatility over the last 30 days. Based on their Zilliqa forecast, it's now a bad time to buy Zilliqa.
Based on data from January 19, 2022 at 05:57, the general Zilliqa price prediction sentiment is bearish, with 4 technical analysis indicators signaling bullish signals, and 26 signaling bearish signals. Zilliqa price prediction was last updated on January 19, 2022 at 05:57.
Comparing Zilliqa against other important technological innovations and trends is one way of predicting where the Zilliqa price could head over the long term. The following table shows what the Zilliqa price would be if its growth trajectory followed the growth of the internet, or large tech companies like Google and Facebook in their growth phase.
ZIL Price Prediction by Wallet Investor
Source: ZIL Price prediction by Wallet Investor
Wallet Investor predicts that the near future will see a rise in the coin; they expect that there will be corrections, but it is expected that the price will recover. By 2023, it is expected that ZIL will attain a price mark of $0.125. With ZIL's current price, a five-year investment would experience a 525% increase.
ZIL Price Prediction by Digital Coin
Source: ZIL Price Prediction by Digital Coin
Digital Coin forecasts that ZIL will end the year 2022 at a price mark of $0.087.They expect the NEXO price to increase but not to cross the $0.5 price mark in 2022. In 2023, the price of ZIL is expected to reach $0.1 and it will remain that way till 2028, where it would reach $0.2. According to Digital Coin, ZIL is expected to retain that price tag in 2029.
ZIL Price Prediction by Trading beasts
Per trading beasts, 2022 promises to start on a high for ZIL token at a rate of 37.36% of the Zilliqa price today. It will then steadily decline and close the year at a rate of 18.93% of its current price.
Trading beasts forecast that 2023 will start at 13.66% of its current price, steadily rise throughout the year and likely close the year at 66.48% of its current price.
Zilliqa is set to start 2024 at 70.72% of its current price, according to Trading beasts. It will then steadily rise through 2024 and close the year at 109.28%.
2025 is set to start the year at 112.32% of the original price per Trading Beast; they expect that the price will undulate in 2025 and finally close the year at 110.48%
ZIL Price Prediction by Cryptopolitan
Zilliqa Price Prediction for 2022
At Cryptopolitan, we expect 2022 to be a fantastic year for ZIL. The Zilliqa network is on a journey into the metaverse; this will surely create awareness for the coin in 2022. If more partnerships and developments are realized, we expect the ZIL token to trade at an average price of $0.09 in 2022, although it might briefly cross over to the $0.1-mark. However, we don't expect it to dwell on the $0.1-mark.
Zilliqa Price Predictions for 2023
In 2023, Cryptopolitan expects the ZIL token to trade at a minimum price of $0.09 and a maximum price of $0.13 if the market is favorable. The token is expected to get more popularity in 2023, and the developers should make improvements; if these are realized, there should be a modest increase in the trading price of ZIL.
Zilliqa Price Predictions for 2024
The current price trend of ZIL brings a predicted trading price of $0.10 – $0.15 with increased awareness in 2024.
Zilliqa Price Prediction for 2025
We expect ZIL to have an average trading price of $0.17 in 2025 if the market is favorable.
Conclusion
The ZIL network is set to join the metaverse universe by releasing metapolis; it is projected that this will create more awareness for the ZIL token, and we expect a price surge as a result. Although the popularity will still be less than coins like Bitcoin and Ethereum, we believe this is a step in the right direction, and the potentials ZIL possesses will enable it to rise further in the future.
If you wonder if ZIL is a good investment, you should do your own research and compare it with other prices. We know there are proposed plans, developments, and partnerships. If those are put in place, there will be increased awareness. And increased awareness is sure to lead to a positive surge in prices.
FAQs
Is ZIL a good investment?
Many things affect ZIL's price. The rate of supply and demand, the awareness, competitions faced, and developments made all affect the price, and since the network is in constant growth, we expect that the price will constantly rise. Ultimately, ZIL can be a good investment.
Will ZIL price get back to its ATH
With the promise ZIL has, there is no way it will not get back to its ATH with time. All ZIL needs its time, and it will surpass its ATH.
Will ZIL price reach $1?
ZIL has every prospect of reaching $1 with time. If awareness is raised through planned developments and innovations and if the crypto market price remains favorable, ZIL will surpass the $1-mark with time.
What will be ZIL price in 2025?
With an optimistic view, ZIL is expected to be trading at an average price of $0.14 in 2025 according to Digital Coin Price.
What will be ZIL price in 2030?
ZIL is expected to be trading at an average price of $2.03 in 2030 according to Price Predictions.
Zilliqa fundamentals
The main pointers for a long-term bullish trend of the ZIL digital coin prices include DApps, NFTs, Staking, Zilliqa Initial Launch Offering (ZILO), and the increasing adoption of Zilliqa blockchain users owing to its scalability and security features.
DApps
Already, there are a large number of DApps that are live on Zilliqa and others that are under development.
Zilliqa DApps ecosystem is expected to expand in the future as more DApps developers seek alternative blockchains to Ethereum due to the increasing gas prices on the Ethereum blockchain.
With more DApps launched on Zilliqa, ZIL token users will also increase, and thus the bullish ZIL cryptocurrency price prediction in the long term.
Staking
Besides trading the ZIL token on various crypto exchanges, Zilliqa also allows non-custodial staking through a propriety system referred to as the Zillion portal. The current APY for staking ZIL on the platform is about 6% which is considerably high compared to staking other cryptocurrencies elsewhere, making ZIL staking a good investment and a coveted yield farming option.
Non-Fungible Tokens (NFTs)
Zilliqa team also launched an NFT marketplace called ZILSTAR, in partnership with Polaris Sports, where users can buy and sell iconic football stars.
Zilliqa Initial Launch Offering (ZILO)
Zilliqa team also launched the Zilliqa Initial Launch Offering (ZILO) platform, where DApp developers can issue initial offerings.
$STREAM was the first project to be launched on ZILO, and it successfully raised $3.4 million in just 10 minutes.
Zilliqa predictions by industry experts
According to Paul Barron, a crypto expert, and a TV host, ZIL is likely to become twice the price if it stays true to its roadmap. Zilliqa is expected to drop their metaverse in January under the name metapolis. If they do, we will likely see a spike in price in January.
Nycjude is a Twitter crypto enthusiast and quite a fan of the Zilliqa. On 1 January 2022, he tweeted, anticipating that the year would be very productive for ZIL.
Zekromo is a crypto enthusiast that will typically give an in-depth analysis of the performance of the ZIL token. Zekromo, at the start of 2022, gave an update to the release of Metapolis bringing more awareness to the ZIL token.
Sandra is the head of metaverse and NFTs at Zilliqa. She usually gives updates on the development of metapolis. She recently announced the release of the metapolis roadmap, which brought more awareness to the ZIL token.
Conclusion
Although the popularity of Zilliqa coin (the ZIL coin) is below that of Bitcoin, Ethereum, and Ethereum Classic, among others, and its market price is also below that of Bitcoin price, Ethereum price, and Litecoin price, Zilliqa has a great potential for growth owing to its ability to solve scalability issues and the numerous products it has developed for its users including an NFT marketplace in an era where NFTs are taking the world by storm.
However, it is important to seek investment advice before investing to find out whether it is a profitable investment at that time. It is also important to compare the ZIL price prediction to other cryptocurrencies and that of the US dollar. Besides the USD predictions, examples of cryptocurrency price predictions include Ethereum price prediction, Polkadot price prediction, and Bitcoin price prediction.
FAQs about ZIL
What does 'buffered deposit' mean?
If you're getting the 'buffered deposit' error when trying to unstake your ZIL, just wait for up to 24 hours and try again.
What is the Zilliqa price today?
The current price of Zilliqa is 0.0616 USD today, 19th January 2022.
What will Zilliqa be worth in five years (2027)?
The Zilliqa (ZIL ) future price will be 0.395 USD, according to WalletInvestor.