Chainlink Price Prediction 2023-2032: A Strong Buy Sentiment for LINK?
Chainlink Price Predictions 2023-2032
No one could say if — and when — the crypto winter is ending. We can regard some successful strategies as "green shoots" to create hope for the crypto industry. ETH witnessed three consecutive weeks of inflows after 11 straight weeks of sell-off, according to a CoinShares report. Fear not, and let's explore Chainlink Price Prediction.
How much is LINK worth?
Today's live Chainlink price is $15.96, with a 24-hour trading volume of $909,580,620. Chainlink is up 3.91% in the last 24 hours. The current CoinMarketCap ranking is #12, with a live market cap of $8,889,990,630. It has a circulating supply of 556,849,970 LINK coins and a max. supply of 1,000,000,000 LINK coins.
Chainlink price analysis: LINK drops below after a bearish signal
Chainlink price analysis shows a bearish outlook
LINK is trading at $15.96, down by 3.91 percent
Resistance for LINK is set at $17.06
The Chainlink price analysis for 10th December indicates a bearish signal. The LINK price is currently trading at $15.96, down by 3.91 percent during the day's session, and has retraced to below the $17.00 key level after attempting to break past the resistance set at $17.06 earlier in the day. The bears have controlled the trend, and the price has been trading within the range for most of the session.
Chainlink price analysis 1-day chart: LINK seeks support below the $16.16 level as bears persist
On the daily chart Chainlink price analysis, LINK is forming a bearish trend line. The bears want to take full control of the market as the price has failed to surpass the $17.06 resistance level. A break below the current support level could see the bears push the price to $16.16, leading to further losses.
 LINK/USD 1-day chart, By TradingView
The Relative Strength Index and MACD indicate bearish signals, with the RSI hovering in the neutral region. The buying pressure could push the RSI back toward the overbought zone, providing LINK with more buying support. The MACD line is trending downwards, with the signal line also trending lower. Furthermore, the Bollinger band is narrowing, showing decreased volatility in LINK's market. LINK has faced a stiff rejection at the middle band and is heading lower.
Chainlink price analysis 4-hour chart: Bears attempt to break the $16.00 key support level
On the 4-hour chart, Chainlink price analysis shows that LINK is still under considerable bearish pressure. The bears have attempted to break the key support level at $16.16 multiple times during the day's session but have so far been unsuccessful.
LINK/USD 4-hour chart, By TradingView
The RSI is dipping toward the oversold region while the MACD line is trending lower and closely following the signal line, indicating a bearish outlook. The Bollinger band is widening as LINK touches the lower band at 16.09.
What to expect from Chainlink price analysis
Overall, the Chainlink price analysis shows LINK is in a bearish market. The bears have controlled the trend and pushed the price down to the $16.16 key level. However, if the bulls can manage a break past this level, then LINK could be able to start climbing higher again.
Recent News/Opinions on Chainlink
LINK Token Rises Amid Staking Update, Gains Top Whale Investors' Attention
Chainlink's cryptocurrency, LINK, has outperformed the market, including Bitcoin, with a staggering 189% increase since the beginning of 2023. This surge eclipses Bitcoin's 139% growth, primarily driven by the anticipation of Chainlink's new v0.2 staking mechanism. This update has sparked significant interest among large-scale investors, commonly known as whales, leading to a notable uptick in LINK token accumulation.
Recent reports indicate that the top 200 LINK wallets have boosted their holdings by an impressive $50 million, bringing their total to a whopping $11.84 billion, which equates to 746.57 million LINK tokens. This increase in whale activity, coupled with a decrease in token balance, is generating bullish sentiments in the cryptocurrency market.
Investors are increasingly viewing LINK as a long-term asset rather than a short-term gain, reducing the likelihood of immediate selling pressure. On-chain data reveals that the LINK supply stood at 102 million tokens, with nearly 20 million already staked following the introduction of the new mechanism.
The rise in LINK's value is also attributed to the adoption of Chainlink's Cross-Chain Interoperability Protocol (CCIP) by prominent institutions like Swift and Wemade. Sergey Nazarov, Chainlink co-founder, touts CCIP as a revolutionary solution in both decentralized and traditional finance sectors.
Concluding its November phase on a high note, Chainlink has secured a position among the top ten cryptocurrencies, thanks to its robust performance and growing popularity among major investors. With the ecosystem transitioning to Chainlink Staking v0.2, and a nine-day Priority Migration period followed by early access beginning December 7, 2023, LINK is expected to maintain its bullish trend, especially with General Access opening on December 11, 2023. Despite the inherent volatility, LINK's blend of bullish and bearish trends positions it above key resistance levels, fostering a sense of optimism for its performance in December 2023.
Anzen Taps Chainlink to Bolster Real-World Asset Lending
Anzen has formally joined Chainlink's BUILD program to accelerate decentralized lending growth using real-world assets (RWAs). By connecting to Chainlink's industry-leading Oracle network, Anzen gains enhanced reliability and security capabilities.
The integration with Chainlink provides Anzen access to specialized Oracle frameworks like Automation for triggering smart contract actions based on interest payments, CCIP for cross-chain connectivity, and Proof of Reserve to authenticate off-chain collateral reserves. Anzen can also leverage new Chainlink features in alpha/beta testing.
In return, Anzen will furnish network fees and other incentives to the Chainlink community, delivering value to node operators and users.
Anzen aims to shift RWAs on-chain by constructing a robust RWA-based lending protocol. This will offer yield opportunities to depositors while supplying reliable credit access to institutions. Expanding RWA crypto lending spurs wider economic development.
By partnering with Chainlink BUILD, Anzen can capitalize on the exceptional reliability of Chainlink Price Feeds. This allows the pricing of RWA loans on reliable market data, avoiding manipulation. Automation ensures proper tracking of repayment schedules, avoiding manual efforts.
For Anzen CEO Ben Shyong, Chainlink integration enables them to reach their goal of mainstream RWA lending. With battle-tested oracles securing operations, Anzen's protocol can provide attractive yields without compromising security.
Chainlink is the industry oracle standard powering leading DeFi applications by supplying tamper-proof, high-quality data. Anzen's choice validates Chainlink's dominance for crypto financial services needing robust, transparent inputs.
The collaboration constitutes a long-term alignment on a shared vision of migrating real-world markets safely onto the blockchain using the decentralized infrastructure.
Crypto Whale Buys Over 300K Chainlink Tokens Amid Market Watch
In a notable move within the cryptocurrency sphere, a prominent investor has acquired a stash of Chainlink tokens totaling 312,901 LINK, valued at approximately $3.81 million. This acquisition, averaging a cost of $12.17 per token, aligns closely with Chainlink's current exchange rate. The digital asset currently boasts a market capitalization of nearly $6.89 billion, with a daily trading volume reaching $729.95 million, per CoinGecko's tracking data.
This investor, recognized for their substantial market influence and history of lucrative cryptocurrency trades, has previously amassed over $3.9 million in profits from trading various altcoins. Notably, the investor's portfolio includes a $2.15 million gain from trading Rollbit's RLB and a $1.8 million profit from Flexacoin's FLEX.
In related news, the altcoin community has taken a keen interest in a massive Chainlink transaction, where around 3.8 million LINK tokens, worth close to $46 million, were transferred between two undisclosed wallets. Recorded on the Ethereum blockchain, such significant transfers are often precursors to market-shifting events, prompting speculation and close monitoring from investors and analysts alike.
Chainlink Price Prediction 2023-2032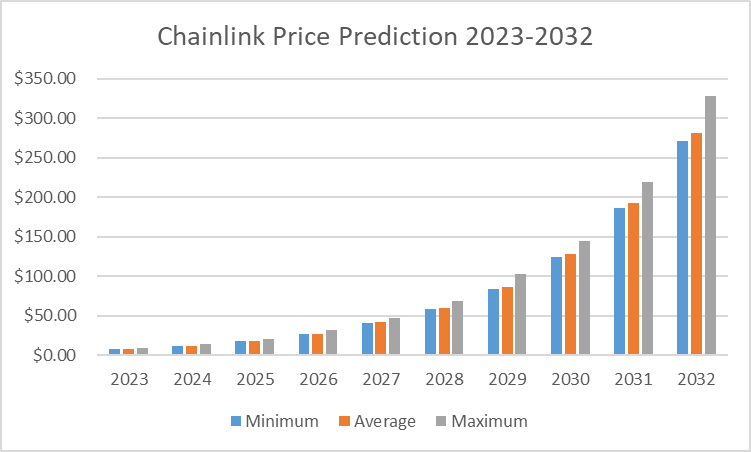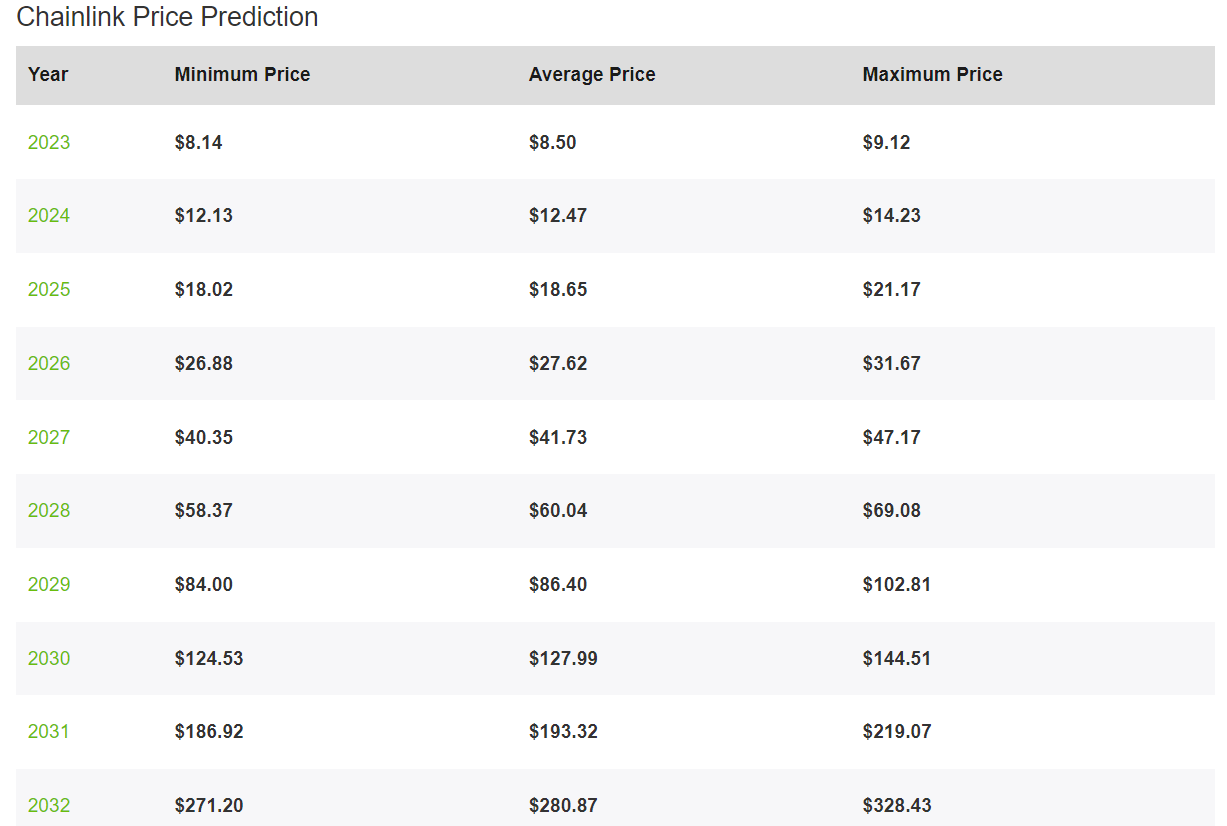 Price Predictions by Cryptopolitan
Cryptopolitan's Chainlink Price Predictions provides a detailed analysis of the potential future value of Chainlink (LINK), a cryptocurrency known for its decentralized Oracle network. Our team of expert analysts leverages their market knowledge to examine the factors and conditions that may impact the price of Chainlink.
With valuable insights and detailed outlooks, our report is valuable for investors seeking to make informed investment decisions in the dynamic crypto market. Join us as we delve into our Chainlink price predictions between 2023 and 2032, providing a comprehensive analysis of the potential trajectory of LINK's price based on various factors and scenarios.
Chainlink Price Prediction 2023
According to our Chainlink price prediction for 2023, LINK is expected to reverse the current downtrend and attain a minimum price value of $8.14, an average price of $8.50, with a maximum trading price of $9.12.
Recent developments around the Chainlink ecosystem have been positive, with the project partnering with Australian Bank ANZ for groundbreaking tokenized asset transactions. Bullish sentiment from the crypto community, combined with significant advancements in smart contract technology, could further drive the price of LINK in 2023.
Chainlink Price Prediction 2024
In the following year, 2024, LINK is anticipated to continue on an upward trajectory and achieve a minimum price of $12.13, an average forecast price of $12.47, and a maximum trading price of $9.12.
Chainlink Price Prediction 2025
In 2025, our Chainlink price forecast suggests LINK could trade at a minimum price of $18.02, an average price of $18.65, with a maximum price forecast of $21.17.
Chainlink Price Prediction 2026
Chainlink price prediction for 2026 anticipates LINK to trade at a minimum price of $26.88, an average of $27.62, and a maximum price of $31.67. The future looks promising for Chainlink, with the project gaining significant traction in the decentralized finance (DeFi) space and expanding its partnerships with major players in the industry.
Chainlink Price Prediction 2027
Our Chainlink price analysis suggests a bullish outlook for the project in 2027, with LINK expected to hit a minimum price of $40.35, an average of $41.73, and a maximum trading price of $47.17. As the adoption of smart contract technology continues to grow, Chainlink's decentralized oracle network will play a crucial role in connecting real-world data to blockchains.
Chainlink Price Prediction 2028
In 2028, the Chainlink price forecast predicts LINK to reach a minimum price of $60.58, an average price of $62.63, and a maximum trading price of $71.13. The project's reputation in the DeFi community and innovative technology could drive significant demand for LINK.
Chainlink Price Prediction 2029
LINK is expected to continue on its upward trend in 2029, with our Chainlink price prediction indicating a minimum price of $84.00, an average price of $86.40, and a maximum trading price of $102.81.
Chainlink Price Prediction 2030
In 2030, the Chainlink price forecast suggests that LINK could achieve a minimum price of $124.53, an average price of $127.99, and a maximum trading price of $144.51. With the increasing adoption of blockchain technology and decentralization, Chainlink's oracle services will likely become even more crucial in ensuring secure and reliable data feeds for smart contracts.
Chainlink Price Prediction 2031
Chainlink price prediction for 2031 anticipates the price of LINK to range at a minimum of $186.92, an average of $193.32, and a maximum trading price of $219.07.
Chainlink Price Prediction 2032
Chainlink price prediction for 2032 is LINK to reach a minimum price of $271.20, an average price of $280.87, and a maximum trading price of $328.43. With the potential for widespread adoption of blockchain technology in various industries, Chainlink's Oracle network could see a surge in demand for its services.
Chainlink Price Prediction by Technewsleader
Chainlink price prediction by Technewsleader estimates the price of LINK to experience enormous growth. It could attain a yearly turnaround of a minimum of $37.96 and a maximum trading price of $95.36 by 2029. The market analyst states that LINK could attain a maximum price of $170.80 in the next ten years, with a minimum forecast price of $290.26 by the end of 2032.
Chainlink Price Prediction by Coincodex
Coincodex has analyzed various technical indicators and provided a short-term and long-term LINK price forecast. Their Chainlink price prediction estimates LINK to rise by 5.95% and reach $ 8.17 by October 2, 2023. According to their technical indicators, the current sentiment is Bullish, while the Fear & Greed Index shows 44 (Fear). Chainlink recorded 16/30 (53%) green days with 6.94% price volatility over the last 30 days. Based on the Chainlink forecast, it's a good time to buy Chainlink.
Chainlink price predictions by Coincodex suggest that the cryptocurrency is anticipated to experience significant fluctuations in the coming years. In 2023, LINK is expected to trade between $7.71 and $21.36, potentially seeing a 179.15% increase. In 2024, the range widens to $7.71 to $45.65, with a potential 496.56% increase. By 2025, Chainlink may reach between $16.18 and $54.12, indicating a 607.21% potential gain. The 2030 prediction suggests a range of $9.92 to $30.15, possibly a 294.07% increase. While the possibility of reaching $100 by October 2032 is mentioned, predictions for $1,000 and $10,000 appear less likely, with the highest estimated price being $333.13 by January 1, 2049. It's important to note that cryptocurrency prices are highly speculative and subject to change based on various factors.
Chainlink Price Prediction by DigitalCoinprice
Coincodex is another website with a bullish outlook on LINK's short-term and long-term prospects. The Chainlink price prediction suggests a bullish outlook with expectations of significant growth. By the end of 2025, Chainlink is forecasted to increase by approximately 254.91%, reaching a value of $27.67. However, the current Fear & Greed Index reflects extreme fear in the market. Over the next few years, gradual price rises are anticipated, with 2023 ending around $16.79, followed by $19.67 in 2024. By 2032, the price could reach $149.15, indicating long-term optimism.
Chainlink Price Prediction by Market Experts
Market experts have varying opinions on Chainlink's price potential in the coming years. The outlook for Chainlink appears to be influenced by several positive and negative factors. On the positive side, Chainlink is actively implementing network upgrades, including the Cross-Chain Interoperability Protocol (CCIP) and Chainlink Economics 2.0, which are expected to enhance blockchain interoperability and the overall value proposition of the Chainlink Network. Additionally, partnerships with institutions like Swift, Amazon Web Services, Associated Press, and Google BigQuery indicate growing institutional adoption and demand for Chainlink's services.
However, concerns exist, such as the perceived aggressive selling of LINK tokens by the Chainlink team and node operators, which can exert selling pressure and dampen price potential. Nonetheless, Chainlink Economics 2.0 aims to address these issues.
For the near term, the price prediction for Chainlink ranges from lows of $11 to highs of $19, with an average price of $15. Looking further ahead to 2025, experts anticipate potential lows of $20, highs of $28, and an average price of $24.
More Crypto Online notes that there is resistance around $7.88, and if LINK breaks below that level, it could signal a bearish trend with a potential target of $7.23. The analyst mentions an alternative bullish scenario, where LINK might break out of the range if it surpasses $9.50. He emphasizes the importance of monitoring key levels, such as $6.19 and $5.30 for potential breakdowns, and $9.50 for potential upside movements.
Chainlink Overview
Chainlink Price History
Is Chainlink helping empower Web3 innovation? This week, there were 8 integrations of 4 #Chainlink services across 5 different chains: @arbitrum, @avax Fuji testnet, @BNBChain, @Ethereum, and @0xPolygon. Chainlink Functions is now live on Avalanche Fuji testnet, helping bring the world's APIs to Web3 – May 1 – May 7.
Question of the hour: <a href="http://
How come despite the constant "adoptions" the $LINK token only continues to bleed against ETH and BTC? Why did you need to dump the token for billions of USD?

— HOI Boy (@mrwwsteppah) May 7, 2023
">Dumping LINK? How come despite the constant "adoptions" the
$LINK
token only continues to bleed against ETH and BTC? Why did you need to dump the token for billions of USD? Just asking.
The Chainlink Spring 2023 Hackathon began last week! 200+ Countries Participating. Don't miss your chance to join us and explore the intersection of AI and blockchain
More on Chainlink
What is Chainlink?
Chainlink is known as a decentralized oracle network or blockchain abstraction layer. Chainlink uses blockchain technology to securely enable computations on and off chain, supporting what it calls hybrid smart contracts.3 Enterprises using Chainlink can access any major blockchain network, including Ethereum and Solana.
Chainlink Applications
Due to the way the smart contracts of Chainlink were developed, Chainlink has the prospect of fitting into every facet of our lives. Chainlink's smart contracts were developed to solve the issue with Oracle. The Oracle problem is that blockchains were disconnected from the outside world.
The smart contracts for Ethereum and other crypto assets could only fetch data that was already stored on the blockchain. However, non-deterministic data (data outside the blockchain database) could not be fetched. However, the introduction of Chainlink introduced a middleware solution that could fetch data from outside a blockchain database.
It was done by creating decentralized networks of Oracles, and the fascinating thing here is that the blockchain is not in any way affected.
The ground-breaking development raises the prospect of Chainlink through the roof, and the technology is applicable in the following areas: using satellite imagery in the military for information gathering; triggering insurance payouts; global trade; direct transactions which cut out intermediaries for post-trade processing; paying your workers or getting paid in real-time for services rendered; can be used during elections to vote; can be used for trading on gaming platforms, etc.
Where to buy Chainlink (LINK)?
To use Chainlink's Oracle system, you need to have Chainlink's native token, LINK, as a payment means for the service. Chainlink network is built on the Ethereum network and utilizes ERC677, which obtained its efficacy from ERC 20 token standards and enables token transfer to comprise a data payload.
The ERC677 is also utilized for settlement with a Chainlink node operator who supplies and feeds data into the network, paid for by the buyers. The vendors decide the cost of the service after bidding.
Many investors are wondering where to buy the token Chainlink. Apart from earning Chainlink tokens by participating as an oracle or a node operator, they can also be acquired from a cryptocurrency exchange.
Top crypto exchange platforms such as Binance, Coinbase, and Gemini allow individuals to buy LINK using fiat currency via a credit card or debit card, bank transfer, etc. Use a hardware wallet to store LINK tokens securely.
When did Chainlink reach its all-time high?
The popularity and demand for smart contract technology surged in 2021 due to the heightened proliferation of blockchain tech and the Ethereum blockchain's upgrade. On January 23, LINK's price reached a new all-time high of $52.
The price of Chainlink continued the positive momentum, and a little later, it was trading at record levels above the $30 price level. On February 14, 2021, LINK peaked at $35.58, setting a new all-time high, but it has since retraced lower.
The coin surged after a small downward trend, reached another all-time high, and traded at $52.43 on May 10. This was the new all-time high set by Chainlink in May.
It couldn't continue this price growth; shortly afterward, it fell nearly half this price. Chainlink's price today is just above 25 USD.
What drives LINK price?
Certain prominent elements affect the market value of any cryptocurrency. Such factors include economic news, market sentiments, and government regulations. Apart from these popular asset price influencers, we have identified some more factors responsible for the price actions of LINK.
Chainlink Future Developments
Chainlink continues to garner significant appeal among developers, and it has completed over 300 integrations with nodes, data providers, DeFi, and blockchain-based projects. To date, every single Chainlink integration has bolstered LINK's market capitalization, and continued growth is expected.
The more projects linked to Chainlink, the higher the market price of LINK, especially if the projects boom with impressive scalability. In 2021 alone, Chainlink had over 700 partnerships, integrations, and collaborations; in the first quarter of 2022, the project added 140 more.
Speculations and Interests
The surge in the price of LINK is often tied to rising interest in the coin and significant DeFi developments. It is no hidden secret in the crypto market that when institutional investors turn to an asset, its price goes up.
Similarly, speculations play a significant role in the price of any asset. The value of LINK will respond to rumors in the crypto space, news, and discussion in public columns among miners, investors, and devs.
More importantly, DeFi migration for centralized finance systems will undoubtedly generate massive speculative interest in blockchain projects like Chainlink.
Oracle Services Functionalities
The output of a smart contract is only as good as its external data sources. Hence, if the data source is malicious, the smart contract outputs inaccurate outcomes.
Ensuring the validity and accuracy of data sources is one colossal concern that Chainlink solves via its Oracle services. The expansion of Chainlink's functionality could significantly impact LINK's market value, as seen in 2019 when Google announced a Chainlink integration that led to a giant leap in the coin's value.
More future integrations and real-world applications will definitely affect LINK's price.
Where to store LINK
You can use a software wallet (e.g., MetaMask, Trust Wallet) or a hardware wallet (e.g., Ledger, Trezor). When it comes to using a crypto wallet vs. an exchange to store your coin, crypto wallets are generally preferred. However, these options are a bit more cumbersome and do come with their own risks. For example, if you lose your wallet keys, nobody will unlock them for you. But crypto investors still recommend using these wallets because they give you full control over your coins and are less likely to get hacked.
Conclusion
Chainlink theoretically faces off against the entire cryptocurrency market as a cryptocurrency. However, there are only three major rivals to Chainlink as a project: Band Protocol, API3, and WINKlink. As connecting other projects is the primary function of Oracle networks like Chainlink and the three listed above. The most crucial parameter for them is the number of partners they have got, making them compatible with one another and the outside world. Chainlink has ten times more collaborations and integrations than those three combined, putting it far ahead of its rivals. It is unquestionably the best.
The long-term price projections indicate LINK will probably reach new all-time highs as crypto adoptions intensify in the coming years. However, these are our Chainlink price predictions based on deep analysis and the tracking of historical data, so they are not investment advice. Do your own research before taking an investment option.
Is Chainlink a good investment?
At present, the cryptocurrency market is forecast to grow in the coming years, with LINK prices expected to rise along with it. However, there are a number of factors that could lead to a rise or fall in prices. These include advances in technology, changes in market conditions, and the actions of governments and regulatory bodies. As such, anyone investing in LINK should do so with caution and only after doing their own research.
Will Chainlink coin crash?
It is not possible to say definitively whether Chainlink prices will rise or fall in the future. However, as the cryptocurrency market is forecast to grow in the coming years, it is likely that LINK prices will also increase.
Where can I buy and sell LINK?
LINK can be bought and sold on a number of exchanges; Binance, FTX, Huobi Global, KuCoin, Kraken, Gemini, Gate.io, Coinbase Exchange, Bitstamp, Bybit, FTX US, etc.
Can Chainlink reach $1,000?
It is possible, but predictions and algorithms cannot anticipate the news and industry developments that ultimately inform a coin's price.
Disclaimer. The information provided is not trading advice. Cryptopolitan.com holds no liability for any investments made based on the information provided on this page. We strongly recommend independent research and/or consultation with a qualified professional before making any investment decisions.