It's looking like we're headed into a bear market. But fear not, let's explore why Chainlink's dip might just be worth buying if you invest in crypto. ChainLink's primary value proposition brings interoperability to the blockchain sector. Chainlink is the leading oracle providing an essential service to the growing number of smart contracts. Within the larger cryptocurrency market, it's one of the least risky bets.
Today's Chainlink price is $7.81 with a 24-hour trading volume of $446,191,327 Chainlink is up 7.70% in the last 24 hours. The current CoinMarketCap ranking is #25, with a live market cap of $3,649,093,717 USD. It has a circulating supply of 467,009,550 LINK coins and a max. supply of 1,000,000,000 LINK coins.
Also Read:
• How To Stake Chainlink?
• How To Buy Chainlink?
Interoperability allows two blockchain networks to exchange information and value without intermediaries. Most popular blockchain projects such as Bitcoin, Ethereum, and Ripple have existed for a long time without communicating with each other. Interoperability enables swift information sharing, more straightforward execution of smart contracts, and exchanging blockchain solutions.
Let's look at why –or why not — you should add LINK to your crypto investment portfolio.
What is Chainlink (LINK)?
Chainlink is primarily a decentralized oracle network that provides real-world data to smart contracts on the blockchain. Smart contracts are pre-specified agreements on the blockchain that evaluate information and automatically execute when certain conditions are met. Chainlink's smart contract platform has made this a reality through its Oracle Network. In this article, we will unveil our Chainlink price prediction. It is imperative to know the future price before investing.
Chainlink discovered how to feed in and obtain info from blockchain networks decentralized, dependable, and tamper-resistant. Further, it developed a network of nodes to exchange information between blockchains, which ultimately became an important smart contract innovation.
As such, Chainlink oracles can share crucial information, including price feeds, the outcome of an event, and connect to traditional settlement methods in a decentralized but tamper-proof way. In other words, Chainlink exists as a decentralized oracle network composed of data buyers and Chainlink node operators.
The buyers' order information and the Chainlink node operator deliver the info securely. The buyers choose the information they need to be supplied, and the vendors bid to do the supply.
The vendors must dedicate some LINK tokens to acquire if they violate the rules to make a bid. Once the vendors are picked, they are now tasked with giving the right answers through blockchain.
The information is aggregated and weighed by an oracle reputation system developed by Chainlink. If the transaction is completed without problems, the vendors are paid both parties are satisfied.
Along with this, Chainlink Keepers is also now live, and ChainSafe has recently received huge funding from Chainlink Community Grant. This funding aims to improve and advance the development of web3.js.
Chainlink Overview
Chainlink Overview
Coin
Symbol
Price
Marketcap
Change
Last 24h
Supply
Volume (24h)

LINK
$

6.12

$

2.85 B

0.23%

467.10 M
$

338.18 M
Chainlink Applications
Due to the way the smart contracts of Chainlink were developed, Chainlink has the prospect of fitting into every facet of our lives. Chainlink's smart contracts were developed to solve the issue with Oracle. The Oracle problem is that blockchains were disconnected from the outside world.
The smart contracts for Ethereum and other crypto assets could only fetch data that was already stored on the blockchain. However, non-deterministic data (data outside the blockchain database) could not be fetched. However, the introduction of Chainlink introduced a middleware solution that could fetch data from outside a blockchain database.
It was done by creating decentralized networks of Oracles, and the fascinating thing here is that the blockchain is not in any way affected.
The ground-breaking development raises the prospect of Chainlink through the roof, and the technology is applicable in the following areas: using satellite imagery in the military for information gathering; triggering insurance payouts; global trade; direct transactions which cut out intermediaries for post-trade processing; paying your workers or getting paid in real-time for services rendered; can be used during elections to vote; can be used for trading on gaming platforms, etc.
Where to buy Chainlink (LINK)?
To use Chainlink's oracle system, you need to have Chainlink's native token, LINK, as a payment means for the service. Chainlink network is built on the Ethereum network and utilizes ERC677, which obtained its efficacy from ERC 20 token standards and enables token transfer to comprise a data payload.
The ERC677 is also utilized for settlement with a Chainlink node operator who supplies and feeds data into the network, paid by the buyers. The vendors decide the cost of the service after bidding.
Many investors are wondering where to buy the token Chainlink? Apart from earning Chainlink tokens by participating as an oracle or a node operator, they can also be acquired from a cryptocurrency exchange.
Top crypto exchange platforms such as Binance, Coinbase, and Gemini allow individuals to buy LINK using fiat currency via a credit card or debit card, bank transfer, etc. Use a hardware wallet to store LINK tokens securely.
Technical analysis of Chainlink (LINK) at the moment
(LINK) Chainlink Technical analysis by Tradingview
With the sightings of bullish growth since the start of the year as shown on the chart above, the LINK price is above the 9-day MA on the 1-month chart. We can also see that the price has sustained an upward trend since 31st December 2021.
In July 2020, ChainLink burst into the top ten ranked cryptocurrencies by total market capitalization after having an excellent year with LINK trading at record levels. This year on May 10, Chainlink's token surged to record a new all-time high at $52.88.
LINK/USD is a favorable pair to buy or sell Chainlink at any major exchange.
After the bearish drop in the market, the Chainlink price had fallen drastically. LINK is currently trading at $27.49. Indeed the coin had taken a huge dip as it is currently 46.42 percent below its ATH.
When did Chainlink reach its all-time high?
The popularity and demand for smart contract technology surged in 2021 due to the heightened proliferation of blockchain tech and the Ethereum blockchain's upgrade. On January 23, LINK's price reached a new all-time high of $52.
The price of Chainlink continued the positive momentum, and a little later, it was trading at record levels above the $30 price level. On February 14, 2021, LINK peaked at $35.58, setting a new all-time high but has since retraced lower.
The coin surged after a small downward trend, reached another all-time high, and traded at $52.43 on May 10. This was the new all-time high set by Chainlink in May.
It couldn't continue this price growth, and shortly afterward, it fell nearly half of this price. Chainlink's price today is just above 25 USD.
What drives LINK price?
Certain prominent elements affect the market value of any cryptocurrency. Such factors include economic news, market sentiments, and government regulations. Apart from these popular asset price influencers, we have identified some more factors responsible for the price actions of LINK.
Chainlink Future Developments
Chainlink continues to garner significant appeal among developers, and it has completed over 300 integrations with nodes, data providers, DeFi, and blockchain-based projects. To date, every single Chainlink integration has bolstered LINK's market capitalization, and continued growth is expected.
The more the projects linked to Chainlink, the higher the market price of LINK, especially if the projects booms with impressive scalability. In 2021 alone, Chainlink had over 700 partnerships, integrations, and collaborations; in the first quarter of 2022, the project added 140 more.
Speculations and Interests
The surge in the price of LINK is often tied to rising interest in the coin and significant DeFi developments. It is no hidden secret in the crypto market that when institutional investors turn to an asset, its price goes up.
Similarly, speculations play a significant role in the price of any asset. The value of LINK will respond to rumors in the crypto space, news, and discussion in public columns among miners, investors, and devs.
More importantly, DeFi migration for centralized finance systems will undoubtedly generate massive speculative interests around blockchain projects like Chainlink.
Oracle Services Functionalities
The output of a smart contract is only as good as its external data sources. Hence, if the data source is malicious, the smart contract outputs inaccurate outcomes.
Ensuring the validity and accuracy of data sources is one colossal concern that Chainlink solves via its oracle services. The expansion of Chainlink's functionality could significantly impact LINK's market value, as seen in 2019 when Google announced a Chainlink integration that led to a giant leap in the coin's value.
More future integrations and real-world applications will definitely affect LINK's price.
Where to store LINK
You can use a software wallet (e.g. MetaMask, Trust Wallet) or hardware wallet (e.g. Ledger, Trezor). When it comes to using a crypto wallet vs an exchange to store your coin, crypto wallets are generally preferred. However, these options are a bit more cumbersome and do come with their own risks. For example, if you lose your wallet keys then there's nobody to unlock them for you. But crypto investors still recommend using these wallets because they give you full control over your coins and are less likely to get hacked.
Chainlink Price History
2018 began with a strong bullish rally, and most digital assets were at their summit. Chainlink token was not an exception. However, after that, a sharp freefall in the altcoins market resulted in billions of dollars being wiped out of the market.
We are currently witnessing a somewhat similar situation. Most altcoins are currently at one-half to one-fourth of their all-time high.
Not many altcoin projects managed to survive the famous crypto winter season. Some altcoins like Ethereum price and Chainlink price managed to endure the dark moment, and their price began rising.
2019 was a very significant year for Chainlink. Its token LINK was performing very impressively in the market. The performance is heavily associated with the pioneering DApps on the Chainlink network and listing by a few crypto exchanges such as Bitbox the previous year.
This drove the LINK price from $0.3 at the beginning of the year to a record $1.13 by May 2019. The oracle coin broke its ATH twice more that year, and on June 24, 2019, LINK's price reached a record $4.540. The bullish rally was heavily driven by the release of the Chainlink network on the Ethereum main network.
In 2020, the Chainlink project emerged as the top performer of all cryptocurrencies beating significant cryptocurrencies like Bitcoin and Ethereum for the second year in a row. Bitcoin price The massive rally was heavily connected to the 2020 DeFi craze.
LINK began trading at around $1.70 and hiked towards $4.570 in February. LINK remained quiet until mid-July, when the LINK price rallied towards a new ATH at $8.40. The rally continued, and Chainlink's digital asset price almost hit $20 but faced rejection and pulled back to under $12.
In 2021, Chainlink's price enjoyed a strong bull run as wave-like bullish activity caused the price to rise from the $12.00 mark to the recent highs of $36.00.
Chainlink's price faced strong resistance at the $36 mark, which it could not break through and ended up being rejected from the level. The rejection caused the price to fall to the $23.50 mark before the price bounced back to the $30 support level.
Afterward, in May, the coin reached its all-time high of $52.88, and from thereon, it started to fall. The fall in the price of Bitcoin affected Chainlink until it was $30.
Meanwhile, the price of the coin has been changing its direction towards a surge since the beginning of 2022.
LINK/USD Technical analysis
Looking at the daily chart, we can see that prices have made higher lows and higher highs, which is a bullish sign. The RSI indicator is also in the overbought territory, which means that the prices could correct lower in the near term. However, the Support levels are seen at $8.5 and $8.0 while the resistance levels are at $9.5 and $10.0.
The LINK/USDT pair is trading at $9.20 and is showing signs of bullishness. The 4-hour chart shows that the digital asset has formed a bearish divergent candlestick pattern. This usually happens before a price correction or a reversal. The RSI indicator is also in the overbought territory, which means that the prices could see a sell-off in the near term. The support levels are seen at $8.5, $8.0, and $7.5 while the resistance levels are at $9.5 and $10.0.
The Bollinger bands are starting to widen, an indication that the market is starting to gain some momentum. The upper band is currently at $10.4 which is very close to the major resistance level. The digital asset will have to close above this level on a daily basis in order to continue the uptrend.
The 50-day EMA is currently at $8.1 and the 100-day EMA is at $7.2. These moving averages are acting as support levels on the downside. The buyers have been able to push the prices above these moving averages as buying pressure has increased in the market.
The 4-hour LINK/USD chart shows that the digital asset has made higher highs and higher lows. The price action is currently trading above the moving averages which are bullish. The MACD indicator is in the positive territory but there is a bearish divergence developing as the prices make higher highs but the MACD indicator makes lower highs. This could mean that a correction is on the cards in the near term.
The 4-hour chart for Chainlink price analysis shows that the digital asset has formed a bearish divergent candlestick pattern. This usually happens before a price correction or a reversal. The RSI indicator is also in the overbought territory, which means that the prices could see a sell-off in the near term. The support levels are seen at $8.5, $8.0, and $7.5 while the resistance levels are at $9.5 and $10.0. The Bollinger bands on the 4-hour price chart are wide, showing that the market volatility is high.
Chainlink's bulls have returned with a vengeance over the past few days, pushing the cryptocurrency up by over 20% since last week. LINK is now approaching a key resistance level at $13.50, which if broken could see it continue its climb higher.
Chainlink price prediction 2022-2030
Wallet Investor
According to Wallet Investor's Chainlink price prediction, a long-term increase is expected, the Chainlink price stooping to as low as $30.793 by the end of 2022. By the end of 2023, LINK might rise to $38.565. And by the end of 2025, the Chainlink price is forecasted to stand at $57.079
Digitalcoinprice
Digitalcoinprice's LINK price prediction for 2022 suggests that the coin might trade in a range-bound manner with its value reaching as high as $43.19 and as low as $32.02 by the end of 2022. However, 2023 might be a relatively good year for LINK with its price reaching as high as $56.24.The site then forecasts a general year-on-year uptrend, suggesting an average value of $10.84 in 2023, $10.97 in 2024, and $14.30 in 2025. The site's chainlink price prediction for 2030 is $34.10.
Price prediction net
According to price prediction net, Chainlink might hit $20 by the end of 2022. 2023 could be a good year for the coin as its price is expected to rise to $32 by the end of 2023. The site then forecasts a slight decline in LINK's value over the next few years with it reaching $26 by 2025 and $24 by 2026. However, the coin is expected to pick up again in 2027 and might even hit $50 by 2030.
Cryptopolitan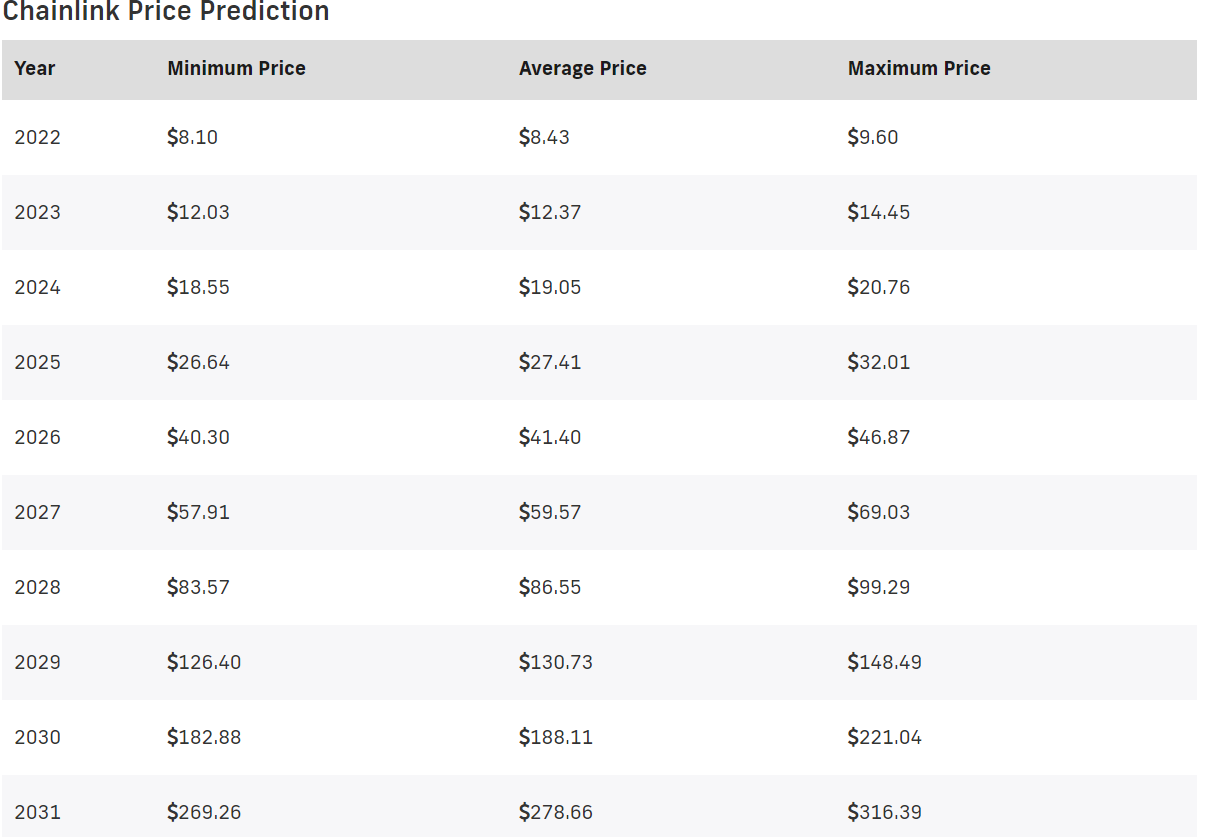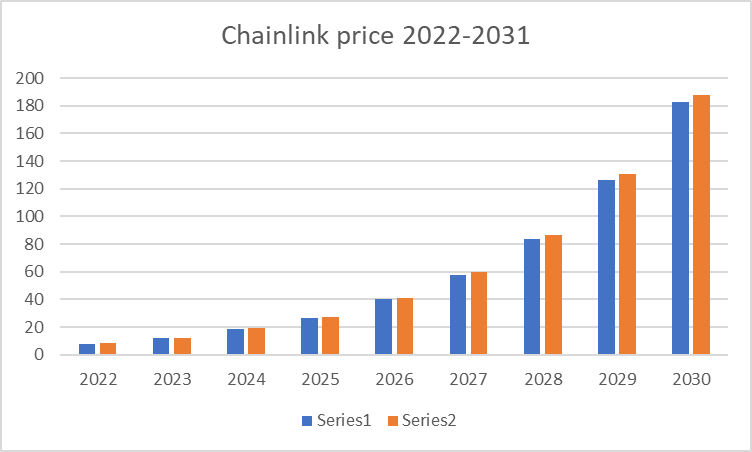 Chainlink price prediction 2022
According to the current price of Chainlink, the LINK price is predicted to reach a minimum of $8.1 in 2022. Additionally, long-term LINK price predictions from various sites are almost unanimously bullish, with all of them expecting the Chainlink price to rise in the coming years.
Chainlink price prediction 2023
LINK is expected to make significant gains in 2023 and could even reach an average trading price of $12.37 by the end of the year. Chainlink prices are also expected to attain a maximum trading price of $14.45 and also hit a minimum of $12.03.
Chainlink price prediction 2024
The LINK price is expected to continue its upward trend in 2024 and could even hit a high of $20.76.Moreover, LINK price may reach an average price of $19.05 and a minimum of $18.55.
Chainlink price prediction 2025
The cryptocurrency experts have studied Chainlink's prices and fluctuations throughout the years. They are optimistic that in 2025, the minimum LINK price might drop to $26.64, while its maximum can reach $32.01. On average, the trading price will be around $27.41.
Chainlink price prediction 2026
In 2026 it will be a bullish LINK price prediction year, with the price reaching a maximum of $46.87 and an average of $41.40. Additionally, the LINK price is expected to reach a minimum of around $40.30.
Chainlink price prediction 2027
The LINK price is expected to continue its upward trend in 2027 and could even hit a high of $69.03. Moreover, the LINK price may reach an average price of $59.97 and a minimum of $57.91.
Chainlink price prediction 2028
The cryptocurrency experts have studied Chainlink's prices and fluctuations throughout the years. They are optimistic that in 2028, the minimum LINK price might drop to $83.57, while its maximum can reach $99.29. On average, the trading price will be around $86.55.
Chainlink price prediction 2029
LINK price is expected to soar in 2029, with the price reaching a maximum of $148.49 and an average of $130.73. Additionally, the minimum price is expected to be around $126.18.
Chainlink price prediction 2030
After years of analysis of the Chainlink price, crypto experts are ready to provide their LINK price estimation for 2030. LINK price is anticipated to reach a minimum price of $182.88, with the possible maximum peaks at $221.04. Therefore, on average, you can expect the LINK price to be around $188.11 in 2030.
LINK Price Prediction by Industry Influencers
The Chainlink token is a utility token, as it continues to secure billions of dollars in major sectors, DeFi, NFT games, and insurance while also acting as a universal connector between blockchains. Recently it announced Chainlink Tech Talk to explore how @fraxfinance and @QiDaoProtocol are pushing forward the @FantomFDN#DeFi ecosystem through stablecoins and collateralized debt positions.
@DMG3465 suggests that $LINK is not for the impatient. It is going to suffer market conditions and painful lulls in growth. This is how a big, successful business grows. Chainlink has surrounded itself with people who have realized this success.
Conclusion
The cryptocurrency market is forecast to grow in the coming years, with LINK prices expected to rise along with it. However, there are a number of factors that could lead to a rise or fall in prices. These include advances in technology, changes in market conditions, and the actions of governments and regulatory bodies. As such, anyone investing in LINK should do so with caution and only after doing their own research.
Chainlink is presently one of the top 15 largest cryptocurrencies, and it deserves to be there. The oracle blockchain is a genuine cryptocurrency company with a large and active community.
Chainlink network was the first to take advantage of the multi-billion dollar blockchain interoperability sector, establishing itself as the industry's most dependable oracle service provider. Even though the Chainlink (LINK) price is unpredictable in the future, it still has a lot of upside potential. Both fundamental and technical analysis provide evidence for higher price levels for Chainlink to establish new partnerships on a regular basis.
This document is a self-assessment of LINK's previous performance as well as its future prospects. That is all for now. Our website is updated on a regular basis to provide you with additional information in whatever way we can.
Disclaimer. The information provided is not trading advice. Cryptopolitan.com holds no liability for any investments made based on the information provided on this page. We strongly recommend independent research and/or consultation with a qualified professional before making any investment decisions.