Solana Price Prediction 2023-2032: Is SOL a Good Investment?
Solana Price Prediction 2023-2032
How much is SOL worth?
The live Solana price today is $19.14 with a 24-hour trading volume of $228,434,886 USD. We update our SOL to USD price in real-time. Solana is up 0.94% in the last 24 hours. The current CoinMarketCap ranking is #9, with a live market cap of $7,901,314,034. It has a circulating supply of 412,712,873 SOL coins and the max. supply is not available.
Solana price analysis: SOL prepared to assault the $19.45 barrier as bullish momentum returns
TL: DR Breakdown
Solana price analysis shows an uptrend today and is trading at $19.14 at the time of writing
The strongest support for SOL/USD is present at $18.86
Solana's price faces rejection at the $19.45 level
Solana price analysis confirms an increasing trend for cryptocurrency, as the coin value has increased today. The price levels have increased again as bulls continue their lead after the correction seen in the previous days. The 24-hour high stands at $19.45, and the low has been recorded at $18.86. The market sentiment for this coin is also positive, as the buying pressure is much higher compared to the selling pressure. This indicates that there might be a further increase in prices as more people will be interested in buying coins due to this positive trend. With increasing demand and positive sentiment, it looks like Solana could easily break all-time highs in the near future.
Solana price analysis 1-day chart: SOL climbs higher at $19.14 following a bullish action.
The 1-day Solana price analysis reveals that the SOL price is still racing high as it has been on an upward trend for the past 24 hours with a significant spike of 0.94% during the same period. The price level has now reached a new all-time high of $21.90 as bulls continue to take control of the market. This surge in prices can be attributed to the strong buying pressure that is currently being experienced on Solana, as most traders are expecting further gains for this coin in the near future.
SOL/USD 1-day price chart, Source: TradingView
The volatility is high, which indicates a relatively positive signal for the future. The Bollinger bands show the same, with the upper band trending higher than that of the lower band. The moving average convergence and divergence (MACD) indicator is also bullish, as it has been rising steadily for the past few days. The RSI is currently at 44.84, which indicates that the coin is in neutral territory.
SOL/USD 4-hour price chart: Bullish vigor increases to $19.14
Looking at the hourly price chart of Solana confirms that the price has been in a strong uptrend over the last month. The chart also shows that there is an increasing demand for the coin and that it is likely to rise further in the near future. Although the bears were in control earlier, they have now been pushed away by the bulls. As such, it is safe to assume that the SOL token will continue its upward trajectory in the short term.
SOL/USD 4-hour price chart, Source: TradingView
The 4-hour Solana price analysis shows similar patterns. The price has increased significantly in the past 24 hours and is trending upward. The RSI stands at 46, which indicates that the market is neither oversold nor overbought, while the MACD indicator shows a bullish trend. The Bollinger bands also show increasing volatility, which indicates that traders are expecting further gains in prices for the coin in the near future. The Bollinger bands show the upper band at $19.66, and the lower band is currently at $18.84.
What to expect from Solana price analysis
Solana price analysis appears to be on track for further gains as it continues to ride the wave of positive sentiment surrounding the cryptocurrency market. With strong buying pressure and increasing demand, SOL could easily break its current all-time highs in the near future. The resistance for the SOL/USD pair is currently at $19.14, and if this level is breached, there could be a massive surge in prices.
Recent News on Solana
In a remarkable display of rapid growth and widespread adoption, Friendzy, a recently launched platform, has achieved a staggering weekly trading volume of almost $1 million within just one week of its debut. This milestone underscores the platform's promising potential in the burgeoning world of cryptocurrency and decentralized finance.
Friendzy, which was introduced to the market with great anticipation, has quickly garnered the attention of crypto enthusiasts and traders alike. Its meteoric rise in trading volume in such a short time frame speaks volumes about its appeal and functionality.
The platform's user-friendly interface, robust security measures, and an array of attractive features have contributed to its rapid ascent in the crypto space. Friendzy aims to provide users with a seamless and secure environment for trading and interacting with various digital assets.
The achievement of nearly $1 million in weekly trading volume underscores the trust and confidence that the crypto community has in Friendzy. This impressive milestone positions the platform as a serious contender in the competitive world of decentralized exchanges and crypto trading platforms.
Friendzy's success also highlights the growing demand for user-centric platforms that prioritize security, ease of use, and a wide range of assets. As the crypto market continues to evolve, platforms like Friendzy are well-positioned to capitalize on this burgeoning industry.
While the cryptocurrency market can be highly volatile and competitive, Friendzy's rapid rise in trading volume serves as a testament to its potential to become a major player in the space. As the platform continues to evolve and attract more users, it will be interesting to see how it further contributes to the ever-expanding world of cryptocurrencies and decentralized finance.
Solana Price Predictions 2023-2032
Price Predictions by Cryptopolitan
At the beginning of 2023, there was a recovery in the price of cryptocurrencies, but recent events have shown that bears are now in control of price dynamics, slowing growth. Solana (SOL), which has seen its value fall by 3.16% today, has also been affected by this trend.
Our pricing projection indicates that the maximum price for Solana will be $30.78 by the end of 2023. The coin's value will rise and hit $213.69, its highest level in five years. Future prospects and potential are bright for Solana. We anticipate that Solana will continue to appreciate in value until 2032 when it will reach $855.78 at its highest price.
| | | | |
| --- | --- | --- | --- |
| Year | Minimum | Average | Maximum |
| 2023 | $26.39 | $27.29 | $29.22 |
| 2024 | $37.79 | $38.89 | $45.67 |
| 2025 | $54.00 | $55.94 | $66.56 |
| 2026 | $81.45 | $83.69 | $93.51 |
| 2027 | $116.22 | $120.41 | $140.08 |
| 2028 | $157.05 | $161.87 | $201.58 |
| 2029 | $222.58 | $230.68 | $276.97 |
| 2030 | $320.36 | $331.89 | $382.50 |
| 2031 | $450.56 | $463.84 | $547.50 |
| 2032 | $657.26 | $680.46 | $767.28 |
Solana (SOL) Price Prediction 2023
The price of Solana is predicted to reach at a minimum value of $26.39 in 2023. The Solana price could reach a maximum value of $29.22 with the average trading price of $27.29 throughout 2023.
Solana Price Prediction 2024
Based on the technical analysis by cryptocurrency experts regarding the prices of Solana in 2024, SOL is expected to have the following minimum and maximum prices: about $37.79 and $45.67, respectively. The average expected trading cost is $38.89.
Solana Price Prediction 2025
By the time we reach 2025, the SOL crypto might have reached the maximum price of $66.56, while the minimum price may be around $54.00, based on our Solana price prediction.
Solana (SOL) Price Prediction 2026
Based on our Shiba Inu coin price prediction for 2026, the token may trade at a maximum of $93.51, while the minimum price may be somewhere around $81.45.
Solana Price Prediction 2027
According to the technical analysis of Solana prices expected in 2027, the minimum cost of Solana will be $116.12. The maximum level that the SOL price can reach is $140.08. The average trading price is expected around $120.41.
Solana Price Prediction 2028
Solana's price is forecast to reach the lowest possible level of $157.05 in 2028. As per our findings, the SOL price could reach the maximum possible level of $201.58 with the average forecast price of $161.87
Solana Price Prediction 2029
By the time we reach 2029, the SOL crypto might have reached the maximum price of $276.97, while the minimum price may be around $222.58, based on our Solana prediction.
Solana Price Prediction 2030
As per the forecast price and technical analysis, in 2030 the price of Solana is predicted to reach at a minimum level of $320.36. The SOL price can reach a maximum level of $382.50 with the average trading price of $331.89.
Solana (SOL) Price Prediction 2031
As per the forecast and technical analysis, In 2031, the price of Solana is expected to reach a minimum price value of $450.56. The SOL price can reach a maximum value of $547.50, with an average value of $463.84.
Solana (SOL) Price Prediction 2032
According to our deep technical analysis of past price data of SOL, In 2032 the price of Solana is predicted to reach a minimum level of $657.26. The SOL price can reach a maximum level of $767.28 with an average trading price of $680.46.
Solana Price Prediction by Coincodex
The value of Solana is expected to increase by 8.58% and reach $22.68 by April 13, 2023, according to Coincodex's most recent price estimate. Indicating a moderate degree of investor mood, the Fear and Greed Index is currently at 61. The present market prognosis for Solana is bearish (Greed), nevertheless, according to technical indicators from Coincodex. Solana's price has fluctuated by 6.25% over the last 30 days, with 18 of the 30 days (or 60%) being upbeat (green).
Looking ahead to the future, Coincodex's Solana forecast suggests that now might not be the best time to purchase Solana, as the indicators point to negative market sentiment. However, it's important to consider various scenarios. Under the best-case scenario, assuming significant growth similar to that of Facebook, the price projection for Solana in 2026 is estimated to be $982.75. On the other hand, if Solana follows the expansion pattern of the Internet, the projected price for 2026 would be $112.74.
These projections highlight the potential for significant growth in Solana's value over time, but it's essential to note that these estimates are speculative and subject to market dynamics and unforeseen factors. As with any investment, thorough research and careful consideration of market conditions are recommended before making any decisions.
Price Prediction by DigitalCoinPrice
According to the latest forecast from DigitalCoinPrice, it is anticipated that the value of Solana cryptocurrency will experience a significant increase of 234.20% by the end of 2025, reaching $74.02. The Fear & Greed Index is currently at a reading of 8.21, indicating a high level of fear among investors. Additional technical indicators also suggest bearish market sentiment. Based on DigitalCoinPrice's prediction, it is considered risky to sell Solana at this time.
In April, Solana witnessed a substantial price surge of 110.04%, with the cryptocurrency approaching the $42.61 mark. Presently, all indicators are pointing toward a bearish market trend, and the fear & greed index is registering a high level of concern at 8.21. DigitalCoinPrice's forecast advises against selling Solana at the moment.
As per the technical indicators, it is projected that the 200-day simple moving average (SMA) will decline and the price of Solana will reach approximately $21.67 by the end of December. This trend is expected to continue in December 2023 and 2024, with the short-term 50-day SMA, indicating a price of $21.65. However, it is important to remember that these projections are subject to market fluctuations and unforeseen circumstances.
Price Prediction by Industry Influencers
The future price of Solana is now expected to increase, achieve higher highs in the upcoming years, and possibly reach a high of $23.83 by the end of mid-year 2023, according to YouTube market researcher Cryptonomics. According to Cryptonomics, the SOL currency will rise and reach a high of $29.84 at the end of 2023.
Solana owners might not be able to keep their currencies in the coming few months, according to CryptoZX. The analyst thinks SOL has excellent potential and strong fundamentals despite the massive fight between the bulls and the bears. By December 2023, it is predicted that Solana will have a maximum price of $27.21.
Solana Overview
Solana's intrigue appears to stem from a perceived quality shift among crypto investors and developers. Is Solana Dead? SOL Resurrects at 114% They only used the opinion that SOL is dead as VC exit liquidity. Is it time to buy?
As a leading Layer-1 network, investors are watching how Solana performs as this network is one of the most vibrant in terms of its non-fungible token volumes, as well as other DeFi-related projects relying on low transaction costs and high speed. Helium's decision to join the Solana network rather than stick it out indicates blockchains like Solana can cause a stampede.
Nothing in life is perfect. That means no blockchain is perfect. The valid criticisms of Solana are fundamental to how it works. Solana seems faster and functionally the same as ETH. Here is a healthy discussion about the furor that Solana is Dead. Apparently, it is not currently.
Solana has lost over $50 billion in value since the beginning of 2022, a year marked by outages, overloads, and significant exposure to Sam Bankman-Fried's FTX exchange.
Solana blockchain (also commonly referred to as Solana protocol) was introduced to compete with the Ethereum blockchain, which brought the current revolution, especially with its smart contract technology that has to go ahead to enable the inventions of decentralized finance (DeFi), Non-Fungible Tokens (NFTs), decentralized applications (DApps), and all the other concepts like yield farming, liquidity mining, staking, etc., that accompany these inventions.
Today, Solana is fulfilling its purpose as more and more people continue adopting cryptocurrency. Its native token SOL is now priced at about $218, 43203.94%, up from its initial price at launch.
The blockchain revolution assured investors of digital coins that would offer privacy and confidentiality through the sturdy cryptographic algorithm that ensures that even if transactions are recorded in the public blockchain network, the identity of the sender and the receiver is always hidden behind some addresses.
Solana is considered one of the most effective, secure, fast, and censor-resistant blockchains worldwide. It offers an open-source infrastructure making it easy for global adoption.
What blockchain projects are on Solana?
Solana has smart contracts functionality, and a blockchain developer can develop and deploy a decentralized application (DApp) on the blockchain. Several blockchain projects have been launched on Solana, and they have also contributed to Solana's fortunes. These blockchain projects include:
Solana Beach — a Solana blockchain explorer.
UPFI — a stablecoin.
Phantasia — a fantasy sports platform.
HydraSwap — a DEX.
CropperFinance — a yield farming service.
Solana (SOL) Coin Price History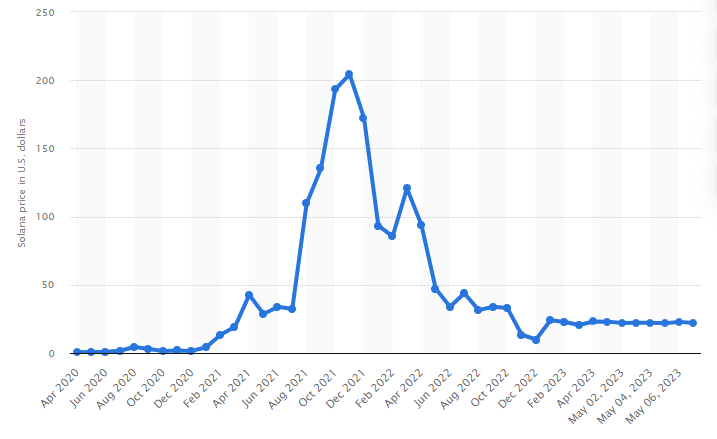 2020
Solana was launched in April 2020 and has gained popularity over the last 18 months. The price of Solana has surged from $0.75 to a high of $214.96 in early September.
2021
Following NFT hype and growing demand in the DeFi community, the price of cryptocurrency Solana or SOL more than tripled during the summer of 2021. Solana (SOL) token became the fastest-growing cryptocurrency and is currently ranked at position five with a live market cap of $66.4 billion. It has overtaken the likes of the once-popular Dogecoin, DAI, DASH, Polkadot, VeChain, Eos, and many others. It is closely behind Binance Coin (BNB) and Tether (USDT).
2022
The collapse of crypto trader FTX in 2022 especially impacted the cryptocurrency, as FTX and its sister firm Alameda Research sold a large amount of the coin in order to avoid bankruptcy.
Solana's price briefly surged to a four-week high of $38.48 on 6 November 2022 after Google Cloud announced it had become a validator on the blockchain. Google Cloud has been working with @solana to bring Blockchain Node Engine to the Solana chain next year, so it will be easy for anyone to launch a dedicated Solana node in the cloud.
This had all but evaporated by the end of 2022, as a price of 21.99 U.S. dollars for SOL on May 07, 2023, was similar to the price of Solana in early 2021
Also Read:
More on Solana
What do I have to know about the Solana network?
The main thing about the Solana network is an innovative blockchain system. The main aims of this system are security and decentralization. Sol token has also soared and added significant gains to its bag in this situation.
What is the mission of the Solana project?
Solana Blockchain aims to make the situation convenient for decentralized apps and democratize the global financial setup. It provides a high-speed blockchain system that facilitates speedy transactions and secure communication.
What is Proof-of-History in Solana?
Proof-of-history in Solana is derived from Proof-of-Stake. It is one of the innovative additions to the Solana blockchain that relays more on time-based on the happening of a specific action. Using this protocol, Solana makes it possible to keep a historical record of the transaction.
Where to store SOL
Once you purchase SOL coins, store them in a secure place. Most of the exchanges where you can buy SOL offer in-built crypto exchange wallets. Other wallets that allow storage of SOL coins include the atomic wallet and Ledger hardware wallet.
Conclusion
Solana has proved that blockchains can be environmentally friendly, fast, and cheap. Solana Pay is the future of payments. The blockchain is cutting out the path for future developments in the blockchain space. Solana, with its innovative features, rivals those of Bitcoin and Ethereum. It also has a vast community. These advantages will propel Solana's market capitalization to the top.
Solana has had a good run since its inception. Its blockchain rivals that of Ethereum and Bitcoin because it is environmentally safe, has low transaction costs, and is relatively very fast. This saw Solana perform very well at the beginning of the year before crypto prices began going down.
The question is whether SOL suffered long-term damage due to the FTX turmoil or only saw a temporary correction. Aside from the FTX fallout, SOL is still vulnerable to the risks associated with all cryptocurrencies, such as broader economic uncertainty and an inconsistent regulatory framework. SOL was hit harder than other digital currencies because of its connection to FTX, but its ecosystem is robust, and its developers continue to innovate.
Indeed, SOL was launched as an innovative cryptocurrency. Its developers have laid out ambitious plans, such as smartphones with built-in, Solana-connected crypto wallets and a fee-free store for decentralized applications. There is also a collaboration with Alphabet, the parent company of Google.
This partnership has resulted in developments such as Google Cloud becoming a validator to assist with processing Solana network transactions and a storage agreement that will increase developer accessibility to Solana data. Overall, even though SOL has experienced some unfavorable headwinds, it will likely continue to appeal to investors learning about cryptocurrency investing in the long run.
Solana Labs was once accused of irregular sales of its initial sales before being publicly available. If the news is anything to go by, it may impact Solana's development, just like the lawsuit on XRP. Even though we are bullish on Solana, it is advisable to do your research before investing in this cryptocurrency.
Is Solana a good investment?
Yes. Solana is a good long-term investment.
What is the utility of the SOL token?
Sol tokens are used as governance tokens for voting, staked for delegation, and to pay for processing fees.
Where can I buy SOL?
You can buy Solana on Binance, Coinbase, Bitfinex, KuCoin, and Kraken.
Is there a risk to staking Solana?
Yes, staked Solana can be slashed if a node operates maliciously.
Can the Solana price crash?
The price of Solana cryptocurrency crashed at the beginning of September 2021 due to a network outage, something that is extremely rare and most likely will never happen again in the future. 
Is Solana a scam or legit?
Solana is a legit blockchain network, just like other blockchains like Ethereum. As a result, the native token, the Solana coin, which is commonly referred to as SOL coin, is a legit cryptocurrency.
Where do I safely store SOL?
Once you purchase SOL coins, you should store them in a secure place. Most of the exchanges where you can buy SOL offer in-built crypto exchange wallets. Other wallets that allow storage of SOL coins include the atomic wallet and Ledger hardware wallet.
Disclaimer. The information provided is not trading advice. Cryptopolitan.com holds no liability for any investments made based on the information provided on this page. We strongly recommend independent research and/or consultation with a qualified professional before making any investment decisions.