Solana has become a favorite for crypto investors as the cryptocurrency market grows, with its inflows surpassing $50 million last month. The cryptocurrency has found its way into the top ten digital assets list. The token dethroned Cardano and currently ranks number 5 on the market. Most of the analysts present a bullish forecasted Solana price.
With a good potential, it is not farfetched for Solana to reach $5,000, a 10,000% increase in the next eight years. While some might find this increase unrealistic, consider that it rose more than 8,500% by January 2022 to an all-time high of $260. Solana's sharp price increase in that time shows that anything is possible. Read through this Solana price prediction and find reasons why this might be so.
The SOL/USD price travels over the Moving Average curve, indicating the market is following a bullish movement. However, the market also experiences declining volatility today. In addition, the SOL/USD price seems to move towards the resistance, signifying a possible reversal movement, which could break the bullish momentum.
Today's Solana price is $34.75, with a 24-hour trading volume of $896,096,854. Solana is down 3.92% in the last 24 hours. The current CoinMarketCap ranking is #9, with a live market cap of $12,135,251,627. It has a circulating supply of 349,249,550 SOL coins, and the max. supply is not available
Let's now look at what analysts predict for the Solana price in the coming months – and years – and consider whether SOL should be a part of your crypto portfolio.
Also Read:
What is Solana?
Solana blockchain (also commonly referred to as Solana protocol) was introduced to compete with the Ethereum blockchain, which brought the current revolution, especially with its smart contract technology that has to go ahead to enable the inventions of decentralized finance (DeFi), Non-Fungible Tokens (NFTs), decentralized applications (DApps), and all the other concepts like yield farming, liquidity mining, staking, etc., that accompany these inventions.
Today Solana is fulfilling its purpose as more and more people continue adopting cryptocurrency. Its native token SOL is now priced at about $218, 43203.94%, up from its initial price at launch.
The blockchain revolution assured investors of digital coins that would offer privacy and confidentiality through the sturdy cryptographic algorithm that ensures that even if transactions are recorded in the public blockchain network, the identity of the sender and the receiver is always hidden behind some addresses.
To that end, Solana is considered one of the most effective, secure, fast, and censor-resistant blockchains worldwide. It offers an open-source infrastructure making it easy for global adoption.
What blockchain projects are on Solana?
Solana has smart contracts functionality, and a blockchain developer can develop and deploy a decentralized application (DApp) on the blockchain. Several blockchain projects have been launched on Solana, and they have also contributed to Solana's fortunes. these blockchain projects include:
Solana Beach — a Solana blockchain explorer.
UPFI — a stablecoin.
Phantasia — a fantasy sports platform.
HydraSwap — a DEX.
CropperFinance — a yield farming service.
What do I have to know about the Solana network?
The main thing about the Solana network is an innovative blockchain system. The main aims of this system are security and decentralization. Sol token has also soared and added significant gains to its bag in this situation.
What is the mission of the Solana project?
Solana Blockchain aims to make the situation convenient for decentralized apps and democratize the global financial setup. It provides a high-speed blockchain system that facilitates speedy transactions and secure communication.
What is Proof-of-History in Solana?
Proof-of-history in Solana is derived from Proof-of-Stake. It is one of the innovative additions to the Solana blockchain that relays more on time based on the happening of a specific action. Using this protocol, Solana makes it possible to keep the historical record of the transaction.
Solana Overview
Solana Overview
Coin
Symbol
Price
Marketcap
Change
Last 24h
Supply
Volume (24h)

SOL
$

31.80

$

11.28 B

1.63%

354.06 M
$

661.90 M
Solana (SOL) Coin Price History
In 2021, Solana (SOL) token had become the fastest-growing cryptocurrency and is currently ranked at position five with a live market cap of $66.4 billion. It has overtaken the likes of the once-popular Dogecoin, DAI, DASH, Polkadot, VeChain, Eos, and many others. It is closely behind Binance Coin (BNB) and Tether (USDT).
This year (2021), the price of Solana (SOL) has appreciated by more than 43% in October to currently trading at $217.19 compared to $25.72, which was its price on January 1, 2021.
Solana crypto prices hit an all-time high of $260.06 on November 6, 2021.
While the demand for Bitcoin (BTC) and Ethereum (ETH) has flattened, the market for Solana (SOL) is on the increase.
Where to store my Solana coin
Once you purchase SOL coins, you should store them in a secure place. Most of the exchanges where you can buy SOL offer in-built crypto exchange wallets. Other wallets that allow storage of SOL coins include the atomic wallet and Ledger hardware wallet.
Solana Technical Analysis
As seen in the Solana price analysis, SOL reached the overbought zone; however, as prices moved south, so did the buying strength. Even though there was a decrease in buyers, selling strength was still lower than buying strength. The Solana current price has declined towards the $35 handle which was the previous support line. The current support line is at $32.5.
The bulls will look to push the price above the $38 handle while the bears will aim for a breakdown below the support line.
The technical indicators are signaling a bearish divergence which is a sign that the current bullish trend might lose some momentum. Out of the 26 indicators used in the study, 12 are giving a bearish signal, 8 are neutral, and 6 are bullish. The RSI is currently at 58 which is in the bullish territory but it might move lower as the price starts to retrace. The MACD is currently in the bearish zone but it might move higher as prices start to rebound from the current levels.
The Stochastic RSI is currently in the overbought zone but it might move lower as prices start to retrace.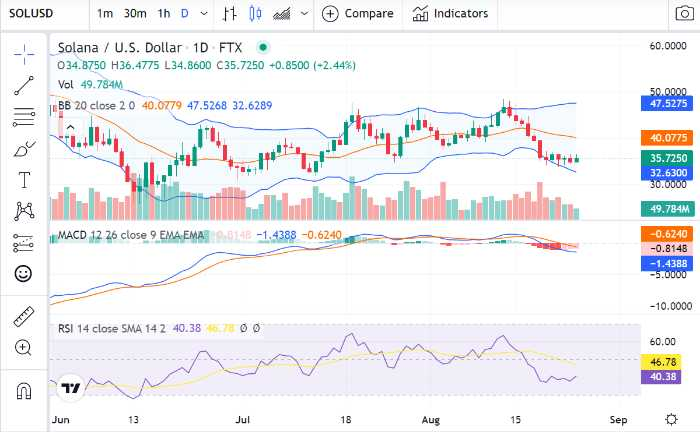 The market volatility is currently at 2.9% which is relatively low compared to the historical average. The current market conditions are favorable for swing traders as they might be able to get good entries and exits in the market.
The market is currently in a bullish trend, but it might start to retrace lower as the technical indicators signal a bearish divergence.
Solana has seen a significant increase in price and demand recently. The technical outlook for SOL is bullish, and the recent developments are positive for the altcoin. Even though Solana is down from the all-time high, it is still up significantly from the lows seen in May and June.
The current support line is at $32.5, and the bulls will look to push the price above the $38 handle. On the other hand, the bears will aim for a breakdown below the support line, which could take SOL towards the $30 handle.
Solana Price Prediction by Authority sites
Wallet Investor
WalletInvestor's Solana coin price prediction is bearish. The site forecasts that the Solana price will be less than $5.31 in a year, and does not expect the token to recover. Consequently, WalletInvestor suggests that investing in Solana is not a good idea for the long term.
DigitalCoinPrice
DigitalCoinPrice's Solana coin price forecast is bullish, predicting that the SOL price could reach an average of $62.73 in 2023 and then $69.32 in 2024. The site believes that there is a good chance for Solana to recover from its current position and continue growing in value. In 2025, the coin might be worth $84.49 while 2026 will see it at $81.27. In 2027, it might be worth as much as $109.50, before rallying to $146.11 in 2028 and $179.03 in 2029. The SOL coin price prediction for 2030 is $201.73.
Technewleader
Technewleader is another site that is bullish on SOL price as they believe by the end f 2022, the Solana coin might be worth $94.62. The site is basing its analysis on the growing popularity of Solana and the increasing number of projects being built on its blockchain. They forecast that the price of Solana could reach $290.21 in the next 5 years, and by 2030 it might reach a trading price of $1,789.87 as the platform matures and becomes more widely adopted.
Cryptopolitan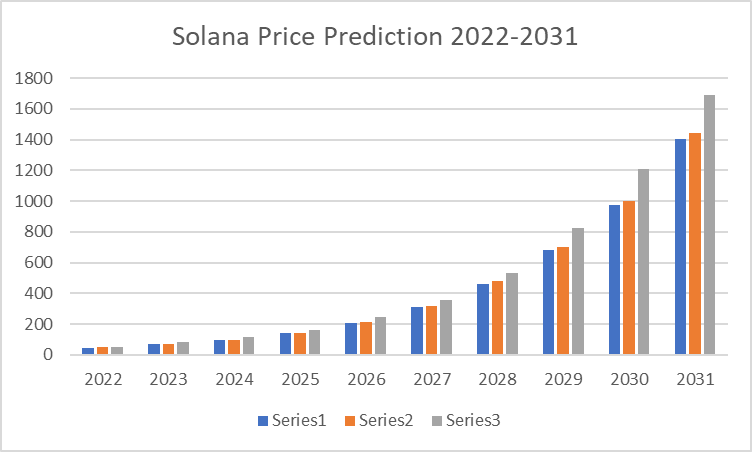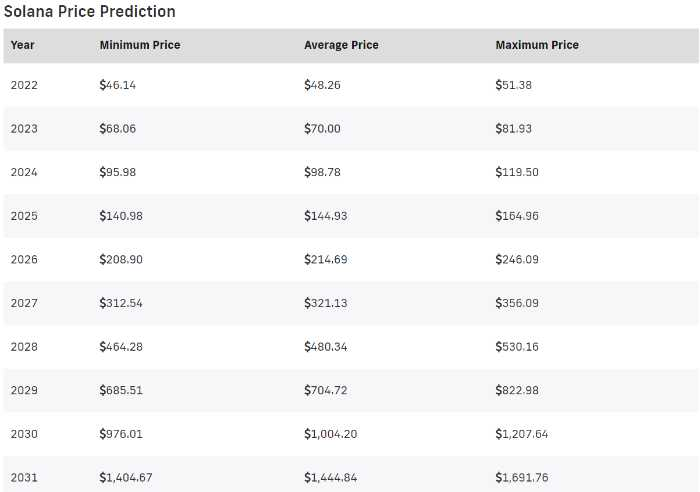 Solana Price Prediction 2022
According to our SOL price prediction, SOL might attain a minimum trading price of $46.14 and an average price of $48.26.Solana could potentially soar and reach a maximum trading price of $51.38 by December 2022.
Solana Price Prediction 2023
2023 could see a significant price rally for Solana as the average price could potentially reach $70.00. The minimum price might be around $68.06, while the maximum might touch $81.93 by December 2023.
Solana Price Prediction 2024
The year 2024 could bring more gains for Solana investors as the coin might attain an average price level of $98.78. The minimum price could be around $95.98, while the maximum might touch $119.50.
Solana Price Prediction 2025
The long-term forecast for Solana looks bullish as the coin might potentially reach an average price of $144.93 by 2025. The minimum price could be around $140.98, while the maximum might touch $164.96.
Solana Price Prediction 2026
The Solana sol price prediction for 2026 is SOL to reach an average of $214.69. Solana will break its ATH of $260.06 set on 6 November 2021; the record will be in tandem with the developments in the Solana ecosystem. Solana crypto will trade between a low of $208.90 and a high of $246.09 in 2026.
Solana Price Prediction 2027
In 2027, Solana might hit an average trading price of $321.13 as the coin continues on its upward trend. The minimum value could be around $312.54, while the maximum might touch $356.09 by December 2027.
Solana Price Prediction 2028
The year 2028 could see Solana attain an even higher price as the average might reach $480.34. The minimum price could be around $464.28, while the maximum level might touch $530.16 by December 2028.
Solana Price Prediction 2029
The long-term forecast for Solana looks bullish as the coin might potentially reach an average price of $704.72 by 2029. The minimum price could be around $685.51, while the maximum might touch $822.98 by December 2029.
Solana Price Prediction 2030
In 2030, SOL might attain an average forecast price of $1,004.20 and a maximum price level of $1,207.64.Solana is forecasted to attain a minimum value of $976.01 by the end of 2030.
Solana Price Prediction 2031
Solana might reach higher levels in the year as the average price could reach $1,444.84 by 2031. The minimum value could be around $1,404.67 while the maximum might touch $1,691.76 by December 2031.
As per our Solana price predictions, SOL price will continue to grow in the future as more people adopt Solana and build projects on its blockchain.
Solana Price Prediction by Market Experts
Cryptocurrency analysts are bullish on Solana as they believe that the coin has a lot of potential and could reach new heights in the future. For instance, Coin Bureau, a popular Market analyst, boasts over 2.09 million and has given a price prediction of $290.21 for Solana in the next five years.
He has explained that Solana's popularity has increased as more people are now interested in building projects on its blockchain. This, he said, will help to increase the demand and price of Solana in the future. He has explained the unique features that make Solana one of the best protocols in the crypto space, including its high scalability, fast transaction speed, and low fees.
Another popular market analyst, The Crypto Lark, also gave his Solana price prediction on YouTube. He started by giving an overview of Solana and how it works before giving his price prediction. He stated that Solana could potentially reach $100 by 2025 and $1000 by 2030 due to its unique features.
He explained that Solana is a scalable blockchain protocol that can handle over 50,000 transactions per second. He also mentioned that the fees on Solana are very low compared to other protocols such as Ethereum. These factors, he said, will help to increase the price of Solana in the future as more people adopt it.
Solana Price Predictions by Industry Influencers
Unison Finance Youtube channel provides the Solana fundamental and price analysis.
Ceberena Crypto acknowledges Solana is trading in a bear market. He explores Solana's price performance. He suggests Solaba will skyrocket in the next coming bull run.
https://www.youtube.com/watch?v=w6-OJ2rbmmQ
Conclusion
Solana has had a good run since its inception. Its blockchain rivals that of Ethereum and Bitcoin in that it is environmentally safe, has low transaction costs, and is relatively very fast. This saw Solana perform very well at the beginning of the year before crypto prices began going down.
Solana labs was recently accused of irregular sales of its initial sales before being publicly available. If the news is anything to go by, it may impact Solana's development, just like the lawsuit on XRP.
Solana has proved that blockchains can be environmentally friendly, fast, and cheap. Solana Pay is the future of payments. The blockchain is cutting out the path for future developments in the blockchain space. Solana features rival those of Bitcoin and Ethereum. It also has a huge community. These advantages will propel Solana's market capitalization to the top.
Solana will begin recovering in 2023 after the bear run subsides. Solana might reach higher levels in the year as the average price could reach $1,444.84 by 2031. The minimum value could be around $1,404.67, while the maximum might touch $1,691.76 by December 2031. This is not investment advice. Please do your own due diligence before making an investment decision.
Disclaimer. The information provided is not trading advice. Cryptopolitan.com holds no liability for any investments made based on the information provided on this page. We strongly recommend independent research and/or consultation with a qualified professional before making any investment decisions.