As the cryptocurrency market grows, Solana has become a favorite for crypto investors, with its inflows surpassing $50 million last month. The cryptocurrency has found its way into the top ten digital assets list. The token dethroned Cardano and currently ranks number 5 on the market. Most of the analysts present a bullish forecasted Solana price.
The SOL/USD price travels over the Moving Average curve, indicating the market is following a bullish movement. However, the market also experiences declining volatility today. In addition, the SOL/USD price seems to move towards the resistance, signifying a possible reversal movement, which could break the bullish momentum.
Today's Solana price is $99.55 with a 24-hour trading volume of $1,688,020,081. We update our SOL to USD price in real-time. Solana has been down 4.70% in the last 24 hours. The current CoinMarketCap ranking is #7, with a live market cap of $32,657,304,924 USD. It has a circulating supply of 328,054,512 SOL coins, and the maximum supply is unavailable.
This Solana (SOL) price prediction will look at what analysts predict for the Solana price in the coming months and years.
Also Read:
• How To Buy Solana?
What is Solana?
Solana blockchain (also commonly referred to as Solana protocol) was introduced to compete with the Ethereum blockchain, which brought the current revolution, especially with its smart contract technology that has to go ahead to enable the inventions of decentralized finance (DeFi), Non-Fungible Tokens (NFTs), decentralized applications (DApps), and all the other concepts like yield farming, liquidity mining, staking, etc., that accompany these inventions.
Today Solana is fulfilling its purpose as more and more people continue adopting cryptocurrency. Its native token SOL is now priced at about $218, 43203.94%, up from its initial price at launch.
The blockchain revolution assured investors of digital coins that would offer privacy and confidentiality through the sturdy cryptographic algorithm that makes sure that even if transactions are recorded in the public blockchain network, the identity of the sender and the receiver is always hidden behind some addresses.
To that end, Solana is considered one of the most effective, secure, fast, and censor-resistant blockchains worldwide. It offers an open-source infrastructure making it easy for global adoption.
What blockchain projects are on Solana?
Solana has smart contracts functionality, and a blockchain developer can develop and deploy a decentralized application (DApp) on the blockchain. Several blockchain projects have been launched on Solana, and they have also contributed to Solana's fortunes. these blockchain projects include:
Solana Beach — a Solana blockchain explorer.
UPFI — a stablecoin.
Phantasia — a fantasy sports platform.
HydraSwap — a DEX.
CropperFinance — a yield farming service.
What do I have to know about the Solana network?
The main thing about the Solana network is an innovative blockchain system. The main aims of this system are security and decentralization. Sol token has also soared and added significant gains to its bag in this situation.
What is the mission of the Solana project?
Solana Blockchain aims to make the situation convenient for decentralized apps and democratize the global financial setup. It provides a high-speed blockchain system that facilitates speedy transactions and secure communication.
What is proof of history in Solana?
Proof-of-history in Solana is derived from Proof-of-Stake. It is one of the innovative additions to the Solana blockchain that relays more on time based on the happening of a specific action. Using this protocol, Solana makes it possible to keep the historical record of the transaction.
Solana Overview
Solana Overview
Coin
Symbol
Price
Marketcap
Change
Last 24h
Supply
Volume (24h)

SOL
$

52.76

$

17.85 B

2.17%

339.27 M
$

1.21 B
Solana (SOL) Coin Price History
In 2021, Solana (SOL) token had become the fastest-growing cryptocurrency and is currently ranked at position five with a live market cap of $66.4 billion. It has overtaken the likes of the once-popular Dogecoin, DAI, DASH, Polkadot, VeChain, Eos, and many others. It is closely behind Binance Coin (BNB) and Tether (USDT).
This year (2021), the price of Solana (SOL) has appreciated by more than 43% in October to currently trading at $217.19 compared to $25.72, which was its price on January 1, 2021.
Solana crypto prices hit an all-time high of $260.06 on November 6, 2021.
The latest Solana price analysis reveals the market following a bearish trend with bullish opportunities. The cryptocurrency might reach $190 before the New Year if they are availed. The SOL/USD price has suffered a massive decline in the past few days.
On December 27, 2021, the price followed a somewhat bullish trend, and the price went from $197 to $204 just before declining significantly the next to $177. On December 29, 2021, the price fell even further to $170 but gradually increased to $176, which is the current price of Solana.
Despite Bitcoin battling huge price swings throughout the year, Solana has maintained a bullish trend.
The inventors who find it hard to jump onto the Ethereum bandwagon due to the relatively more expensive ETH token are trying with the SOL token. And they have found it highly rosy in the last months.
Just like Ethereum, Solana is also involved with DeFi and NFT, which are currently the most sought-after services within the crypto space. One should no longer wonder about Solana's increasing adoption worldwide for this significant reason.
Currently, all eyes are on the Support at $124.720 since it has already gone below the pivot level at $138.675.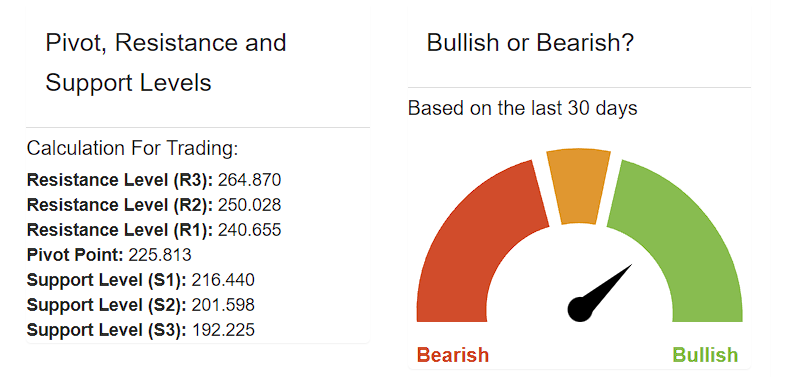 As we shall see in the coin price forecast, most analysts believe that the SOL is correcting the recent price surge before setting off the moon again.
While the demand for Bitcoin (BTC) and Ethereum (ETH) has flattened, the market for Solana (SOL) is on the increase.
Where to buy Solana crypto
Some of the exchanges where you can buy SOL tokens include Binance, Coinbase, and Kucoin.
Where to store my Solana coin
Once you purchase SOL coins, you should store them in a secure place. Most of the exchanges where you can buy SOL offer in-built crypto exchange wallets. Other wallets that allow storage of SOL coins include the atomic wallet and Ledger hardware wallet.
Solana Technical Analysis
Solana trading volume today is $2,419,512,428 up by 25%. The Relative Strength Index shows a sharp reversal from the oversold territory by Solana. The William Alligator suggests the downward trend could slow a bit with the trend lines facing upwards. This is a reversal pattern that began a few days earlier.
MACD analysis shows MACD and signal line touching, with the MACD likely to break above, both below the zero line. A green histogram begins to form, meaning the momentum could be beginning to the upside.
SOL Price Predictions 2022 – 2030
Changelly
If Solana sol can break the $200 support level this year, SOL's price will reach $300. I other currencies do not crash, SOL will sell higher at around $300 in 2023. Solana SOL will reach $500 in 2024, solidifying its market position among other crypto giants. Solana's price might break $600 in 2025. If the market does not crash by 2030, Solana SOL will attain $3000, making it a profitable investment.
Cryptonewsz
According to Cryptonewsz, Solana coin has a higher chance of its market cap growing exponentially this year when compared to Eth and BTC with its price reaching $245. Solana has good utility, which will propel the Sol coin price to $320 in 2023. The highly competitive nature of Solana, such as transaction speed, will help it reach the $400 mark in 2024; future setbacks might send Sol's price to $415 in 2025 and are expected to range between $600 and $490 in 2026.
Swapspace
Swapspace remains optimistic at 5% ROI this year despite the red market; this will be followed by a big pump of 40% ROI in 2024 and even better at 73% in 2025. Solana coins will trade higher each year with 143% ROI in 2026 and eight years in 2030 at 656% ROI.
Cryptopolitan
NB: All Values are in USD.
Solana Price Prediction 2022
Solana is shedding most of its gains made this year and is moving into oversold territory. A reversal should push Sol's price to an average price of $126.33 while trading between $138.19 and $122.78.
Solana Price Prediction 2023
With Sol built to scale, Solana pay unmatched to bank transfers will experience mass adoption leveraging on the network's low transaction fees and instant speeds. Sol price will climb to an average price of $176.57 while reaching a low price of $171.52 and a high price of $210.79.
Solana Price Prediction 2024
With the Solana network's current price trading 60% below its ATH, it is not an understatement that it will soon break the record. In 2024, cryptocurrency Solana will set a new ATH to sell at $293 and later average at $254 for the better part of the year.
Solana Price Prediction 2025
Solana will continue testing new records, and if the price breaks its current resistance at $300, it will potentially grow over 50% to reach a maximum price of $430.9 and later reach a minimum price of $348.44.
Solana Price Prediction 2026
Solana price forecast 2026, coupled with historical data analysis, sets the average Solana price at $531.27. Our most bullish predictions place Solana's price at $619.97.
Solana Price Prediction 2027
Crypto enthusiasts are highly optimistic about the future of cryptocurrencies and NFTs. A crypto crush is also possible if jurisdictions maintain a negative outlook towards cryptocurrencies and smart contracts. On the lighter side, the average price of Solana will rise to $764.47.
Solana Price Prediction 2028
In 2028, Solana will cross the $1,000 mark. At this level, it will compete with other higher market cap cryptocurrencies such as Eth and BNB. The average Solana price will be $1110.9, potentially reaching a maximum price of 1254.93.
Solana Price Prediction 2029
According to our Solana prediction, the crypto's price will skyrocket after breaking the $1000 resistance levels, making about 100% gains while setting a new support level at $1450. The average Solana price will be $1567.76.
Solana Price Prediction 2030
In 2030 you will buy Solana for $2212.52; it will reach a minimum of $2149.8 in the low season and $2621.49 on the higher side.
SOL Price Predictions by Industry Influencers
According to Analytics insight, the entry of Bitgert into the NFT marketplace is drawing attention away from Solana. Bitgert BRC20 is offering lower transaction fees and faster transactions. The recent plummet by Solana has been attributed to the launch of the Bitgert NFT marketplace.
Devs have all the reasons to develop on Solana. The initial hype that sent Solana to its current market cap is still high, and Solana is living up to its expectations.
Solana is not slowing any time soon. The NFT market is just as excited about the utility of Solana.
Conclusion
Solana remains the fastest-growing blockchain network, with numerous projects and smart contracts building on it. Solana blockchain technology's permissionless nature sets it apart from other payment systems. Solana pay is projected to grow exponentially with more adoptions.
While Solana grows, recently launched blockchains such as Centcex are gearing up to offer better utility than Solana, which will affect Solana's price in the future. As the cryptocurrency market grows coupled with more institutional investments, our Sol predictions suggest Solana will grow along.
Solana's market cap will grow, and the price should trade past $2700 in 2031. A very tempting prediction, but always do additional research.
FAQS about Solana
Where is the Solana foundation headquarters located?
Solana foundation's headquarters are in Geneva, Switzerland.
Who is the CTO, Solana?
Solana CTO is Greg Fizgerald.
What is the utility of a Sol token?
Sol tokens are used as governance tokens for voting, staked for delegation, and to pay for processing fees.
When will Sol's price reach $1000?
Our Solana coin price forecast shows Sol price will reach $1000 in 2028.
Can I purchase Solana on Huobi global?
Yes, you can buy Solana with a moderate confidence level.
Is there a risk to Staking Solana?
Yes, staked Solana can be slashed if a node operates maliciously.
Will Solana's price crash in the future?
The price of Solana cryptocurrency crashed at the beginning of September 2021 due to a network outage, something that is extremely rare and most likely will never happen again in the future.
Is Solana a Scam or Legit?
Solana is a legit blockchain network, just like other blockchains like Ethereum. As a result, the native token, the Solana coin, which is commonly referred to as SOL coin, is a legit cryptocurrency.
Disclaimer. The information provided is not trading advice. Cryptopolitan.com holds no liability for any investments made based on the information provided on this page. We strongly recommend independent research and/or consultation with a qualified professional before making any investment decisions.