XRP Price Prediction 2023-2032 [After Lawsuit]: $1 Coming Soon?
XRP Price Prediction 2023-2032
So LBRY lost its case against the SEC. Sad to say, the ruling still doesn't provide regulatory clarity as to the definitive conditions (the essential ingredients) that establish an offered asset as a security. Especially when the Judge touches only on the third prong in this case. The 76-year-old Howey Test doesn't seem quite helpful when applied to cryptocurrencies like XRP.
The problem becomes more apparent when we try to determine just exactly when XRPs can become 'securities' according to SEC's argument.
If Ripple loses the lawsuit, trading will be suspended. While XRP funds will remain safely stored in your account after the trading suspension, you will not be able to buy, sell, or convert.
It's only when the tide goes out that you know who's been swimming naked.

Warren Buffett
How much is XRP worth?
Today's XRP price is $0.6653 with a 24-hour trading volume of $1,744,551,544. XRP is up 3.10% in the last 24 hours. The current CoinMarketCap ranking is #5, with a live market cap of $35,767,843,547 USD. It has a circulating supply of 53,757,460,767 XRP coins and a max. supply of 100,000,000,000 XRP coins.
XRP Technical analysis: XRP spikes up to $0.654 following recent upturn
TL;DR Breakdown
XRP price analysis confirms an uptrend.
Coin value has increased up to $0.654.
Strong support is available on $0.588.
The latest one-day and four-hour XRP price analysis for 08 December 2023 confirms an aggravating uptrend today. The price has been following an ascending movement since the past week, and it is expected that the ongoing bullish swing will extend in the coming week. Today, a further upturn in coin value was recorded as XRP/USD value hiked past $0.654 high. 
XRP price analysis on a daily timeframe: Bullish swing aggravates price movement above $0.654
The latest one-day XRP price analysis shows signs of an increasing trend for the day. A considerable rise in bullish momentum has been observed since the past week, which is an encouraging sign for the buyers. As a result of the latest bullish spike, XRP/USD has improved up to $0.654 high today. Moreover, the Moving Average (MA) value has spiked up to $0.629 because of the recent turnover. 
The volatility seems to be on the increasing side as well which is a bearish hint regarding the coming week. As the volatility is undergoing a rise, the upper and lower values of the Bollinger bands indicator have shifted as well. Currently, the upper Bollinger band occupies $0.650 and the lower Bollinger band is present at $0.588. The Relative Strength Index (RSI) indicator confirms the ongoing bullish trend as its overall value has hiked up to an index 63.05.
XRP price analysis on the 4-hour chart: Cryptocurrency value crosses $0.653 hurdle after upswing
The recent four-hour XRP price analysis confirms the ongoing upward trend as the price has increased massively. The Green candlesticks remained on the dominating end during the early hours of the day, as the buying pressure has been intensifying. In the past four hours, the cryptocurrency value spiked up to $0.653 high. Moreover, the Moving Average value has improved up to $0.646 as a result of the latest bullish trend.
The four-hour price chart displays an increasing volatility which is a negative hint regarding the approaching hours as the bears might take over. The upper and lower bands of the Bollinger bands indicator have shifted their positions as well. Currently, the upper Bollinger band occupies $0.657 extreme whereby the lower Bollinger band is present at $0.609 end. The RSI graph displays a sharp bullish curve and its overall value has stepped up to 64.14. 
What to Expect from XRP Price Analysis
The latest one-day and four-hour Ripple price analysis confirms the increasing trend for now. As the buying activity remained on the higher end since the past week, the coin value has found recovery above $0.654. Moreover, the four-hour price analysis depicts a highly bullish scenario regarding the current market situation. It is expected that the ongoing upswing will escalate further during the coming week. 
Recent News/Opinions on the Ripple Network
BitTrade Announces XRP and Shiba Inu Lending Services. On November 21, the well-known Japanese crypto exchange BitTrade revealed its initiation of lending services for XRP and Shiba Inu. The lending period for both cryptocurrencies spans 90 days, accompanied by a 2% annual interest rate. Notably, XRP loans range from a minimum of 100 XRP to a maximum of 500,000 XRP, while Shiba Inu loans start at 10,000,000 SHIB, with a maximum cap of 10,000,000,000 SHIB. Last month, BitTrade expanded its list of supported assets to 34 by adding Shiba Inu alongside Dogecoin. Cryptocurrency enthusiasts are advised to thoroughly review the exchange's terms before engaging in lending activities, considering the inherent volatility of the crypto market.
Ripple vs. SEC: Morrison Precedent and Jurisdictional Challenges. The legal clash between Ripple Labs and the U.S. Securities and Exchange Commission (SEC) hinges on the Morrison v. National Australia Bank precedent. This U.S. Supreme Court case underscores that sales in question must occur "in the U.S." or on a U.S. exchange, raising concerns about the SEC's jurisdiction and the extraterritorial application of U.S. securities laws in Ripple's institutional sales of XRP. The dispute also delves into the extraterritorial effect of U.S. securities law, with the SEC seeking a $770 million disgorgement from Ripple. Legal opinions vary, with some anticipating a settlement between the parties after considering all evidence, highlighting the case's significance in shaping the regulatory landscape for digital assets.
SEC Chairman's Halloween Tweet Sparks Crypto Controversy. SEC Chairman Gary Gensler's playful Halloween tweet, referencing Satoshi Nakamoto and urging crypto firms to adhere to securities laws, drew a sharp rebuke from Ripple's legal counsel, Stuart Alderoty. The tweet led to industry speculation about potential Bitcoin ETF approvals and highlighted the growing importance of cryptocurrency in regulatory discussions. This incident underscores the sensitivity of communication within the cryptocurrency regulatory landscape, where even light-hearted tweets can ignite controversy and reactions from legal experts.
Ripple to conduct an Initial Public Offering Speculation (IPO) soon. Speculation of an IPO by Ripple has arisen due to the company's recent job posting for a Senior Shareholder Communications Manager in key financial locations, outlining responsibilities that are typically associated with IPO preparations, such as investor relations and communication with shareholders and analysts. While this has fueled speculation in the cryptocurrency community and among analysts, it's important to await an official announcement from Ripple regarding its IPO plans before drawing definitive conclusions.
Ripple announces possibility of RWA tokenization on XRPL. Ripple CTO David Schwartz has indicated that real-international asset (RWA) tokenization tasks may additionally launch at the XRP Ledger (XRPL) within the subsequent year or year and a half, citing XRPL's low transaction prices and suitability for seamless asset integration. The first conceivable RWA protocols on XRPL should materialize by means of 2024 or early 2025, with hypotheses suggesting assets like Gold and actual estate may be the initial candidates. In addition, the XRPL network is monitoring the XLS-30d; "XRPL AMM", suggestion for ability DeFi capability, although it currently lacks significant help. Whereas the "Clawback" amendment, important for regulatory compliance, has garnered 15.5% support from its validators.
Ripple receives notable recognition in PAY360 Awards. Ripple has unlocked its new achievement, as it has been awarded the most eminent award in the PAY 360 ceremony. This is a great accomplishment for the crypto firm, as it has been recognized as conducting the best utilization of online currencies. The ceremony acknowledged Ripple as the best among other block chain services providers and asset holder. The achievement grants Ripple the opportunity to join hands with 250,000 professionals to explore further marketing strategies and promotions. Ripple has been securing back to back wins, whether in professional sphere or legal grounds; PAY 360 is the latest addition to its assets.
Ripple files case against GCC exchange. Ripple has launched a lawsuit against the renowned entity GCC which offers money transfer and foreign exchange services. Ripple Singapore has sought this legal battle to recover $14.9 million worth of assets. A Singapore franchise executed this transfer, whereupon GCC failed to pay the due amount at the time of transaction. GCC has failed to pay for a total of 40,000 XRP units after transacting it under an official deal.
SEC v/s Ripple: Court denies SEC's interpretations of Ripple assets. Ripple's lawyer, Bill Morgan has expressed relief on the court's dismissal of SEC interpretations. The Judge has approved BTC and ETH status as commodities. Morgan is hoping for an opportunistic decision, reaffirming Torres's verdict regarding XRP being non security. The latest court decision has highlighted that the ongoing contracts are lawful, dealing with ETH and BTC trade.
Ripple announces partnership with BlackRock and JP Morgan to expand its ventures as a new member of the ISDA. This can help recover great highs for Ripple, as this enterprise might welcome other financial giants including Goldman Sach and Citigroup in the near future. This deal might trigger opportunities on a larger scale, flowering chances for bigger names to go for a convenient adoption for flagship crypto.
Ripple announces affiliation with International Swaps and Derivatives Association, a renowned trade organization. This corporation allows multiple bodies for example; investors, traders and cryptocurrency labs to interact. Now Ripple is a part of more than 1000 institutions from adjoining nations as it forges alliance with ISDA.
Bitstamp, a major crypto exchange, announced a permanent 2% APY boost on lending XRP to attract users looking to earn yield on their crypto. The lending will be limited to reputable institutions after rigorous risk assessments through their partnership with Tesseract.
Ripple recently partnered with Faster Payments Council and released a white paper outlining their plans to revolutionize global money movement using crypto. The paper highlights dissatisfaction among payment industry leaders with traditional cross-border payment systems and emphasizes how the crypto and blockchain industry can transform payment technologies worldwide.
Breaking: Partial victory for Ripple Labs against SEC case
Judge Analisa Torres made a decision in favor of Ripple Labs in a case against the Securities and Exchange Commission (SEC), giving them a partial victory. The Ripple token, XRP, was found by the court to not be a security when traded on digital asset exchanges but to be one when offered to institutional investors. Despite this triumph, the SEC still prevailed by defining the requirements for XRP to be considered a security. The lawsuit sought to impose legal limitations on Ripple's XRP distribution. In just one day, the price of XRP has increased by an astonishing 96%.

XRP investor class granted lawsuit certification against Ripple and it's CEO
The XRP investor class was granted certification on June 30 by Judge Hamilton of the U.S. District Court for the Northern District of California, enabling them to continue their legal action against Ripple, CEO Brad Garlinghouse, and subsidiary XRP II. This ruling is a key development in the Zakinov v. Ripple Labs case, which centers on accusations that Ripple engaged in a plan to raise a sizable sum of money by selling XRP to individual investors. Bloomberg Law reports that despite the company's objection, the court found that the class satisfied all four criteria for certification.
Singapore regulators grant Ripple an in-principle license for payments, allowing regulated digital asset services and facilitating customer use of #ODL. Tweet confirms the development.
An exciting partnership between Ripple and Colombia's central bank has been unfolded, highlighting their shared vision of exploring blockchain technology's potential. Through an extensive pilot program scheduled for the entirety of 2023, the collaboration aims to showcase the tangible benefits of blockchain to the broader audience. Overseeing this initiative is Colombia's Ministry of Information and Communications Technologies, while Ripple's cutting-edge central bank digital currency (CBDC) platform will serve as the foundation for this joint endeavor.
The unsealing of the long-awaited Hinman documents led to a surge in the price of XRP, reflecting market optimism regarding Ripple's legal battle with the SEC. However, the initial price increase was short-lived as the XRP price reversed its gains shortly after. The market's response indicates ongoing volatility and uncertainty surrounding the outcome of the legal proceedings.
The XRP Ledger has achieved a significant milestone in its quest to surpass Ethereum. XPPL Labs confirms the successful security audit of the Hooks amendment, enabling expanded services for users. Wietse Wind highlights the importance of Hooks in connecting XRPL and Ethereum, empowering transactions with enhanced intelligence and convenience through customizable logic and automation.
A lawsuit was filed against the XRP in late 2020, by the U.S. Securities and Exchange Commission (SEC), alleging that the company had unlawfully sold $1.3 billion worth of unregistered securities through its XRP cryptocurrency. Ripple's chief executive, Brad Garlinghouse, expressed confidence that the case would be resolved expeditiously, stating that it would conclude in "weeks, not months." This optimistic outlook has had a positive impact on XRP's price, with a 10% increase observed in the past week, while Bitcoin's price declined.
XRP Is Not a Security: The clarifications by Ripple-pro lawyer John Deaton is that XRP is not a security but could be considered as such in the primary market. Ripple CEO Brad Garlinghouse expects a final court decision on the ongoing lawsuit within six months, emphasizing the need for regulatory clarity to avoid lagging in blockchain technology adoption. Potential outcomes of the lawsuit could include a settlement between the SEC and Ripple if it is proven that XRP was sold as a security.
The SEC's shifting stance on the joint enterprise argument in the Ripple case has drawn criticism from attorney John Deaton, who describes it as a "schizophrenic defense." Ripple's General Counsel Stuart Alderoty and attorney Bill Morgan have challenged the SEC's common enterprise argument, highlighting its potential shortcomings in satisfying the Howey test.
XRP Price Predictions 2023-2032
Price Predictions by Cryptopolitan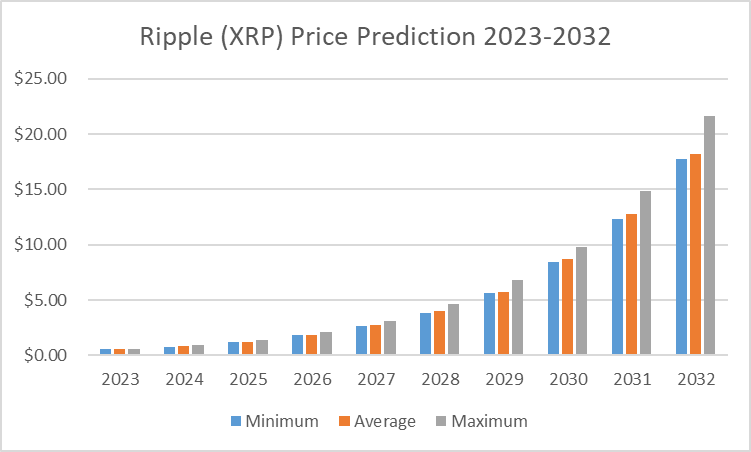 | | | | |
| --- | --- | --- | --- |
| Year | Minimum | Average | Maximum |
| 2023 | $0.55 | $0.57 | $0.61 |
| 2024 | $0.79 | $0.82 | $0.95 |
| 2025 | $1.19 | $1.23 | $1.41 |
| 2026 | $1.80 | $1.84 | $2.10 |
| 2027 | $2.66 | $2.73 | $3.07 |
| 2028 | $3.86 | $3.97 | $4.62 |
| 2029 | $5.61 | $5.77 | $6.79 |
| 2030 | $8.42 | $8.71 | $9.79 |
| 2031 | $12.35 | $12.78 | $14.84 |
| 2032 | $17.70 | $18.21 | $21.63 |
XRP Price Prediction 2023
The current XRP price prediction for 2023 suggests a minimum price of $0.55 and an average trading price of $0.57.Ripple cryptocurrency is expected to attain a maximum price of $0.61.
XRP Price Prediction 2024
Our Ripple price forecast for 2024 suggests the altcoin could trade at a minimum price of $0.79 and an average forecast price of $0.82.Ripple price could hit a maximum price of $0.95.
XRP Price Prediction 2025
The Ripple price forecast for 2025 is for Ripple cryptocurrency to trade at a minimum price of $1.19 and an average price of $1.23.The maximum forecast price for 2026 is $1.41.
XRP Price Prediction 2026
In 2026 our XRP price forecast for 2026 suggests Ripple cryptocurrency could reach a minimum price of $1.80 and an average price of $1.84.Ripple coin is estimated to reach a maximum price of $2.10.
XRP Price Prediction 2027
Ripple XRP price forecast for 2027 estimates a minimum value of $2.66 and an average trading price of $2.73.The maximum price forecast for 20227 is $3.07.
Ripple Price Prediction 2028
Our Ripple forecast for 2028 expects the price of 1 XRP to reach a minimum of $3.86 in 2028. The XRP price can reach a maximum level of $4.62, with an average price of $3.97 throughout 2028.
XRP Price Prediction 2029
The Ripple coin price prediction for 2029 estimates Ripple to attain a minimum value of $5.61 and an average price of $5.77, with a maximum price of $6.79.
XRP Price Prediction 2030
According to the Ripple price forecast for 2030, Ripple is predicted to hit a minimum price of $5.61 and an average price of $5.77 throughout the year 2030. The maximum forecasted Ripple price for 2030 is set at $6.79.
XRP Price Prediction 2031
The Ripple price prediction for 2031 suggests Ripple coin will reach a minimum value of $12.35 and an average price of $12.78, with a maximum price of $14.84.
XRP Price Prediction 2032
The Ripple coin price prediction for 2032 predicts the XRP to have a minimum price of $17.70, an average of $18.21, and a maximum price of $21.63.
XRP Price Prediction by DigitalCoinPrice
DigitalCoinPrice's bullish short-term prediction states that the XRP price will increase by 116.3% by the end of May. The current indicators indicate the Neutral zone, and the fear & greed index shows 27.28 extreme fears, which means the price is currently stable. If all factors remain favorable, this might lead to a further surge in XRP prices towards the end of May.
DigitalCoinPrice estimates the price of Ripple to reach a minimum of $1.65, an average trading price of$1.77, and a maximum forecast price of $1.96 by the end of 2026. For the long-term forecasts, Ripple is estimated to trade at a maximum value of $4.46 in 2030, while by 2032, the value of XRP is expected to reach a peak of $8.34.
XRP Price Prediction by Wallet Investor
Wallet Investor is bullish on Ripple price in the short-term forecast, stating that XRP can reach $0.414 by the end of May 2023. This is quite close to the current value of $0.428. In the one-year forecast, Wallet Investor expects XRP price to reach an average of $0.144 with a minimum and maximum price estimation at $0.37 and $0.724, respectively, by May 2024.
Wallet Investor terms Ripple as a bad long-term investment and predict that XRP will not be able to reach its all-time highs in the coming years.
XRP Price Prediction by Coincodex
Coincodex uses deep technical analysis of Ripple's price action to estimate predictions on where the price is headed shortly. The team of analysts follows a range of indicators and technical analysis methods – from analytical models to fundamental analysis – to produce accurate Ripple price forecasts. According to Coincodex's Ripple price predictions, the current value of Ripple could drop by 5.05% and reach $ 0.407420 by May 20, 2023.
However, due to the current bearish sentiment in the market, as indicated by their technical indicators and Fear & Greed Index of 50 (Neutral), now might not be the best time to invest in Ripple. Moreover, XRP recorded 12/30 (40%) green days with 6.08% price volatility over the last 30 days.
Coincodex's long-term price predictions for Ripple suggest the price could reach $ 9.05 if it follows Facebook's growth. If XRP followed Internet growth, the prediction for 2026 would be $ 1.037854.Moreover, based on the data from May 15, 2023, the general XRP price prediction sentiment is bearish, with 13 technical analysis indicators signaling bullish signals and 20 signaling bearish signals.
XRP Price Prediction by Market Experts
Ripple price action in the previous few days saw XRP/USD riding high before plunging to the recent low. According to BULLRUNNERS market expert based on Youtube, Ripple is expected to break out of a long-term triangle, which could lead to significant gains shortly. He has predicted that Ripple could reach as high as $0.60 in the short term and possibly $1 in the medium term if it does not break out from its current levels. Finder concluded from a panel of thirty-six industry experts that XRP should be at $3.61 by 2025.
XRP Overview
Forecasts can change at the slightest notice
Looking at this overview, it is easy to see the high volatility of XRP in the past few months, which makes it difficult to have a Ripple forecast. But the volatility has not stopped analysts from making XRP predictions based on trends. It only means that these forecasts can change at the slightest notice. However, they still give a rough estimate of what to expect from them.
Given how past developments or even announcements have led to an increase in the value of XRP, the currency might reach $2. This will happen if the actions of Ripple technology lead to a partnership with more financial institutions.
In the past, XRP's popularity and, by extension, its increase in value have been heavily influenced by the partnership with these traditional institutions. More partnerships will mean more adoption, which invariably means higher value.
However, it is not so simple for XRP. The SEC lawsuit complicates the whole issue even further. Before the SEC filed the case, the outlook for XRP was positive, even if it did not make many optimistic. But the lawsuit cuts its breakout short and makes a Ripple price prediction trajectory more challenging, unlike other digital currencies.
Considering how difficult it is to predict a digital asset accurately, it is even more difficult for XRP. After the lawsuit, more traders are acting bearish with the XRP cryptocurrency, raising fears that it could drop to below 10 cents. However, the price pump by retail investors and traders has allowed it to pick up again.
According to Coinpedia, even with the lawsuit hanging over its head, Ripple XRP will trade at an average of $20 in the next five years.
XRP Price History
For years after its creation, the coin's value was so inconsequential that it was almost worthless. Before 2017, the asset's value hovered around $0.01, but this soon changed as the token began to gain wider coverage, and it also leveraged on the bull run of the crypto industry in that year. By April 2017, XRP rose to $0.05; the gradual climb soon continued as it reached $0.25 in May.
After this, there was no going back for the asset, as it had snared the attention of crypto enthusiasts who saw the value it created and the potential it had. The value of the asset rose all through 2017 and into the early period of 2018 when it got to an all-time high of $3.84.
But this was soon followed by a massive drop in value that affected every other cryptocurrency, too; many had labeled the incredible run of the industry as just a bubble, and like every bubble, it was going to burst. This was panned out in the case of the 2017 crypto industry bull run.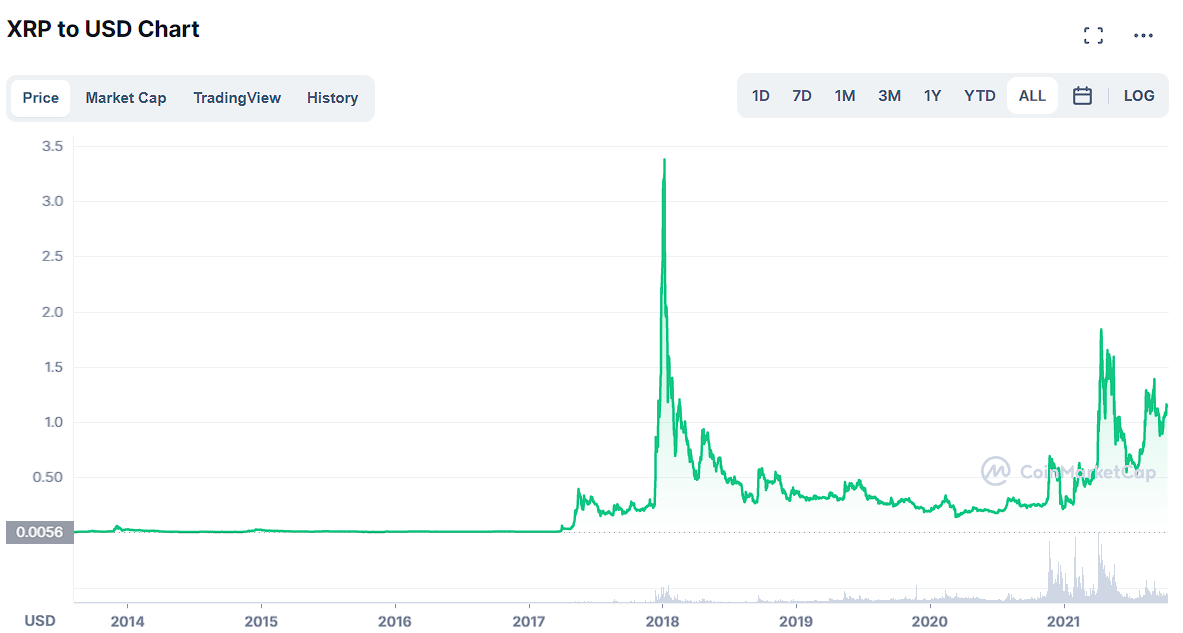 Towards the end of 2019, its price stabilized at around $0.30 and did not cross the $0.5 mark throughout the year. This means that Ripple XRP hasn't been able to build on its old glory since then, as its value never got to as high as even a dollar.
However, the bullish run of 2020 that was ignited towards the end of the year helped the asset's value to ascend. The token's value got to as high as $0.8 before finishing the year at $0.66. Early 2021 was supposed to continue the rise in XRP value, but that could not happen due to the SEC's announcement of a lawsuit.
Upon the announcement, some exchanges delisted XRP from their platform. Many of those holding the token also sold in panic. This led to the value of XRP plummeting to as low as $0.166. However, it has picked up again, going as high as $0.755. Ripple at present is trading between $1.11.
Thus, the highest projected price for the year is $2, while it could also go as a minimum price prediction is $0.561 if the SEC lawsuit is not settled in favor of Ripple.
The XRP price has been consolidating in a sideways channel since the crypto market crash in May 2021. The price has been consolidating between $0.56 and $1.39. The trend is currently neutral; however, it might retest the 0.618 Fibonacci level around $0.89 before moving to the upside. The Stochastic RSI for the daily time frame is also at the bottom (18); thus, there is a huge potential for the upside as far as there is no negative news in the crypto space.
Also, there is a flat volume. This indicates that the supply from sellers and the demand from buyers are in equilibrium.
More on the Ripple Network
What's XRP?
In the world of cryptocurrencies, XRP is quite different. It is decentralized, but not as much as Bitcoin, Ethereum, and the like. Unlike them, it doesn't seek to be an alternative to the traditional banking system but rather to collaborate and improve the conventional banking system. Nonetheless, it is a cryptocurrency that could outlast others due to its many distinctive features and landmark developments.
What's the Liquidity Hub
According to the official statement shared by Ripple, its liquidity hub is now officially open for business. After an extensive stress-testing campaign, it is ready to onboard the first generation of users. The first iterations of the liquidity hub will support Bitcoin (BTC), Ethereum (ETH), Bitcoin Cash (BCH), Ethereum Classic (ETC), and Litecoin (LTC), as well as the fiat U.S. Dollar (USD).
This development only means one thing, Crypto is Good Business. The future is bright for innovative #crypto applications, with the potential to:
Simplify real-time secure money transfers
Streamline back-office reconciliation
Find out how your business can unlock immediate, real-world value through crypto and blockchain with Ripple Liquidity Hub. https://on.ripple.com/3KEwHPI
The 76-year-old Howey Test doesn't seem helpful when applied to cryptocurrencies like XRP. Quite likely because each XRP is indistinguishable from another XRP, as one pundit pointed out. Indeed, there's LBRY CEO Jeremy Kauffman warns that the court decision "threatens the entire U.S. cryptocurrency industry" by setting a standard that would deem "almost every cryptocurrency" a security.
A notable development as a turnkey solution for financial institutions, Ripple Liquidity Hub will leverage smart order routing to source digital assets at optimized prices from market makers, exchanges, and OTC desks. As a crypto liquidity platform built for the enterprise, it will unleash the potential to access deep liquidity within markets, accelerating the shift to crypto.
Ripple Liquidity Hub will initially support BTC, ETH, LTC, ETC, BCH, and XRP (availability will vary by geography), with plans to add additional digital assets over time. Ripple plans to add functionality such as staking and yield-generating functionalities in the future.
Can XRP reach $1 soon? Why not? As the community pushes for action: It will be good to see this snowball! Next up, 40% in a year!
SEC vs. Ripple: XRP Price Prediction After Lawsuit
The lawsuit against Ripple has significantly hindered the price surge during this bull market. Even though the Securities and Exchange Commission (SEC) does not consider Ethereum and Bitcoin, which have similar characteristics as XRP, to be securities, the SEC has continued to be harsh towards Ripple Labs, Inc.
The XRP price fell by 70% immediately after the suit was filed and has never been able to break its previous all-time high of $3. XRP holders have been affected as major crypto exchanges like Coinbase, and Crypto.com suspended trading, so they couldn't cash out. JP Morgan's North America Equity Research also published a report earlier this month stating that the XRP asset is poised for significant adoption.
Keep updated with this unfolding data of SEC versus Ripple, which could topple the market if the predictions go south.
XRP Distinctive Features
Ripple has been in existence for a while. It was created in 2004 as RipplePay, but the case of its innovation came too early for its time, as it made no significant mark then. However, it returned in 2012 as Ripple and launched the XRP token soon after. Ripple XRP is unlike any other cryptocurrency. XRP is a product of Ripple Labs, and it differs on many levels, and this includes:
Ripple is not blockchain-based
Unlike most of the cryptocurrencies in existence, the coin does not operate on blockchain technology. Instead, it is based on the Ripple Protocol Technology, which means it has no use for a distributed ledger database. This uses gateways linked to servers of the company in multiple countries to verify and process transactions.
XRP cannot be mined
While the mining process is considered an integral part of all tokens, it is not the same for XRP. The limit for XRP coins is set at 100 billion coins created by the company. Over 35% of that coin has been released into the market. The rest is held by the company that releases it periodically to control the supply and circulation of the token. The cryptocurrency is a deflationary one as the number of coins in the market reduces with each transaction.
Is the Ripple network centralized?
According to the report, Ripple's milestone is significant because it disproves claims that the Ripple network is centralized.
Technically, the virtual asset is centralized, and its parent company, Ripple Lab, strives to create partnerships with traditional financial institutions like banks. The company sells its RippleNet technology to these institutions, thereby increasing the popularity of its native token, Ripple XRP. RippleNet technology is a system that connects banks and facilitates cross-border payments and settlements.
Due to the differences between Ripple XRP and other cryptocurrencies, it also has some advantages. Some of them are:
This is one of the most significant selling points of Ripple technology. The swiftness of transactions surpasses other cryptocurrencies and beats that of SWIFT wire transfer, the commonly used system in traditional banking. This makes it a better alternative for banks to facilitate cross-border payments, as its XRP transactions are exceedingly fast. The ripple transaction protocol is quite efficient too.
Traditional banking system transactions and that of some cryptocurrencies tend to incur hefty transaction fees. But with digital currency, this fee is drastically reduced to a pittance.
Reversibility of transactions
Another positive for it is that the transaction can be reversed or edited to deal with an error if there is one.
All these features have enabled the Ripple network to gain significant partnerships among traditional financial institutions. And it has also influenced the growth in the value of Ripple XRP over the years.
Growth in South Pacific
It is a fact that the recent partnership of Ripple with the Japanese payment giant SBI has brought the attention of various technical corporations across the South Pacific region, and it is expected that the entire region will see an expansion and adoption of Ripple tech.
It has been said that the Ripple remittance deal is setting the stage for the much broader adoption of Ripple. The lawsuit on Ripple about its security doesn't seem to bother Japanese regulators or SBI officials.
Is XRP a security?
Specifically, the SEC claims that XRP is a security whose offer and sale can be made only pursuant to a statutory prospectus and an effective registration statement and that because Ripple did not file a registration statement its investors have a rescission right.
"Cryptocurrency" means "a digital asset implemented using cryptographic techniques designed to work as a medium of exchange." As important as that definition is, more critical is what "cryptocurrency" is not—it is neither a security nor a commodity, both of which are separately defined.
The Responsible Financial Innovation Act introduced on 7 June 2022 includes a comprehensive regulatory framework for digital assets and seeks to provide clarity on how digital assets, such as cryptocurrencies, are treated under US securities law. The lynchpin of the bill is the codification of the US Supreme Court's decades-old standard for determining when a financial offering is a "security," i.e., the Howey test.
If cryptocurrency is a "security," then crypto-companies issuing them must comply with Securities and Exchange Commission rules for registration and reporting—failure to do so can lead to significant penalties, such as the $100 million SEC fine. issued by the SEC in 2021.
However, many in the industry believe that cryptocurrencies act more like commodities than securities and would prefer them to be treated as such, subject to the Commodity Futures Trading Commission's rules. The "security" vs. "commodity" debate has many practical implications for the cryptocurrency industry and consumers and is already heating up in Washington.
Those thinking about policy in the digital asset, cryptocurrency, and web3 industries would be well served to understand the rules that public officials already are subject to when handling digital assets of their own. See the discussion here.
There are over 220,000 XRP holders, but the top 10 holders control over 70% of the current XRP supply. Right now, cryptocurrency exchange Binance stores the most XRP, with its users holding over 30% of the current XRP supply.
Conclusion
XRP has been one of the most popular digital currencies in recent years, seeing a surge in popularity and adoption. Many market experts have positive outlooks on XRP and believe it could reach new heights in the future. Ripple's Q2 profits report revealed that even with XRP's price dropping, the demand for their On-Demand Liquidity service increased ninefold yearly. ODL sales totaled an impressive $2.1 billion in Quarter 2 alone! Furthermore, Ripple is putting its money where its mouth is by pledging a generous $100 million to invest in carbon removal activities as part of its responsibility to maintain environmental sustainability objectives and remain carbon neutral.
According to Ripple's Crypto Trends report, Non-Fungible Tokens and Central Bank Digital Currencies are still in their infancy. As these two technologies manifest their true potential, their influence on Ripple's network and the entire blockchain space will become apparent.
XRP's future looks bright based on the opinion of industry experts. Ripple technology and products have enthusiastic backing from developers, supporters, and strong believers in its long-term potential. All signs point to XRP as having a secure footing for continued success.
Generally, experts are optimistic about XRP's future growth and predict potential gains in the coming years. However, there could be some short-term price changes in the future. A strong community will help XRP succeed in the long run. In addition, several other factors have an impact on its future performance.
One of these is increased developments within Ripple's products. For example, The XRP Ledger has been developing its own sidechain, which has just started to go through testing. Due to its compatibility with the Ethereum Virtual Machine, the sidechain aims to increase the interoperability of the blockchain (EVM). This enables programmers to use the Ripple Ledger to execute Ethereum smart contracts.
But this sidechain is a lengthy undertaking with three phases. The second stage, which will let any developer join the network, will start in early 2023 and become online in the year's second quarter.
Recently, Ripple released its Q3 markets report. This indicated that, for the first time, the company's XRP holdings were less than 50% of the overall supply. Ripple's net acquisitions, meanwhile, were reported to have decreased by roughly $100 million from the prior quarter. However, this hasn't impacted the overall XRP supply, as its price continues to increase.
There are several reasons why experts believe that XRP's future performance is promising. For one thing, a strong community of supporters and developers continues to see tremendous potential in Ripple's technology and products. Despite some short-term price fluctuations and a bear market, many analysts believe XRP has a bright future ahead. Whether it will reach new highs or continue to grow steadily remains to be seen, but there is no doubt that this crypto asset will continue to play an important role in global financial institutions.
Are On-Demand Liquidity (ODL) firms feeling the pinch from XRP's price volatility?
No, not at all. As of now, there are a considerable number of firms that choose ODL over XRP. ODL does not need that such firms hold on to XRP for a long period of time. Furthermore, these financial institutions are less vulnerable to volatility during transactions.
What's the ideal method for trading XRP?
Open-source and decentralized, XRP may be bought and sold on over a hundred different digital markets. XRP/USD trading may be done on a number of different exchanges on the internet.
Ripple's recommendation for XRP trading platforms?
For the most part, the cryptocurrency Ripple (XRP) doesn't encourage or advocate the use of Internet listings or exchanges, and it makes no claims about them. Customer service and standards based on central bank criteria are different at each exchange when it comes to trading the XRP currency. You should do your own research before embracing new technologies or making financial decisions. To sum up, Ripple does not endorse or sponsor any specific trading platform for XRP.
Is Ripple (XRP) held by any financial institutions?
For its cross-border payments, the XRP Liquidity Pool has officially announced the usage of XRP by eight major payment service providers, including MoneyGram, MercuryFX, IDT, Cuallix, Western Union, and Cambridge Global Payments. A growing number of financial institutions are showing an interest in using Ripple's XRP coin to facilitate their payment processing operations.
What is the Ripple Payment Protocol?
Currency exchange, remittance network, and real-time gross settlement system are all features of the Ripple Payment Protocol (RTXP), also known as the Ripple Transaction Protocol (RTXP). The network is built on a consensus ledger, an open-source distributed Internet protocol, and the native currency. In only a few seconds, Ripple (XRP) can settle transactions across borders
Is Ripple a safe way to transfer money?
This is a straightforward question with a straightforward answer: "Is Ripple safe?" It's because of Ripple's unique approach to cryptocurrencies, which sets it distinct from its rivals. Ripple is focused on a certain goal. The potential for dominance in the online payment business is enormous once it arrives.
What's the incentive for validators who are not Ripple validators?
Interbank settlements using the XRP Ledger will have an incentive to ensure that the network is reliable and stable if it is widely used. If this happens, institutions will set up Ripple servers to join the network. A validator's primary role is to guarantee that the network is stable and that it develops logically.
Disclaimer. The information provided is not trading advice. Cryptopolitan.com holds no liability for any investments made based on the information provided on this page. We strongly recommend independent research and/or consultation with a qualified professional before making any investment decisions.