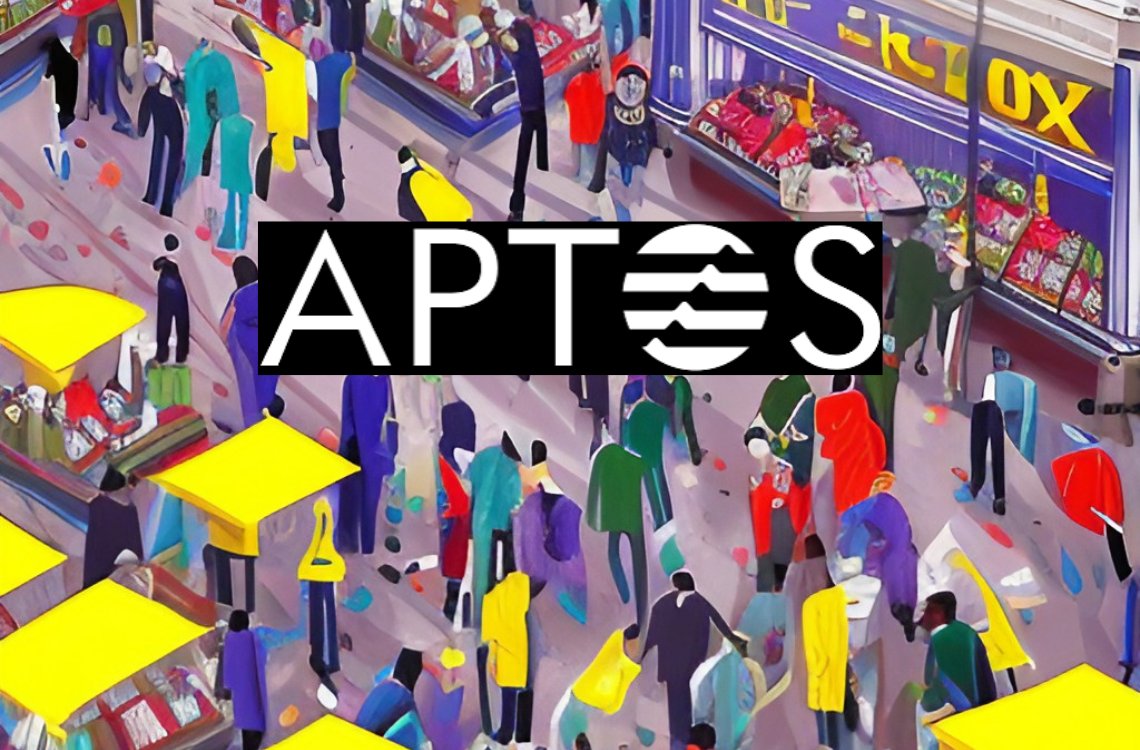 Aptos Price Prediction for 2023 – 2032: Will APT Token Hold Bullish Hopes?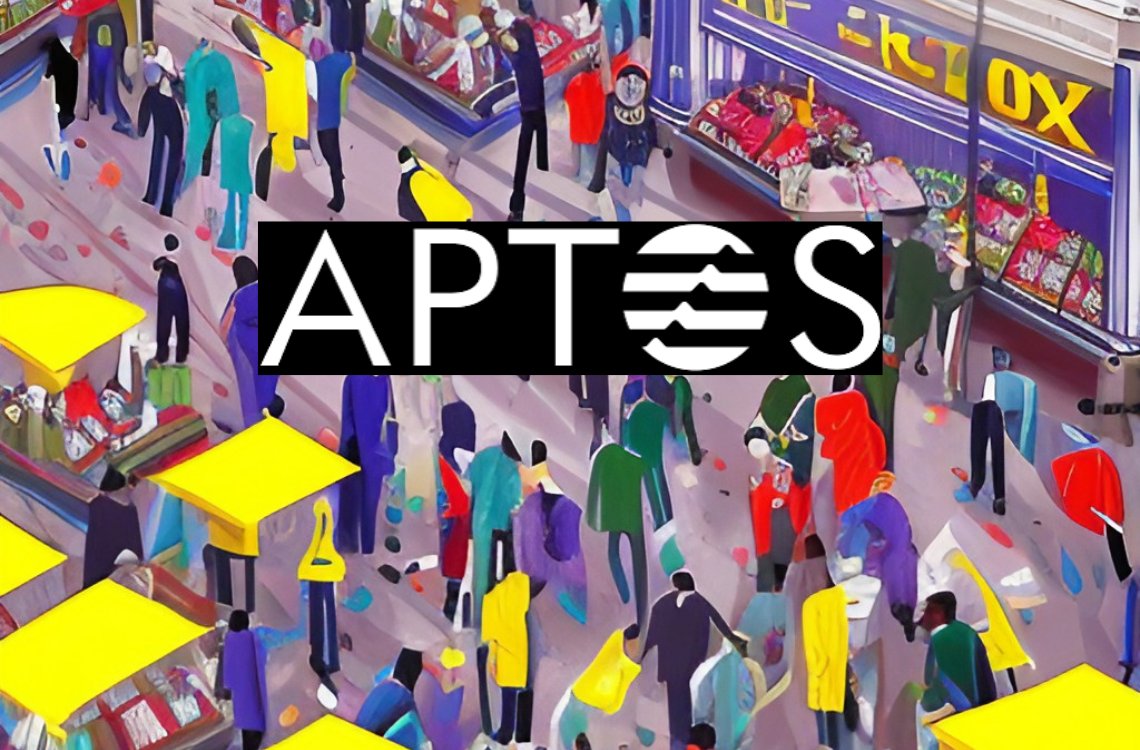 Aptos Price Prediction 2023-2032
As we venture into 2023 to 2032, the next decade promises to be a critical period for Aptos as it strives to establish itself as a significant blockchain platform. The rapidly changing market dynamics, technological advancements, and evolving adoption trends will undoubtedly shape Aptos's path. Against this backdrop, investors and stakeholders are keen to gain insights into the potential price movements of Aptos and discern the factors that might influence its growth.
Join us on this insightful journey as we explore the potentials, challenges, and opportunities that await Aptos from 2023 to 2032.
How much is the APT token worth?
The current price of Aptos is $7.25, with a 24-hour trading volume of $165.360 million. Aptos is down 0.01% in the last 24 hours. The current CoinMarketCap ranking is #36, with a live market cap of $2.016 billion. It has a circulating supply of 278,028,562 coins.
APTOS price analysis
TL; DR Breakdown
APT's bull run started on the 21st of October.
This month, it extended the profits, reaching a high of $7.64.
APT's bear run accelerated from August, a day after the Microsoft and Aptos partnership, falling to its lowest in September. It started recovering in October. It is up 39.97% from the last 12 months and 5.09% from the previous 30 days. It registered a low of $5.36 in June, $6.82 in July, and $4.89 in September. It made gains in October and November. This month, it extended the profits, reaching a high of $7.64.
APT price analysis 1-day chart
The MACD indicator shows the coin registered negative momentum for the last 10 days. The RSI constricted at 52.17.
APT/ USD 4-hour price chart: APT momentum slows
The 4-hour chart highlights the APT price movement in November and December. The coin registered little momentum over the last 8 hours, with its RSI at 62.11.
What to expect from APT price analysis next?
From the analysis, it is evident that APT will gradually trade lower over the short term. However, market macroeconomics might revive the coin's bull run.
Recent News: Upbit Resumes Aptos Token Services Following Fake Token Incident
South Korean cryptocurrency exchange Upbit recently addressed and resolved an unexpected issue where a counterfeit APT token was mistakenly accepted as genuine.
The deceptive token, "ClaimAPTGift.com," was discovered in 400,000 Aptos wallets after being added on September 21st. This incident prompted Upbit to suspend its Aptos token services on September 24th, when they detected an "abnormal deposit attempt."
This fake token appears to have been part of a broader token airdrop scam strategy, which usually involves sending tokens to users, containing links that lead them to phishing sites. Due to a verification oversight on Upbit's part, the exchange inadvertently acknowledged the fake tokens as genuine Aptos tokens. This led to instances where certain users successfully sold the counterfeit tokens, potentially making undue gains.
Upbit has since taken corrective measures. By September 24th, 11:00 pm local time, the exchange had finished inspecting its wallet system and resumed Aptos deposits and withdrawals. In its public statement, the exchange confirmed, "The action against the abnormal deposit attempt has been completed, and there is no problem with your Aptos transaction."
To protect its users and the platform's integrity, Upbit's customer service center is now seeking refunds from individuals who unknowingly sold the sham APT tokens. While the issue has been addressed, Upbit has cautioned its users about potential delays in processing and possible transient price changes for APT tokens relative to other exchanges.
In related news, the genuine Aptos token observed an 11.6% surge following an announcement of a collaboration with Microsoft, aiming to integrate AI with blockchain technologies.
Aptos Price Prediction 2023 -2032
Aptos Price Prediction by Cryptopolitan
| | | | |
| --- | --- | --- | --- |
| Year | Minimum ($) | Average ($) | Maximum ($) |
| 2023 | 7.65 | 7.92 | 8.64 |
| 2024 | 11.30 | 11.61 | 13.37 |
| 2025 | 16.08 | 16.55 | 19.63 |
| 2026 | 24.58 | 25.24 | 27.83 |
| 2027 | 35.76 | 37.02 | 42.11 |
| 2028 | 50.76 | 52.24 | 63.80 |
| 2029 | 69.69 | 72.30 | 85.18 |
| 2030 | 99.14 | 102.03 | 121.98 |
| 2031 | 139.91 | 143.99 | 169.26 |
| 2032 | 195.48 | 201.24 | 244.14 |
Aptos Price Prediction 2023
In our 2023 Aptos APT price prediction, we anticipate a minimum trading price of $7.65 and an average value of $7.92 for the token.
With several scheduled ecosystem upgrades, we expect Aptos APT to experience a surge in value and reach a maximum price of $8.64.
Aptos Price Prediction 2024
According to our Aptos APT price prediction for 2024, we expect a minimum price of $11.30 and an average price of $11.61. However, If APTOS APT's growth trajectory persists, we predict its value could reach as high as $13.37 at its peak.
Aptos Price Prediction 2025
According to our Aptos APT price prediction for 2025, the minimum price of APT will be $16.08, while the average price will be around $16.55. There is potential for significant growth in the value of APTOS APT during this period, with the token possibly reaching a maximum price of $19.63 by the end of 2025.
APTOS Price Prediction 2026
According to price prediction for 2026, we expect the minimum price of the coin to be $24.58 and an average predicted value of $25.24. We expect APT's price to surge to a maximum level of $27.83 by 2026.
Aptos Price Prediction 2027
Our Aptos price prediction 2027 is a minimum value of $35.76, with an average trading price of $37.02. Based on the Aptos APT price prediction for 2027, the price could reach a maximum of $42.11 during the year.
Aptos Price Prediction 2028
Based on our APTOS APT price prediction for 2028, the APT token is anticipated to experience a bullish trend with a predicted floor price of $50.76 and an average trading value of $52.24. The highest possible price for 2028 is estimated to reach $63.80.
Aptos Price Prediction 2029
Our Aptos APT price prediction for 2029 suggests that the minimum price level could be $69.69. The APT token will experience significant growth, with a maximum potential price value of $85.18 and an average projected value of $72.30.
Aptos Price Prediction 2030
Aptos's price prediction for 2030, the cryptocurrency's value may drop to a low of $99.14 by year-end. However, we expect the average trading price to be $102.03 and the maximum estimated price to reach as high as $121.96.
Aptos Price Prediction 2031
Based on our Aptos APT price prediction for 2031, the minimum price of APT will be approximately $139.91, while the average price will be around $143.99. The maximum estimated value for APT in 2031 will reach $169.26.
Aptos Price Prediction 2032
According to our Aptos APT price prediction for 2032, the APT coin will increase steadily. However, the minimum price of the coin will be $195.48. The average trading price is estimated at $201.24, indicating steady growth. The maximum estimated price of Aptos for 2032 is $244.14, showing a potential surge in price.
Aptos Price Predictions by Walletinvestor
Wallet Investor uses technical analysis to provide the Apt price forecast. According to the platform's price prediction, Aptos' past performance index rating is A+; it adds that APT would make a bad one-year investment. The expected average price in 2024 will be $4.178. Aptos's return on investment (ROI) will be -42.692% in 2024; in 2025, it will be -78.663%; in 2026, it will be -81.29%. According to the technical analysis, the APTOS price bear trend continues over the entire period.
Aptos Price Predictions by CryptoPredictions
The site scans a coin's exchange rates and other historical market data and uses these data to provide APT coin price prediction.
Their APTOS price forecast for 2023 is $6.176 in December. In 2024, APT will trade at an average price of $6.171 in January and $7.780 in December. In 2025, APT will sell at an average price of $8.059 in January and $11.229 in December.
Aptos Price Predictions by Digitalcoinprice
APTOS will be on a bullish trend from 2023 to 2032; the maximum value of APT for the entire duration will be $132.84. In 2024, it will trade at a mean price of $16.19. It will reach a maximum price of $17.75 and a minimum of $14.73. In 2025, it will trade at a mean price of $23.48. It will reach a maximum price of $24.71 and a minimum of $20.24. In 2032, it will trade at a mean price of $131.26. It will reach a maximum price of $132.84 and a minimum of $128.65.
Aptos Predictions By Industry Experts
Altcoin Doctor's latest price analysis on Aptos is bullish. The analyst bases his predictions on Bitcoins' Halving, characterized by bullish price movements in the cryptocurrency market. The next halving will occur in April 2024; the analyst places Aptos at $423 in one year using the Fibonacci retracement indicator. The analyst, however, confesses that the prediction is limited due to Apotos's little historical information.
Aptos Overview
Layer-one protocols such as Ethereum, Solana, BNB Smart Chain, and Avalanche have been hot topics in crypto. The astronomical rise of non-fungible tokens (NFTs) exposed the limitations of many blockchains struggling to handle mainstream adoption.
Before Ethereum's transition to Proof-of-Stake (The Merge), network congestion and sky-high transaction fees were prevalent, leading to the belief that only whales could participate in multiple DeFi initiatives on the platform.
Though touted as a high-throughput chain capable of processing thousands of transactions per second (TPS), Solana faced its challenges, with multiple outages rendering the network unusable.
A new player emerged to solve these issues: the Aptos Blockchain. Dubbed by many as "the Solana Killer," Aptos is a "scalable, safe, reliable, and upgradable" network that has been in development for over three years. With the recent launch of its mainnet, Aptos aimed to revolutionize the blockchain space, offering a seamless and robust platform for users and developers alike.
Aptos Price History
Aptos raised $200 million in March 2022 in a seed round led by the venture capital firm Andreessen Horowitz. Other crypto heavyweights like Multicoin Capital and Tiger Global participated in the funding round. In July of the same year, the startup raised another $150 million in a Series A round led by Jump Crypto and Sam Bankman-Fried's FTX Ventures.
Two months later, Binance Labs invested an undisclosed amount in Aptos, bringing its valuation to $4 billion. The blockchain launched its mainnet on 12 October 2022.
APT, the blockchain's native token, marked its all-time low on December 30, 2022. A month later, tables turned as it peaked at an all-time high of $19.90 on January 30, 2023. On that day, Aptos pumped by over 25% in 24 hours, likely due to the blockchain's non-fungible token market. Collections such as Aptos Monkeys and Aptomingos have attracted more users. APT was bearish in Q1 2023. On 6th June, APT fell below its initial listing price and extended the losses in the preceding months. In October, it corrected, rising as high as $6.8.
Source: https://coinstats.app/coins/aptos/
More on the Aptos Network
What Is Aptos Blockchain?
Aptos, an innovative layer1 blockchain, is built upon the Move programming language and can be considered the successor to Meta's now-defunct Diem blockchain project.
Centered on scalability, reliability, safety, and upgradeability, Aptos aims to bring ground-breaking concepts to the layer one space, featuring novel consensus mechanisms, performance optimization, system security, and smart contract designs.
With a vision to recreate the cloud infrastructure that powers web2 in a decentralized manner, Aptos strives to establish a comprehensive blockchain solution that paves the way for rapid mainstream adoption of web3. Concurrently, the project is committed to accelerating a dApp ecosystem that addresses real-world challenges.
Founders Behind Aptos Ecosystem
Aptos was brought to life by Aptos Labs, a company co-founded by Mo Shaikh (CEO) and Avery Ching (CTO). Shaikh and Ching are former Meta employees with years of experience as senior developers and engineers in the blockchain industry under their belts.
Aptos Labs boasts a diverse and experienced team of skilled designers, engineers, researchers, and strategists working together to drive the project forward.
A significant factor contributing to the buzz surrounding the Aptos crypto project is its intriguing history. While Aptos is an independent blockchain with its unique vision and technology, it has roots in Meta's discontinued Diem blockchain initiative. A substantial portion of the Aptos team was directly involved in Diem's creation, design, and development, adding to the project's interesting narrative.
How Does the Aptos Blockchain Work?
PoS with advanced BFT consensus
Aptos is a robust proof-of-stake (PoS) blockchain that employs a sophisticated Byzantine Fault Tolerance (BFT) consensus mechanism, working with a group of validators responsible for receiving, processing, and validating transactions.
Holders of APT tokens can stake their tokens with validators, which grants each validator a consensus voting weight proportional to the number of tokens staked in their custody. Validators can then utilize their voting weight to actively participate in the consensus process and governance of the blockchain.
Light and full node clients
Aptos categorizes its clients into two distinct groups — full node and light clients.
Full node clients maintain a complete copy of the Aptos transaction ledger, while light clients store a streamlined version. Both types of clients communicate with validators to inquire about the ledger's history and current state before submitting transactions to be appended.
Move programming language
Aptos' whitepaper states that it employs the Move programming language's object model to depict the state of its ledger. Move, a relatively new programmable platform for blockchains, smart contracts, and other applications, was initially developed for Facebook (now Meta) for its discontinued crypto/blockchain projects, Libra and Diem.
The Aptos team asserts that Move's advanced smart contract language is ideal for facilitating swift and secure transactions. Move simplifies the auditing and analysis of the blockchain and smart contracts that utilize it.
Parallel transaction processing
The Aptos blockchain supports parallel transaction processing, essential for achieving high scalability and throughput. By optimizing a multi-threaded, in-memory parallel engine using BlockSTM, it can deliver over 160,000 non-trivial Move transactions per second.
The entire underlying infrastructure is designed for complex atomic transactions, ensuring transaction viability protection. Each transaction is fully completed or doesn't occur at all. This approach enables secure peer-to-peer trustless transactions with no intermediary.
Solana Vs. Aptos
Solana currently stands as one of the top-performing layer 1 blockchains in the market. Regarding speed, Aptos is on par with Solana, as both blockchains utilize engines capable of executing parallel computations. However, Solana's reliability has been questioned due to its recurring network issues.
Aptos has an advantage regarding reliability due to its redundancy measures. The Aptos network incorporates redundancy, making it significantly less susceptible to failures. The mechanism works as follows: the Aptos blockchain synchronizes all its nodes with neighboring nodes and leader nodes. If a leader node encounters a failure, another node steps in to maintain the network's functionality and uptime.
In summary, Aptos seems to present a more dependable alternative. However, it is still relatively new and must maintain its exceptional performance over time to surpass Solana.
The Aptos Token (APT)
The Aptos token (APT) is the native cryptocurrency within the Aptos ecosystem. At one point, the project faced controversy when it planned to launch the Aptos token without providing any public information—no details on total supply, distribution, or even a general roadmap. However, after receiving backlash from the community, the Aptos team made amends and shared most of the necessary details through a blog post.
The Mainnet officially launched on October 12, 2022, with an initial token supply of 1 billion. APT features eight digits of precision, and each minimal unit is called an Octa.
| | |
| --- | --- |
| Category | Initial distribution |
| Community | 51.02% |
| Core contributors | 19% |
| Foundation | 16.5% |
| Investors | 13.48% |
Conclusion
Since its inception, Aptos appears to have successfully integrated various projects associated with Libra and Diem into its ecosystem. This is a promising development, as it expands the ecosystem's reach and potential for growth.
Furthermore, the project has gained momentum following the launch of its testnets. Based on initial community feedback, the network has achieved significantly higher TPS and time-to-finality rates than its competitors.
With its current trajectory of 160,000 TPS and sub-second transaction times, the Aptos crypto project holds the potential to surpass many of its rivals in the long run, provided it continues on this path. However, it is advised to do your research and conduct good investment advice before investing in the volatile crypto market.
What is special about Aptos?
The Aptos genesis took place on October 12, 2022, with its mainnet "Aptos Autumn" launched on October 17, 2022. The key features of Aptos are a parallel execution engine, low transaction costs, and high-level security features.
Where can I buy APT?
Popular exchanges where you can buy APT include Binance, Bitfinex, Coinbase, and Gate.io.
What is the theoretical transaction throughput of the Aptos blockchain?
The PoS blockchain can achieve a theoretical transaction throughput of over 150,000 transactions per second (tps) through parallel execution.
How much did Aptos raise in its seed round?
In March 2022, Aptos raised $200 million in a seed round led by the venture capital firm Andreessen Horowitz (a16z). Other crypto heavyweights like Tiger Global and Multicoin Capital took part in the funding round.
What is the all-time high for APT?
The highest price paid for Aptos (APT) is $19.90, which was recorded on Jan 30, 2023.
Disclaimer. The information provided is not trading advice. Cryptopolitan.com holds no liability for any investments made based on the information provided on this page. We strongly recommend independent research and/or consultation with a qualified professional before making any investment decisions.