Maiar Wallet Review: Advanced security and scalability
Maiar Wallet Review
Maiar is a leading crypto wallet and global payments app that allows you to relish the digital side of the trading world with a guarantee of security. The Maiar app is available on every software, be it Android or iOS. Besides offering unlimited security features, what makes Maiar global? To make things transparent for you, we are reviewing the wallet inside-out.
Also Read:
• Klever Wallet: Impressive Functionality And Security
• Trust Wallet: Is It Safe For Your Crypto?
• Trust Wallet Review: What'S Best In It?
About Maiar global payments app
Maiar is a digital non-custodial wallet that runs on every mobile phone unless it has a verified phone number and stable internet connection. The interface of the app is user-friendly, with classic features which make it rule globally. The great app is free to download and effortless to set up. The app wallet is supported in every country except those that are restricted to cryptocurrencies. No banks or intermediaries charging extra fees.
Elrond network extension
Talking more about the Maiar DeFi wallet, it is an extension of the Elrond network, designed with advanced security to secure keys and tokens. The Elrond Network, an Internet-scale blockchain, is designed to improve significantly by being scalable, efficient, and secure while maintaining a sufficiently decentralized setting.
The team introduces a novel Adaptive State Sharding mechanism to achieve this, enabling scalability as more nodes join the network by parallelizing transaction processing. Another innovation is a Secure Proof of Stake (sPoS) algorithm which allows the processing of upwards of 15,000 transactions per second (TPS), with 6-second latency and negligible cost. The development team approaches security through a process called progressive security, The more you use the app, the more sophisticated security features are triggered, to help your crypto assets stay safe and secure. Maiar offers a digital identity layer that starts with a service mapping the phone number to a wallet address while preserving privacy and allowing users to send money to friends and family via their address book.
Supported coins
The digital assets Maiar supports include Ethereum, Binance, Elrond gold (ERD BEP2, EGLD, and ERD ERC20). Well, that is not the end. Sooner or later, Maiar will include Bitcoin, Litecoin, and Bitcoin Cash on the list. Intellectual property rights relating.
Trading fees
Maiar exchange's great app is free to download. But to secure your keys, and alter the transaction speed, a small amount of fees applies to every transaction you make. You pay a minimum of $0.001 for every transaction. Not forget to mention, Maiar lets you know about the fee it will deduct on transactions. Nothing is hidden or surprising, plus there are minimal fees.
Maiar Wallet's features
Progressive security
The modern verification techniques and edge-cutting data encryption are what make Maiar everyone's favorite.
You can securely store crypto on your mobile from the seed phase stage if you lose your phone or it gets stolen.
User experience
Maiar believes that the sky's the limit. Following this motto, the team is expanding the business and improving the user experience.
Intuitive internet-scale blockchain technology offers a gamified approach to traders.

Rewards
How can we forget to mention the eGold rewards you earn on the Maiar DeFi digital wallet? Share the referral links in your circle. Whenever someone trades crypto coins, you get a 100% commission on crypto money.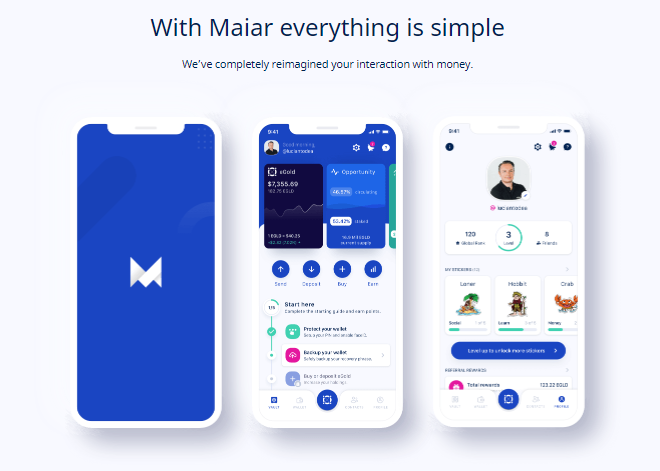 Tips to securely store crypto on Maiar wallet
Here are some tips that will make your trading experience on Maiar wallet even better:
Read the terms and conditions
No doubts things seem clear so far. Still, there can be some hidden stories. Do your research before providing your information to the wallet.
Set back up
Mishaps can happen at any time, but for that, you should be well-prepared. Set the built-in backup plan to secure your keys and tokens.
Set a strong password
Don't be lazy while setting up your account's password as an ordinary one. Add upper-lower characters, symbols, and numeric to make the password stand out.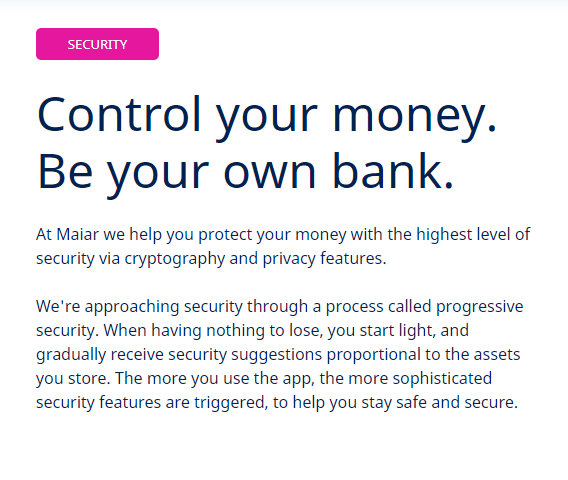 Use all features available
Whether the multi-signature transaction feature or the 2FA, ensure you are using it all to secure your crypto project.
Exchange and securely store your coins
Never even in your drunken condition share the private keys to anyone. We repeat, NEVER! Secure the keys somewhere safe where no one can reach.
Keep updating the antivirus
Don't be a careless person. The private keys are the only proof that shows you the legal owner of the coins. Keep updating the antivirus software on your phone to avoid hacking and tracking.
Advantages of the Maiar Wallet
Seamless onboarding
News & daily digest
Multiple coins
Non-custodial
Earn & staking
Progressive security
How to create a Maiar wallet
Enter the phone number to create an account and click Continue. That's safe. The wallet does not store any user data: all private keys and personal information, including a phone number, are stored on a local device. You need a phone number so that you can send tokens to contacts on your smartphone.
Enter the 6-digit code to verify your phone number.
The wallet has been successfully created. The next step is to fund it with EGLD tokens. But before that, we recommend making a backup. To do this, first, go to the Profile section. And then open the wallet settings.
Now select Secret Phrase. After you save a backup of your wallet, you will have a checkmark labeled Backed Up, as in the picture below:
Source: Medium.com
For security reasons, the seed is not displayed by default. To show the mnemonic password, click on the icon marked in the screenshot below.
The Maiar wallet warns that you must not share your seed phrase with anyone. Otherwise, your wallet will be compromised. The recovery phrase must be stored in a protected place inaccessible to unauthorized persons. Read the wallet recommendations carefully and click Ok.
Wrapping Up!
With Maiar DeFi, a digital crypto wallet meets the innovative style of trading.
The non-custodial feature of the wallet makes the registration process more straightforward and effortless, even for beginners.
The eGold referral reward system is the cherry on the top feature. How amazing it is to make extra coins by doing nothing.
Lastly, make sure to read the terms and conditions in detail before registering your account.
One word of caution, though, hero tags can be "stolen." As always, when trading, ensure the wallet id is correct. Usually good to check the last 5 digits and possibly the first 5 to confirm. Things like hero tags are cute but just window dressing. Maybe Elrond can look into this severe complaint by users.
What's Progressive Security?
When having nothing to lose, you start light and gradually receive security suggestions proportional to your store assets.
What more can I do with a Maiar wallet?
You can use a Maiar wallet for staking EGLD: Click on the button located in the middle of the Maiar wallet navigation panel. In a drop-down menu with options, select Earn. The section that opens will display active delegations and accrued awards. To delegate tokens, click Stake.
How can I stake using a Maiar wallet?
The Maiar developers have created a convenient mobile wallet for storing and transferring EGLD tokens.
Is there more about Maiar that I should know?
 The wallet has other notable features, such as herotags. They use DNS and replace complex, illegible addresses with simple names that the user can choose.