How Do You Pick The Best Ravencoin Wallet?
With the plethora of crypto wallets on the market, it can quickly become a daunting task for beginners to pick out the best Ravencoin wallets. One of the many suitable wallets for this crypto is developed by the Ravencoin development team to enable users to hold their coins safely and securely.
If you're interested in Ravencoin and want to know more about the wallet options available, let's get into the details.
Also Read:
What is Ravencoin?
Ravencoin( RVN) is a chopstick of the Bitcoin blockchain that was developed as a way to store and transfer means from one party to another seamlessly. It's decentralized, open-source, and peer-to-peer. It uses Proof-of-Work like Bitcoin, but with a critical unique difference. Ravencoin remains ASIC resistant, thanks to the X16R algorithm it uses for agreement. This unique mining algorithm of Ravencoin made it popular when it was released in January 2018, and it remains popular to the moment.
Ravencoin Cryptocurrency
The RVN cryptocurrency is the currency used on the Ravencoin platform. RVN is short for Ravencoin and has several utilities. For instance, you can use it to speculate on its price. You may also create and manage different tokens on the Ravencoin platform if you are an advanced cryptocurrency user. The RVN digital asset's consensus mechanism is also worth noting. It employs a Proof-of-Work (PoW) consensus method that has been modified to accommodate CPU mining rather than ASIC mining on the Bitcoin network.
Users must burn RVN coins to establish a new asset. The tokens produced by this blockchain software are fungible and can be divided. Users may also use RVN tokens to pay for goods and services and send and receive them.
Where to buy Ravencoin tokens?
The process of purchasing RVN tokens is fairly simple. The first step is to acquire a cryptocurrency that can be traded for RVN on a crypto exchange that lists the currency. Bitcoin and Ethereum are two such currencies. Investors may also use fiat money to buy RVN directly on some exchanges.
Once you have one of these cryptocurrencies or fiat money, you can use it to buy RVN on an exchange that lists the currency. Binance, Upbit, and Bittrex are a few of the most popular exchanges that allow users to trade RVN.RVN is the most common way to buy Binance. This platform has been growing in popularity in recent years and is now one of the largest crypto trading platforms around the globe. The bigger the platform, the larger the volume of RVN virtual currency you will have. Binance, MXC, and CoinEx are among the many exchanges that offer RVN/USDT as their largest trading pair.
Ravencoin Wallet
The Ravencoin wallet is a piece of software you download onto your computer or smartphone to store your Ravencoin tokens. You can use it to make transactions—either send them to someone else or receive them—and also to see your balance and transaction history. Ravencoin has a number of compatible wallets on the market, giving users several alternatives to store their assets. We'll go through them individually so you can decide which is the best option for you.
Types of Ravencoin Wallets
There are several Ravencoin wallets to choose from. The first thing to know is that Ravencoin operates similarly to other digital currencies. Cryptocurrencies are divided into two categories: custodial and non-custodial wallets. When we refer to custodial wallets, we're talking about Ravencoin wallets maintained by a third party.
For example, a custodial wallet allows you to store Ravencoin in a crypto wallet. These wallets are not typically the greatest option for long-term storage if you wish to invest in RVN.
You keep the private keys to your cryptocurrencies in a custodial wallet. A ledger wallet is regarded as a custodial wallet by some. However, there are many other options available. Your assets will be secure if you keep the private keys secret.
Furthermore, some of the wallets that may be downloaded include software wallets for PC or smartphones and hardware wallets. In addition to this, a Ravencoin paper wallet might be used. However, a Ravencoin paper wallet is not the greatest solution if you want to keep your money secure.
There is no "best Ravencoin wallet" to be found. To be accurate, each wallet has its own set of features. You would choose one or the other depending on your needs. For long-term owners, a hardware wallet might be the ideal option. A software or desktop wallet could be the best alternative for users who manage their funds.
13 Best Ravencoin Wallets
In this guide, we will go over the eight best Ravencoin wallets in 2022. But before we get started, if you don't already have a Ravencoin wallet set up, you will need to create one. Although Ravencoin's increasing popularity has brought it to the attention of many people, few third-party wallets currently support RVN. Because they didn't complete an ICO and aren't an ERC20 token, wallet developers will need to do more work in order to include the currency in their code.
Several firms in the crypto sector now provide RVN support and enable investors to store funds safely. In the following sections, we'll go through all you need to know about the finest Ravencoin wallets available.
1. Official Ravencoin Desktop (Desktop Wallet)
The Official Ravencoin Desktop Wallet is the official desktop wallet for RVN and is available for Windows, macOS, and Linux. The most significant advantage of using the Official Ravencoin Desktop Wallet is that it gives users full control over their private keys. That being said, the downside of this desktop wallet is that it requires users to download the entire blockchain, which can take up a lot of space on your computer.
Furthermore, because this is the Ravencoin official wallet created by the team, you may rest assured that it will have widespread community support. The core developers continuously update the wallet's code, ensuring that it keeps up with all of Ravencoin's newest features. Users are encouraged to download the Ravencoin wallet from the official website or GitHub repository to avoid malware infection.

2. Official Ravencoin Mobile (Mobile Wallet)
The Official Ravencoin Mobile Wallet is the official RVN wallet for Android and iOS devices. The mobile wallet allows users to send and receive RVN on the go and store their private keys on their devices. Furthermore, the mobile wallet supports QR code scanning for quick transactions. This wallet is as decentralized as the cryptocurrency it supports. You may even use it to download or check the network's entire transaction history.
The main advantage of using the Official Ravencoin Mobile Wallet is that it is extremely convenient to use. With top-of-the-line encryptions and PIN protection, the wallet is extremely simple to use and completely safe. Your Ravencoins will remain secure even if your device is stolen because of the PIN protection. However, keep in mind that this is still a software wallet, so it isn't as safe as hardware wallets like those above.
3.Trezor Hardware Wallet
The Trezor hardware wallet is a popular choice for those looking for safe storage of their Ravencoin. Trezor is a USB 2.0 device that can be connected to your computer. The advantage of using a hardware wallet like Trezor is that your private keys are stored offline, which reduces the risk of them being hacked. Trezor is the most secure cryptocurrency hardware wallet on the market, and it is also the oldest.
Trezor's most affordable model is the Trezor Model One, which costs €69. The basic version supports many cryptocurrencies. The Trezor Wallet also has a passphrase feature that adds an extra layer of security to your funds. If you lose your Trezor device, you can use the passphrase to recover your coins. It also has two-factor authentication for extra security. Overall, the Trezor hardware wallet is an excellent choice for those looking to store their Ravencoin safely and securely.
4. Atomic Wallet (Desktop and Mobile Wallet)
The Atomic Wallet is a multi-currency desktop and mobile wallet that supports over 300 cryptocurrencies, including Ravencoin. The wallet enables you to store, buy, and exchange RVN with a built-in atomic swap function. It's similar to a cold wallet since it keeps all of your critical information in the device's local memory, making it impossible for hackers or online malware to access it.
Furthermore, the wallet encrypts your private keys and stores them on your device. Ravencoin's official wallet offers RVN support, as well as the ability to trade for over 300 different digital assets. According to the official Atomic Wallet website, there are more than 1 million users worldwide. There are numerous benefits to using Atomic Swap, but one of the most significant ones is that it allows you to exchange any cryptocurrency for another.
Consider the case of purchasing Ravencoin (RVN). You can quickly do so by swapping any other cryptocurrency for RVN within your wallet, and you may also acquire RVN with their built-in exchange platforms using whatever method you choose. It offers high-level encryption and crypto staking for a variety of Proof-of-Stake currencies.
5. Trust wallet
The Trust wallet is an iOS and Android RVN wallet that supports over 20,000 different Ethereum-based tokens, including Ravencoin. The Trust wallet is a Hierarchical Deterministic (HD) wallet, meaning that it generates a new address for each transaction.
This makes it difficult for someone to track your transactions. The Trust wallet also has a built-in exchange so that you can quickly and easily swap RVN for other cryptocurrencies. It's a mobile wallet that's important for holding cryptocurrency assets like Ravencoin, Ethereum, ERC20, and ERC223 tokens.
The Trust wallet is an extremely user-friendly and convenient option for those looking to store their Ravencoin on their mobile devices. It is also one of the most secure wallets because it uses HD technology, meaning that each transaction is made with a new address that is difficult to track. It's also a great Web3 browser that allows you to access numerous DAPPs on the Ethereum network while still keeping your funds safe. It is available for two operating systems, iOS and Android.
6. Ledger
The Ledger Nano S is the most secure hardware wallet for Ravencoin. This wallet supports a variety of digital currencies and has unique access to hundreds of them. The Ledger wallet is a great option if you're a long-term investor. The Ravencoin community highly recommends using this wallet. The major disadvantage of the Ledger wallet is its expense. You must invest in the device. However, there are several advantages. Ledger wallets are increasingly being used on various platforms in the cryptocurrency market. New solutions may be introduced in the future as well.
7. Exodus
The Exodus wallet is a desktop wallet that's available for Windows, Mac, and Linux and also a mobile wallet available on Android and iOS devices. It's a popular choice because it's free to download and easy to use. The Exodus wallet is also one of the most attractive wallets because it has a built-in exchange function. This allows you to quickly and easily swap RVN for other cryptocurrencies. In addition, the Exodus wallet is one of the few that supports multiple cryptocurrencies, including Ravencoin. It's also an HD wallet, meaning that each transaction uses a new address, making it difficult for someone to track your transactions.
The only disadvantage of the Exodus wallet is that it's a hot wallet, which means that your private keys are stored on your computer. This makes your funds more vulnerable to hacking. However, the Exodus wallet is still a great option for those looking for an easy-to-use and attractive wallet that supports multiple cryptocurrencies.
8. Guarda Wallet
Guarda is a non-custodial multi-currency wallet that supports over 45 different tokens and coins. It's available on desktop, mobile, and web platforms. The Guarda wallet is a hybrid wallet that supports 45 cryptocurrencies and over 10,000 tokens. The list is growing, with more than 10 new additions each month. Users may only purchase, sell, and exchange coins within the wallet. Staking for PoS currencies is also possible using Guarda Wallet.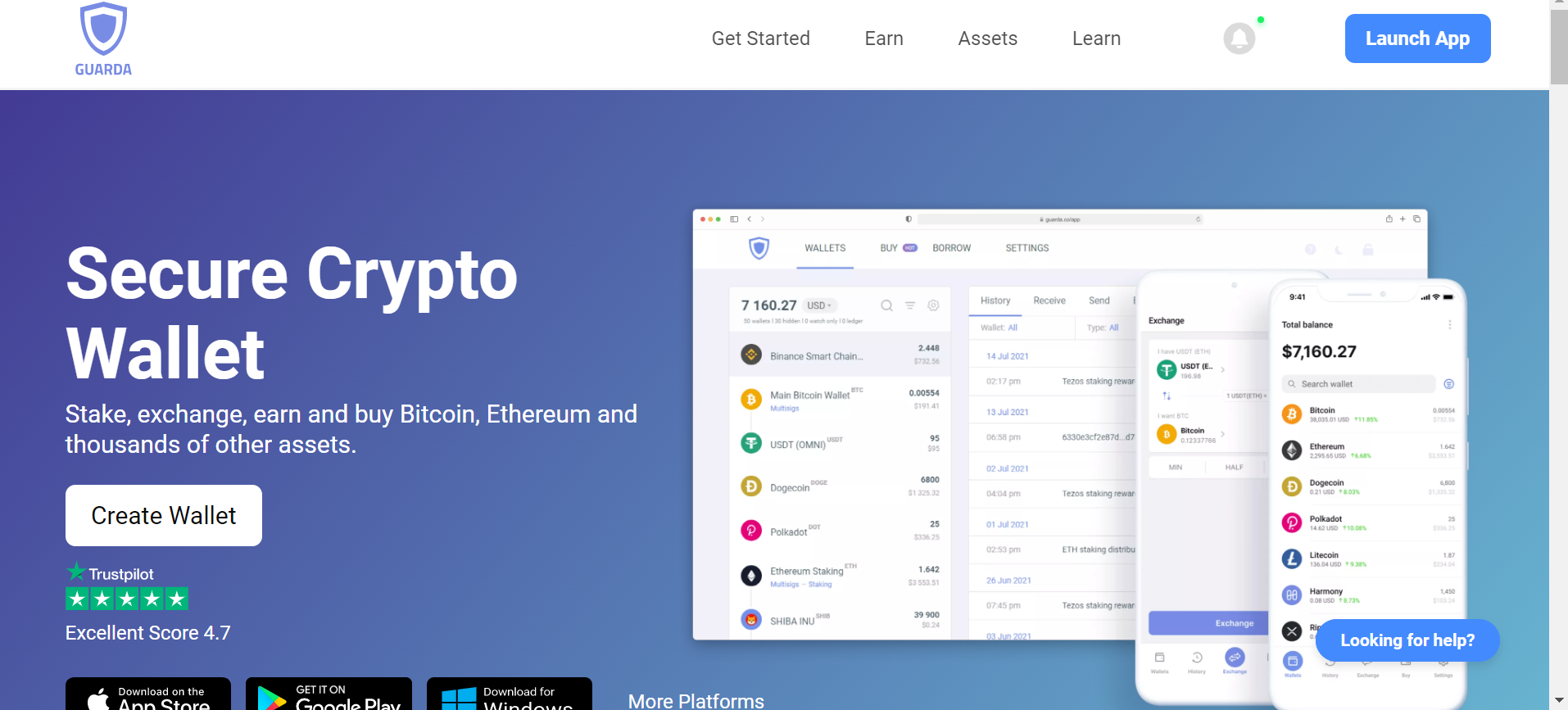 9.Ravencoin Paper Wallet
This is one of the most secure methods for storing RVN as it is not connected to the internet. The Ravencoin paper wallet comes with wallet generators that allow you to generate your private keys and a QR code, making it easier to transfer money.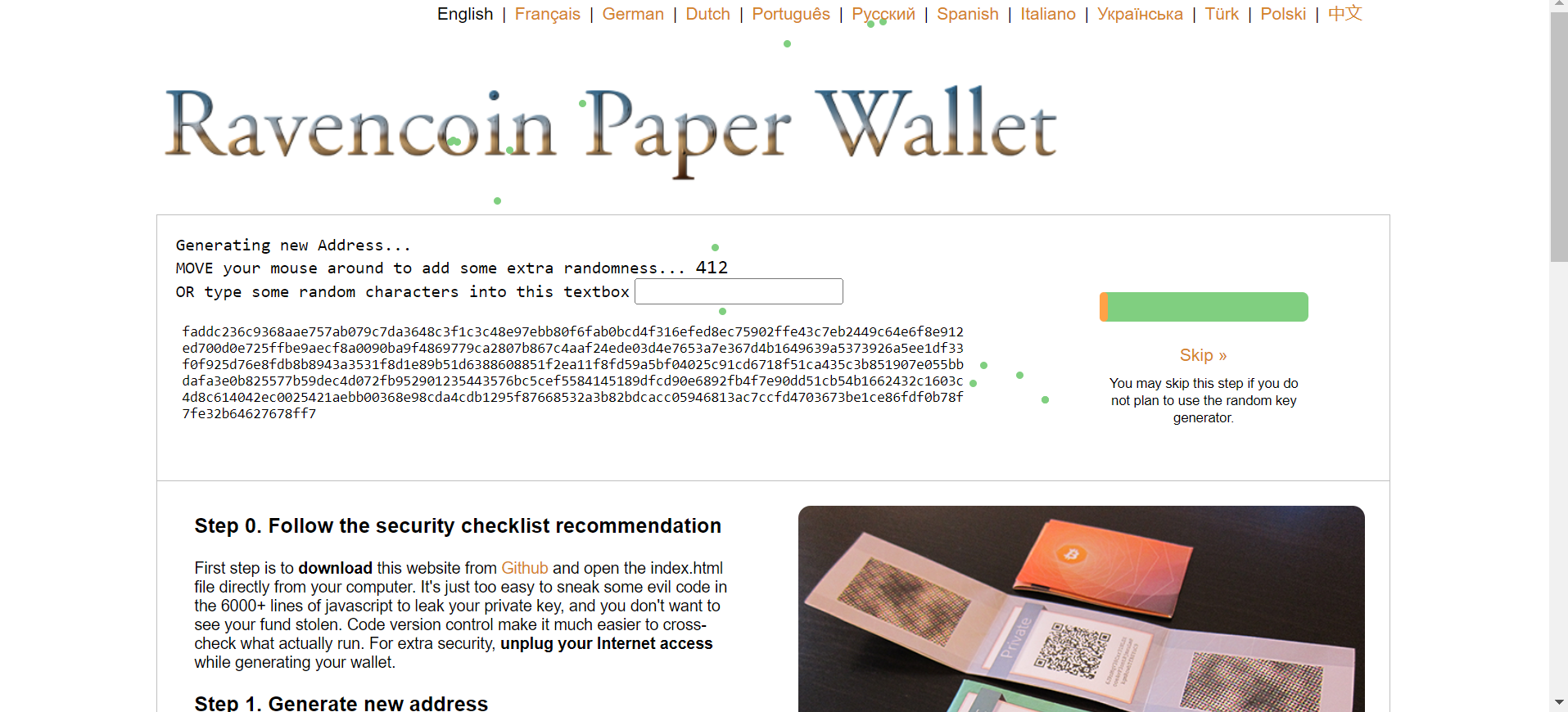 Here are two options for generating your wallet.
The Official RVN Wallet website. Disconnect the internet connection and generate the wallet.
Download the wallet from GitHub and open it while disconnected.
Both of these wallets will give you a public and private key. The public key is used to receive RVN, while the private key is used to spend or transfer your RVN. When it comes to storing your paper wallet, be careful not to save it in its PDF form; they are not secure and might be stolen.
10. Pocket Raven Web Wallet
This mobile web wallet allows you to store, receive and send RVN. The main advantage of this wallet is that it's very easy to use. It is integrated with the blockchain and can be used as a multi-signature wallet. The program is written in javascript and is available to everyone.
Despite the worldwide accessibility of this wallet and the ease with which users can create and verify transactions, it is not secure for large amounts as it is an online wallet.
11. Coinbase
This is one of the most popular cryptocurrency wallets, with over 30 million users. It's available on Android and iOS phones and a desktop app. Coinbase is one of the most popular cryptocurrency wallets, with millions of users. The main advantage of this wallet is that it's very easy to use. Coinbase is a custodial wallet, meaning the company holds your private keys. This makes it a great option for those new to cryptocurrency.
However, it's important to note that custodial wallets are less secure than non-custodial wallets. Coinbase supports a variety of cryptocurrencies, including Bitcoin, Ethereum, Ripple, Tether, Bitcoin Cash, Bitcoin SV, Litecoin, Binance Coin EOS, and TEZOS
12. Edge
This is a mobile wallet available on Android and iOS devices. Edge is a non-custodial wallet, which means that you hold your own private keys. However, it's important to note that Edge is not available in all countries. It was launched as a Bitcoin wallet (AirBitz) in 2014. In 2017 AirBitz was renamed Edge, and the wallet became multi-currency with a built-in exchange. Edge is a private wallet that does not have access to its users' accounts. Accounts are not linked to any personality since privacy is of high importance. Edge is a decentralized wallet with no third-party intervention.
The wallet supports a wide range of cryptocurrencies, including Bitcoin, Ethereum, Litecoin, Monero, Ripple, Bitcoin Cash, Dash, Augur REP (REP), Wings (WINGS), and Zcoin (ZCOIN).
13. Ledger Nano X
The newest hardware wallet from Ledger is the Ledger Nano X, which was introduced in 2019. It resembles a fashionable USB flash drive and has buttons for easy navigation. The wallet supports Ravencoin and over 1200 different currencies, including Bitcoin, Ethereum, Ripple (XRP), Stellar, and a slew of others. It works with iOS (9 or higher), Android (7 or higher), Windows (8 or higher), macOS (10.8 or greater), and Linux. The Nano X is a wireless device. It relies on Bluetooth Low Energy (BLE) connection capability. This gadget does not require any wire to connect to iOS or Android devices, in contrast to the Ledger Nano S.
Someone might argue that Bluetooth isn't a safe technology since it's simple to hack someone's device connected to the Internet or Bluetooth. On the other hand, the Ledger Nano X has State-of-the-Art Bluetooth technology built in. The firm guarantees that even if your Bluetooth connection is hacked, the Ledger Nano X's security system will obtain your permission for each action.
Ravencoin Miners Wallet
This third-party desktop wallet allows you to mine RVN coins on your CPU. It's connected to your CPU and enables you to mine RVN coins. The wallet has simple functions that are easy to use. Mining a block, even though it is difficult, can earn you up to 5,000 RVNs, which is excellent
Conclusion
There are a variety of different wallets available for Ravencoin. The good news is that there are a number of recognized wallets that support the RVN digital currency. This implies you can locate a wallet to suit all your requirements.
Before you select a wallet, make sure to consider your needs and preferences carefully. The price of the RVN digital asset has skyrocketed. If you need long-term wallet solutions, hardware wallets also support the RVN digital asset. Whichever wallet you choose, ensure it is legitimate and recognized by the RVN community.
While the original purpose of Ravencoin was to help transfer assets, it has since become a popular cryptocurrency in its own right. It is now ranked as the 115th largest digital currency by market capitalization.
The RVN token was designed to be used on the Ravencoin network for asset transfers. The total supply of RVN is 21 billion, and there are currently 10,473,290,000 RVN coins in circulation.
The native cryptocurrency has a number of benefits that make it an attractive proposition for investors. For one thing, it is designed to be mined with a CPU, which means that anyone with a computer can earn RVN by contributing to the network.
Furthermore, the block time on the Ravencoin network is one minute, which is faster than both Bitcoin and Ethereum. This makes it possible to confirm transactions more quickly.
Finally, the fees on the Ravencoin network are very low. When you send RVN, you only need to pay a fee of 0.0001 RVN.
Which wallet is best for Ravencoin?
There is no one-size-fits-all answer to this question, as the best crypto wallet for Ravencoin depends on your individual needs and preferences. If security is your main concern, a paper or hardware wallet would be the best option. If you're looking for a wallet that's easy to use and supports a wide range of cryptocurrencies, then Edge or Coinbase would be a good choice.
Is Ravencoin worth holding?
The RVN digital asset has surged in value recently. Nevertheless, whether or not it is worth holding depends on your individual circumstances. If you're looking for a long-term investment, then Ravencoin could be a good choice. However, if you're simply looking to speculate on the short-term price movements of RVN, you may want to consider other options. Ultimately, the decision of whether or not to invest in Ravencoin is up to you.
Disclaimer. The information provided is not trading advice. Cryptopolitan.com holds no liability for any investments made based on the information provided on this page. We strongly recommend independent research and/or consultation with a qualified professional before making any investment decisions.