How to Buy Terra Luna: Beginners' Basics
LUNA, the native token of the Terra blockchain, has been outperforming other smart contracts blockchain tokens by a wide margin. According to data revealed by Messari, LUNA has been up by more than 76% in the last 30 days. An aggregate of other smart contract tokens is down 12% in the same time frame. Are you being cautious about – not only how – but if you should buy Terra Luna cryptocurrency?
Messari noted that much of this growth has come from Terra's debt protocols. Around 51% of Terra TVL is in debt protocols, 8% in DEXs, and 36% in staking protocols. Anchor Protocol's (ANC) TVL grew by $5 billion in 30 days as it attracted deposits seeking its 20% yield.
Also Read:
• Terra Price Prediction: Is Luna A Good Investment?
The blockchain has also seen its flagship algorithmic stablecoin – Terra USD (UST) – gain massive traction. The cross-chain decentralized stablecoin has become highly sought after both in the Terra ecosystem and other blockchains that support it, including Fantom.
The live Terra price today is $93.56, with a 24-hour trading volume of $1,119,474,976. Terra has been up 2.24% in the last 24 hours. The current CoinMarketCap ranking is #9, with a live market cap of $33,345,248,543 USD. It has a circulating supply of 356,394,790 LUNA coins, and the maximum supply is not available. Let's get into these beginner's basics to know whether LUNA is worth our attention.
What is Terra?
Terra is a decentralized worldwide installment framework made explicitly for moving Terra stablecoins. Terra stablecoins are fixed to different monetary forms like USD, so installments on Terra don't change with the digital money markets. This restricts the gamble of purchasing unpredictable digital currency while giving the advantages of a decentralized installment framework.
The Terra (LUNA) platform is built on the InterPlanetary File System (IPFS), a decentralized, peer-to-peer file system that enables users to store and share data in a distributed manner. The IPFS protocol links and identifies files, and the content is addressed by its hash. This makes it difficult to censor or remove content from the network.
What is LUNA?
LUNA is the native staking token of the Terra protocol and is used to reward users for providing storage and bandwidth to the network. This token is also used to give liquidity to the platform, as decentralized finance programs need their clients to give liquidity in their smart contracts.
The Terra (LUNA) platform has the potential to disrupt the cloud storage market. The team is building a decentralized, censorship-resistant platform that will allow users to store and share data more efficiently and cost-effectively. Terra (LUNA) could become the go-to platform for storing sensitive data, such as medical records and financial data.
Unlike most DeFi conventions that work on Ethereum's organization, Terra works on the Cosmos blockchain. Cosmos has numerous functional advantages over Ethereum's organization, for example, faster transactions and more affordable exchange fees.
In any case, there are disadvantages to Terra on the Cosmos organization. Ethereum has the most applications based on its foundation, and just different applications based on Ethereum can straightforwardly collaborate with these projects. Since Terra is not based on Ethereum, the stage has less liquidity and a more modest client base than a considerable lot of its rivals.
Terra Stablecoin
Terra has, as of late, fostered its stablecoin, Terra USD (UST), that can be utilized on more than one blockchain stage. This is an essential move up to Terra's foundation since it permits clients to send stablecoins to Ethereum and Solana blockchains.
Terra is upheld by the Terra Alliance, a gathering of organizations and stages supporting the adoption of Terra.
Terra offers prizes to boost clients to stake Luna on its foundation. Clients can acquire interest from exchange expenses and exchange on Terra's foundation. Staking is fundamental for liquidity and adjusting the stablecoin price through smart rebalancing calculations.
Terra has a supply of 1 billion Terra (LUNA) tokens.
Where to buy LUNA
You'll require a crypto exchange to purchase LUNA that offers this digital currency. Given its prevalence, most exchanges currently offer LUNA. You can pick the best exchanges according to cost, contributing apparatuses, convenience, and the sky is the limit. We'll review some cryptocurrency exchanges you can buy and trade with LUNA. Briefly, among the most notable are:
eToro – Overall Best Exchange to Buy Terra Luna
Crypto.com – Lowest Fees to Buy Terra Luna Token
Coinbase – Most Beginner-friendly Exchange to Buy Luna
Binance – Best Exchange for Trading Terra Luna
As of late, a rising number of crypto advocates are driving DeFi into the standard by running to the most notable Ethereum options. This move has brought Solana's token, probably the most significant coin by market cap, and Avalanche has acquired a vast 500% flood since August.
Presently, it appears as though LUNA is on the rise, as the previous week saw it go up with a market cap of $28 billion, setting it in the best ten cryptocurrencies list.
How to buy Terra Luna on Binance
Binance is the most suitable for trading Terra Luna for a profit among other top crypto exchanges because Binance offers both an incredibly progressed crypto exchange platform and probably the most reduced crypto spot trading expenses.
The Binance platform offers adjustable specialized outlines with many underlying markers. You can set cost alarms, screen cryptocurrency exchange market news, and rack the Terra Luna request book to remain in front of changes in transaction gas.

In addition, Binance charges simply 0.1% per trade request. That is, as of now, one of the crypto wallets that has major exchanges charges we've seen. Yet, you can likewise fit the bill for limits given exchanging volume or for holding BNB, Binance's local digital currency.
How to buy Terra Luna on Crypto.com
Crypto.com is one more wonderful spot where to buy Terra LUNA coins. At Crypto.com, you can trade more than 250 famous cryptographic forms of money with meager exchange expenses. You'll not pay anything to store crypto to Crypto.com and nothing when you make crypto-to-crypto trades.
If you have any desire to purchase Terra Luna with a charge card, exchange expenses are 2.99%. While that is much more than eToro charges, it's entirely reasonable contrasted with other top crypto markets.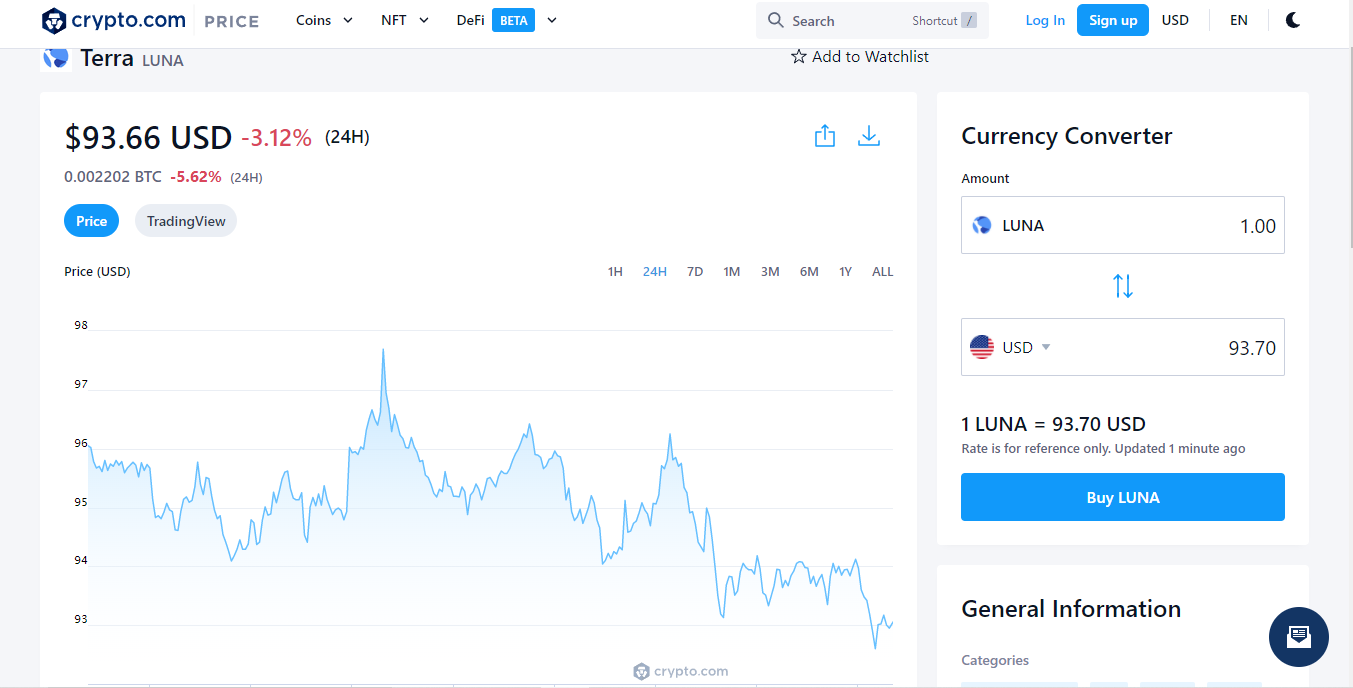 Crypto.com likewise stands apart for offering various ways of connecting with Terra Luna once you own coins. You can store them in Crypto.com's crypto wallet, which is accessible for nothing for iOS and Android gadgets. Likewise, you can loan out Terra stablecoins to acquire up to 3% APY. Crypto.com offers a Visa rewards crypto Mastercard that pays out up to 8% on your exchanges if you desire to procure considerably more.
How to buy Terra Luna on eToro
If you're searching for one of the best wallets to store Terra Luna, we suggest the eToro Money wallet application. This free wallet is accessible for iOS and Android gadgets and is fit for putting away many different cryptocurrencies, not simply Terra Luna. It's associated with the eToro crypto trade, making it simple to purchase, sell, and trade cryptographic forms of money. Also, the eToro Money application is exceptionally secure.
Among other significant exchanges, eToro has one of the top-line crypto wallets you can purchase Terra Luna tokens today. eToro is one of the significant wallets that allow you to purchase Terra tokens with a Visa or charge card without extra handling expenses. It likewise upholds e-wallets like PayPal, Neteller, and Skrill to make it simpler to purchase digital money.
One more advantage of eToro is that it has somewhat low exchanging charges. You can purchase Terra Luna for a 2.90% expense for every buy. While that could sound high at first contrasted with different trades, it's essential to note that eToro charges nothing when you sell.
eToro offers easy-to-use specialized outlines, master knowledge into the crypto market, and a crypto news source to assist you with keeping steady over the market. Also, the stage has an underlying informal community where you can associate with other crypto financial backers and offer exchange thoughts. At last, for financial backers who need to adopt a hands-off strategy to exchanging crypto, eToro offers duplicate exchanging.
eToro allows you to store your Terra tokens just inside your trade account, yet you can likewise move coins to the eToro Money crypto wallet for supervision. The wallet application is free and straightforward to utilize, and it incorporates consistently with the eToro trade for basic coin trading.
How to buy Terra Luna using USD
Step 1. Create an account with a platform that supports LUNA
Different platforms have different levels of security, reliability, and liquidity. Before creating an account, do your research. Once decided on the platform, create an account. You have chosen eToro for ease of use, and due to its social trading platform, the process is easy.
Step 2. Deposit the amount you wish to spend
Step 3. Start buying LUNA
Every platform has a different way of doing things. Some platforms are straightforward to use, others not so much. Fund your account by following the easy instructions on the platform and choosing LUNA among the options available. Every platform has a different way of doing things. Some platforms are straightforward to use, others not so much.
Purchasing crypto with a fiat currency like the U.S. Dollar will be easier than purchasing it with another crypto when you'll need first to create a crypto wallet that supports the Luna Coin. You'll buy the first currency and use it to buy Luna Coin on your chosen platform.
If you get stuck, most platforms provide guides. But if they don't, there is a vibrant community of crypto enthusiasts that have likely posted guides on Youtube, Twitter, and elsewhere.
How to buy Terra stablecoins
Terra's stablecoins are algorithmic, implying that the convention is intended to accomplish cost dependability by utilizing algorithms. For example, the worth of UST is comparable to US$1 and ought to stay stable because of the LUNA token. Whenever UST dips under US$1, LUNA supplements the UST supply to assist it with keeping up with its stake in the dollar.
Clients who need to mint Terra stablecoins need to buy the dollar-comparable measure of LUNA. A little piece of LUNA tokens used to mint stablecoins – also called seigniorage – is shipped off the local area depository, which makes minting stablecoins productive for the organization. It's an interaction like the seigniorage from which national banks benefit when they print cash.
Algorithmic stablecoins are considered an exceptionally dubious stablecoin class that can be powerless to excessive price volatility. The costs of algorithmic stablecoins are gotten by intelligent contract calculations, monetary designing, and the market impetuses of free members – factors that have been temperamental in an emergency.
This was the situation with Iron Finance's bank run, as IRON, an algorithmic stablecoin, lost its stake and crashed from US$1 to almost zero – and clearing out over US$1 billion in market cap – in a solitary day because of poor tokenomics.
How to buy Terra using Terra Bridge

Terra is targeting becoming the leading stablecoin payment and DeFi specialist co-op globally. Terra's special offer adds to the speed increase of blockchain in the Korean and Asian business sectors, while its fundamental purposes can be utilized worldwide. Terra's discount model, moment settlement, and meager fees for item buys boost dealers and purchasers to utilize the platform.
The Terra Station wallet, Terra Bridge, deals with application and blockchain improvement. This feature adds usefulness through Cosmos' interoperable IBC arrangement. In April 2021, Cosmos hit a historic milestone by launching the Inter-Blockchain Communication protocol (IBC), the Cosmos standard for blockchain interoperability. IBC enables independent blockchains to connect, transact, exchange tokens and other data, scale, and thrive in an interconnected network.
The Terra Bridge is a web frontend that allows users to easily send Terra assets across supported blockchains via their respective bridges. Terra station is the official wallet of the Terra blockchain. You can also use this wallet to purchase LUNA. Open your Chrome browser and visit the Terra Station web extension. Install the extension and add it to your browser.
Step 1. Create a wallet
Use this tutorial to create a new wallet. To connect to an existing wallet, visit how to connect to a wallet.
Open the browser extension and click New wallet.
Type in a secure wallet name and password.
Confirm your password.
Using a pen and paper, write down your 24-word seed phrase exactly as it appears. Number each word to make verifying easier. Protect your seed phraseAnyone with your seed phrase can access your money, and there is no recourse for someone stealing your seed phrase. To protect your seed phrase, consider the following tips:

Never save or store your seed phrase as a digital file on any device.
Always write down your seed phrase with a pen and paper.
Store the paper with your seed phrase on it somewhere safe.
Never give your seed phrase to anyone, not even support staff.

Verify your writing to make sure every word is spelled correctly and adequately. If you numbered your phrase, it could be helpful to verify it backward.
Check the box ensuring you wrote down your seed phrase, and click Submit.
Confirm your seed phrase by typing or selecting the correct words in each prompt.
Click Submit.
Click Connect to connect to your new wallet.
Step 2. Buy LUNA using Terra Station
Connect to your wallet and click buy next to any token. Purchase your tokens using any exchange that supports Terra. To view more exchanges, visit the Integrations page.
Purchase tokens using your preferred exchange.
Withdraw any token supported by the Terra network from your exchange. Every exchange is different. Please visit your exchange's web page for guides on withdrawing tokens. Use the following steps as a generic guide.

To receive tokens in your wallet, use your wallet address. Your wallet address will appear at the top of the Terra station app near your wallet name. Your wallet address will look like this: terra<random-numbers-and-letters>
Double-check your wallet address is correct before sending.
Send the tokens from the exchange to your Terra Station wallet address.
Achievements by Terra blockchain network
As indicated by its founders, Terra has constructed a framework with a six-second average square time. All exchanges on the Terra network pay gas fees, in which each validator sets the base cost. For exchanges including stablecoins, additional charges are added to the gas fee to keep up with dependability and deter foreign trade exchange.
The most well-known kind of stablecoin expense, the security charge, is collected on all non-market trade stablecoin exchanges, and expenses range from 0.1% to 1%, hard-covered at 1 TerraSDT. Spread charges are market trades that include stablecoins and LUNA. Its base charge is set to 0.5% and may change when market instability occurs. For market trades between stablecoins, a "Tobin charge" is applied by on-chain administration.
Likewise, interoperability is facilitated with Terra Bridge – a cross-chain framework working asset between Terra, Binance Smart Chain, and Ethereum. Furthermore, engineers are dealing with bringing Terra stablecoins to Solana.
Two projects likewise add to the environment: Mirror and Anchor. Reflect Finance permits clients to make engineered resources, called mAssets, which reflect the cost of stocks – intended to empower UST holders to acquire openness to values. Mirror's Shuttle span likewise empowers mAsset trades on the Ethereum organization, making the environment more interoperable.
How much Terra (LUNA) should you buy?
The beneficial thing about digital forms of money is that you can isolate them and purchase simply a (tiny) piece. You own your Terra crypto and can utilize it or hold it. It's excellent to initially attempt with a limited quantity to acquire certainty about the most common way of buying Terra. Then, try your success at other platforms and purchase more Terra (know about the fees involved when you trade digital currencies).
Two SMART reasons why it's great to be dynamic on numerous trades: For one, the heterogeneity of traders brings many essential issues to the table and significantly complicates predicting the market movement. Secondly, in symmetric models, the price is no longer a sufficient statistic about the private information of others; to optimize, each player wants to know the distribution of trades across large and small players.
When price prediction is unavailable, optimization of individual players involves a filtering problem to infer the distribution of supply and demand from price behavior and forecast future price momentum from the distribution. For Terra Luna, we cannot design a trading strategy based on the assumption that players know and can condition the trades of all other participants.
Communities and stakeholders are expanding, compounded by the cryptocurrency market's volatility. Specific trades have tight hanging deadlines for endorsement, which can require weeks. Therefore it's great to have, as of now, accounts on numerous trades.
Payment techniques in purchasing Terra Luna
On Binance, you have north of 100 installment choices to store cash and buy your Terra. Effectively select your money and the installment choice you need to utilize. They likewise give the most utilized installment choices like Credit Card, Bank Transfer, and PayPal.
Note: each nation has different installment choices; essentially, login and look at the installment techniques for the country. In the crypto world and on trades like Binance, you can't buy each coin straightforwardly with FIAT money. Therefore they made stable coins like Tether USDT.
These are digital forms of money you can purchase to later trade them over to the cash you need to purchase. Before purchasing your favored coin, it's great to look into what coins are matched to the coin you need to purchase.
Trade or purchase your first Terra
In crypto trading platforms like Binance, most traders use stable coins like Tether USDT.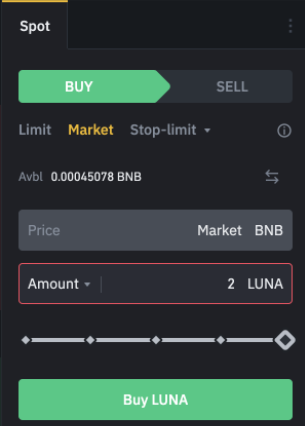 This stablecoin is a cryptocurrency that you can purchase to later trade them over to the token you need to purchase. The name stablecoin is from the stable nature of fiat currency as the cost of these coins prices are pegged against the fiat currencies prices.
Before purchasing your favored digital money, it's great to look into what coins are combined with the coin you need to purchase. For instance, a few coins pair with Bitcoin, and Ethereum pairs with stablecoins which are less volatile contrasted with another crypto. Stablecoins are safe to start investing in as fixed resources.
What the future may hold for the Terra ecosystem
Terra is a permissionless, decentralized, programmable installments organization. The convention offers minimal expense installments and exchanges for online sellers and their clients. Land's open foundation is likewise appropriate to dApps, making a growing environment around the convention.
Terra has marked organizations with more than 15 web-based business organizations, including Tiki, Qoo10, Carousell, and Woowa Brothers. Different accomplices incorporate versatile installment administration CHAI and monetary administrations organization BC Card.
Terra has likewise set up a US$150 million environment store driven by financial backers like Arrington Capital, BlockTower Capital, Galaxy Digital, Hashed, and Lightspeed Ventures. Engineers can transparently offer a proposition to the asset, which it is trusted will speed up the biological system's turn of events.
Terra's most expected update, the Columbus-5 mainnet overhaul – otherwise called "Col-5" – plans to present the consumption of seigniorage charges, incorporate shared protection convention Ozone, and coordinate the Wormhole Token Bridge – empowering more straightforward tokenized resource moves between Terra, Solana, and Ethereum.
Conclusion
The Terra LUNA ecosystem is highly undervalued, but we can expect more and more institutions and corporations to adopt it soon. When bull runs end, we expect many people to convert their profits to Terra stablecoins and deposit them to earn the best APY through the crypto winter. These together will bring in lots of money and help LUNA's value rocket upwards, and above all, they are terra network secured.
Of course, a reason to be wary about LUNA is that it competes against ETH and SOL, with more established and more enormous ecosystems. However, LUNA doesn't need to dominate over ETH and SOL, yet could give significant returns.
The Terra ecosystem size of LUNA is among the smallest, which also means there is the most room for growth. Terra Luna was one of the most smoking crypto available in 2021. It generally acquired 14,000% throughout the year, which is impressive even by the principles of quickly developing digital currencies.
FAQs about Terra Luna
Is Luna Terra a good investment?
LUNA is one of the best stablecoin ecosystems available currently. The system works because anyone can deposit their stablecoins into LUNA and earn a massive 20% APY, which trumps what you get from anywhere else. These interest payouts are sustainable and funded by actual revenue (unlike other stablecoin deposit platforms funded by private VCs).
LUNA pays these interests through fees obtained from the decentralized apps in their ecosystem – such as "Chai," a payments platform that is currently used by 2.2M users in South Korea to transact the KRT with thousands of merchants and to generate large amounts of fees; MIR, a platform that allows users to trade synthetics such as stocks and precious metals; ANCHOR, an accessible savings and loan platform; Orion Money, a cross-chain savings application that allows one to quickly deposit the common stablecoins such as USDT, USDC, DAI and earn up to 20% APY.
The Terra LUNA ecosystem is highly undervalued, but we can expect more and more institutions and corporations to adopt it soon. When bull runs end, we expect many people to convert their profits to Terra stablecoins and deposit them to earn the best APY through the crypto winter. These together will bring in lots of money and help LUNA's value rocket upwards, and above all, they are terra network secured.
Of course, a reason to be wary about LUNA is that it competes against ETH and SOL, with more established and more enormous ecosystems. However, LUNA doesn't need to dominate over ETH and SOL, yet could give significant returns.
However, the Terra ecosystem size of LUNA is among the smallest, which also means there is the most room for growth.
Terra Luna was one of the most smoking crypto available in 2021. It generally acquired 14,000% throughout the year, which is impressive even by the principles of quickly developing digital currencies.
That blast of significant worth shows precisely how invigorated financial backers are about Terra Luna. While the crypto tumbled toward the beginning of 2022 – it fell by generally half at its absolute bottom – the cost has previously recuperated to approach record highs. That force is an excellent sign that this digital money has space for additional appreciation.
Considering the trading volume of the coin across the terra network and the low trading fees being stable, buying luna and investing in it is worth it.
[the_ad_placement id="writers"]
Disclaimer. The information provided is not trading advice. Cryptopolitan.com holds no liability for any investments made based on the information provided on this page. We strongly recommend independent research and/or consultation with a qualified professional before making any investment decisions.