Best Shiba Inu Wallets: Best Security Features for 2023
When choosing the best crypto wallet to store your Shiba Inu, consider security and ease of use. Various wallets support Shiba Inu, including online, offline, and software wallets.
Security is the most crucial factor when choosing a Shiba Inu wallet. The Shiba Inu (SHIB) is an ERC20 token. Any Ethereum-based wallet may be used to store and utilize SHIB tokens. A SHIB wallet is any wallet that allows you to keep and use your SHIB coins on the Ethereum network. One way to evaluate a wallet's security is to look at its features, such as two-factor authentication and multi-signature support.
Another essential factor to consider when choosing a wallet for your Shiba Inu is the ease of use. Some wallets are more user-friendly than others, so choosing a wallet that's easy to set up and use is essential. One way to evaluate the ease of use of a wallet is to look at its interface and see if it's intuitive and easy to navigate.
This guide is for you if you're looking for a new crypto wallet that meets your needs. We'll cover some of the best Shiba Inu wallets available, their fees, and the number of supported cryptocurrencies.
Also Read:
What is the Shiba Inu token?
The Shiba Inu coin is an ERC-20 token that uses the Ethereum blockchain and network's smart-contract technology.
After reading Shiba Inu coin's white paper (lovingly called a "woofpaper" by the author), it is clear that the main goals of this meme token are to preserve decentralized cryptocurrency. Decentralization prevents traditional agencies (such as banks and government institutions) from monopolizing influence.
Shiba Inu tokens are used on the ShibaSwap platform, which allows users to stake their tokens to earn interest through staking rewards. In addition, ShibaSwap recently made available its NFT platform. On this platform, users can collect Shiba Inu-themed NFTs, which are aptly called Shibatoshis. The Shiba Inu Chain (SHIB) is the official cryptocurrency, and all three tokens are native to its platform: Shiba Inu (SHIB), Leash (LEASH), and Bone (BONE).
The Shiba Inu has seen a tremendous expansion in popularity as the memecoin craze continues to grow this year. Given this, here are some essential takeaways regarding the finest Shiba Inu wallet software.
The 11th most popular digital token attempts to escape the "meme coin" category and establish real-world usage with NFTs and DEX swaps.
With its recent surge in popularity, the Shiba Inu coin is now listed on centralized and decentralized exchanges worldwide, with digital storage support also available.
Best Places to Store Shiba Inu
When it comes to the best places to store the Shiba Inu token, it depends on what your needs are. There are many different wallets to choose from, but we've focused on the top Shiba Inu wallets for storing your money. Our top recommendations are based on cost, mobile usability, supported cryptocurrencies, tools, and security. Next, we shall look at the most popular offline, online, and software wallets.
1. Ledger Wallet
Since its creation in 2014, Ledger has rapidly become a go-to firm for infrastructure and security solutions concerning cryptocurrencies like the Shiba token. In addition, they also create blockchain applications geared toward businesses and investors.
The Ledger wallet supports the Shiba token, which supports over 1500 cryptocurrencies. BOLOS is a unique operating system created by Ledger that integrates into its wallets. It's ecstatic to be the first market participant to offer this technology thus far.
To keep the wallet secure, Ledger uses the most stringent security measures. Both of Ledger's hardware wallets include a certified chip designed to withstand the most sophisticated assault and securely store sensitive data such as private keys.
The Ledger Nano S is a hardware wallet that goes above and beyond to guarantee that your physical device isn't vulnerable to hackers. The unique operating system also ensures that your programs are kept separate from one another.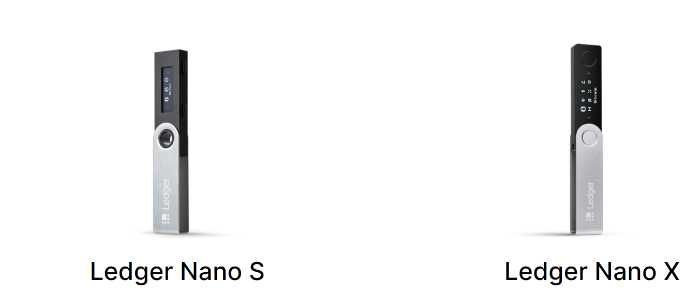 With its fundamental check feature, Ledger guarantees that your wallets are secure and have not been altered by an outside party.
You can purchase the Ledger Nano X for $119 and the Ledger Nano S for only $59.The Ledger Nano X is a Bluetooth® enabled secure, while the Ledger Nano S only supports USB connections.
2. eToro
eToro Money is a multi-currency mobile wallet that supports over 120 cryptocurrencies. The app is available on iOS and Android and is one of the most user-friendly wallets. Users can use the wallet service to store, maintain, and transact in any currency supported by the platform.
The eToro wallet is a part of the eToroX Limited group of services, which has been licensed by the Guernsey Financial Services Commission (GFSC). It's incredibly safe.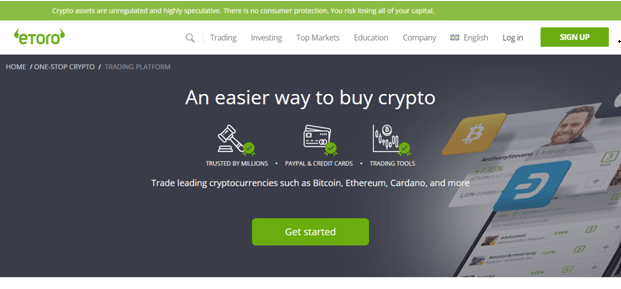 Shiba Inu is a very affordable option for investing in cryptocurrency, as there are no charges for receiving or sending transactions. However, blockchain fees may apply.
The minimum amount you can send in a transaction on the eToro wallet is $50,000, and the maximum is $200,000. The platform also charges users 0.1% for conversion fees. For crypto-to-crypto conversions, the limits are between $20 to $10,000.
eToro wallet users can use various methods to make deposits, such as credit/debit cards, PayPal, Neteller, Skrill, and Rapid transfer.
Furthermore, eToro provides a private critical recovery service to users who may lose access to their keys.
3. Atomic Wallet
The Atomic Wallet is a multi-currency decentralized wallet that supports over 300 cryptocurrencies and all major fiat currencies. The desktop and mobile apps are available for Windows, Linux, macOS, iOS, and Android devices.
It is somewhat like a cold storage wallet because it keeps all your sensitive information on your device and away from hackers.
It also includes a function known as Atomic Swap, which allows you to exchange any cryptocurrency for another. The SHIB token can be obtained by purchasing it through the in-built marketplace, making it a great Shiba Inu wallet.
If you want to buy Shiba Inu (SHIB), you can easily do so by swapping any other cryptocurrency for SHIB inside your wallet. If you don't want to swap SHIB for your other coins, you can easily buy SHIB with their in-built exchange platforms using your desired method.
It is a multichannel wallet that lets you store your assets in cold storage and allows you to stake for numerous Proof-of-Stake coins.
4. Metamask
The MetaMask Wallet is a great crypto wallet and gateway that allows you to access various blockchain apps in seconds. MetaMask Wallet, which has over 1 million users worldwide, is accessible for browser extensions and mobile applications.
You can easily buy, get a store, and swap Shiba Inu and other tokens. MetaMask offers secure logins, a key vault, a token wallet, and a token exchange. You have complete control of your digital assets.
MetaMask Wallet is a secure way to connect to blockchain applications that are both easy to use and highly functional.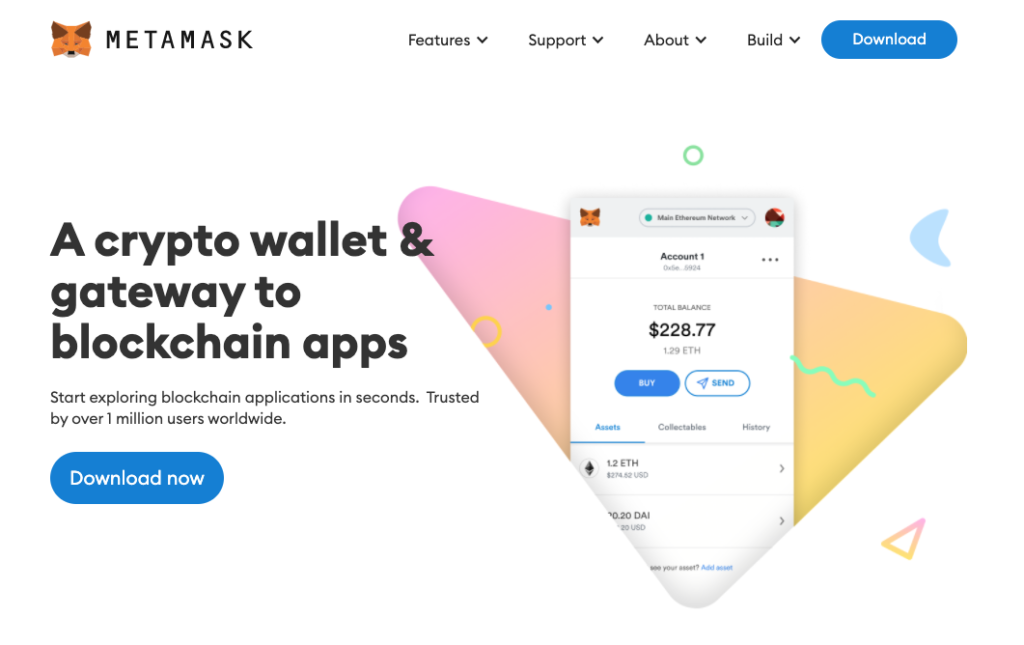 5. Guarda Wallet
Guarda Wallet, founded in 2017, is an open-source wallet supporting multiple currencies that empowers users with complete control over their funds and security.
Guarda developing company even claims to store zero personal or any cryptographic information of its users, meaning that your privacy is their number one priority.
Another fantastic feature is that you may easily import any of your existing wallets into your Guarda wallet.
It's possible to download it as a desktop wallet, a web wallet, a mobile wallet, and even a Google Chrome extension. These wallets may also be used to access the in-built exchange platform and buy any digital currency you like.
You can access the web wallet anytime, from any browser on any platform. Desktop software is available for Windows and macOS, plus mobile applications for Android and iOS – all of which are free.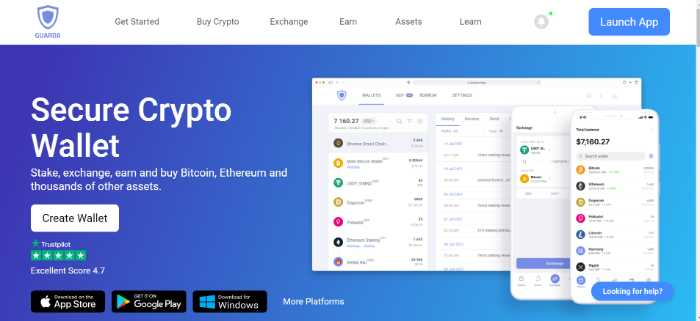 Its Chrome extension allows you to connect with DAPPs (Decentralized applications). It currently supports Ethereum (ETH), Shiba Inu (SHIB), and 40+ other cryptocurrencies, as well as more than 10,000 crypto token assets from BEP-2, ERC20, and ERC721.
You may also see the suggested rate for each transaction, or you may choose any amount of money that you want.
It's a great Shiba Inu wallet because it is a non-custodial wallet. It should be one of the finest Shiba Inu wallets available.
6. Exodus Wallet
Exodus wallet is a multi-currency wallet that supports over 10 different cryptocurrencies, SHIBA being inclusive. The Exodus Movement launched it in 2015. Beginners should not be deterred from investing in cryptocurrencies because they lack knowledge. As a result, Exodus' simple user interface is critical for newcomers to grasp and manage cryptocurrency assets.
Good customer service and a reliable support team are reasons enough to switch to this software. Still, it's also compatible with desktop and mobile operating systems- including Windows, Android, Linux, macOS, or iOS. Furthermore, it is compatible with hardware wallets like Trezor Model-T, making it an ideal wallet to store and trade Shiba Inu tokens. It doesn't meet KYC standards, and users are not required to submit personal information to access an account.
7. Trezor Wallet
Trezor is another excellent hardware wallet option. Its similarities to Ledger Nano X include features like a color touchscreen.
The Trezor wallet is much safer than other software wallets since private keys are stored on the device rather than on a computer. The wallet is offline when not connected to your computer, making it virtually impossible for a hacker to access your Shiba tokens.
The user interface is slightly more complicated than the Ledger Nano X but still relatively easy to use. The Trezor wallet is an excellent option for those looking for extra security for their Shiba Inu tokens.
The Trezor wallet can hold more than one cryptocurrency at a time, which is helpful for people who have invested in multiple cryptocurrencies and don't want to manage them all separately.
The Trezor wallet goes for around $172 for the Trezor Model T and $56 for the Trezor One.
The Trezor team regularly releases firmware upgrades to keep the wallet safe from emerging threats; this is similar to how Windows updates work and is meant to protect the device.
Trezor wallet upgrades, on the other hand, are not automatic, so they must be downloaded and installed manually when new versions become available.
8. MyEtherWallet
MyEtherWallet is a popular option for storing Ethereum and other ERC-20 tokens. SHIB is an ERC-20 token so that it can be stored in MyEtherWallet.
The MyEtherWallet interface is similar to an existing bank account; users can check their "balances" and "transactions."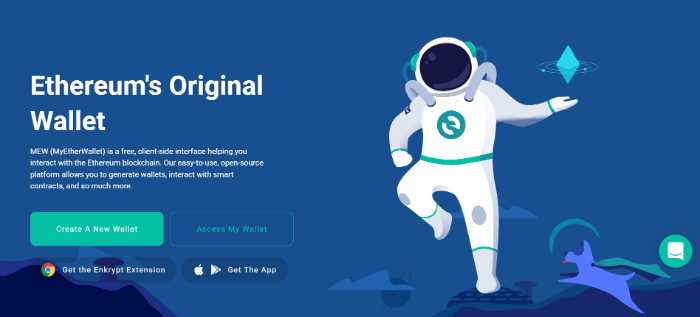 The user interface is intuitive, and transactions and token conversions are a snap.
MyEtherWallet also allows users to access their accounts using a hardware wallet like the Trezor Model T. This adds an extra layer of security, as the private keys are stored on the device rather than on the MyEtherWallet servers.
MyEtherWallet is a free, open-source platform available on all major operating systems.
9. Edge Wallet
Edge wallet is a multi-currency wallet that supports over 20 different cryptocurrencies. SHIBA is one of them. The Edge wallet, founded by Paul V. Puey in 2013, grants users unparalleled control over their assets and private keys using only a mobile device. Exchanges between cryptocurrencies should be easy and secure, which is precisely what Edge provides. With its user-friendly interface and good security features, Edge is the perfect choice for those looking to buy or sell crypto.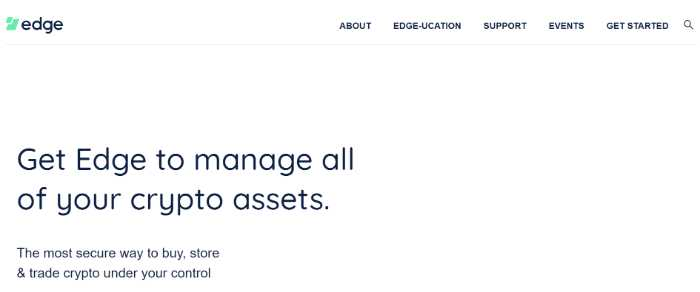 Edge wallet features:
User interface – There are only four significant options on the user interface- Wallets, Scan, Request, and Exchange. This makes it easy to use for anyone.
In-built Exchange – To buy your desired cryptocurrency, you can also use their in-built exchange platforms, like Shapeshift, Changelly, and ChangeNow. Keep in mind that fees will be slightly higher than usual.
Security – Edge's security measures, like 2-Factor authentication and client-side encryption, make it a more reliable choice than other mobile wallets.
Other than hardware wallets, cryptocurrency exchanges like Binance, Coinbase, and Kraken also provide reasonable security for your Shiba Inu tokens as they have implemented the KYC(know your customer) policy in which users must submit their personal information like government id, address, and phone number. This makes it difficult for hackers to access users' accounts as they need more than just a user's private keys.
10. Binance
Binance is among the best exchanges for trading SHIBA as it has low fees, a wide range of altcoins, and suitable security measures.
Binance was founded in 2017 by Changpeng Zhao and Yi He. Binance is a Cayman Islands-based company with offices in Taiwan, Japan, and the United States.
Binance, on the other hand, is not a licensed exchange, yet it provides security for its customers by restricting access to their portfolios and whitelisting addresses.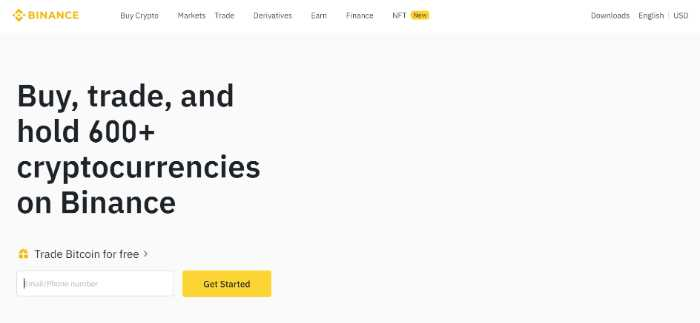 Binance does not charge a deposit or conversion fee, but users who make deposits with credit/debit cards will be charged 3%-4% depending on the asset. To cover the costs of transactions moving out of the account, each withdrawal is charged a flat fee, which is determined by the blockchain network.
11. Coinbase
Coinbase is one of the most popular cryptocurrency exchanges and allows users to buy and sell cryptocurrencies such as Bitcoin, Ethereum, Litecoin, and Shiba Inu. Brian Armstrong established Coinbase in 2012 to make it easier for newcomers to the crypto sphere.
The Coinbase wallet is officially registered as a Money Services Business and regulated by the Financial Crimes Enforcement Network (FinCEN). Similarly, E-Money Service is also regulated by the UK's Financial Conduct Authority (FCA). The regulations offer some protection to users in case of Coinbase insolvency.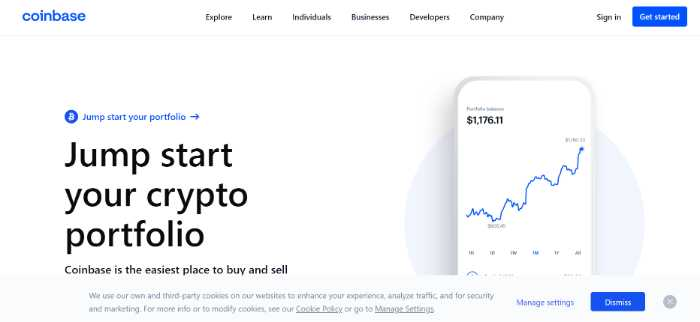 Coinbase is regarded as one of the best Shiba Inu wallet apps for newbies as the platform has a user-friendly interface that enables new crypto enthusiasts to onboard and understands the basic features of a typical crypto wallet. The platform offers a wide range of asset offerings of over 100 cryptocurrencies and 81 crypto trading pairs.
The fees on Coinbase are cheap, with minimum deposits starting at $2 (1.5 GBP). When users trade crypto assets on the platform, they may be charged transaction fees; however, these costs are determined when the order is submitted and are based on various criteria such as payment method, amount purchased, and market liquidity.
12. Kraken
Kraken is a UK-based exchange and one of the oldest in the industry, founded in 2011. The platform is known for its security as it was one of the first exchanges to implement the industry-standard 2FA (two-factor authentication).
Kraken also has a good reputation for customer support, with many users praising the response time and quality of service.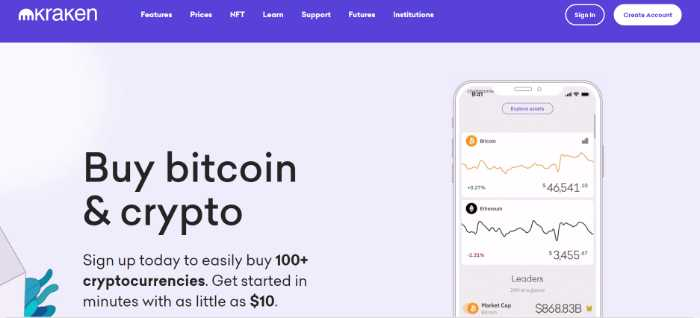 Kraken is a good choice for users looking to trade various altcoins as it offers over 50 pairs, including SHIBA/BTC and SHIBA/ETH. The platform also supports margin trading with up to 5x leverage.
The fees on Kraken depend on the volume traded and start at 0.26% for makers and 0.16% for takers. Deposits are free, but withdrawals incur a small fee determined by the blockchain network.
The exchange offers custodial services through Kraken Security Labs, one of the industry's most respected security firms.
What are the Features of the Best Shiba Inu Wallets?
Due to the many platforms and solutions currently available on the market, selecting the appropriate Shiba Inu wallet might be difficult. Despite this, we think that paying close attention to the following factors will assist you in making an informed decision.
Supported Platforms
Some digital wallets only support certain types of devices or platforms. You should consider what type of device or operating system you use before selecting a wallet, as you might be limited in your choice.
Ease of Use
The user interface is one of the most important factors to consider when selecting a digital wallet, as it will determine how easy or difficult it is for you to use the features. Some wallets are more user-friendly than others, so consider this before making your decision.
Security
The security features offered by the wallet provider are another essential factor to consider. Look for wallets that offer 2FA or similar security measures to protect your account.
Fees
Most digital wallets charge fees for their services. It is essential to consider the fees charged by the wallet provider before selecting one, as they can vary significantly.
Supported Assets
Not all digital wallets support the same cryptocurrencies. If you want to store a specific type of cryptocurrency, make sure that the wallet you select supports it.
Customer Support
Good customer support is essential for any digital wallet provider. If you encounter any problems, you will want to be able to contact the provider quickly and easily.
Now that we have looked at some of the best Shiba Inu wallets on the market let's take a closer look at the features that make them stand out.
Ledger Nano S
The Ledger Nano S is a hardware wallet that supports many cryptocurrencies, including Shiba Inu. The device is easy to use and offers good security features, such as 2FA and a backup phrase.
Trezor Model T
The Trezor Model T is another popular hardware wallet that supports Shiba Inu. The device is easy to use and offers various security features, such as 2FA, a password manager, and a backup phrase.
Exodus
Exodus is a software wallet that supports Shiba Inu. The wallet is user-friendly and has an inbuilt exchange feature that allows you to trade your cryptocurrencies.
MyEtherWallet
MyEtherWallet is a popular software wallet that supports a range of Ethereum-based tokens, including Shiba Inu. The wallet is user-friendly and permits you to access your account via a web browser or mobile app.еe; several different wallets are available for storing Shiba Inu.
As we can see, several different wallets support Shiba Inu. When choosing a wallet, it is essential to consider the features that are most important to you.
– If security is your primary concern, then a hardware wallet is the best option.
– If you are looking for a wallet that is easy to use, then a software wallet might be a better choice.
– If you want to be adequate to trade your cryptocurrencies, then a software wallet with an inbuilt exchange feature might be the best option.
Conclusion
Various crypto wallets offer unique features, so you should select the one that best suits your needs. For complete security, always link your hot or web wallets to hardware wallets. By doing so, you provide 100% defense for your digital assets offline. The Shiba Inu is a meme coin that has the potential to increase in value in the future, and investors expect a price rise before the year's end.
How many Shiba Inu wallet addresses are there?
On 4 November, the token was in more than 865,000 unique wallets. By 26 January 2022, the figure was more than 1.13 million.
How many wallets holds the most SHIB?
The top ten wallets hold the majority of the Shiba Inu coins in circulation. This information, while correct, is often misconstrued as only a handful of people holding the majority supply of the meme coin.
What wallet holds the most SHIB?
According to Whale Stats, a crypto whale tracker, Ethereum whales have emerged as one of the largest holders of Shiba Inu, holding up to $1 billion SHIB. Cryptocurrency Shiba Inu is the most held token among the wealthiest Ethereum whales.
Why are SHIB popular with investors?
The most obvious explanation for why Ethereum whales are buying Shiba Inu is that the digital coin has a much more attractive price than it's had in quite a while. Shiba Inu has plunged more than 70% over the past three months
Disclaimer. The information provided is not trading advice. Cryptopolitan.com holds no liability for any investments made based on the information provided on this page. We strongly recommend independent research and/or consultation with a qualified professional before making any investment decisions.