IOTA is one of the latest innovations tipped to power IoT (Internet of Things). Many people mistake IOTA for a blockchain or a cryptocurrency. But that is not what IOTA is about. IOTA is a distributed ledger technology developed to run the Internet of Things(IoT). One MIOTA is equal to one million IOTA. Most experts predict a rise in the value and price of IOTA (MIOTA) over time. IOTA is the first ledger with microtransactions without fees, secure data transfer, and Quantum-proof.
There are a lot of speculations and predictions of the future trend of IOTA Price. For one, the design of the network eliminates all transaction fees. Additionally, the network is very fast. Combined, IOTA has near-unlimited scalability. It's also far more energy-efficient than blockchain-based cryptocurrencies.
This write-up takes a deep dive into IOTA so you can make an informed decision on whether to include IOTA in your investment portfolio.
Today's IOTA price is $0.284765 with a 24-hour trading volume of $7,775,738. IOTA is up 2.95% in the last 24 hours. The current CoinMarketCap ranking is #55, with a live market cap of $791,511,899. It has a circulating supply of 2,779,530,283 MIOTA coins and a max. supply of 2,779,530,283 MIOTA coins.
Also Read:
What is IOTA (MIOTA)?
A lot of people think IOTA is a blockchain. This is not true. IOTA is simply a distributed ledger technology. IOTA records details of transactions and executes transactions that occur on the IoT. It has to do with IoT devices. IOTA is a groundbreaking new open-source distributed ledger that does not use a blockchain.
Its innovative new quantum-proof protocol, known as the Tangle, gives rise to unique new features like zero fees, infinite scalability, fast transactions, secure data transfer, and many others. IOTA is initially focused on serving as the backbone of the Internet-of-Things (IoT).
There are several similarities between blockchain technology and IOTA. However, they are not the same. They have different structures. IOTA strives to improve and develop scalability, a common problem most Blockchain-based technology faces. The IOTA coin is poised for cryptocurrency market capitalization by solving this problem.
IOTA Overview
IOTA Overview
[mcrypto id="102283″]
IOTA and the Internet of Things
IOTA's most detailed explanation is that IOTA is a quantum-resistant ledger that operates in the machine-to-machine economy of IoT, data integrity, nano and micropayments, and every other industry that needs an adaptable decentralized payment system.
This digital currency was started in 2015. It has no scaling limits and zero fees. The decentralized agreement also allows validators to be end-users. IOTA as a digital currency provides a dedicated money supply to end-users without an inflationary cost.
The organization of blockchain technology has made it possible for decentralized networks to run global transactions without third-party involvement. While sufficient in the past, this arrangement began struggling as cryptocurrency gained popularity and adoption. This problem has led to an increase in end-user transactions and a slower processing speed for transactions. This is where Iota is needed.
The Latest IOTA news featured Fetch.ai and IOTA, who have now become partners and collaborated on a project for a data-sharing IoT platform. With so much potential in the technology, the partners of IOTA are definitely looking toward the bigger picture.
The Tangle Technology
Iota uses a distributed ledger different from others called Tangle. Tangle technology is block-less using ledger and IoT applications. It doesn't require mining or other energy-consuming equipment.
The tangle technology is a Directed Acrylic Graph. As the blockchain grows, the assets needed to maintain it reduces. This trend is different from what is obtainable for most cryptocurrencies.
As the network grows to accommodate more end-users, Tangle transactions become faster and safer.
There has never been anything like IOTA, which is why there is so much interest in the IOTA price prediction and forecast. Many crypto giants are interested in how MIOTA grows with several predictions on its future.
Before we take a look at IOTA price prediction, we would do an IOTA technical analysis with a view of MIOTA price history. The price history would help understand the price forecast.
What makes IOTA different?
Iota is different because it has a promising future as a distributed ledger developed to run the Internet of things. It is fundamentally different from blockchain technology with very different structures. Iota's core goal is to overcome the scalability problem with Blockchain technology.
The Tangle technology is a directed acyclic graph (DAG) used on Iota. Tangle is open-source, feeless, scalable, and designed to enhance frictionless data and value transfer in the IoT ecosystem. The Tangle is particularly designed to solve many of the statics that traditional Blockchain is faced with at its core.
Blockchain can only process 7 transactions per second. On the other hand, the Tangle is designed to have unlimited scalability, as transactions are stored individually in one stream and entangled together, in that one transaction validates two others, increasing transaction speed drastically.
As recently as June, it was confirmed that The Tangle processes 300 transactions per second.
In contrast with Blockchain, as more transactions are carried out on the Iota network, the network speed runs even faster.
Transaction Verification Method
On Bitcoin's Blockchain, users and miners on the network are separated into two groups. The former is then charged less, while the latter is rewarded when network activity increases and fee charges increase. This model has been proven inefficient and known to cause conflict on the network.
The Tangle removes the hierarchy of responsibility by employing a different transaction verification method to eliminate this problem.
There are two groups on the Tangle: sites (transactions) and nodes (devices). Both are required to validate transactions on the network. When nodes (devices) intend to issue transactions, the nodes are required to validate previous transactions on the Iota network. With each transaction issued, the network becomes even more secure.
Zero Transaction Fees
It takes minimal computational workload to verify transactions on Iota. This introduces yet another highly beneficial feature on Iota; it is feeless. The Tangle does not reward users for issuing transactions. As such, transactions do not attract any fee charges. Not now, and not in the future.
Using The Tangle, different machines can transfer and receive data efficiently. This makes IOTA very significant for accelerating the internet of things ecosystem.
IOTA Partnerships
The Tangle has put IOTA on the map as one of the most promising innovative technologies for the future of IoT. Many IoT companies have recognized iota's potential as a next-generation technology and shown interest in adopting IOTA across their platform. IOTA Foundation has revealed that it is in talks with different companies intending to leverage the project's underlying technology.
It was estimated that 26 billion objects would be powered by the Internet of Things this year. By 2025, the internet of things, according to McKinsey Global Institute, will make up between $4 trillion to $11 trillion of the global economy. The Iota foundation intends to become a major kept player in pioneering this industry.
Iota has multiple use cases across the IoT industry. While some of these are expected to be implemented in the industry much later, Iota can already boast of global organic adoption. The network has already begun developing real applications and solutions for some of the largest companies in the world.
IOTA real-world use cases
IOTA is in partnership with some of the world's leading automobile companies. In 2018, Volkswagen partnered with Iota to integrate The Tangle technology into its vehicles. The German car manufacturing company revealed that Iota would facilitate downloading software to its vehicle while also unveiling its proof of concept for integrating Tangle extensively in its cars.
In 2019, IOTA and Volkswagen launched what it called a "Digital CarPass." A tool that was designed to collect data for mileage. Porsche also revealed that it was in talks with IOTA to develop a tool called Program 4. IOTA and Jaguar Land Rover recently developed a "smart wallet," which utilizes the IOTA to transfer value and data.
Clearly, IOTA is extremely focused on data processing. Another real-world use case is IOTA, Linux, and Dell Technologies partnering together to develop what is called a "data confidence fabric," which is used for accurately verifying data.
Smart charging, crowdfunding, smart homes, space exploration, Real-Time Data Storage, and Smart grids are some of the many other fields into which IOTA is embedded.
The team behind IOTA believes that the potential use cases don't end here. They believe their distributed ledger could deliver digital identities to all, resulting in car insurance policies that are based on actual usage, paving the way for cutting-edge smart cities, delivering seamless global trade, and proving the authenticity of products.
What Is Decentralized Finance (DeFi) on IOTA?
Although IOTA was originally designed to be a standard network protocol for IoT use cases, several attributes of the IOTA ecosystem make it a great protocol for DeFi applications.
Chief among these attributes is IOTA's feeless transaction architecture, meaning any smart contracts, trades, exchanges, or transactions executed on the network are free to process transactions on the protocol level.
Fees, when needed, are determined only by the issuer of the contract or service.
Another notable feature of IOTA is the flexibility of the network – both in terms of how easily it scales and how lightweight and adaptable the protocol can be. This makes IOTA a good framework for cross-chain swaps and currency-agnostic exchanges.
Iota Price History (2017-2021)
IOTA has positioned itself at the center of blockchain technology for its pioneering role in the proliferation of the Internet of things.
MIOTA was launched to the public in 2016, with the IOTA foundation raising five hundred thousand dollars in sales from the crowd.
IOTA is still pretty new, and there is a possibility that acceptance will increase. As acceptance increases, the price of Miota is expected to increase.
The founder of IOTA expressed optimism that the price of MIOTA will increase soon as more users buy Iota.
Based on the IOTA forecast that adoption of the cryptocurrency will lead to scarcity, the founder theorized that if each user of IOTA owned at least one dollar worth of IOTA and each human owned at least two devices, the IOTA price would soar through the roof due to demand soon.
Using this price forecast by the founder, IOTA is an investment to make. It also looks to be going well right now as IOTA reached the 43 cents USD mark in the middle of August 2020.
However, you don't want to trust the price forecast of the founder alone. That's why we have taken the time to look at the IOTA forecast of other experts.
What is MIOTA?
MIOTA is the unit of IOTA. It can be bought on most stock exchanges around the world. MIOTA is used to quote the IOTA price. The letter M refers to mega (1 million); thus, one MIOTA refers to one million IOTA units.
MIOTA, the currency used as a transaction medium among end-users on IOTA, has not been deemed investment-worthy by the industry. IOTA is a cryptocurrency with no transaction fees and requires no miners to process transactions.
However, it requires some computational power to submit a transaction, making it perfect for machines to use as a currency and distributed communication protocol for the Internet of Things "IoT."
Investors expressed concerns about the prospect of MIOTA and whether it has the potential to compete with others in the cryptocurrency market.
What Factors Affect the Price of IOTA?
Adoption rate: The faster IOTA is adopted, the faster IOTA price will increase.
Demand: For IOTA, it is a major factor in determining its price. If there is an increase in demand, the Iota price will increase. A decrease in demand leads to a drop in IOTA price.
Media: Media plays a huge role in the success of any cryptocurrency. Investors depend on them to write objective pieces about these currencies. The way the media writes about a cryptocurrency is a major determinant of the market price.
The economic situation around the world can affect the IOTA price. The collapse of the traditional economic market due to the Covid19 pandemic will cause an increase in people seeking to secure their money in cryptocurrencies such as IOTA. This demand could affect IOTA's price.
Where to buy IOTA
Iota (MIOTA) is currently available for purchase on the following exchanges:
Uphold – This is one of the top exchanges for United States & UK residents that offers a wide range of cryptocurrencies. Germany & Netherlands are prohibited.
Binance – Best for Australia, Canada, Singapore, UK and most of the world. USA residents are prohibited from buying Iota (MIOTA). Use Discount Code: EE59L0QP for 10% cashback off all trading fees.
Gate.io – This exchange was established in 2013, and is one of the more popular & reputable exchanges. Gate.io currently accepts USA residents (excluding New York & Washington State).
WazirX – This exchange is part of the Binance Group, which ensures a high quality standard. It is the best exchange for residents of India.
Other exchanges include OKX, ByBit, and DigiFinex.
Where is the safe place for IOTA?
Suppose you are a casual trader that only seeks to dabble in IOTA trading at this moment. In that case, you may find that the most convenient option is to leave your crypto on your exchange if you are confident of its security against hacks. But with the instability of current crypto conditions, best to keep it in a hardware wallet.
Another alternative is to consider a reliable mobile wallet that supports IOTA. Mobile wallets are currently the most popular crypto storage method because of their convenience. Additionally, most of these platforms charge no download fees. Take a look at our mobile options here.
A hardware wallet is the best option if you seek to make a major investment in IOTA or are planning on HODLing this crypto for long periods. Hardware wallets keep your crypto stored offline in "cold storage." This strategy makes it impossible for online threats to access your holdings. The Ledger Nano S or the more advanced Ledger Nano X both support IOTA.
You can also consider Firefly, the second and latest version of IOTA's crypto wallet. The Firefly Wallet is the official entry point and home base for anyone holding IOTA tokens. The architecture behind the Firefly Wallet is modular, meaning that new modules will be made available with further advances in the ecosystem, and old modules will be updated or replaced as necessary.
IOTA Technical Analysis
IOTA price analysis suggests the current price of IOTA is ranging between $0.2762 and 0.2835, after a breakout from the descending triangle pattern. The price is expected to continue its upward movement in the near term. IOTA momentum is bullish as the RSI is making a move towards the overbought region.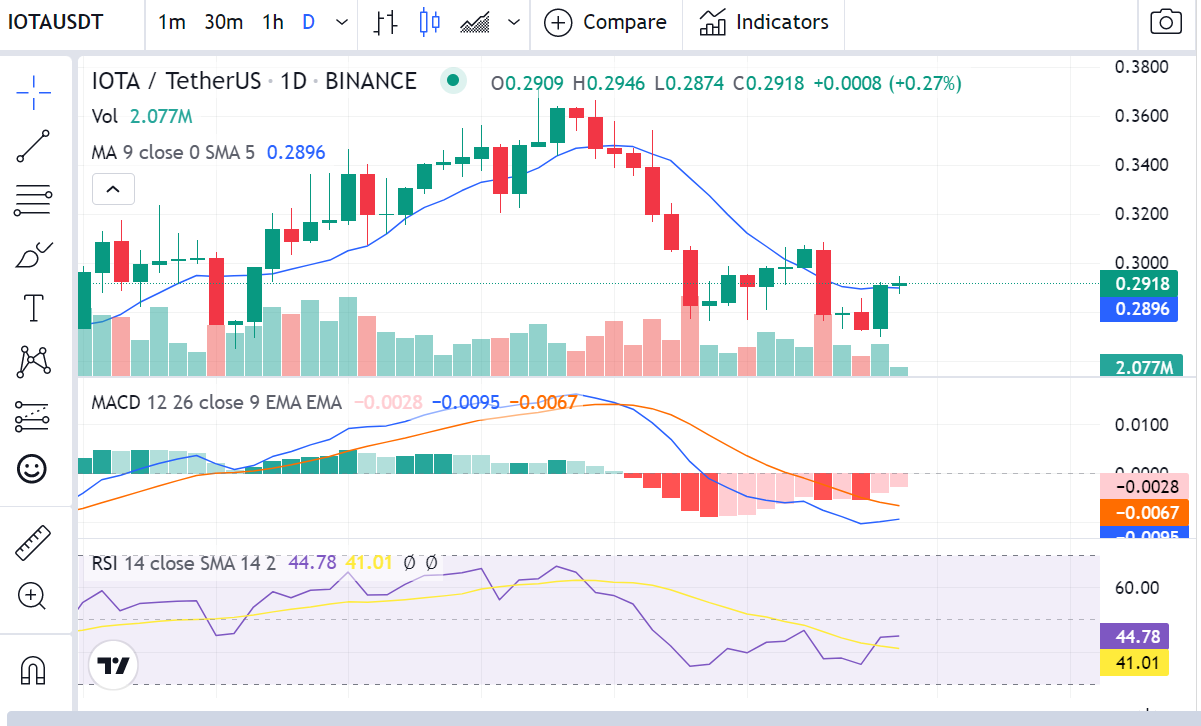 The moving average lines are currently in a bearish crossover, but they are expected to make a bullish crossover soon. The 200-day MA line is currently at $0.2489 and the 50-day MA line is at $0.2619.This indicates the buyers are currently active and may push the price towards the $0.30 level in the near term.
IOTA is currently trading above all important moving averages which is a bullish sign. The next major resistance for IOTA bulls is at $0.30. If the bulls can push the price above this level, we can expect a rally towards the $0.35 level.
The support levels are at $0.2700, $0.2650, and $0.2600. The resistance levels are at $0.2800, $0.2850, and $0.2900.MIOTA is ranked at number 55 on CoinMarketCap. The total market capitalization of IOTA is $782,735,795 and its trading volume for the past 24 hours is $7,264,306.
IOTA Price Predictions by Authority Sites
Wallet Investor
Wallet Investor predicts that IOTA is a bad long-term (1-year) investment. The price of IOTA might drop to $0.262 by the end of 2023.
DigitalCoinPrice
The price of IOTA is expected to increase in the near future, according to recent data analysis. by the end of 2023, IOTA is predicted to reach a minimum fee of $0.37, and a maximum price of $0.46. This information is important for investors and holders of crypto assets as it gives an idea about where the market is heading in the coming years.
TradingBeasts
TradingBeasts forecast a surge in the IOTA price, with it potentially expected to hit a maximum price of $0.5093819, and a minimum value of $0.3463797. Their IOTA price prediction for the end of the month is $0.4075055.
According to TradingBeasts, the Long-term price predictions for IOTA suggest that the cryptocurrency could potentially rise to as high as $0.44 by 2023. Although there are also some bearish forecasts, the general trend seems to be positive. Investors should keep an eye on the market and monitor technical indicators before making any decisions.
Cryptopolitan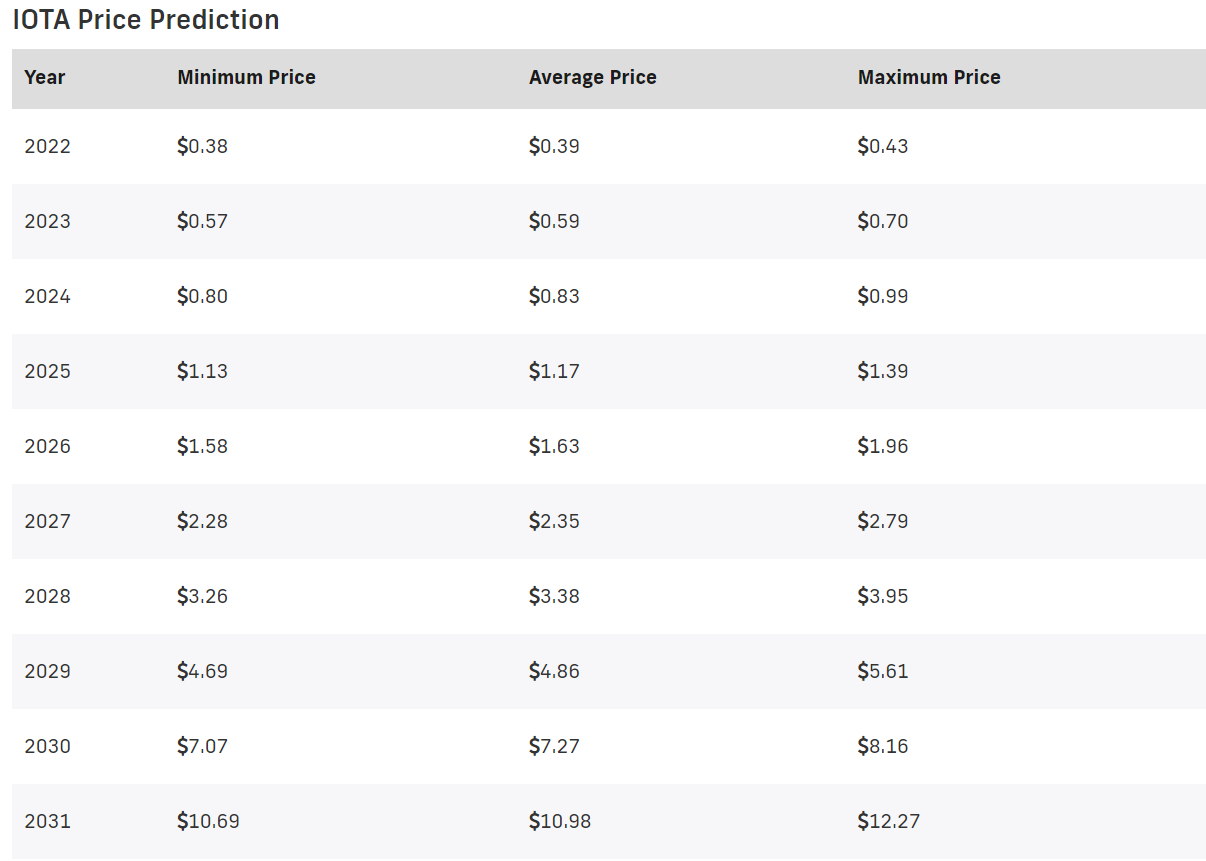 IOTA Price Prediction 2022
IOTA has the potential to reach an average of $0.39 by the end of 2022. This would give the altcoin a market capitalization of $10.6 billion and see it enter the top 30 cryptocurrencies by market cap. The minimum value that IOTA could potentially reach by the end of 2022 is $0.38, while the maximum price is forecast to be $0.43.
IOTA price prediction 2023
MIOTA's price forecast for 2023 suggests that IOTA could potentially reach a price of $0.59 by the end of 2023, giving it a market capitalization of $12 billion and seeing it enter the top 25 cryptocurrencies by market cap. The minimum price that IOTA could potentially reach by the end of 2023 is $0.57, with the maximum price being $0.70.
IOTA price Prediction 2024
IOTA prediction for 2024 suggests that IOTA has the potential to reach a minimum price of $0.80 and a maximum price of $0.99. MIOTA is also expected to have an average price of $0.83.
IOTA price prediction 2025
The IOTA price is expected to continue its upward trend and reach an average of $1.17 by 2025. The minimum price for MIOTA is forecasted to be $1.13, with the maximum value anticipated to reach $1.39.
IOTA price prediction 2026
From 2026, IOTA is expected to maintain a relatively stable price, with an average price of $1.63. The minimum price that IOTA could potentially reach by the end of 2026 is $1.58, while the maximum total is expected to be $1.96.
IOTA price prediction 2027
IOTA has the potential to reach an average value of $2.35 by 2027 with a minimum price of $2.28 and a maximum value of $2.79.
IOTA price prediction 2028
By 2028, the IOTA coin price is expected to reach an average price of $3.38. The minimum and maximum prices are forecast to be $3.26 and $3.95, respectively.
IOTA price prediction 2029
By 2029, MIOTA is anticipated to have an average price of $4.86, with a minimum price of $4.96 and a maximum value of $5.61.
IOTA price Prediction 2030
The IOTA price forecast for 2026 suggests that IOTA is expected to see a massive surge in price and has the potential to reach an average trading price of $7.27 by 2030. The minimum and maximum IOTA prices are predicted to be $7.07 and $8.16, respectively.
IOTA Price Prediction 2031
In 2031, IOTA is forecast to have a price of $10.98 on average, with a minimum price of $10.69 and the highest price for 2031 is $12.27.
IOTA Price Prediction by Industry Influencers
According to "Crypto Vault" a Youtuber who is also an IOTA investor, the price of IOTA is expected to reach $300 by the end of 2025.
This prediction is based on the increasing adoption of IOTA in the automotive industry. He believes that with more and more companies like Volkswagen, Jaguar, and BMW adopting IOTA, the price will continue to rise.
IOTA crypto price prediction – MIOTA will make people rich – YouTube
IOTA's infrastructure is built for the 'Internet of Things' which is a catchy name for extreme surveillance. IOTA looks set to become the infrastructure for smart cities within Europe. It's won some giant partnerships with huge corporations (most recently Dell) and (what for it) the European Union. Not a project I would like to succeed but it will.

James McMahon, @CryptoWithJames
Conclusion
IOTA is a good long-term investment as many market analysts predict a price hike in the coming years. IOTA has a bright future and is expected to maintain its current position in the cryptocurrency market. The adoption of IOTA is expected to increase in the coming years as it has many potential use cases.
IOTA's technology is unique and has the potential to change how we interact with the internet of things. IOTA is still in its early stages, and there is a lot of potential for growth. IOTA is a good option if you are looking for a long-term investment
IOTA is a unique technology with the potential to change communication and data transfer as we know it. It is still a novel product, and its developers – the IOTA Foundation – have laid out several upgrades to be implemented over time. Following the recent launch of Shimmer, a validation and staging network for IOTA, investors can look forward to including only tested and successful updates on the IOTA network.
All of IOTA's long-term price predictions forecast the crypto market potentially seeing enormous growth in the future. IOTA has excellent fundamentals and a dedicated community that is always pushing for its adoption. With the maturing of the cryptocurrency market, IOTA is anticipated to see more general use and could possibly become one of the top cryptocurrencies in existence.
The IOTA project aims at establishing a new distributed ledger protocol that aims to alter the way we interact with the internet of things. IOTA is still in its early phases, and there is a lot of room for development. If you're searching for a long-term investment, IOTA is a good investment. However, when investing you should do your own research and not blindly rely on predictions.

If you're looking for a good long-term investment, IOTA may be the token for you. In 2031, IOTA is forecast to have a price of $10.98 on average, with a minimum price of $10.69 and the highest price for 2031 is $12.27. Compared with the projected price for 2022, that would be a 2,753% increase in your investment or $2,753 for every dollar in 10 years if you can HODL. This is a pure arithmetic calculation and not investment advice.
Nevertheless, you are urged to do your due diligence before investing and to only trade with money you can afford to lose.
Disclaimer. The information provided is not trading advice. Cryptopolitan.com holds no liability for any investments made based on the information provided on this page. We strongly recommend independent research and/or consultation with a qualified professional before making any investment decisions.