Basic Attention Token (BAT) is one of the cryptocurrencies taking the crypto space by surprise. This project is set to make massive improvements in the digital advertising space and related fields. Knowing the Basic Attention Token price is essential for creating a wise investment move. If you are concerned about the price prediction of the BAT coin, you are at the right place.
What is BAT?
Basic attention token, BAT was created for the Brave Browser in 2015, and it was developed on the Ethereum platform. BAT is Brave browser's utility token. It was meant to make a remarkable difference in users' experience in the digital advertising space. The project came on board to solve some issues plaguing the online advertising space.
Basic Attention Token is a project that garnered attention as soon as it entered the crypto discourse. The brain behind the BAT project created a JavaScript programming language intending to get people's attention all over.
BAT Overview
BAT Overview
Coin
Symbol
Price
Marketcap
Change
Last 24h
Supply
Volume (24h)

BAT
$

0.810344

$

1.19 B

13.20%

1.49 B
$

140.94 M
BAT founding team
The founder desires to reach great heights with the project within 10 years. BAT's capability to affect the online advertising space makes it a great project.
There was an ICO for the project on the 31st of May, 2021, and BAT exploded to realize $35 million within 30 minutes.
The creators have maintained their goal, and the project has supported this line of progress over time. Presently, there are up to 5.5 million active monthly users of the platform.
BAT has caught the attention of people since it came into the business. Brendan Eich, an American programmer and the originator of JavaScript and Mozilla Browser, is interested in the project.
What is the mission of Basic Attention Token cryptocurrency?
BAT aims to solve some issues in the digital advertising space and bring some benefits to users, advertisers, and everyone concerned. Given the technological breakthrough that has reordered the advertising firm globally, it is only expected that more technological innovations will come on board to improve the system.
Given that people are getting more versed in social networking and advertising and the tools involved, some improvements are needed. For instance, ad-blocking software is in demand for millions of smartphones and computers.
Considering the resources that go into viewers' data and the number of people using these platforms, it becomes relevant to improve the system, which BAT has come to do.
Advertisers and Publishers
BAT has improved users' experience as well advertisers' and publishers' returns in a significant way. With BAT, the level of accuracy has improved.
These advertisers can have publishers take their ads to the end-users for just a token. The resultant effect is that advertisers can now have improved targets for their audience and get better returns for their expenses. However, the models work best with fewer ads.
Users can earn while they use the internet. They deserve BAT when they view Brave ads. The brave browser uses ML machine learning technology in monitoring attention.
With the improved experience, BAT has helped the entire society. BAT has partnered with renowned and well-respected brands like Amazon, Apple, Starbucks, and Uber, and these alliances have accepted the use of coins on their websites.
These partnerships have advertised the brand to millions of people and have improved its acceptability among users.
According to Cryptonewsz.com, the token has a circulating supply of 1,493,864,568 BAT and a market cap of $1,717,551,546. During press time, BAT trades at 1.15.
BAT price prediction
BAT has performed impressively from its inception till date, and it is set to do well. The ICO launched for the coin was strategically timed.
Additionally, the token has received ample attention, especially in this era where digital media greatly influences world economies.
The future of a token is essential for predicting if it will be a good investment choice. Looking at the market performance of the token and what it brings to the table, it is expected to do well on a short-term and long-term basis.
These Price predictions are drawn from technical analysis by experts and are based on the BAT USD trading pair. Here are the predictions for BAT coin price in the long term:
BAT price prediction 2022
The bullish momentum will continue, and the token is expected to reach $1.94 by the end of the year. Investors can expect a positive outcome for them and an encouraging market sentiment.
BAT price prediction 2023
The market sentiments are expected to retain the brighter side and drive the sales of BAT to higher values where it would be worth over $2.47. This price will fluctuate between $2.56 and $2.04 at the beginning of the year.
BAT price prediction 2024-2025
This token's progress will improve farther than it has done in other years, and the asset's value will burst expectations and increase amazingly. This token is forecasted to be a profitable investment and yield good returns for people who will be bold enough to take it on. 2024 will see the value of the token multiplying, and by the end of 2025, it will reach $3.49.
BAT market experts' predictions
No one can predict cryptocurrencies with absolute certainty because the cryptocurrency market is volatile.
However, some websites get their predictions from studying market trends, price analysis, trading volume, and historical data. The following are some Basic Attention Token predictions from experts. They will help predetermine the direction of BAT price.
As an investor or trader, you cannot rely entirely on these Basic Attention Token forecasts to make investment decisions as they are not meant to be considered investment advice. Here are some of the BAT predictions with the dollar fiat currency:
Digital Coin Price BAT price prediction
According to DigitalCoinPrice, the Basic Attention Token will increase in value. They predicted that the coin would be worth $1.51 and get to $1.99 in 2022.
They went further to predict that in 2023, the value of BAT will be $2.47.
They expressed optimism for the BAT cryptocurrency and forecast that in 2024 it will be $2.91. projecting further into the future, they forecasted that in 2028 the token would sell for $5.34.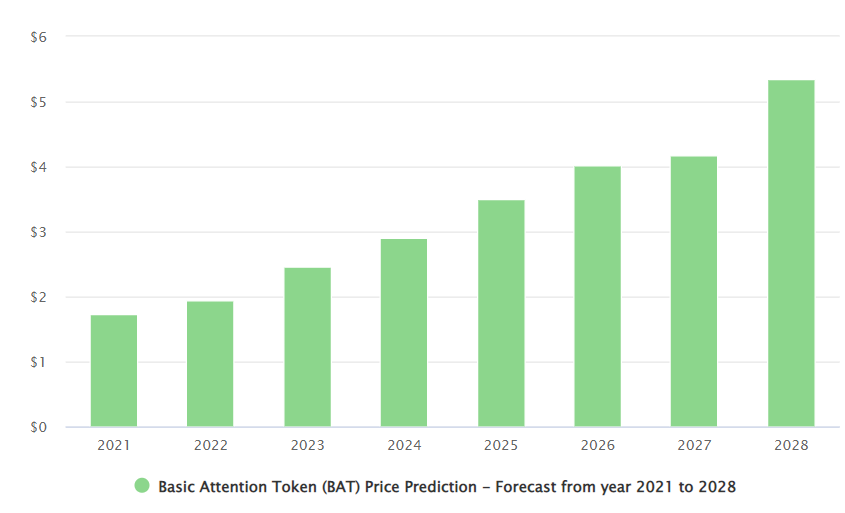 BAT price analysis by WalletInvestor
WalletInvestor is optimistic and asserted that BAT is an excellent choice of virtual currency with good returns. They predicted a profitable short-term and long-term increase in the coin's value. According to Wallet Investor, the asset's current price is $1.6 with an expected minimum price of $1.503 and an expected maximum price of $1.904.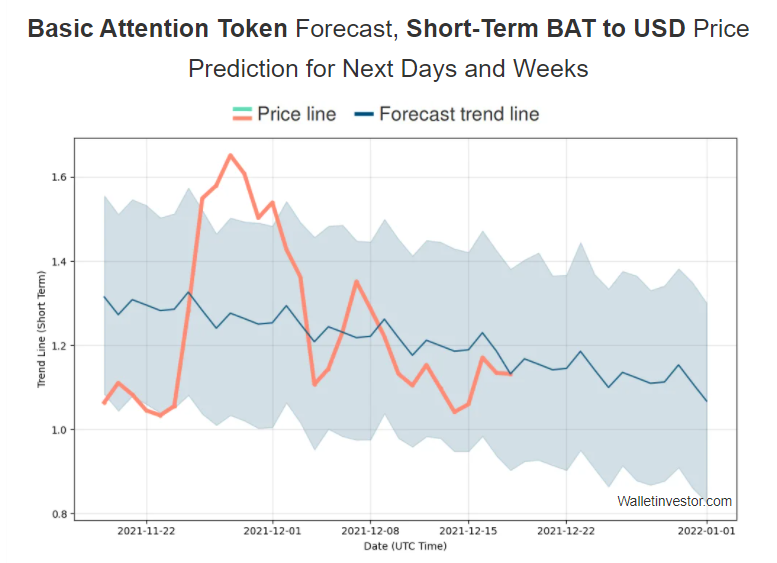 In the long term, they predicted that the Basic Attention token would be worth $1.6 in a year and $3.7 in five years.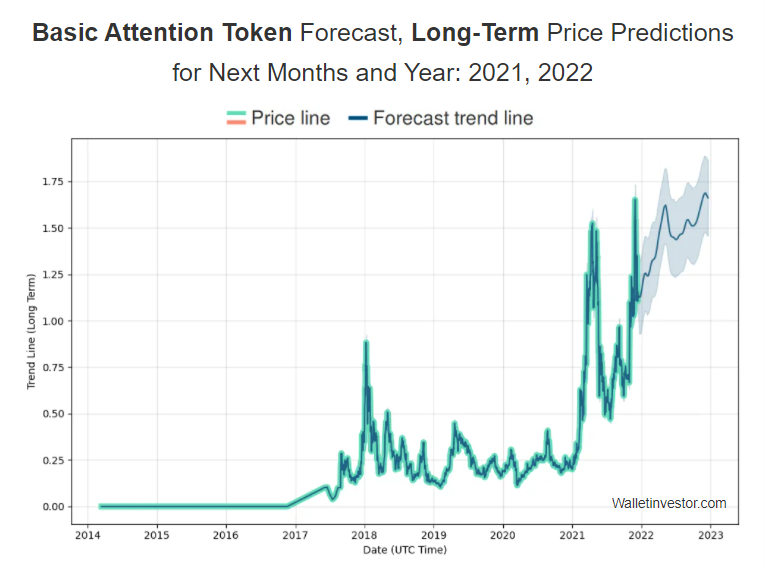 Average price WalletInvestor
BAT Prediction by CryptoGround
The Basic Attention Token price prediction from Crypto Ground is optimistic as the platform has put great faith in the digital asset. They forecasted that by 202, BAT would reach a trading mark of $2.7462.
Conclusion
As the years go by, the Basic Attention Token price prediction indicates improvement in value. Brave browser built this cryptocurrency for its platform. However, it has garnered attention from other browsers owners, and it is set to attract web browser owners and crypto enthusiasts the world over.
The market capitalization, trading volume, and value have been impressive. The price analysis of BAT coin from each expert is optimistic with no mention of a resistance level.
However, whatever investment you make in the crypto market depends on your decision. To make a sound decision, you have to note the price movement, predictions, trading volume, etc.
For instance, it is advisable to monitor BAT token price prediction, Bitcoin price prediction, iota price prediction, etc., if you wish to invest in them. The same applies to other cryptocurrencies. This will help you make informed decisions before you buy BAT tokens.
Disclaimer. The information provided is not trading advice. Cryptopolitan.com holds no liability for any investments made based on the information provided on this page. We strongly recommend independent research and/or consultation with a qualified professional before making any investment decisions.