XDC Price Prediction 2023-2032: Is XinFin a Good Investment?
XDC Price Prediction 2023- 2032
Have you heard it said, "Not every utility is as resistant as $XDC. You can't compare XDC to others." The XDC token is the underlying utility token of the XinFin hybrid blockchain. XinFin, an EVM-compatible, Proof-of-Stake powered smart contract blockchain, is one of the platforms leading the charge on high-efficiency platforms. What's for the XinFin Network in 2023?
The XDC token acts as a settlement mechanism for dApps built on the XinFin hybrid blockchain. XDC price prediction could well be light in crypto winter. Have your own application built on XDC Network? List it here: https://xinfin.org/xdc-utility
XDC is a NETWORK (like Ethereum) that offers SMEs (small to medium enterprises) a financial platform in which to run their business. Instead of using archaic banking practices that don't properly store information or have slow bureaucratic processes. SMEs can now use XDC, which will log every financial action taken via their business on the blockchain, ensuring security BUT also automating a ton of financial processes that will make it seamless and easy to use.
How much is XDC worth?
Today's XDC price, August 26th, 2023, is $0.0516 with a 24-hour trading volume of $10,499,915 is down by 2.17% in the last 24 hours, with a market cap of $719,593,098 USD. It has a circulating supply of 13,851,401,352 XDC coins and a max. supply of 37,705,012,699 XDC coins.
If you would like to know where to buy XDC Network at the current rate, the top cryptocurrency exchanges for trading in XDC Network stock are currently Bitrue, CoinW, Bybit, Bitget, and IndoEx. You can find others listed on our crypto exchanges page.
Let us dive into the background of the XDC coin before moving on to XDC price prediction to know whether to include it in your crypto portfolio or just to know the price movements of native coins in the blockchain space.
Also Read:
XDC Price Analysis: XDC/USD is expected to break lower than $0.0510
The XDC market has been quite bearish today. From a high of $0.0528, it has dropped to the current price of $0.0516. It made a low at $0.0510, and it appears that the market is again headed towards the downside.
The daily graph of XDC/USD shows us that the next major resistance level is above $0.09. But could it pump to that level again? We can see that the RSI is quite balanced right now. Furthermore, the yellow curve on the EMA ribbon is crossing over the other curves from top to bottom. At the same time, the price is closing below the EMA 55 ribbon. This is a clear indicator that the price is further going to reduce in the coming few days.
Based on the crypto heat map above, the overall market seems to be in the greens. However, XDC is in the red zone. As for the major coins, Bitcoin has marked a small increase of 0.43 percent while Ethereum is up by 0.15 percent.
XDC/USD 1-hour price movement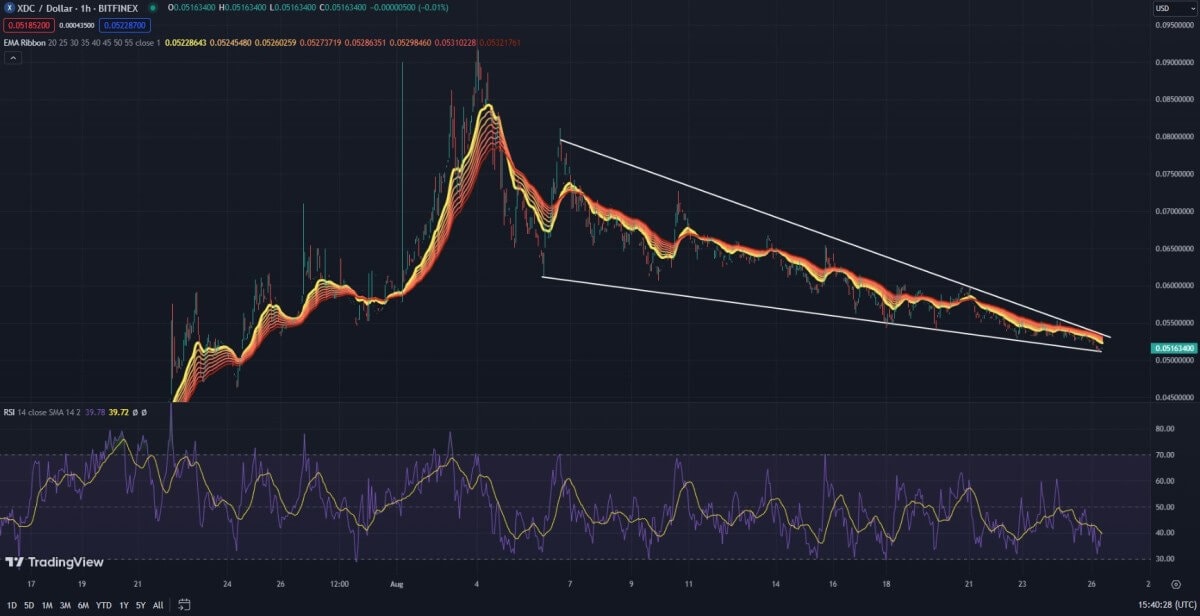 On the hourly chart, we can see XDC forming lower lows and lower highs. This suggests that the trend is towards the downside. On the larger time frame of daily charts, we have a strong indication that XDC/USD market is going to move lower. So, we can expect this trend to continue and chances of a trend reversal are very low. Spot traders should avoid investing in XDC/USD at this point, and futures traders may want to short their position.
XDC Price Prediction 2023 – 2032
Price Prediction by Cryptopolitan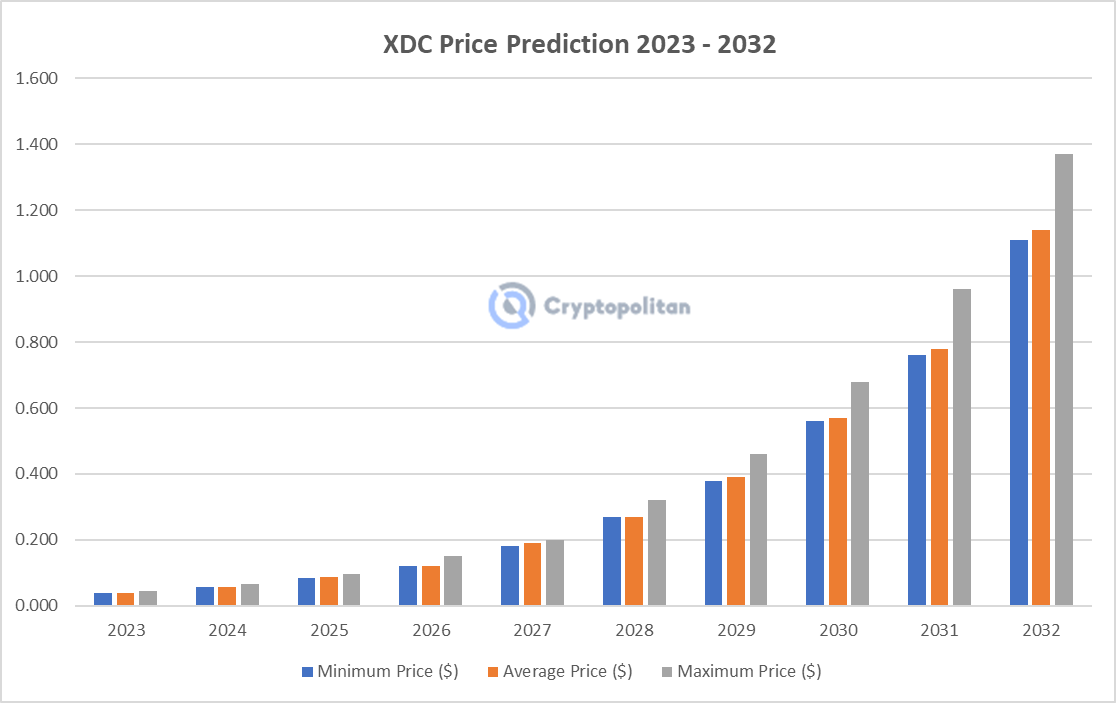 | | | | |
| --- | --- | --- | --- |
| Year | Minimum Price ($) | Average Price ($) | Maximum Price ($) |
| 2023 | 0.039 | 0.040 | 0.046 |
| 2024 | 0.056 | 0.058 | 0.067 |
| 2025 | 0.085 | 0.087 | 0.098 |
| 2026 | 0.12 | 0.12 | 0.15 |
| 2027 | 0.18 | 0.19 | 0.20 |
| 2028 | 0.27 | 0.27 | 0.32 |
| 2029 | 0.38 | 0.39 | 0.46 |
| 2030 | 0.56 | 0.57 | 0.68 |
| 2031 | 0.76 | 0.78 | 0.96 |
| 2032 | 1.11 | 1.14 | 1.37 |
XDC Network Price Prediction 2023
Based on our XDC price prediction for 2023, XDC is anticipated to reach a maximum price of $0.046. The average forecasted price for XDC during the year is estimated to be approximately $0.040, with a projected minimum price value of $0.039.
XDC Price Prediction 2024
According to our XDC price prediction for 2024, the maximum price projected for the XDC token is $0.067. The average trading value of XDC during that year is anticipated to be approximately $0.058, with a minimum estimated price of $0.056.
XDC Price Prediction 2025
Based on the Xinfin Digital Contract (XDC) price prediction for 2025, the minimum price forecasted for XDC is $0.085, while the maximum projected price for the year is $0.098. The average forecast price for XDC during 2025 is estimated to be $0.087.
XDC Price Prediction 2026
Based on our comprehensive analysis of the XDC price data, we anticipate that in 2026, the XDC Network token is likely to encounter a minimum price level of $0.12. Our analysis indicates that during the same year, there is potential for the XDC token to achieve a maximum trading price of $0.15, while the average price projection remains at $0.12.
XDC Price Prediction 2027
Our comprehensive technical analysis of XDC price data suggests that in the year 2027, the XDC Network token is anticipated to experience a maximum trading price of $0.20. Our analysis also predicts that the XDC token might reach a minimum price of $0.18, with an average price estimate of $0.19.
XDC Price Prediction 2028
According to our analysis, the XDC network price forecast for 2028 indicates a minimum price of $0.27. Furthermore, our analysis suggests that there is potential for the price of the XDC Network token to reach a maximum of $0.32, with an average estimated price of $0.27 throughout that period.
XDC Coin Price Prediction 2029
Based on our XDC price forecast for 2029, it is expected that the XDC Network token will reach a minimum price point of $0.38. Our analysis further indicates that there is potential for the XDC Network token to achieve a maximum price of $0.46 during the same year, with an average price estimate of $0.39.
XDC Price Prediction 2030
After conducting a thorough technical analysis and considering XDC Network's price prediction, it is anticipated that the token will reach a minimum price point of $0.56 in 2030. Furthermore, the analysis suggests a potential maximum price value of $0.68, with an average price estimate of $0.57 for the same year.
XDC Price Prediction 2031
According to our analysis and price projection for the XinFin Network (XDC) in 2031, we anticipate a range of prices. The minimum projected price stands at $0.76, while the maximum is estimated to reach $0.96. Based on our calculations, we expect the average price to hover around $0.78.
XDC Price Prediction 2032
By 2032, XDC Network is expected to reach a minimum price of $1.11, indicating a bullish trend for the cryptocurrency. Moreover, the price could potentially soar to a maximum value of $1.37, with an average trading price of $1.14. It should be noted that any price prediction is subject to a degree of uncertainty and market volatility, and actual prices may differ from the forecasted values. Hence, you must do your own research before investing in any cryptocurrency.
Xinfin Digital Contract Price Prediction by Wallet Investor
Wallet Investor's technical analysis and cryptocurrency price prediction algorithm suggest that Xinfin Digital Contract (XDC) has the potential to be a favorable long-term investment. According to their analysis, XDC is expected to experience a bullish trend, potentially leading to a significant price increase of up to 54.08% by 2024, reaching a price of $0.0490 USD. Furthermore, Wallet Investor's 5-year forecast for XDC indicates a projected value of $0.116, reflecting their optimistic outlook on the future performance of XDC.
Xinfin Digital Contract Price Prediction by Technewsleader
Technewleader's forecast indicates that the XDC cryptocurrency is anticipated to undergo significant growth in the coming years. In 2023, XDC's maximum price is projected to reach $0.046, with a price range of $0.052 to $0.064 expected in 2024. By 2025, the minimum trading price of XDC is predicted to be $0.088, with a high price of $0.10. If the upward trend persists, XDC's maximum trading price could surge to $0.22 in 2027 and fluctuate between $1.20 and $1.41 by 2032.
Xinfin Digital Contract Price Prediction by Digitalcoinprice
According to Digitalcoinprice, Xinfin Digital Contract (XDC) is expected to experience substantial growth in the near future, with noteworthy price projections over the coming years. By 2023, XDC is predicted to reach a maximum price of $0.0698, followed by projected peaks of $0.12 in 2025 and $0.15 in 2026. By 2028, the average price of XDC could reach $0.16, with a potential high of $0.17.
Looking further into the future, Digitalcoinprice foresees a significant surge in XDC's value by 2029, with the cryptocurrency potentially reaching a maximum market price of $0.24 and a minimum price of $0.21. The price forecast for 2032 is even more impressive, with XDC's price potentially surpassing the $0.55 mark and reaching a maximum price of $0.61.
Price Prediction by Altcoin Doctor
Altcoin Doctor suggests that XDC has significant price potential and could potentially reach $0.8, indicating a potential increase of 2409.41%.
The analyst added that holding XDC down to $1 or $1.5 could be a reasonable expectation.
According to Altcoin Doctor, the probability of XDC to move to higher levels is higher than the downside, based on indicators and money flow analysis.
XDC Price Overview
XDC Price history
The XinFin protocol was established in the early months of 2017, coinciding with its initial coin offering (ICO) and subsequent listing on alphaex.net in the fourth quarter of that year. The ICO generated $15 million, indicating a positive response from the market. To further bolster its token value, XinFin's team initiated sales on platforms such as KoinOK, Bancor, Etherflyer, Alphaex, and Forkdelta, setting the initial price at 20% higher than the token contribution price.
According to Coinmarketcap, the first recorded price of XinFin's native token, XDC, was $0.0036 in April 2018. However, the performance of XDC remained lackluster until May 2020, when the token's price surpassed its opening value, marking a significant turning point in its trajectory.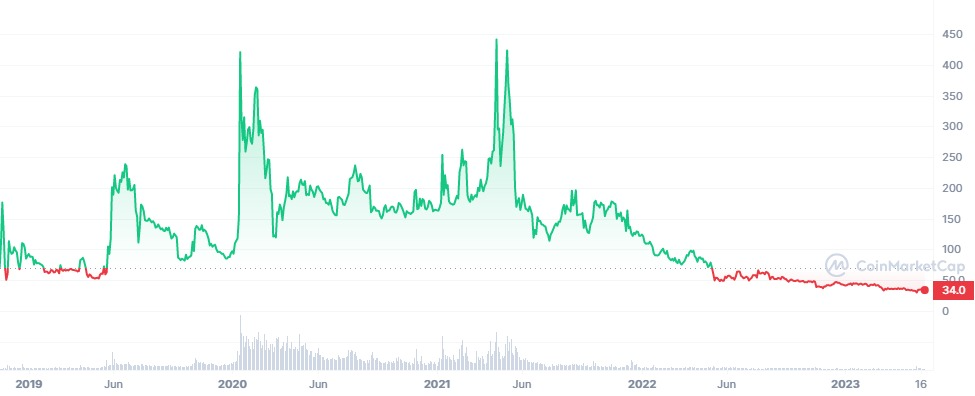 On June 20th, 2019, XDC (XinFin's native token) reached its all-time low, plummeting to $0.0001571. However, significant developments in 2021 sparked real price action for XDC. Particularly, Exchange Infinity facilitated the swapping of ERC20 XDCe tokens for XDC at a 1:1 ratio, which contributed to increased market activity. Throughout 2021, XDC experienced substantial price momentum, marked by notable trade volumes. Eventually, on August 21st, 2021, XDC reached its all-time high of $0.1939.
However, as market volatility persisted, the value of XDC started to decline as the year transitioned into 2022. In early 2022, the launch of XDC.NFT provided a boost, enabling XDC to achieve its highest price for the year at $0.098. The token began 2023 on a positive note but faced a downturn from the middle of April onwards. The token's current price is $0.032.
XDC Recent News/Opinion
#XDC Weekly
More on XDC
What is XDC Network?
Xinfin Digital Contract (XDC) is the native currency of the Exchange Infinite (Xin Fin) platform. Xin fin is a hybrid blockchain protocol capable of switching between public and private modes with the capability of coding for smart contracts.
Xinfin organization based in Singapore identifies itself as an NGO that works with governments and institutions to bridge the gap in global infrastructure. Using the Xinfin blockchain network, interested bidders can easily work with the government to finance projects or deliver on tenders. The blockchain assures fast settlement by getting rid of middlemen and other paperwork that may otherwise delay the project.
Xinfin runs on a delegated proof of stake (POS) consensus algorithm that verifies transactions before setting them into blocks. POS algorithms are known for their high energy efficiency when compared to Proof of Work (POW). The POS algorithm is delegated in that the Sin fin community votes or delegates their XDC tokens to master nodes who then assume the role of verifying transactions. All master nodes are KYC compliant making it easier to work with regulation and centralized financial institutions. Users running master nodes are required to commit 10,000,000 XDC. The XDC acts as leverage for misbehaving or downtime. Masternodes that misbehave have their committed XDC slashed or omitted from the protocol altogether. Users who stake on these master nodes also have their stakes affected.
XDC is a deflationary token. What this means is that the total supply of XDC is continuously dropping, enabled by token burns. Token burn means that tokens are sent to a wallet address in which they can never be recovered. Token burns increase the value of the coins that reduce supply.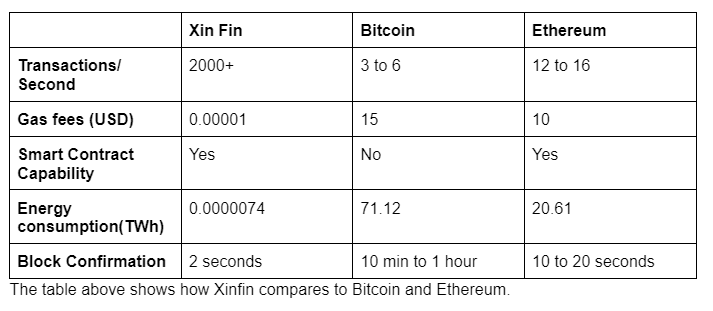 The table above shows how Xinfin compares to Bitcoin and Ethereum.
XDC also has an Erc20 token XDCe pegged at a 1:1 ratio. XDCe was meant to leverage the Ethereum ecosystem and help with interoperability. Exchange Infinity is however on track to phase out the token. XDCe holders are expected to be AML/KYC compliant to swap for XDC.
Exchange Infinity has a Sandbox program for developers willing to build in the Xinfin protocol. Startups and freelancers can also apply to the program for community promotion, and technical and financial support.
XDC Founders
The three co-founders of the platform, Atul Khekade, Ritesh Kakkad, and Karan Bhardwaj, all have long storied histories in the blockchain ecosystem. Notably, Khekade is an experienced software programmer credited with founding several other tech firms and funding the XDC-powered Blockdegree education platform. Ritesh Kakkad is a serial entrepreneur with multiple ventures in the digital space. Bhardwaj, on the other hand, left the company in 2018 to pursue his own startup, Elatior Tech.
XDC Network Applications
XDC Network enables enterprises to easily share public verifiable information while at the same time using the same protocol to hide private and sensitive customer information. Blockchain openness helps get rid of middlemen by connecting beneficiaries and financiers. This lowers the entry bar for low-income communities by easing the application and delivery process. Tradefinex by XDC network is a P2P decentralized platform that enables financiers to connect and complete deals with beneficiaries.
The Xin Fin network is ISO 20022 certified. This means that enterprises can easily connect to the platform's messaging feature through the XDC protocol. The blockchain network helps get rid of the single point of failure in centralized platforms to a distributed ledger system. Examples of enterprises that can integrate into this feature include SWIFT, IFX, OAGi, TWIST, Bank proprietary, EDIFACT, RosettaNet, and FpML.
Centralized vs decentralized and distributed systems
The XDC token can also be used as a payment platform. Its wallet is accessible on the Exchange Infinity network. It leverages the best POS blockchain systems ensuring <$0.00001 transaction fees and completed in seconds with finality. Its distributed ledger makes it easy to track transactions. Other dAPPS built around XDC include Kramaa, Land registry, Turant Pay, Block degree and iFactor.
XDC is the native coin of Exchange Infinity and serves several functions; these include:
Funding the development of Exchange Infinity and its applications such as Xinfin Web wallet, Xinfin scan, etc.
An incentive for the Xinfin sandbox.
XDC for decentralized governance. The community stakes their XDC to vote for changes or updates to the Xinfin protocol.
Some use cases built on the XDC network
XDSea is the first of its kind decentralized NFT marketplace. The platform is built on the XDC protocol.
PlugIn is an oracle with a distributed ledger that ensures users get up-to-date data.
Ledgercount is a decentralized electronic mail platform powered by Pingala software. Emails are sent and verified like blockchain transactions.
Xswap XRC20 decentralized exchange. The platform aims to rival Pancakeswap and Uniswap as developers create more tokens on the XRC blockchain.
Tradefinex trading platform for financiers and beneficiaries.
Travala travel and booking platform with over 2.2M destinations.
Other projects in the pipeline include Metabloqs metaverse, Eurostasis (a Euro stablecoin), and In factor, an invoicing platform.
How do you buy and sell XDC?
To buy XDC, create an account on a cryptocurrency exchange, deposit funds, find the XDC market pair, place an order, and manage your XDC in your exchange wallet. To sell XDC on crypto market, follow a similar process by selecting the market pair and placing a sell order. XDC network markets include KuCoin, Bitfinex, Gate.io, and Huobi.
Where to store XDC?
XDC can be stored on Trust Wallet, XDC wallet, Guarda wallet, and Ledger Nano X.
What does XDC aim to solve?
XDC Network is strategically positioned as a bridging solution between public blockchain networks and traditional legacy systems. It offers robust support for digital smart contracts, enabling various functionalities such as seamless cross-border transactions and real-time settlement with minimal costs. Moreover, XDC facilitates the digitization and tokenization of assets, opening up new opportunities for innovation and value creation.
Conclusion
The XinFin network provides SMEs (small to medium businesses) with a financial platform on which they may operate their company. Instead of relying on antiquated banking methods that don't correctly preserve data or have laborious administrative procedures. Now, SMEs can utilize XDC, its native currency, which will record every financial transaction taken via their firm on the blockchain to ensure security. It will also automate several financial procedures to make them more accessible and easier to use.
XDC, like any other asset, is determined by supply and demand. Fundamental events such as block reward halvings, hard forks, or new protocol changes can all have an impact on these dynamics. Regulations, corporate and government acceptance, cryptocurrency exchange hacks, and other real-world events can all have an impact on the price of XDC. XinFin Network's market value might fluctuate dramatically in a short period.
The XDC coin price prediction appears to be relatively bullish in the long run according to several analyses. The future of the XDC Network is heavily reliant on the overall performance of the cryptocurrency sector. As more investors become involved in the project, the price of XDC Network will rise. XDC Network will be worth around $0.046 in 2023, $0.15 in 2026, $0.46 in 2029, and $1.37 in 2032.
When it comes to investing in XDC, you must ensure that you are employing the proper strategy. This investment is not appropriate for those with an asymmetric risk profile. However, it remains a fantastic investment for people with a high-risk tolerance provided you do your own research, and study this Xinfin network price forecast. Aside from its speculative nature, XDC provides exposure to worldwide technology and an ever-expanding ecosystem.
What will be the value of XDC in 2032?
Our Network price prediction for 2032 is a maximum price of $1.37. Our XDC coin price prediction for 2032 also suggests an average price of $1.14 and a minimum price value of $1.11.
When will XDC attain its ATH?
Technical data analysis suggests that at the current pace, XDC should set a new all-time high every year from 2027.
How many masternodes are in the XinFin network?
Xin fin network has 108 masternodes running on delegated POS with chain finality, stability and security enabled by new features like  Double validation.
What is meant by double validation?
Double validation is an additional layer of security where after a block is created by a masternode it is forwarded to a second random masternode for verification.
Is XDC an ERC-20 token?
No. XDC runs its own blockchain. XDCe ERC20 token is being phased out
is XinFin compatible with the Ethereum network?
Yes, Xinfin is EVM compatible. This means that all smart contract applications and dAPPS on the Ethereum network can seamlessly connect to the Xinfin network.
Is Exchange Infinity (XDC) a good investment?
Yes, the value of XDC should rise steadily in the future ensuring a good return for its investors.
What is XinFin master?
Xinfin master is the governance app of the Xinfin ecosystem. Willing participants are required to have a minimum of 10,000,000 XDC to participate.
Disclaimer. The information provided is not trading advice. Cryptopolitan.com holds no liability for any investments made based on the information provided on this page. We strongly recommend independent research and/or consultation with a qualified professional before making any investment decisions.