Recent Solana price analysis is bearish as it shows SOL/USD value has been reduced up to $23.43 today, as the bears have been availing chances for dominating the price function. The past few days had been highly favorable for the bulls as they managed to surge the price up to $24.51, but the latest bearish wave is dragging it back down.
The price has come down to the support level of $22.40, and if it manages to sustain above this level, then the bulls will be back in action again. At the time of writing the SOL/USD has lost more than 4% of its value in the past 24 hours. The trading volume for the SOL is currently at $1 billion and the market capitalization is $8.73 billion.
SOL/USD 1-day price chart: Bearish pushes the price down to $23.43
The price is going down once again, according to the 1-day Solana price analysis. The bearish momentum has come back, and the price has been decreased up to the $23.43 level in the last 24 hours. Although the price improved yesterday as bullish efforts were observed and a little increase in the price level was observed, today's trend has been relatively unfavorable.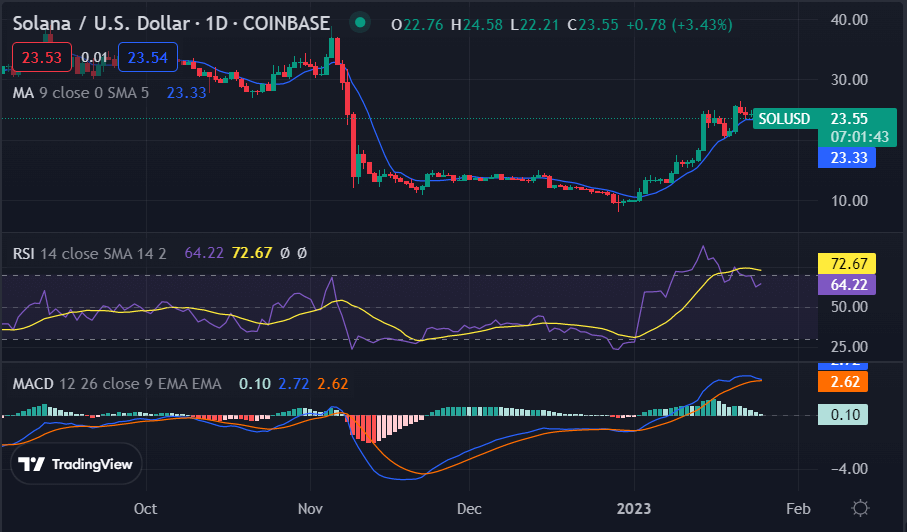 The moving average indicator is showing its value at $23.33, which is quite higher than the current price level, hinting at the bearish pressure. The Moving average convergence divergence (MACD) is still in the negative zone, but it has been trying to make its way up. The relative strength index (RSI) is also in the negative zone, which is another bearish signal.
Solana price analysis 4-hour chart: Bearish pressure still present
The four hours Solana price analysis is showing signs of bearish momentum as the price has dropped down. Generally, the last few hours proved crucial for the cryptocurrency as the price covered the downward range at a fast rate. Now the price levels have receded down to the support level of $22.40, and it is struggling to stay above it.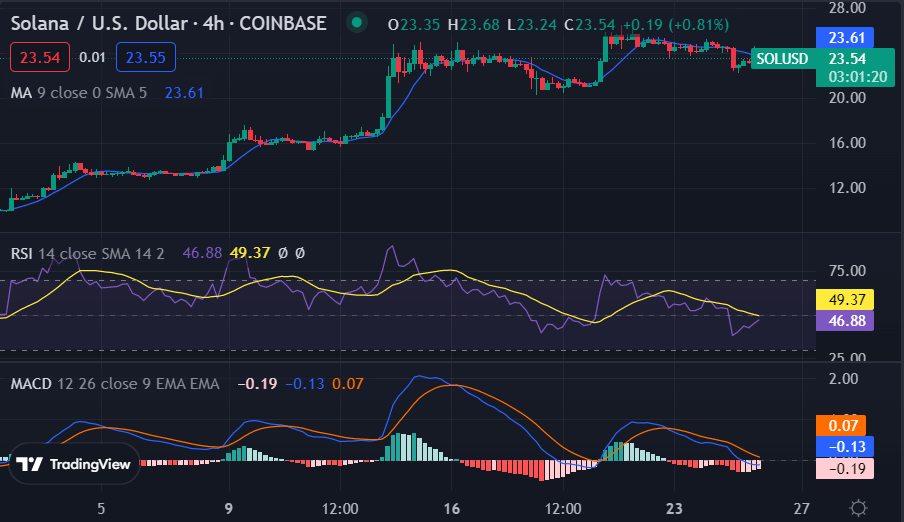 The moving average is higher than the price and is standing at $23.61 at present. The MACD is still in the bearish zone, the MACD line is above the signal line. The RSI is also in the negative region, indicating that the sellers are taking control of the market.
Solana price analysis conclusion
Overall, Solana's price analysis is still in a bearish trend, and the buyers need to make a strong comeback in order to reverse this trend. The selling pressure is still strong, and the price needs to stay above $22.40 in order to gain some bullish momentum.