For a brief moment, Litecoin price leaps across the $70.00 mark on January 30 after facing a bullish trend at the start of the day. The cryptocurrency rested between the $60.00 and $62.00 marks for January 29. The coin retreated towards $67 US Dollars before the day ended. Opposing the recent idea of the price dropping to the nearest support line, the cryptocurrency continued moving towards the $70.00 mark.
1-Day Litecoin Price Analysis (January 30)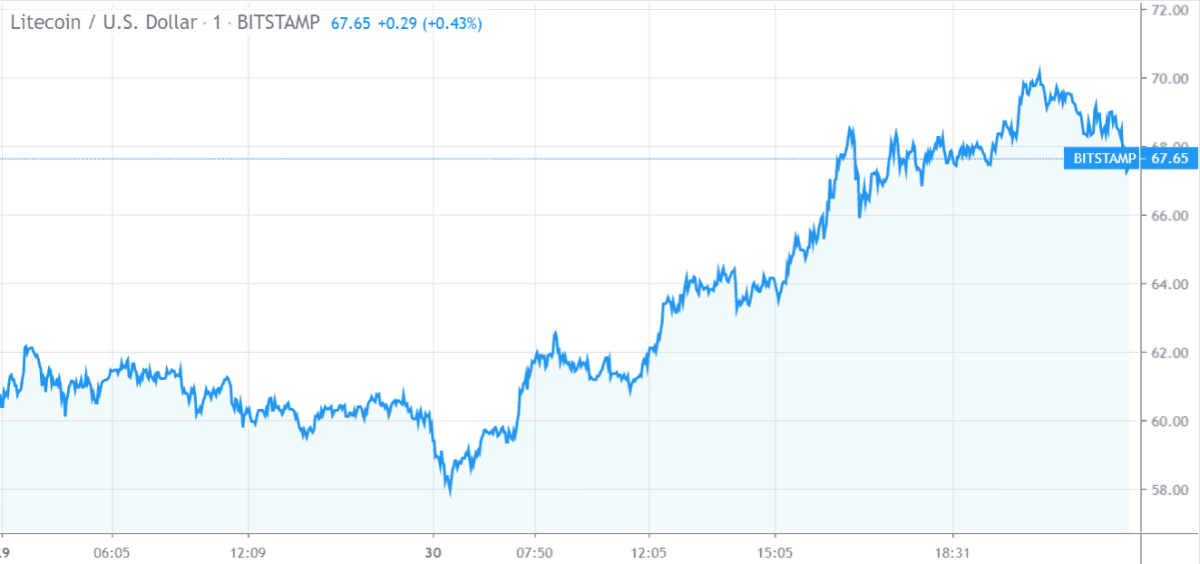 Litecoin Price Chart by TradingView
According to the price chart for Litecoin, the cryptocurrency's price started a bullish trend at 07:09 GMT and began climbing towards the $70.00 mark. The coin had leapt across $68.00 by 16:21 GMT and then rested at the same price level until 19:42 GMT. By 20:42 GMT, LTC had jumped across the $70.00 mark and reached a day's high of $70.29 US Dollars.
Just as these lines are being written, Litecoin trades at $67.65 US Dollars.
Technical Indicators for Litecoin
Litecoin Price Chart by TradingView
The 20-Day Exponential Moving Average (EMA) has a closing value of $68.18, whereas the 50-Day Moving Average (MA) closed at $68.65. The Relative Strength Index (RSI) currently stands at 37.69.
After LTCUSD reached a strong resistance level of $61.79 (before 09:00 GMT), the price was expected to drop to the nearest support level that lied at $58.07. The ongoing price pattern does not follow the proposed idea, as the cryptocurrency moved across the $70.00 mark, thus showing no fall towards the nearest support lying at $58.07.
Featured Image by Ian Espinosa.
Disclaimer: The information provided is not trading advice but an informative analysis of the price movement. Cryptopolitan holds no liability towards any investments based on the information provided on this page.