Ethereum Classic (ETC) is one of the oldest cryptocurrencies that still has maintained its place among the top altcoins as it has reached a market cap of over $6 billion and trades on all major exchanges. The coin's popularity has piqued investors' interest; therefore, many people look for the accurate Ethereum Classic price prediction. However, some associate Ethereum Classic with risks.
The Merge will shift Ethereum to Proof of Stake, but it will not expand network capacity. Therefore, it will not impact the price of gas fees. Ethereum should become greener, leaving Bitcoin as the only major blockchain that still relies on Proof-of-Work. According to Ethereum Foundation, Ethereum's energy consumption will be reduced by 99.95% following The Merge.
However, the Merge will transfer the entire transaction history; those digital assets will be accessible in the same way as before. Ethereum Classic isn't planning to follow Ethereum's switch to a different mining model. The Ethereum merge will switch the blockchain to a more sustainable Proof-of-Stake system.
Ethereum Classic's price is skyrocketing as Ethereum miners throw their weight behind the old ways. So, what's the verdict here? Should you buy ETC and use the Ethereum Classic price prediction to find your way?
Today's Ethereum Classic price is $33.55, with a 24-hour trading volume of $803,294,903. Ethereum Classic is up 2.58% in the last 24 hours. The current CoinMarketCap ranking is #20, with a live market cap of $4,579,691,889. It has a circulating supply of 136,498,898 ETC coins and a max. supply of 210,700,000 ETC coins.
Last month though Ethereum Classic (ETC) is on a roll. Ethereum Classic has been up over 60% in the past seven days and over 150% in the past month, according to CoinMarketCap data. That's far better than both Bitcoin (BTC) and Ethereum (ETH), and makes it the best performing project in the top 50 cryptos by market cap last July.
At a recent conference, the man behind Ethereum, Vitalik Buterin, said that people who didn't want to switch to proof-of-stake would find a welcoming community with Ethereum Classic. "If you don't like proof-of-work you should go use Ethereum classic, it's a totally fine chain," he said. This has widely been reported as an endorsement of ETC.
Also Read:
• Top 16 Best Ethereum Wallets
• Ethereum Price Prediction
• How To Invest In Ethereum?
• How To Stake Ethereum?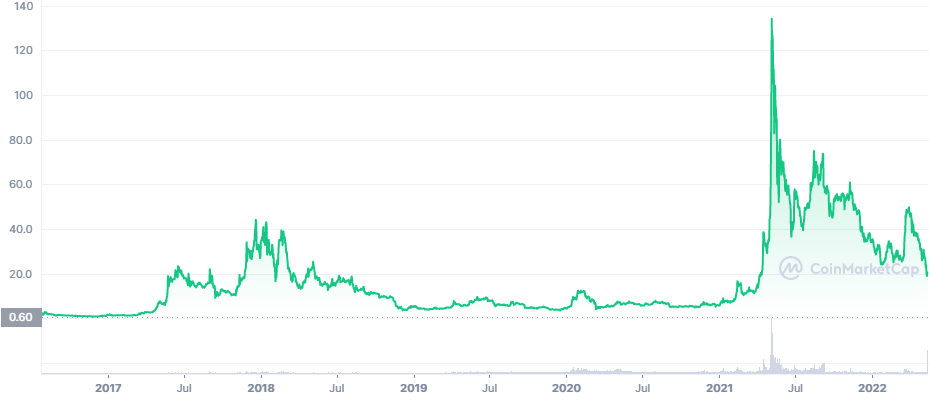 Ethereum Classic Price Prediction 2022 past performance by Coinmarketcap
Ethereum Classic growing bulk – an interesting development
Ethereum Classic follows Bitcoin in gains as it has accumulated 0.78% gains over the last 24 hours of 7 March 2022. However, Ethereum Classic, compared to Ethereum, has a lower value. The seven-day performance shows that ETC shed 11.66%. The current price for Ethereum Classic is estimated to be $26.65.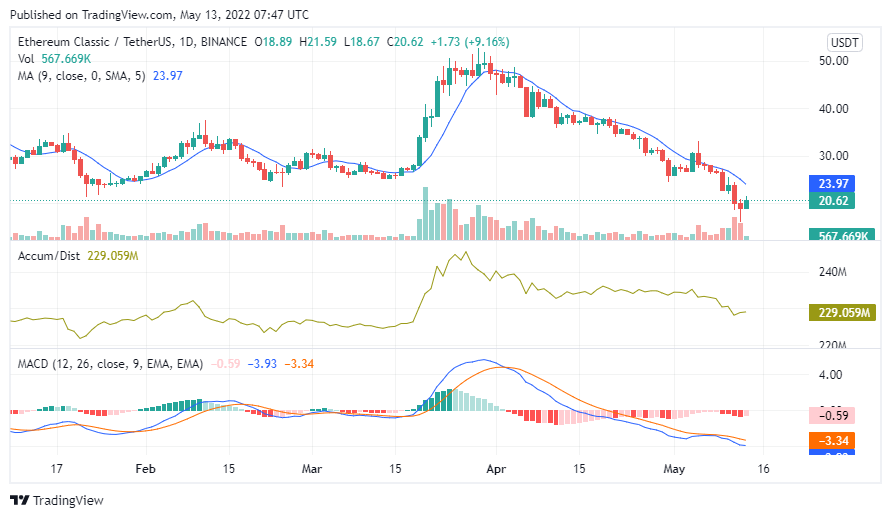 Ethereum Classic price forecast Source: TradingView
Ethereum Classic saw a 150% rise in its trading volume over the last 7-days. A movement that was in sync with the increasing current circulating supply of the coin, which flew upwards by 2.56%.Thereby, resulting into the circulating supply crossing the 134.7 million mark. Currently, the live market capitalization stands at $2.89 billion, with a ranking of #32.
If we take a peek at the market cap of Ethereum Classic, it is estimated to be $3,555,272,274. The 24-hour trading volume shows hope for this coin as activity has grown. Its value has grown to $389,907,192.The circulating supply of this coin remained 133,400,747 ETC.
ETC was created due to a split in the developer and user community, just like with Bitcoin and Bitcoin Cash. Ethereum Classic is one of those coins that remain in the market even after several other coins cease to exist. Therefore, it becomes necessary to have Ethereum Classic price prediction and know what benefits it may give you.
What is Ethereum Classic?
Ethereum Classic coin was created in July of 2016 due to a split in the Ethereum community after the original blockchain got hacked. Fundamentally, the two blockchains – Ethereum and Ethereum Classic were similar at first. The history of this crypto is definitely valuable.
Ethereum Classic is a hard fork of the source platform Ethereum which occurred in 2016 after the hack of the Ethereum-based Decentralized Autonomous Organization (DAO). The community got split into two opposing camps, and the same happened to the project as well.
Over time, differences arose as the Ethereum classic network community wanted to keep the blockchain running on a Proof-of-Stake consensus algorithm and secure blockchain immutability. The Ethereum community wanted to develop it into a much advanced, proof-of-stake-based digital currency.
Few people understood the concept of division in the initial stages, and the Ethereum Classic prediction remained at a lower level. The hard fork coin is more of a protocol rather than a store of value like gold. Ethereum Classic's current market status is being compared to gold, despite the overall crypto market facing a broad sell-off in the past week.
For those investors who wanted to exit the DAO, the so-called "Split function" exposed an enormous loophole in the whole system. Instead of simply requesting a refund, the hacker launched a recursive function that repeated the request before the initial transaction was registered on the blockchain.
Overview
Halving Events
Ethereum Classic's total supply is hard-capped at 210,700,000 ETC as of December 2017. Similar to Bitcoin having reward halving, Ethereum classic reduces its block reward by 20 percent every 5,000,000 blocks. At every halving event, updating the Ethereum Classic prediction is necessary. This is applicable to every cryptocurrency out there.
Ethereum Classic works on the Proof-of-Work protocol and has great potential owing to the Nakamoto Consensus mechanism. Recently, Ethereum Classic reduced the block reward for mining each block from 4 ETC to 3.2 ETC. The Ethereum Classic prediction became more optimistic due to the halving event as the coins left to mine lowered down. Therefore, Ethereum Classic price has become more similar to Bitcoin's price in some aspects than its original source – Ethereum. People have always compared Ethereum Classic price and functionality to that of Ethereum, the latter winning every time.
Today, we can see that the Ethereum Classic price rise has slowed down and the coin even fell behind the original Ethereum, which the Ethereum Foundation runs. Ethereum trades with a much larger market capitalization and has gained much larger popularity. However, Ethereum Classic is still trendy and can be purchased on practically every cryptocurrency exchange. Therefore, let us have a look at the Ethereum Classic price prediction.
Developments affecting the price
Digital assets manager, Grayscale Investments recently announced that its Ethereum Classic Trust is now an SEC reporting company. With this move, ETC joins the list of investment vehicles from the world's largest digital asset manager. A list that also includes Bitcoin, Bitcoin Cash, Ethereum, Litecoin, and Digital Large Cap Fund. The functionality differences increase over time, creating large price and capitalization size differences. However, the Ethereum classic is still one of the good coins to diversify your cryptocurrency market investment portfolio and avoid high risk.
In the last 48 hours, sometime in May 2021, Ethereum Classic has registered a new all-time high as it moved past the $175 mark to settle at around $197. On looking at its price movement in the last few days, Ethereum Classic appears to have outdone most of the top crypto coins. This bullish momentum has seen the crypto asset safeguard a spot for itself among the top 15 most significant cryptocurrencies in the market.
What could be the secret for a cryptocurrency trading from $35 in late April to $110 on 5 May? Well, the secret is the sudden market interest in Ethereum, Ethereum Classic's pricier sibling, and social media attention. At the moment, amateur investors are confusing Ethereum with Ethereum Classic hence the sudden uptrend. Others prefer the crypto coin due to its inexpensive cost compared to its costly sibling. Could this happen again?
Should you invest in Ethereum Classic?
When comparing Ethereum blockchain vs. Ethereum classic blockchain, the difference can't be clearer. We can see that Ethereum has performed substantially better than the Ethereum Classic price over the past years. Price as a well-performing factor fuels its increased usage among users, pushing vendors and service providers to widen their accepted deposit methods and add Ethereum. For example, price predictions show that it will equate to and even overseed the usage of Bitcoin in iGaming deals. Should you sell Ethereum Classic and buy Ethereum instead?
Ethereum Classic has also been in shambles as the expectations regarding Bitcoin's rise to $100K have turned to fears of stability at $40K. As previously, the growth of Bitcoin was expected to bring stability to other coins, including the Ethereum Classic, but it didn't happen. As a result of this change, there has been a continuous decline seen in the case of many coins.
Despite the ongoing difficulties for the market, there are chances of a market revival. If you buy the dip, there are chances that you might feel fortunate to have bought Ethereum Classic. As Bitcoin makes further gains, there are chances that the Ethereum Classic might also cross $50. The rise of this currency depends on a rally and stability in the value.
If we look at the forecast given by Wallet Investor, it shows that the Ethereum Classic price might reach $177.290 in the coming five years.
ETC Price History
Analyzing its performance for the past week shows that Ethereum Classic has fluctuated from $30 to lower values. The reason for this fluctuation is the ongoing situation of market instability due to geopolitical crises. Ethereum's classic price has shed more than $4 in a single week, which shows how it has been through hard times. As the market continues to be bearish, there are chances that the Ethereum Classic price might not be able to get the desired gains.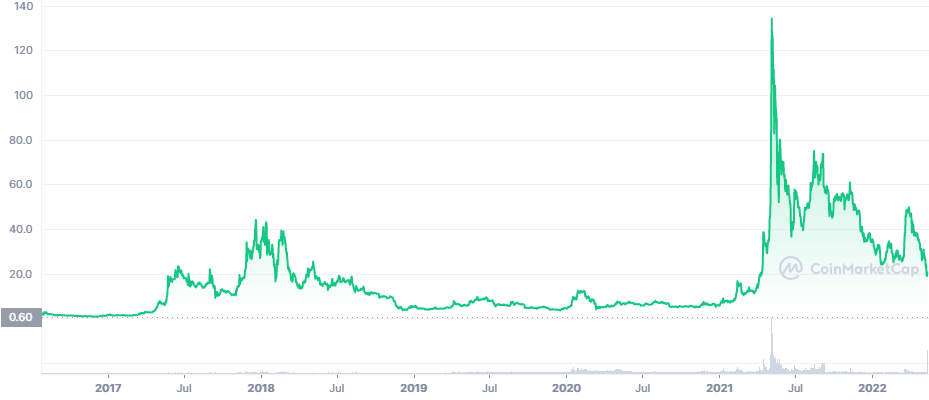 Ethereum classic current market status Source: CoinMarketCap.com
Ethereum Classic Technical Analysis
ETC fell sharply in the bear run of 2022 and started recovering in July. The preceding recovery pushed ETC to overbought territory in the second week of August. The William Alligator trend lines are breaking southwards, suggesting a further price drop; the MACD histograms indicate decreasing downward price momentum.
Ethereum Classic Price Predictions by Authority Sites
Wallet investor
Ethereum Classic's historical data index ranks 'A+' and would make an "excellent" one-year investment. Ethereum Classic is expected to grow 36.3% from its current price in one year. Ethereum Classic coin forecast for the coming two weeks is bullish, with the price rising from its current value to a future price of $5.350. Ethereum Classic will be a profitable investment option for the entire period. Ethereum Classic's return on investment in 2024 will be 74.7%, 2025 at 113.1%, 2026 at 151.8%, and 2027 at 189.8%.
TradingBeasts
Trading Beasts use linear and polynomial regressions on past performance to tell the Ethereum Classic price forecast in the crypto market. The Ethereum Classic market will be bearish for the second half of 2022, falling from its current price to $31.478 at the end of the year. The downward trend will continue into 2023 until August 2025 at $24.880. It will reach its lowest price in December at $30.120. Ethereum Classic's forecast for 2024 is bearish for the whole year, with prices falling from $29.942 in January to $27.415 in December. The bearish trend continues in 2025, trading at an average price of $27.126 in January and $24.329 in December.
Digital coin Price
Digitalcoin price provides a bullish Ethereum Classic forecast. Ethereum Classic virtual currency has been highly volatile this year and has had its value drop since January. Ethereum Classic is expected to rise and average at $44.41 in September. It will then range between $44.24 and $49.35 for the remainder of the year. Ethereum Classic forecast will be bullish for the entire period between 2023 and 2031. Ethereum Classic will trade at $62.43 in 2025, reaching a maximum price of $68.56 and a minimum price of $57.35. Ethereum Classic will sell at $151.70 in 2030, reaching a maximum price of $156.81 and a minimum of $147.20.
Cryptopolitan
Ethereum Classic Coin Price Prediction 2022
The Ethereum Classic coin price prediction for 2022 is $42.75. Many miners will be disenfranchised by the coming Ethereum merge later this year. ETC offers restitution to these miners after declaring they will forever run a proof of work consensus mechanism. Ethereum Classic's price will range from $41.23 to $46.34.
Ethereum Classic Price Prediction 2023
The Ethereum Classic tokens price prediction for 2030 is $63.30. ETC has received endorsement from Crypto influencers like Vitalik Buterin for staying grounded in the decentralized values of Blockchain. The Ethereum Classic price prognosis shows it will reach a high of $61.08 and a low of $71.63.
Ethereum Classic Coin Price Prediction 2024
The Ethereum Classic predictions for 2030 are $92.87. Proponents refer to ETC as the original Ethereum after the DAO hack that resulted in a fork. The continued upgrades on Ethereum will push crypto enthusiasts to ETC, which upholds the original values of Ethereum and Bitcoin. The Ethereum Classic price will range from $89.70 to $107.85.
Ethereum Classic Price Prediction 2025
The Ethereum Classic price prediction for 2025 is $132.35. While POW may be more decentralized than POS, investors will force the ETC ecosystem to take care of its Carbon emissions. Future sustainability goals will help attract investors to the platform. The Ethereum Classic price will range from $128.63 to $152.94.
Ethereum Classic Price Prediction 2026
The Ethereum Classic price prediction for 2026 is $184.96. According to Coinmarketcap, ETC set its all-time high on 6 May 2021 at $176.16. ETC will break the record in 2026, setting new support and resistance levels. According to our forecast, it will sell between $178.34 and $220.53 in the cryptocurrency market.
Ethereum Classic Price Prediction 2027
The Ethereum Classic price prediction for 2027 is $322.21. The ETC community is committed to being POW into the future; its resilience will make Ethereum the longest-serving blockchain alongside Bitcoin. Long blockchains are impossible to hack, so this will make ETC a favorite to WEB 3 developers. The Ethereum Classic price will reach a low of $271.95 and a high of $322.21.
Ethereum Classic Price Prediction 2028
The ETC's price prediction for 2028 is $382.89. Technological advancements will make the blockchain sustainable and cheaper to use. The innovations will attract more Dapp and Smart contract developers. It will reach a maximum price of $371.72 and a minimum price of $470.63.
Ethereum Classic Price Predictions 2029
The Ethereum Classic price prediction for 209 is $545.66. Industries will dare to change and adopt blockchain systems in the future. ETC will have a robust blockchain free from bad actors and censorship, making it a good pick for investors. The Ethereum Classic price changes will range from $530.34 to $637.72.
Ethereum Classic Price Predictions 2030
Ethereum Classic's price prediction for 2030 is $777.68. The growing community around ETC will increase its applications in the Metaverse, decentralized finance, and blockchain gaming. The community will use the ETC token to grow its demand and, therefore, its value. ETC's price will reach a low of $750.40 and a high of $906.45.
Ethereum Classic Price Predictions 2031
The Ethereum Classic price prediction for 2031 is $1163.35. ETC will eventually; cross the $1000 mark in 2031. At this price, it will still be unlikely to surpass Ethereum and reach its former glory. Proponents, however, suggest that the ETC core values will ultimately win the Ethereum race. The average forecast price will hit its highest price at $1132.24 and lowest at $1317.19.
Ethereum Classic Token Price Prediction by Industry Influencers
Michael Romero's recent Youtube update on Ethereum Classic points out the increasing ETC mining hashrate leading to the merge. The presenter anticipates little price action despite the hash rate spike.
The Ethereum Classic enjoys a strong community of supporters on Twitter and other crypto platforms. The price of ETC is projected to continue growing over the years as more crypto influences express positive sentiments about the token. The Twitter influencers indicate that the apparent increase in popularity of the Ethereum Blockchain will translate to the increased adoption of the ETC coin. Below is a tweet that indicates the influencers' sentiments on Industry Influencers https://twitter.com/MoonTigerSt/status/1549185680676425729?s=20&t=JQwj0KFIz_aQJaA0jIAlqg
The Ethereum Classic enjoys a strong community of supporters on Twitter and other crypto platforms. The price of ETC is projected to continue growing over the years as more crypto influences express positive sentiments about the token. The Twitter influencers indicate that the apparent increase in popularity of the Ethereum Blockchain will translate to the increased adoption of the ETC coin. Below is a tweet that indicates the influencers' sentiments on Industry Influencers https://twitter.com/MoonTigerSt/status/1549185680676425729?s=20&t=JQwj0KFIz_aQJaA0jIAlqg
Is ETC a sleeping giant? With over 450% volatility rate recorded in the last 24 hours, the Bearish Sentiment grew by 62% with the Bullish Sentiment registering a 31% growth. The Social Dominance for the ETC token saw a 33% spike and also rallied up by 35%. The momentum was with the bears, and the short-term market structure was also bearish after ETC crashed straight past the $21.6 support level two days ago.
Conclusion
ETC is an excellent investment in 2022, and most crypto investors should consider it. On the other hand, ETC has a good chance of exceeding its present ATH of $176.16 by 2022. ETC shows good trading volume, ranking #29 at the time of writing.
ETC hasn't had a very good year. It has undergone market collapses since hitting an all-time high of $176.16 on May 6, 2021, and it appears that anytime it gains speed, it falls down to Earth for a period. When it comes to investing in ETC, you'll need to be cautious, like with all cryptocurrencies. However, according to the ETC coin price prediction, it is highly likely that ETC will prove to be a good investment. It is always advised to do your own research and seek professional investment advice before investing.
As always, this investment advice depends on your personal risk tolerance and the ability to capture the opportunity at the right prices. We believe that in accordance with our Ethereum Classic price prediction, it will yield good returns over the following years. However, the market leaders – Bitcoin and Ethereum — will likely outperform Ethereum Classic price-wise.
The bullish ETC price prediction is based on several factors. The influencers depend on the core functionalities of the crypto project. According to the embedded tweet, it is clear that Ethereum Classic's success has a significant correlation with the success of Ethereum. The ETC coin price prediction thereof remains bullish following these analogies. Similarly, the technical analysis performed on ETC price charts also shows the expected growth of ETC to new higher highs from 2023 and beyond.
While trading or investing in Ethereum Classic, read our price prediction articles on other great altcoins such as Monero and Bitcoin Gold. To learn more, see our investing in Cryptocurrencies step-by-step guide. Also, remember to follow closely any upgrade news or software improvements on the ETC original blockchain.
Ethereum has overshadowed Ethereum Classic since the DAO hack resulted in a hard fork. The network has, however, been gaining attention from its growing hashrate leading to the merge. Ethereum Classic proponents are bullish as they point out the benefits of ETC over ETH.
While ETC is  "more decentralized" than ETH, it still poses an environmental hazard from mining activity. Future developments and upgrades will chart ETC's performance. ETC will recover as the year ends and will surge in 2023. Please do your own research before investing in any cryptocurrency.
Disclaimer. The information provided is not trading advice. Cryptopolitan.com holds no liability for any investments made based on the information provided on this page. We strongly recommend independent research and/or consultation with a qualified professional before making any investment decisions.