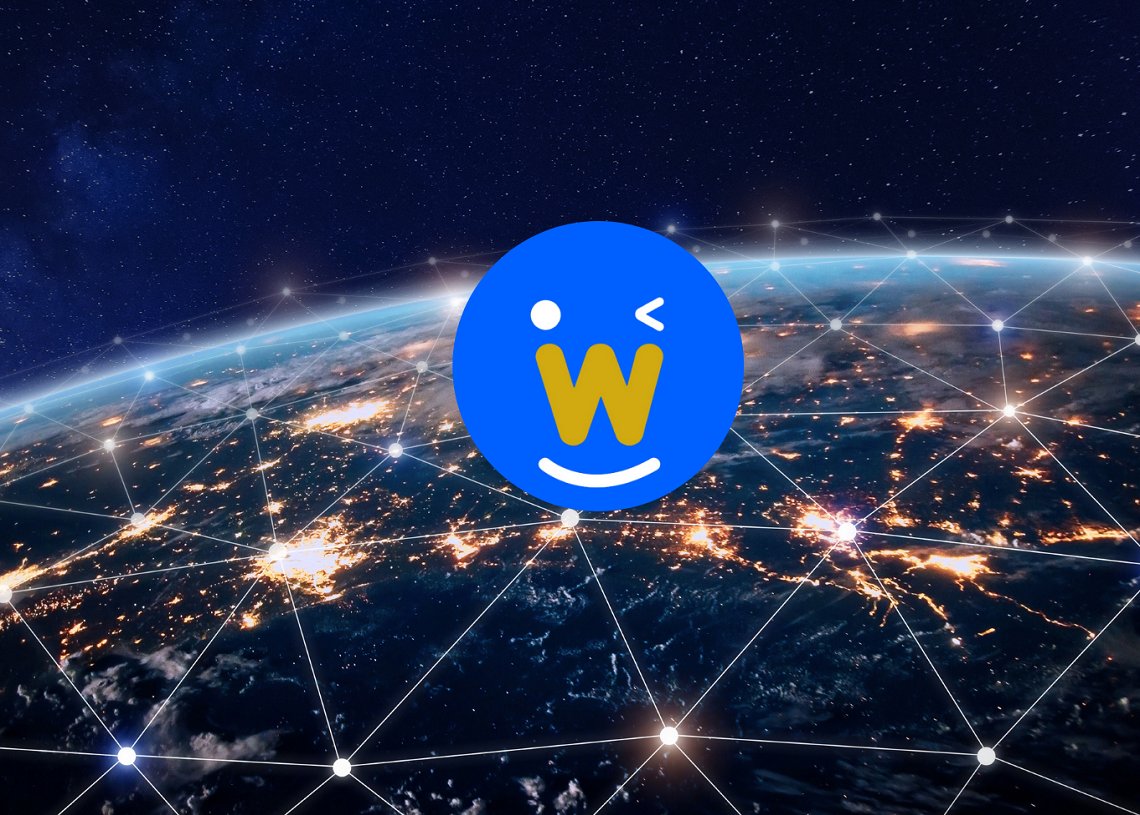 WINkLink Price Prediction 2023-2032: How High can WIN Rise?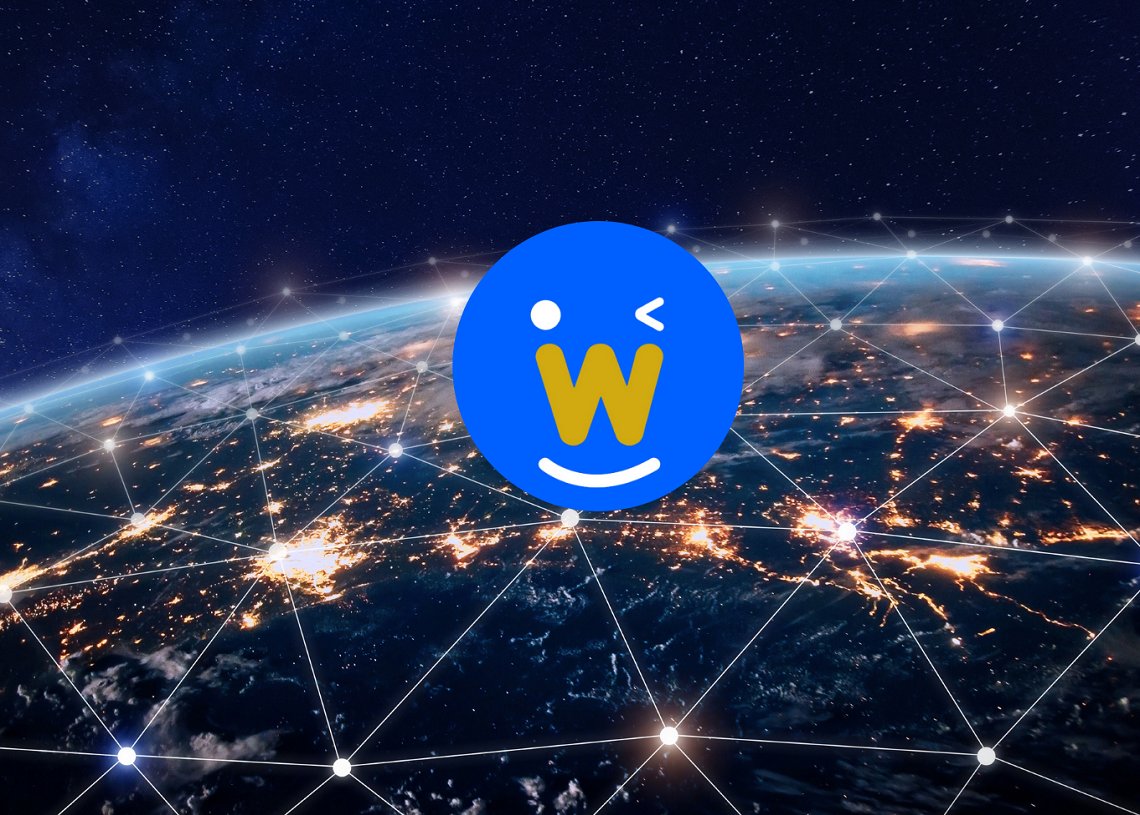 WINkLink Price Prediction 2023-2032
Cryptocurrency markets have gained a solid foundation in terms of usefulness and security. Here emerges the potential contribution of the WINkLink platform as a paradigm. Based on TRON's ecosystem, WINkLink provides users worldwide with comprehensive oracle solutions through its TRON-based TRC 20 native token, named WIN. Through this WINkLink Price Prediction, you can gain some insight into future price movements and leverage them.
WINkLink is a good investment option as traders can earn significant profit through trading WIN tokens. If the network keeps going like this for a few years and they have more investors, burning WIN can get some nice price actions. So, while others are busy debating which crypto can last, get to work on becoming part of this revolution — and grab the huge opportunities.
Let's get to know more about WinkLink and why it can be – or not – a good addition to your crypto investment portfolio.
How much is WIN worth?
Today's WINkLink price is $0.00006272 with a 24-hour trading volume of $13,085,687. WINkLink is up 3.84% in the last 24 hours. The current CoinMarketCap ranking is #320, with a live market cap of $60,306,526 USD. It has a circulating supply of 961,737,300,000 WIN coins and a max. supply of 999,000,000,000 WIN coins.
Also Read: Deflationary crypto coins: Can value increase by burning?
WIN Coin Price Analysis: WIN Token's Bullish Surge Targets $0.000636 Resistance, But Overbought Signals Spark Caution
TL;DR Breakdown
Caution warranted as WIN Token trades near upper Bollinger Band
WIN/USD price levels signal short and medium-term support
Indicators suggest a neutral to potentially bullish outlook
WINkLink(WIN) price analysis daily timeframe: Bullish Momentum Builds as WIN Maintains Above Key Price Levels
The current price of WIN/USD, $0.0000627, on the 1-day chart is trading above both the Conversion Line ($0.0000608) and the BaseLine ($0.0000616), which implies short-term and medium-term support, respectively. This configuration suggests a more neutral to potentially bullish outlook. The MACD's bullish crossover, in conjunction with the Ichimoku Cloud analysis, supports the presence of bullish momentum, which could drive the price upward.
WIN Coin price analysis on the 4-hour chart: Is WIN Token Due for a Correction After its Bullish Rally?
On the WIN/USD 4-hour chart, we observe the WIN Token's recent bullish trajectory from support at $0.0000588, with an aim to breach resistance at $0.000636. Key indicators include Bollinger Bands expansion, signifying increased volatility. However, WIN Token is currently trading at the upper Bollinger Band, indicating an overbought condition. The Relative Strength Index (RSI) at 58.63 shows buying momentum without extreme overbought status. While the recent bullish trend is notable, caution is advised due to potential overbought conditions. Traders should monitor for potential corrections or consolidation.
WINkLink Price Prediction 2023-2032
Price Prediction by Cryptopolitan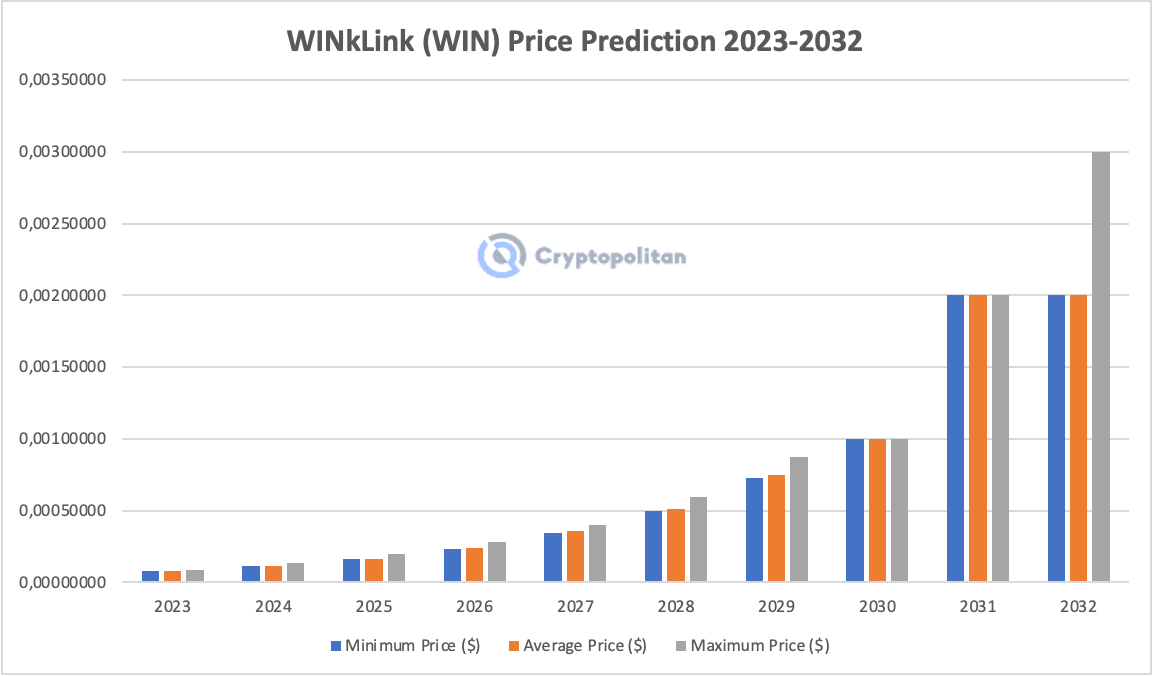 | | | | |
| --- | --- | --- | --- |
| Year | Minimum Price ($) | Average Price ($) | Maximum Price ($) |
| 2023 | 0.00007771 | 0.00008043 | 0.00008699 |
| 2024 | 0.00011365 | 0.00011687 | 0.00013742 |
| 2025 | 0.00016025 | 0.00016493 | 0.00019714 |
| 2026 | 0.00023072 | 0.00023732 | 0.00027963 |
| 2027 | 0.00034314 | 0.00035501 | 0.00040187 |
| 2028 | 0.00049658 | 0.00051078 | 0.00059421 |
| 2029 | 0.00072392 | 0.00074946 | 0.00087098 |
| 2030 | 0.001 | 0.001 | 0.001 |
| 2031 | 0.002 | 0.002 | 0.002 |
| 2032 | 0.002 | 0.002 | 0.003 |
WINkLink Price Prediction 2023
Per our WINkLink price prediction for 2023, the price of WINk is anticipated to reach a minimum price of $0.00007771, a maximum price of $0.00008699, and an average price value of $0.00008043.
WINkLink Price Prediction 2024
According to the WIN price forecast for 2024, the price of the token is expected to reach a minimum price of $0.00011365, an average trading price of $0.00011687, and a maximum price of $0.00013742.
WINkLink Price Prediction 2025
In 2025, the price of one WINkLink is predicted to trade at a minimum price of $0.00016025, a maximum price of $0.00019714, and an average price of $0.00016493.
WINkLink Price Prediction 2026
According to our WINkLink price prediction for 2026, the price of WIN is expected to reach a minimum price of $0.00023072, an average trading price of $0.00023732, and a maximum value of $0.00027963.
WINkLink Price Prediction 2027
In 2027, the price of WINkLink is expected to reach a minimum price of $0.00034314. Throughout 2027, WIN can reach a maximum price of $0.00040187 and a minimum price of $0.00035501.
WINkLink Price Prediction 2028
In 2028, the price of WINkLink is expected to reach a minimum price of $0.00049658. WIN might reach a maximum price of $0.00059421 and an average trading price of $0.00051078.
WINkLink Price Prediction 2029
In 2029, the WINkLink price is expected to be a minimum price of $0.00072392. According to our findings, the WIN price might reach a maximum price of $0.00087098 with an average forecast price of $0.00074946.
WINkLink Price Prediction 2030
According to our in-depth technical research of WIN price history, the price of WINkLink in 2030 is expected to be a minimum of $0.001. WINkLink is projected to hit a maximum price of $0.001 and an average trading value of $0.001 in USD.
WINkLink Price Prediction 2031
In 2031, the price of WINkLink is expected to be a minimum price of $0.002. Throughout 2031, the WINkLink might reach a maximum price of $0.002 and an average price of $0.002.
WINkLink Price Prediction 2032
In 2032, the WIN price forecast will be a minimum price of $0.002. According to our findings, the WIN price might reach a maximum price of $0.003 with an average price of $0.002.
WINkLink Price Prediction by CoinCodex
Over the next 5 days, CoinCodex's prediction for WINkLink (WIN) projects to a price of approximately $0.00006212. Looking ahead to the next month, the price of WINkLink (WIN) is anticipated to rise to around $0.00009428. In the span of the next 3 months, the price of WINkLink (WIN) is projected to be approximately $0.00007385. Over the next 6 months, the token is forecasted to reach around $0.00006099. In a year's time, it's expected that WIN may have a price of about $0.00007040. Fast forwarding to the year 2025, the price of WINkLink (WIN) is predicted to be approximately $0.00005635. By 2030, the price of WINkLink is forecasted to be around $0.00001240.
WINkLink Price Prediction by DigitalCoinPrice
According to Digitalcoinprice, the WIN token market is on track for significant growth in the coming years. Their projections indicate a price of $0.000136 by 2023, rising to $0.000227 in 2025 and $0.000287 in 2026. The outlook remains bullish through 2029, predicting a peak price of $0.000470 and a minimum of $0.000424. Most ambitiously, the token is forecasted to reach a value of $0.00121 by 2032.
WINkLink Price Prediction by Wallet Investor
Wallet Investor forecasts positive growth for the WIN token both in the short-term and long-term. Their 1-year prediction expects the token to rise to $0.0001082 USD, indicating optimism for the coming year. The 5-year forecast is more bullish, projecting a value of $0.000288 USD. 
WIN Overview
WINkLink (WIN) is a decentralized gaming and gambling platform built on the TRON blockchain. It allows for the creation and distribution of decentralized applications (dApps) to offer various gaming experiences. The platform's native token, WIN, serves multiple functions such as game participation, staking, and governance. WINkLink focuses on providing transparency, fairness, and scalability, aiming to attract a broad ecosystem of developers, users, and stakeholders.
WIN Price History
WINkLink (WIN) is a cryptocurrency associated with the WINk platform, which specializes in blockchain-based gaming and gambling applications. Like many cryptocurrencies, WINkLink's price has experienced significant fluctuations influenced by factors such as market sentiment, adoption, and overall trends in the cryptocurrency market.
Initial Launch & Early Price Movement (2019):
WINkLink made its debut as TRONbet (ANTE) in October 2018, operating on the TRON blockchain.
A rebranding took place in July 2019, transitioning from TRONbet (ANTE) to WINkLink (WIN).
Following the rebranding, WINkLink's price embarked on a journey marked by notable fluctuations in 2019.
Market Volatility (2020-2021):
Throughout 2020 and the early part of 2021, WINkLink's price continued to display volatility trading between $0.00005168 and $0.002687.
During this period, WINkLink achieved its all-time high (ATH) price point of $0.002965 and an all-time low of $$0.00004145.
Bearish Wave & Price Consolidation (2022-2023):
WIN experienced a bearish wave to the start of 2022 dropping from an opening price of 0.000465 in January to $0.0000996 in September.
The price action of WINkLink in 2023 has remained within a trading range of $0.0000588 to $0.000112.
WIN is currently trading at $0.0000628.
More on WINkLink (WIN)
What is WINkLink?
WINkLink, a Chinese company that offers blockchain-based smart contract solutions for enterprises, has built its own oracles system, which integrates with the blockchain to provide trustable, unpredictable, and verifiable processes. As a result of this integration between backward and forward link chains, in addition to the use of our oracle technology, users may enjoy an intuitive blockchain experience.
The price oracles of Winklink consumer-to-consumer financial services provider 'WINkLink' are stable and dependable. WINkLink has been there for eternity to provide these oracles solutions, whether real-world data on sports or weather, gaming or gambling, loan or collateral.
WINkLink is a decentralized oracle network that delivers more secure services and reliable data than traditional ones, unlike most existing oracles. A look at its roadmap should convince crypto observers that this team means business. WINk will vigorously develop the decentralized prediction market, as projected. This projection caused the WIN token trading volume to spike to 134% in 24 hours.
The execution of smart contracts is possible thanks to the entire framework of WINkLink, which serves as a decentralized oracle network. All sorts of bonds, interest rate derivatives, insurance segments, and warehouse data necessitate extensive information usage and access to APIs that report market pricing. WINkLink has been essential in the exchange of data, the connection between a particular contract and a specific oracle, and the accuracy of the data provided by the oracle.
WINkLink is a forward-looking company dedicated to building an open-source protocol for decentralized oracles and promoting their use in blockchain ecosystems. Furthermore, it will also be running its network on smart contracts by utilizing external data inputs to verify, supplement, and enhance agreements.
The impression of cryptocurrencies is beginning to change worldwide, mainly due to the emergence of WINkLink (WIN). The cryptocurrency market has developed its place in today's financial industry.
What does the WINkLink Oracle do?
WINkLink provides a large amount of data on crypto prices, which is contributed by secure, reliable, and independent nodes. All data is audited and filtered by WINkLink for credibility.
Feed stable and reliable price data to #DeFi platforms
Provide trusted off-chain data for more application scenarios
Accelerate #TRON ecosystem building etc.
WINkLink expansion initiatives
Despite being a recently established cryptocurrency, Winlink's success has penetrated across the DeFi ceiling. When JUST NFT Fund's creator, Justin Sun, announced the exciting news of WINkLink, the first comprehensive oracle project launched on TRON and partnering with JUST NFT Fund, one of the critical milestones was achieved.
The collaboration will light a fire under the cryptocurrency market, expanding usage cases in the NFT (non-fungible token) space. The debut of WIN, WINkLink's token, in the area of NFT is signified by this partnership. This has a significant effect on the Win token's annual percentage yields.
What are the benefits of using WINklink?
The use of decentralized oracles can help to reduce the risk of fraud and manipulation. Additionally, the use of smart contracts can help to automate processes and reduce costs.
The main benefits of using Winklink are:
The data collected by the CDG is verified and validated by the DON, which reduces the risk of errors and fraud.
The CDG can collect data from multiple blockchain networks, which allows for increased scalability.
The use of smart contracts eliminates the need for intermediaries, which reduces costs.
Conclusion
One of the first play-to-earn platforms in the crypto market was WINkLink, and in 2022 a number of additional platforms entered the picture. This implies that when compared to more modern platforms, WINkLink could appear a little dated. As platforms like Decentraland and GALA draw users who might not otherwise be interested in cryptocurrencies, WINkLink might come to seem like a relic of a bygone, less technologically advanced age.
Investors are optimistic about the future of WIN as the digital currency has a lot of potential. The project has been recognized by major institutions and has a very strong development team. WINkLink might potentially reach new highs in the next few years as the market conditions are favorable for altcoins. However, investors should be cautious and own research before investing in any digital currency.
There will likely be more increases in the worth of WINkLink due to the scarcity effect. WINkLink's future is greatly contingent on how the cryptocurrency market does as a whole. Be sure you're employing the best strategy while investing in WIN. The more people that want to buy into WINkLink, the higher the price will go.
Throughout 2028, the WINkLink price might reach a maximum price of 0.00059421 with an average trading price of $0.00051078. However, due to the ephemeral nature of WINkLink's supply and demand market, its price is highly unstable.
The key to success for WINkLink will be its ability to adapt and change with the times. If it can stay ahead of the curve, then there's no reason it can't continue to be a significant player in the industry. However, if it fails to do so, then it may well be left behind by the competition. WINkLink is a high-risk investment, as the asset price is highly volatile and subject to fluctuations.
How does WINklink work?
The WINklink network consists of two main components: the Cross-Chain Data Gateway (CDG) and the Decentralized Oracle Network (DON). The CDG is responsible for collecting data from different blockchain networks and making it available to smart contracts. The DON is a decentralized network of nodes that verify and validate the data collected by the CDG.
Where can I buy WIN tokens?
WIN tokens can be bought on significant cryptocurrency exchanges, such as Binance, Huobi, and OKEx
Is WINkLink profitable?
Yes, the WINkLink is a secure and stable online payment system that offers more than just Bitcoin. Because it's still relatively new, its performance will be very successful, perhaps for at least five years. The price change of the WINkLink may be tracked effectively using the WINkLink price forecast. Investors are advised to trade upon the price forecasts in the future.
Is WINkLink safe to use?
The WINkLink cryptocurrency investment platform is a unique new technology that has been created to be user-friendly and secure, as well as reliable data for investing in a variety of assets, from traditional crypto dinosaurs to more recent coins. The price on the price chart, which shows a positive WINkLink price prediction, is optimistic. The trading community is very active in the case of WINkLink.
Is WINkLink price going to rise?
Due to large fluctuations, it can be assumed that cryptocurrencies will fluctuate within a range. However, the current trend is that most currencies are experiencing a positive price change compared to yesterday. Therefore, if you buy this currency, you will probably find a reasonable price for a buying opportunity.
What is the WINkLink investment strategy?
Many knowledgeable investors employ traditional strategies to identify prospects and then invest in those currencies that show significant potential interest levels. According to our predictions, a smart investor will buy a cryptocurrency when it is cheap, as this currency has proven to be positive in terms of price change over time.
Disclaimer. The information provided is not trading advice. Cryptopolitan.com holds no liability for any investments made based on the information provided on this page. We strongly recommend independent research and/or consultation with a qualified professional before making any investment decisions.