Sui Price Prediction 2023-2032: Is SUI A Good Investment?
Sui Price Prediction 2023-2032
As the cryptocurrency market gains momentum and traders search for potential investment opportunities, Sui (SUI) has emerged as a coin, capturing significant attention. SUI operates on a smart contract platform maintained by a permissionless group of validators, contributing to the network's security and functionality.
The native token, SUI, serves as a means of payment for gas fees. At the same time, users can stake their SUI tokens with validators in a Delegated Proof-of-Stake model, enabling active participation in consensus and potential rewards. SUI's notable feature lies in its ability to achieve parallel agreement on independent transactions, leading to enhanced scalability.
While predicting the future price of any cryptocurrency is challenging, SUI's unique characteristics and growing interest suggest the potential for increased demand and value. Traders and investors are advised to stay informed about the project's developments, market trends, and factors influencing the broader cryptocurrency landscape to make well-informed decisions regarding SUI's price trajectory.
Here's a bit of trivia, in case you're wondering: Sui or mizu, 水, meaning "Water" in Japanese, is one of the elements in the Japanese system of five elements and represents the fluid, flowing, formless things in the world. One can imagine how this coin was likewise named, but Sui can also mean many related things.
The Current Price of SUI
Today's live Sui price is $0.5732, with a 24-hour trading volume of $102,148,128. Sui is up 4.81% in the last 24 hours. The current CoinMarketCap ranking is #77, with a live market cap of $553,627,755. It has a circulating supply of 654,546,806 SUI coins and a max. Supply of 10,000,000,000 SUI coins.
Sui price analysis: SUI drops to $0.5732 as bears take charge
Sui price analysis shows a bearish trend
SUI has formed a descending trend on the daily chart
Support for SUI/USD is seen at the $0.4750 mark
The Sui price analysis on 28th November shows a bearish trend throughout the day. The price of SUI has dropped to $0.5732, which is around 4.81% lower than its opening price for the day. The bears have been in control of the market as the selling pressure has been high.
Resistance and support levels have been identified on the hourly chart. The resistance is seen at $0.6862, and support for SUI/USD is seen at the $0.6000 mark. The bears are pushing the price down, but there could be a potential reversal if buyers come in to support prices near these key points.
SUI/USD 1-day price chart: SUI forms a descending pattern as bearish persists
The daily chart for the SUI/USD pair shows a descending pattern. The bears have pushed the prices down and gained momentum over the past few days. This indicates a potential price decrease as sellers move into the market.
SUI/USD 24-hour chart, By: TradingView
The MACD indicator has remained flat, a neutral sign for the SUI/USD pair. The RSI also decreased to 50 index as prices declined, indicating sellers are in control and the market could drop further. On the Bollinger band indicator, SUI has faced a rejection at the upper band, which hints at a potential bearish move in the short term.
SUI/USD 4-hour price chart: Bears and Bulls battle for control
According to the hourly chart, the bears and bulls are in a tug of war as they fight for control. The SUI/USD pair trades within a descending triangle pattern with the resistance at the $0.6862 mark and support near the $0.6000 level.
As the bulls and bears battle for control, traders should monitor these key levels to see how the market will move. If buying pressure increases near the $0.6000 mark, SUI/USD could form a bullish reversal pattern and push higher. However, if selling pressure continues, the prices could continue to drop.
SUI/USD 4-hour chart, By: TradingView
The MACD indicator has turned bearish, hinting at sustained selling pressure in the market. The RSI is heading toward the 30 index, indicating that the bears have taken over the market. In addition, SUI is trading alongside the lower band of the Bollinger band, showing that the market could see a potential reversal soon.
What to expect from Sui price analysis
Overall, Sui price analysis shows a bearish market sentiment as selling pressure is high. However, traders should monitor key support and resistance levels to watch for any potential bullish reversals. The MACD indicator has turned bearish, but the RSI is still trading in positive territory, hinting at a potential recovery.
Recent News on Sui Network
Sui Blockchain Enhances Web3 Gaming with Space and Time's ZK Tech
In a groundbreaking move for Web3 gaming, Sui Blockchain has partnered with Space and Time, backed by tech giant Microsoft, to provide developers with advanced zero-knowledge-proof (ZK) tools. This collaboration is set to revolutionize the gaming sector on the Sui network, heralding a new chapter for decentralized applications.
Space and Time's CEO, Scott Dykstra, shared with Decrypt the significant potential of these ZK tools, which allow for the verification of complex queries and the integration of in-game and on-chain activities. Introducing Proof of SQL by Space and Time is a testament to this potential. This technology allows for the real-time indexing of Sui blockchain data, combining it with off-chain data to ensure transparent and verifiable gaming experiences.
A representative from the Sui Foundation underscored the necessity for applications to be verifiable across the board to align with Web3's decentralized ethos. Space and Time's technology is instrumental in achieving this goal, offering a new benchmark for the industry.
The partnership is a strategic move for Sui, which is already at the forefront of blockchain gaming innovation. By adopting Space and Time's verifiable computing layer, Sui provides developers with the necessary resources to create intricate and transparent reward mechanisms within their games.
Integrating Space and Time's ZK technology with Sui's blockchain infrastructure is a promising development for decentralized gaming. This synergy is expected to spur the expansion of Web3 gaming and reinforce Sui's role as an innovator in the field. The gaming community is looking forward to the positive changes this alliance will bring, marking a milestone in blockchain and gaming's future.
Sui's Innovative Mnemonic Compression Enhances Crypto Security and Accessibility
Mysten Labs' co-founder, Kostas Chalkias, has unveiled a groundbreaking approach to compressing mnemonic formats that are set to revolutionize crypto security. This pioneering technology reduces the conventional 12-word mnemonic phrase to a streamlined 8-word version, all while preserving the vital element of entropy. Additionally, Sui plans to offer an API to simplify the transformation from 12 words to 8 words, enhancing the usability of this compressed mnemonic format.
The potential applications of this compressed mnemonic format in crypto security are substantial. These phrases are critical in safeguarding crypto assets, private keys, and sensitive data. The ability to reduce the number of words while maintaining entropy levels is a significant leap forward. Users can now enjoy heightened security without the hassle of managing a lengthy mnemonic phrase.
Chalkias emphasizes the collaborative nature of this project, with the algorithm, dictionary, and API for the 8-word conversion currently under development and open for feedback and improvement. This collaborative approach ensures that the final product will benefit from the collective insights and expertise of the blockchain and crypto community.
Sui, the platform driving this innovative development, is described as a "first-of-its-kind Layer 1 blockchain and smart contract platform." Built from the ground up, Sui aims to provide fast, private, secure, and accessible digital asset ownership for everyone. Sui's unique features, such as its object-centric model based on the Move programming language, offer parallel execution, sub-second finality, and robust on-chain assets. The platform's horizontally scalable processing and storage capabilities deliver unmatched speed at a low cost, making it a significant advancement in blockchain technology.
Sui's introduction of a compressed mnemonic format marks a pivotal moment in the evolution of blockchain technology. It enhances the security of crypto assets and sensitive information while ensuring accessibility and usability for all users. Sui's commitment to open development and feedback underscores its dedication to community collaboration and innovation, promising a brighter future for crypto security.
Innovative zkLogin by Sui Foundation Revolutionizes Web3 Accessibility
The Sui Foundation has recently introduced zkLogin, a groundbreaking Web3 authentication tool designed with developers in mind. This initiative aims to streamline user authentication within decentralized applications (DApps) by enabling the integration of existing accounts from renowned platforms like Google, Facebook, and Twitch. The essence of zkLogin is its unwavering dedication to maintaining user privacy, utilizing zk-SNARK technology to secure sensitive user information, thereby presenting a viable alternative to conventional login avenues.
This innovation aligns seamlessly with the fundamental principles of blockchain and the Web3 environment, prioritizing user confidentiality and security. With zkLogin, users can conveniently immerse themselves in the Sui ecosystem without needing separate wallet installations or managing intricate mnemonic phrases, promoting broader Web3 adoption. The immediate availability of zkLogin to Sui developers signifies that it can be integrated swiftly into their DApps, offering a secure and user-friendly authentication option.
Launching zkLogin on the mainnet is pivotal in merging traditional web services with decentralized platforms. It symbolizes the evolving nature of blockchain technology, with innovations like zkLogin pioneering a more user-centric and accessible Web3. This progress highlights the Sui Foundation's relentless pursuit to mold a more inclusive and intuitive Web3 domain.
Sui Price Predictions 2023 – 2032
Price Prediction by Cryptopolitan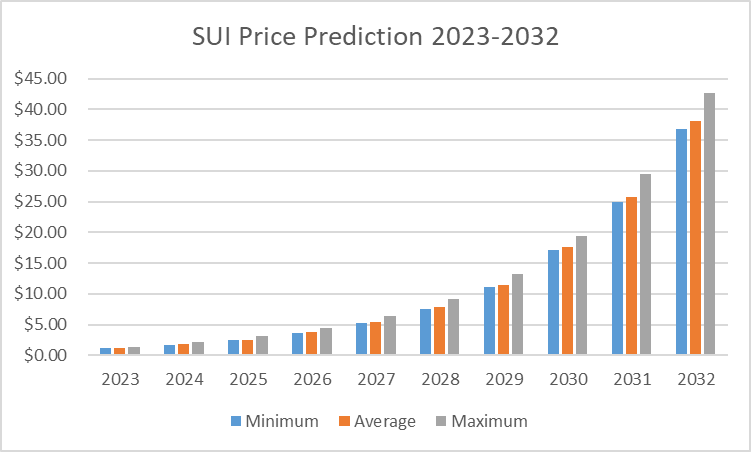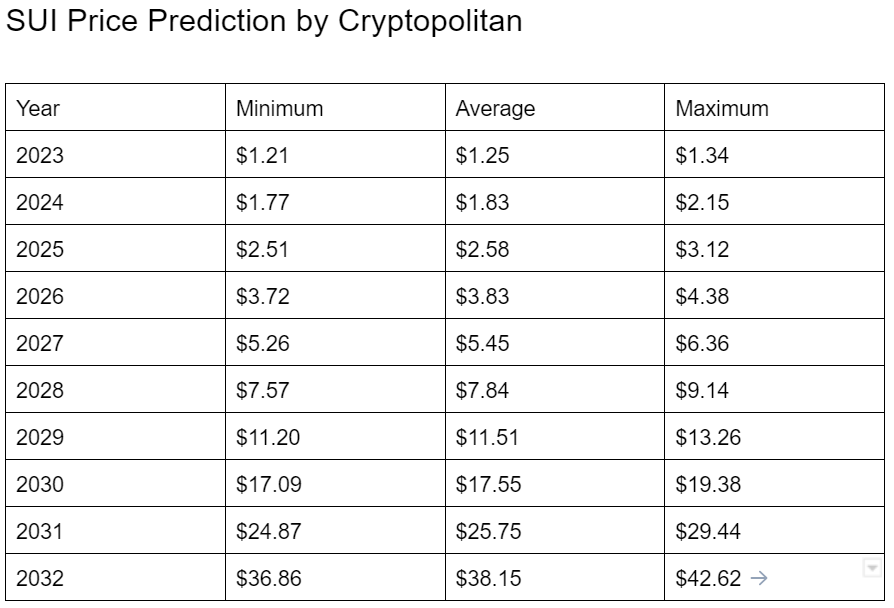 Sui Price Prediction 2023
The SUI coin price prediction indicates that the token started trading a few days ago at $0.1 and quickly rose by 1800% to reach a high of $2 on the same day. While there has since been a slight decrease in the token's value, it still remains strong, suggesting that a bullish trend may return. Our forecasts suggest SUI token could rebound and attain a minimum price of $1.21 and an average value of $1.25, with a maximum price of $1.34.
Sui Price Prediction 2024
In 2024, the SUI crypto price prediction for 2024 estimates a minimum price of $1.77 and an average trading price of $1.83.The price of SUI could attain a maximum price of $2.15 by the end of the year.
Sui Price Prediction 2025
The Sui coin price forecast for 2025 is SUI to trade at a minimum price of $2.51 and an average price of $2.58, with a maximum price forecast of $3.12.
Sui Price Prediction 2026
Our SUI price forecast for 2026 anticipates that the coin may trade at a minimum price of $3.72 and an average value of $3.83, with a maximum price of $4.38.
Sui Price Prediction 2027
In 2027, our SUI token price prediction anticipates the price of SUI to reach a minimum price of $5.26 and an average price of $5.45, with a maximum price of $6.36.
Sui Price Prediction 2028
Our 2028 SUI price prediction estimates SUI coins to trade at a minimum price of $7.57 and an average trading price of $7.84, with a maximum value of $9.14 by the end of the year.
Sui Price Prediction 2029
The Sui crypto price prediction for 2029 suggests the SUI token will continue on a bullish note and could attain a maximum price of $13.26 and an average forecast price of $11.51.The least price forecast is estimated to be $11.20.
Sui Price Prediction 2030
In 2030, the SUI price prediction suggests the price will reach a minimum value of $17.09 and an average value of $17.55, with a maximum forecast price of $19.38 by the end of the year.
Sui Price Prediction 2031
The SUI price forecast for 2031 estimates the SUI token to reach a minimum price of $24.87 and an average trading price of $25.75, with a maximum price of $29.44.
Sui Price Prediction 2032
The SUI token price prediction for 2032 estimates the price of SUI to attain a minimum price of $36.86 and an average price of $38.15.The price of SUI is expected to attain an all-time high of $42.62 by the end of the year.
Sui Coin Price Prediction by Coincodex
Coincodex has a bearish analysis of the Sui Coin price for May. They predict the price will decrease by -4.57% and reach $ 0.752509 by June 12, 2023. According to Coincodex, the current Sui coin price prediction is bearish as the general Sui Crypto price prediction sentiment is bearish, with 4 technical analysis indicators signaling bullish and 14 signaling bearish signals. The long-term prediction for the SUI tokens is bearish, and they predict a gradual price decline over the next few months.
SUI Coin Price Prediction by DigitalCoinPrice
DigitalCoinPrice is bullish on SUI's long-term and short-term projections, estimating the SUI coin could peak at $1.61 soon. At the moment, Sui is trading at $0.76, which could peak at $161 soon. Based on Sui's price fluctuations they have predicted that the price of SUI would grow by -$16.11% at the beginning of July 2023. During the mid of July, the price is expected to rise by a maximum of $111.12%. By the end of the month, SUI is likely to grow by $55.67%.
DigitalCoinPrice's long-term SUI price forecast is bullish as they forecast a maximum price of $3.42 in 2026 while by 2032, SUI could reach $14.75.
SUI Coin Price Prediction by Price Prediction net
PricePrediction.net has a relatively bullish outlook on Sui's future price, anticipating a maximum price of $1.34 in one year. The market expert continues to point out that Sui has the potential of becoming a widely adopted cryptocurrency and could possibly reach a 5-year high of $6.36, with a maximum price target of $42.62 by 2032.
SUI Price Prediction by Market Experts
SUI Coin is the native token of the Sui network, a Layer-1 smart contract platform known for its scalability and low latency. The platform utilizes a unique object-centric data model and Move's strong ownership types to achieve parallel agreement on transactions, providing fast finality and on-chain asset capabilities.
Market experts have varying opinions on the future price of SUI coins. According to Cilinix Crypto, a popular altcoin analyst channel, SUI could reach $1.0 within the next 12 months. The market analyst has given a technical and fundamental analysis of the SUI project and concluded that it has all the right features to make it a successful cryptocurrency. They predict that as adoption grows and more developers build on the Sui network, the demand for SUI Coin may increase, potentially leading to price appreciation.
SUI Coin Price History
Sui token price action since the launch shows on May 08, 2023, The SUI token opened at $1.249742, reached a high of $1.251327, and closed at $1.151478. The trading volume was $700.26 million, with a market cap of $605.75 million. May 15, 2023: The token experienced a surge, opening at $1.160171 and reaching a high of $1.248291. It closed at $1.207195, with a trading volume of $837.48 million and a market cap of $640.74 million.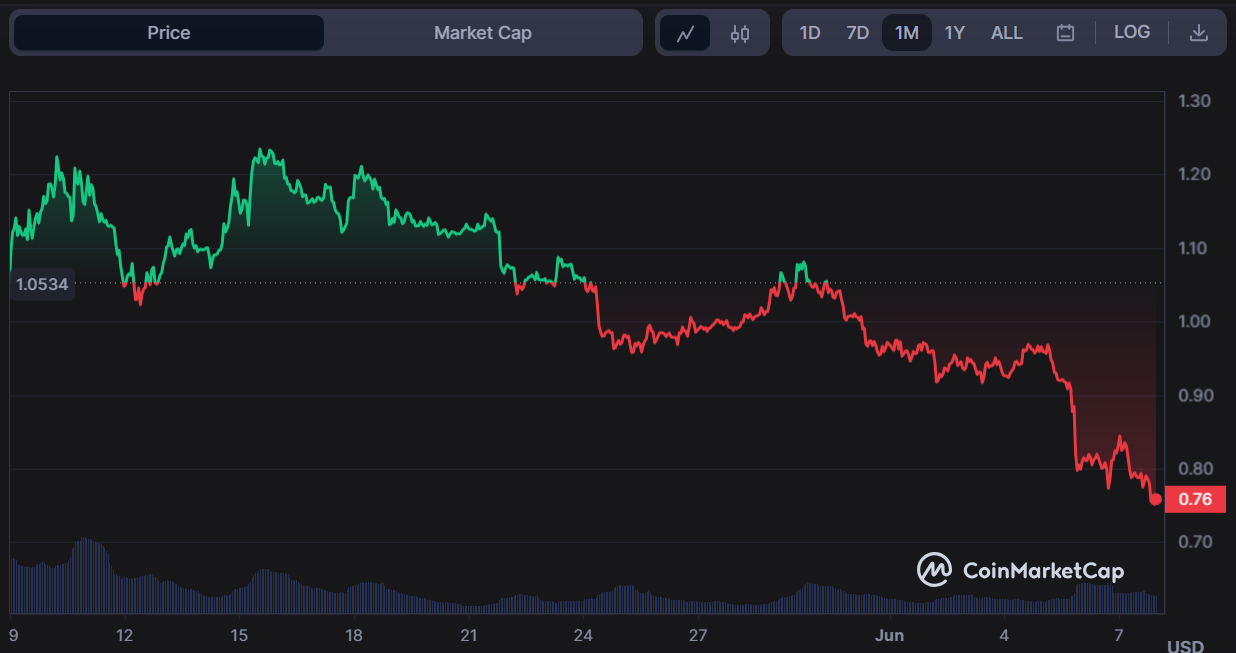 May 24, 2023: The price declined, opening at $1.053851, with a low of $0.959751, and closing at $0.980074. The trading volume was $440.45 million, with a market cap of $523.55 million. May 31, 2023: The SUI token continued its downward trend, opening at $1.003051 and closing at $0.976384. The trading volume was $346.47 million, with a market cap of $513.81 million. June 06, 2023: The token saw further fluctuations, opening at $0.818737 and reaching a high of $0.848444. It closed at $0.832229, with a trading volume of $619.20 million and a market cap of $429.55 million.
Does Sui Layer-1 have future potential? Learn more here.
More on Sui/SUI
What is the SUI token?
Sui is a revolutionary Layer 1 blockchain and smart contract platform focused on speed, privacy, security, and accessibility. It utilizes an object-centric model based on the Move programming language, enabling parallel execution and sub-second finality. With scalable processing and storage capabilities, Sui offers fast and cost-efficient transactions for various applications.
Backed by industry leaders like Andreessen Horowitz, Sui has gained attention in the trading community, challenging Ethereum's dominance. Its native token, $SUI, has seen significant growth since its presale, reaching a trading price of $1.14 from $0.10. Although trading volume has decreased, the token still maintains substantial daily transactions.
The Sui team comprises experts from Meta's Diem/Libra project, contributing to its widespread industry support. Notable investment firms have also backed Sui, solidifying its credibility. With a market cap of $602 million, Sui aims to capture market share from Ethereum by offering enhanced security, scalability, and on-chain data storage for applications like play-to-earn games, metaverse development, and decentralized finance (DeFi).
Sui's potential as an "Ethereum Killer" has attracted attention in the smart contract sector. Its roadmap and strong community support position the SUI token for long-term potential. Major exchanges like Binance and KuCoin have listed SUI, and upcoming listings and community investments indicate further growth prospects.
Recent developments in the Sui ecosystem
SuiNetwork has partnered with Mirror World to facilitate the seamless integration of commerce experiences, including NFT trading, within various applications. This collaboration aims to foster innovation and provide developers with expanded project possibilities.
Additionally, SuiNetwork has recently launched KeepSakeMarket, an NFT marketplace designed specifically for Web3 gaming. KeepSakeMarket prioritizes utility and discoverability, aligning with the core values of SuiNetwork's fast, private, secure digital asset ownership. This new marketplace opens up exciting opportunities in the gaming industry, creating a platform for enhanced experiences and interactions.
SUI Name Service has been launched, offering a decentralized naming service that allows users to register a .sui name for their wallet addresses. These unique .sui names serve as convenient identifiers on the blockchain, making it easier for users to remember and share their addresses. To secure your .sui name, you can visit the SuiNS website, connect your wallet, choose a desired name, and complete the registration process by paying the necessary fee. Once registered, your .sui name enables you to send and receive assets, sign transactions, and access decentralized applications (dapps).
The Sui X KCLabs Summer Hackathon is a highly anticipated event scheduled for June 10-11, 2023, at the KCLabs Innovation Center in Kansas City, Missouri. This two-day hackathon allows students from all backgrounds and skill levels to unite and showcase their creativity by building innovative projects using cutting-edge technology.
BlockVision, a prominent player in the industry, has recently introduced its Indexing APIs on the Sui network. These APIs offer developers convenient access to comprehensive information about NFTs and coins on the Sui blockchain. BlockVision aims to facilitate the seamless integration of Sui's data into various applications by simplifying integration and enhancing data retrieval efficiency. The provided APIs include features such as Account's Collections, Single Collection Info, Collection Top Holders, Collection NFT List, and Coin Holders.
SUI Token Unique Features
Sui stands out from other blockchain projects due to its unique features and architecture that address common challenges faced by earlier generations of blockchains.
One of the distinguishing factors of Sui is its horizontal scaling capability. Unlike earlier blockchains that experience bottlenecks, Sui enables parallel processing of transaction groups. This approach eliminates congestion by distinguishing between various objects, resources, accounts, and components within the network.
Composability is another standout feature of Sui. Unlike most blockchains, Sui allows the direct passing of assets, such as non-fungible tokens (NFTs), as function arguments. Its object-centric approach also enables using more complex data structures and the ability to store assets within these structures or the assets themselves.
Sui's sparse replay feature offers a practical advantage by providing a ledger of relevant transactions without the need to track unrelated interactions with decentralized applications (dApps). This optimization reduces the cost of querying on-chain data. It allows products on the Sui platform to efficiently track the evolution of objects without extensive data retrieval from the Merkle tree.
On-chain storage is another distinguishing aspect of Sui. By directly storing assets as objects on the blockchain, Sui avoids the need for Merkle tree indexing. Combined with conventional means like IPFS (InterPlanetary File System), this approach addresses the challenge of on-chain storage and enables cost-effective direct updates of assets on-chain.
In addition to these technical features, the Sui project offers a range of initiatives and support to enhance its ecosystem. The Sui Move smart contract programming language is designed to be expressive, composable, and secure, catering to developers of all skill levels. The Sui Foundation provides educational resources, grants, and programs to foster a supportive and collaborative developer community. The project actively engages with the academic and research community to advance web3 technologies. Furthermore, the strong collaboration and support within the Sui community contribute to the growth and innovation within the decentralized technology space.
SUI Token Founders
Sui, the innovative blockchain project, was initially established by a team of accomplished individuals with significant experience and expertise in the crypto industry. The founders of Sui include Evan Cheng, Adeniyi Abiodun, Sam Blackshear, George Danezis, and Kostas Chalkias. These individuals were former executives and lead architects at Meta's Novi Research, where they played instrumental roles in developing the Diem blockchain and the Move programming language. Their collective knowledge and insights have been instrumental in shaping Sui into a groundbreaking platform with unique features and capabilities.
SUI Network Security and Scalability Measures
Sui ensures the security of its network through a combination of consensus algorithms and innovative technologies. Initially, at the time of launch, the default consensus algorithms used by Sui were Tusk and Narwhal. However, in August 2022, Bullshark replaced Tusk as the primary option. This change was implemented to address latency issues and to enable validators with lower processing speeds to participate actively in the project. Nevertheless, Tusk can still be utilized by updating the source code.
Regarding network security, Narwhal serves as a mempool within the Sui ecosystem. It ensures that the data submitted to the consensus mechanism remains available and accessible. On the other hand, Bullshark (or Tusk) plays a crucial role in organizing the data to be read by the consensus engine. This arrangement is part of the directed acyclic graph (DAG) mempool, one of Sui's innovative features.
The combination of these consensus algorithms and the DAG mempool contributes to the overall security of the Sui network. Additionally, Sui's innovative scaling solution enhances its ability to efficiently handle a high volume of transactions. The blockchain is anticipated to achieve transaction speeds exceeding 297,000 transactions per second.
SUI Tokenomics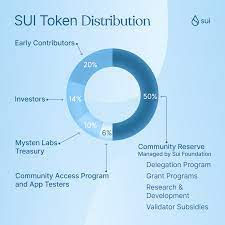 The SUI tokenomics are designed to support the ecosystem and incentivize participation within the Sui network. The following details are based on the information provided in the official Sui documentation.
Token Supply and Allocation
– Total Supply: The total supply of SUI tokens is capped at 10 billion tokens.
– Initial Distribution: The initial distribution of SUI tokens includes allocations for multiple purposes, such as token sales, ecosystem development, team, advisors, and community incentives.
– Community Incentives: A significant portion of the token supply is dedicated to community incentives, fostering engagement, and rewarding active participation within the Sui ecosystem.
Token Utility
– Governance: SUI token holders can participate in the governance of the Sui network. They can propose and vote on protocol upgrades, parameter changes, and other key decisions.
– Staking and Validation: SUI tokens can be staked by network participants who wish to become validators and contribute to the security and consensus of the Sui network. Validators are rewarded with additional SUI tokens for their services.
– Network Fees: SUI tokens are the native currency for transactions and interactions within the Sui network. Users must pay network fees in SUI tokens for executing smart contracts, transferring assets, and utilizing platform features.
Token Distribution and Vesting
– Token Sale: SUI tokens may be distributed through public and private token sales to raise funds for the development and growth of the Sui ecosystem.
– Vesting Periods: Depending on the allocation, certain token holders, such as team members and advisors, may be subject to vesting periods to ensure a responsible distribution of tokens over time.
Ecosystem Development
– Ecosystem Fund: A dedicated portion of the token supply is allocated to an ecosystem fund, which is utilized to support the development of the Sui network, foster partnerships, and drive innovation within the ecosystem.
– Grants and Support: The Sui Foundation provides grants and support programs to developers, researchers, and projects that contribute to advancing and adopting the Sui ecosystem.
Please note that the specific details of SUI tokenomics, including token distribution percentages, vesting schedules, and governance mechanisms, may be subject to change. It is advisable to refer to the official Sui documentation and resources for the most up-to-date and accurate information.
Where and how to buy SUI tokens
To buy SUI tokens, you can follow these steps:
Binance: Visit the Binance cryptocurrency exchange platform and create an account. Complete the necessary verification steps as required. Once your account is set up and funded, you can search for the SUI token on the trading platform. Place a buy order for SUI using the desired trading pair, such as SUI/BTC or SUI/ETH, and specify the SUI tokens you want to purchase. Review the details and confirm the trade to acquire SUI tokens.
Bybit: If you prefer trading on Bybit, sign up for an account on the Bybit platform. Complete any required verification procedures and deposit funds into your account. Navigate to the trading section and search for the SUI trading pair. Choose the trading pair that suits your preference, such as SUI/BTC or SUI/ETH. Set the order type, enter the amount of SUI tokens you wish to buy, and review the order details. Finally, execute the trade to acquire SUI tokens on Bybit.
KuCoin: Create an account on the KuCoin exchange and complete the necessary verification process. Deposit funds into your account, ensuring you have sufficient funds to buy SUI tokens. Once your account is funded, navigate to the trading section and search for the SUI token. Choose the trading pair that suits your needs, such as SUI/BTC or SUI/ETH. Set the order type, specify the amount of SUI tokens you want to purchase, and review the order details. Confirm the trade to buy SUI tokens on KuCoin.
Conclusion
The SUI Token has shown significant growth and gained popularity in a short period of time. The Sui project has launched various initiatives, including a mainnet and a DeepBook, positioning itself as a promising project with a strong community. While our analysis suggests that SUI Coin is a potentially good long-term investment, it's important to remember that the cryptocurrency market is highly volatile and subject to rapid changes. Proper risk management and thorough research are essential when considering any investment in cryptocurrencies.
As for the SUI Token reaching $10, our long-term prediction indicates that it could potentially reach that target by 2025 if current growth trends continue. However, it's important to note that crypto markets are unpredictable, and sudden price fluctuations can occur. The success of the Sui project and the achievement of price targets will depend on factors such as adoption, community support, market conditions, and overall cryptocurrency trends.
While the SUI Token has attracted attention and has support from major exchanges, it's important to exercise caution and make informed decisions. The SUI Token's performance should be monitored closely, and investors should consider their risk tolerance and investment goals before making any decisions.
What is SUI?
SUI coin is a cryptocurrency that serves as the native token of the SUI network. It enables users to participate in the SUI ecosystem, including contributing to the network's governance, staking, and earning rewards
How can I get SUI coins?
You can obtain SUI coins through various methods, such as participating in the SUI token sale, purchasing them from supported cryptocurrency exchanges, or earning them through staking and participating in the network's activities.
What can I do with SUI coins?
SUI coins have multiple use cases within the SUI ecosystem. You can stake your SUI coins to secure the network and earn rewards, participate in the governance process by voting on proposals and shaping the network's future, or use them for various services and products within the SUI network.
How do I stake my SUI coins?
To stake your SUI coins, you need to hold them in a supported wallet and follow the staking process outlined in the SUI documentation. By staking your SUI coins, you contribute to the network's security and consensus, and in return, you receive staking rewards.
What are the benefits of staking Sui coins?
: By staking SUI coins, you not only support the network but also earn staking rewards. These rewards are distributed to participants who actively stake their coins, encouraging network participation and long-term commitment.
How can I participate in the governance process?
A6: SUI coin holders can participate in the governance process by voting on proposals that impact the SUI network. Through voting, you have a say in the network's development, decision-making, and future upgrades.
Are there requirements for the governance process?
To participate in the governance process, you need to hold a minimum amount of SUI coins as specified in the governance documentation. The minimum holding requirement ensures that participants have a vested interest in the network and discourages manipulation
Can I transfer my Sui coins to other wallets or exchanges?
Yes, you can transfer your SUI coins to other wallets or supported exchanges. SUI coins are fungible tokens that can be freely transferred, traded, or stored in compatible wallets.
Is there a maximum supply of SUI coins?
Yes, the maximum supply of SUI coins is fixed and predetermined. Details about the total supply and distribution can be found in the SUI coin's whitepaper or relevant documentation.
Where can I find more information about SUI coin?
You can find more information about SUI coin, its features, use cases, and the SUI network in general by referring to the official SUI documentation available at the following link: https://sui.io/
Disclaimer. The information provided is not trading advice. Cryptopolitan.com holds no liability for any investments made based on the information provided on this page. We strongly recommend independent research and/or consultation with a qualified professional before making any investment decision.