People have lost a great deal of trust in large and centralized systems and file sharing is no different from that. Storj wants to make file sharing not only safer but also faster and much more cost-effective. Can Storj really compete with large centralized companies such as Dropbox and Google drive and can they stand out among the host of blockchain storage projects?
The Storj network is also one of the few Ethereum ICO projects which have received the blessings of Vitalik Buterin. In fact, Vitalik was a contributor to the Storj whitepaper. According to Vitalik:
Distributed file storage systems like Storj have the potential to eliminate high markup costs and market inefficiencies and provide a much higher level of privacy, reliability and quality of service than we see today

Vitalik Buterin
They have also been growing its underlying network since its launch and they have over 150,000 storage nodes that are part of it. These nodes cover more than 200 countries and are able to store over 150PB in capacity.
Since the last update, $STORJ's 9h chart met and broke the target at $1.3962 and is beginning to show MORE STRENGTH towards the current target at $1.9888! With #STORJ above $1.3962, it is set to climb an additional +30% to reach $1.9888 and can move quickly.
#STORJUSDT.#STORJ/USDT Bullish case if we break out of the rounding bottom. What do you think?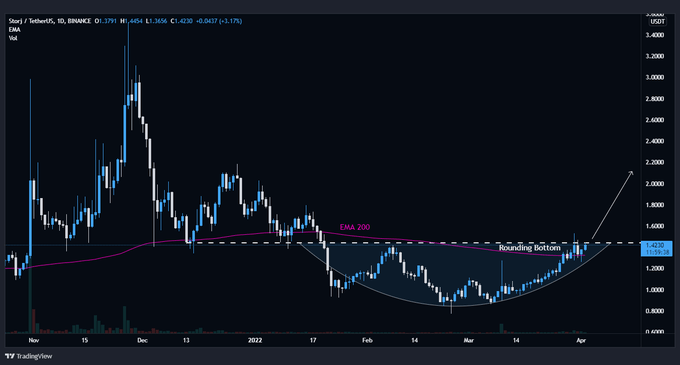 Storj is making strides toward the decentralized internet space by launching Storj DCS. The DCS will enable developers to leverage unsurpassed privacy and security benefits of storage. With this new multi-tenant gateway, changing storage to Storj is as simple as altering a few lines of code in their Amazon S-3 compatible applications.
Today's Storj price is $0.631532 USD with a 24-hour trading volume of $23,988,744. Storj is down 3.97% in the last 24 hours. The current CoinMarketCap ranking is #105, with a live market cap of $251,111,122. It has a circulating supply of 397,621,912 STORJ coins and the max. supply is not available.
Storj Developments
Storj allows anyone with the extra disk space and bandwidth to run a node enabling them to share their resources with the users who need them. It allows easy storage of files on its DCS without requiring a collective data center. All the developers can easily buy cloud storage, which they can use to earn Storj by allowing others to use their hard drive storage.
The goal with the Storj DCS is to undercut cloud giants; however, the startup is not yet going after enterprise clientele. As the Airbnb of storage, Storj can increase market share by targeting developers on its way to the enterprise.
The objects that users put into the storage get encrypted and split into 80 parts, which helps keep the security level high. The user interface provides a fast and easy way to access and retrieve objects, making the technology resistant to node failures. In addition, the network uses the Proof-of-Work consensus protocol and is integrated with some tools like file connectors and dashboards to make users' experience smoother.
Besides, the decentralized storage protocol by Storj is being fronted as a viable platform to fight against ransomware. The data is encrypted and split into a piece into indistinguishable packets, ensuring the information is constantly available.
Everything is retrieved on-demand and reconstituted with no central point of failure worldwide. This functionality is the kind of value proposition that drives the optimism and bullish sentiments over Storj.
Even if you used up all your storage allowance on dropbox, the cost per GB / month is almost 9 times that of the Storj network. Of course, you also have the problems that are associated with security and speed on a centralized system like dropbox.
When the Storj Share is released at the end of the year, it will have an easy-to-use graphical interface that farmers and users alike can make use of. You will be able to store and upload files as easily as you do with any other cloud-style service.
What is the Storj token?
Storj (STORJ) is an Ethereum token used for decentralized power storage for different developers, known as Storj Decentralized Cloud Storage (DCS). It is Decentralized Storage in which all the files are distributed into smaller fragments over the global network, comprising smaller network branches. Similarly, when a user requests a file, all the tiny pieces are assembled from different networks and then securely made available for the user.
Storj is one of the older blockchain projects, founded in 2014, initially envisioned as an encoded crypto storage platform, later transformed into the network model. It was originally run on the Ethereum blockchain with ERC 20 standard but has since become the native coin of the blockchain. Now, it's an open-source project, providing private, secure, highly available storage for individual or enterprise-grade projects.
Storj token represents Ethereum token cryptocurrency exchange based on the Decentralized Storage algorithm where files are not stored in centralized data centers because files are encrypted, split into various pieces, and distributed. Storj token is used to incentivize nodes providing resources and securing the network. It also serves as a means of payment for commercial storage services.
This token operates on the concept of the Ethereum blockchain. This provision allows decentralizing the Web3 app. This Web3 is also the next big thing for the internet era. Individuals gain more liberty to handle their privacy and data and allow a more secure network to share files that follow the concept of peer-to-peer.
What is Storj decentralized storage?
Created by Storj Labs, it is the same as the protocol (open-source protocol) that utilizes blockchain to render peer-to-peer storage services that operate on the cloud. As a measure of exchange, it uses Storj tokens. This company shares the storage space with individuals or companies that possess extra or available space instead of having their data. If someone participates in this network of crypto, they are called nodes. As a token of reward, they get Storj tokens.
The white paper was launched in 2014 by Software developer and co-founder Quin founder Shawn Wilkinson. In 2015, the company's idea was brought to life, and the crypto trading space was introduced to the world in 2018.
This software will encrypt the file securely before the file is even uploaded to the cloud, which provides an extra layer of safety. After that is done, it is disseminated across various independent hosts in packets or pieces of data. This arrangement uses the Proof of Work protocol and POS agreement to corroborate the file for node handlers. The reward for these nodes is Storj tokens.
Every node in the network of Storj receives only some part of the data. The encryption removing keys are also decentralized internet security space amongst the nodes and the hosts. This process makes it a hefty task to hack the data and enhances security. Furthermore, the reconstruction of data requires only 30-80 fragments; this reduces the possibility of problems like power downtime and server outages.
This structure makes it easier for people to sell storage from their hard drives, and the efficient working of the platform reduces the cost of storage. To buy space, you can use Storj tokens or even use a credit card to make the purchase.
The supply of Storj tokens on Ethereum was 500 million, and it was astonishing that all the 500 coins were mined at the launch. Currently, the mining of Storj coins is not possible. However, individuals or organizations can farm tokens by advancing or staking the tokens they possess.
The Tardigrade software of Storj was created on the model of Web3 applications. This structure uses decentralized data privacy, which is done through unnamed nodes. This arrangement eliminates the responsibility to bundle the trust on a sole service renderer for data secrecy. An announcement came from Storj on 20th April, which stated that they would be rebranding.
Storj Price History
Storj is facing a hard time getting on board with other crypto coins. Storj has been down to almost -16.07% in the last seven days. The currency is still showing risking framing segments for the past few days. The coin might have strong fundamentals, but we don't think it would be a profitable asset in the short term.
However, after comparing the current price with the past 30 days' price history, it is observed that Storj has increased 50.984% in its value. The average minimum price for the month is $0.60, while the maximum average price is $0.70.These figures imply that this coin is a suitable asset and a new addition to your portfolio for the long term.
The 90 days price change is around -18.34%, and the price circulated from a minimum average price of $1.67 to a maximum average price of $2.00 in the past 90 days. Storj is down by -49.52%, with the total average price of the coin was around $1.81, and the minimum average price was about $1.29 in the past four months.
New Developments in STORJ
STORJ, a revolution in data security through decentralized cloud storage solution, recently partnered with NOW Wallet.
STORJ also launched pinning services using the InterPlanetary File System (IPFS). Its IPFS pinning service can be used for NFT assets and other content-addressable storage in decentralized apps.
STORJ  Technical Analysis
Storj price is currently trading below the moving averages which indicates that the market is in a downward trend. The 200-day SMA is currently at $0.2339 and the 50-day SMA is at $0.2271.Storj current price is $0.6521, a decline of 1.72 percent in the last 24 hours. In the last month, the prices have been trading between a range of $0.3308 and $0.9818, however, the prices have declined in the last 7 days.
The Moving average convergence divergence(MACD) indicator is currently in the bearish zone which indicates that the prices may continue to decline in the short term. The Relative strength index(RSI) is currently at 37.3 which indicates that the market is oversold and the prices may rebound in the near future. The Oscillators are currently giving a sell signal.
Overall, the technical indicators are currently pointing to a downward trend in the market. However, the market volatility is relatively high which indicates that the prices may be volatile in the near future. Investors should wait for a better entry point before taking a position in the market.
The long-term resistance levels are at $0.7959, and $0.8451 and the long-term support levels are at $0.3137, and $0.27 45. The prices are expected to find support at the long-term support levels and may rebound in the near future.
STORJ Price Predictions by Authority Sites 
Wallet Investor
Wallet Investor's Storj price predictions are optimistic the prices might reach a maximum of $1.18. A price target of $2.70 over a course of five years represents over 255%. The forecaster's sentiment is currently bullish.
DigitalCoinPrice
The website has given a STORJ price prediction of a minimum price value of $1.05 by the end of 2022. However, the price could potentially reach an average price of $1.54 by the end of 2026. Their technical analysis shows that the STORJ token is currently in a short-term bullish trend.
Price Prediction net
At Price Prediction net, they are more bullish on Storj, with a 2025 price prediction of an average price of $1.82 per STORJ token. Storj's price is expected to hit a maximum price of $0.68 by the end of 2022. Their long-term price predictions for STORJ suggest the coin could hit $12.73 by the year 2030.
Cryptopolitan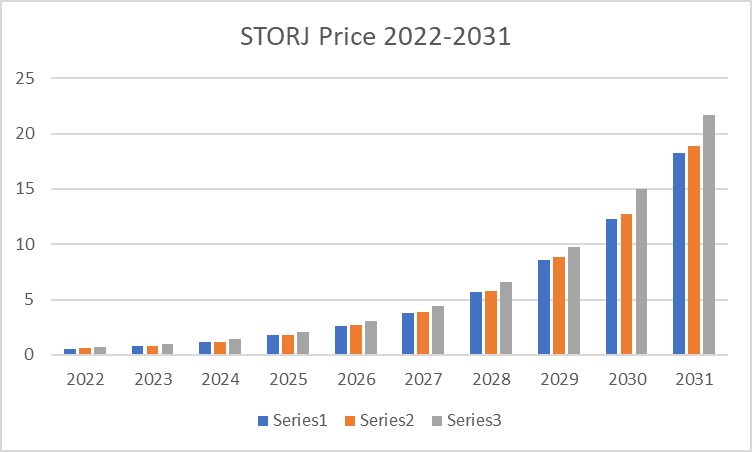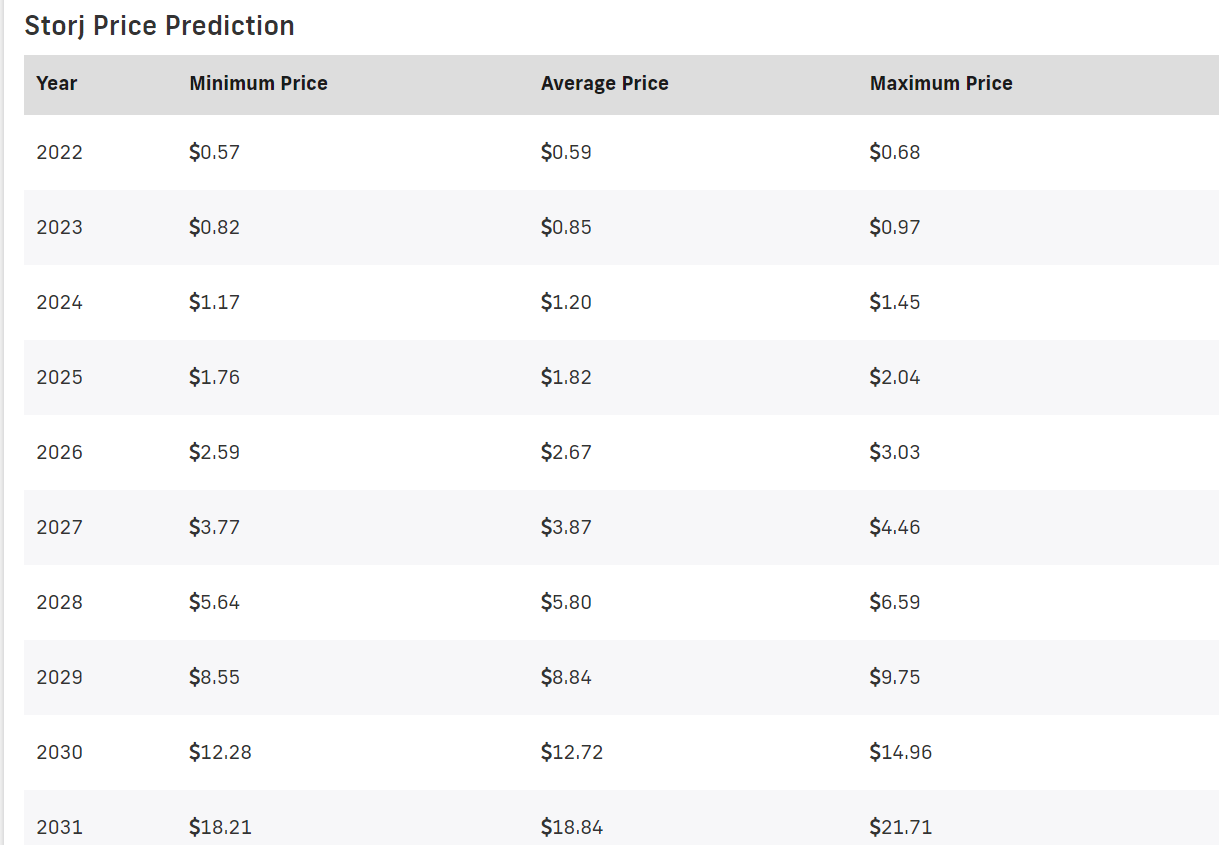 STORJ Price Prediction 2022
According to historical data and technical analysis, the price is projected to reach a maximum price of $0.68 by the end of 2022. The prices could retrace in the short term and reach an average price of $0.59 while a minimum price of $0.57 is also possible.
STORJ Price Prediction 2023
2023 the price is expected to soar to reach a maximum price of $0.97. The prices could also retrace in the short term to reach an average price of $0.85 while a minimum price of $0.82 is also possible
STORJ Price Prediction 2024
The price is expected to continue its upward trend and reach a maximum price of $1.45 by the end of 2025. An average price of $1.20 is also possible in the short term while a minimum price of $1.17 is possible.
STORJ Price Prediction 2025
The year 2025 could be a watershed year for Storj as the price is expected to reach $2.04, which is almost three times the price of 2022. A retracement to an average price of $1.82 is also possible in the short term while a minimum price of $1.76 is also possible.
STORJ Price Prediction 2026
STORJ's price is expected to hit a maximum trading price of $3.03 by the end of 2026. STORJ price might fall to an average price of $2.67 and a minimum price of $2.59.
STORJ Price Prediction 2027
The year 2027 could be another big year for Storj as the price is expected to reach a maximum price of $4.46, an average price of $3.87, and a minimum price of $3.77.
STORJ Price Prediction 2028
STORJ price prediction for the year 2028 projects the price could hit a maximum price of $6.59.The price might drop to a minimum value of $5.64 and an average price of $580 in the same year.
STORJ Price Prediction 2029
The STORJ price is expected to reach a maximum price of $9.75 by the end of 2029. The minimum value could be $8.55 and an average price of $8.84 in the same year.
STORJ Price Prediction 2030
STORJ's price is expected to reach a maximum trading price of $14.96 and a minimum price of $12.72 by the end of 2030. The price might attain an average price of $12.72 by the end of the year.
STORJ Price Prediction 2031
Crypto adoption will continue to grow in the next decade and this will have a positive effect on the price of STORJ. The price is expected to hit a maximum price of $21.71 by the end of 2031. The minimum value could be $18.21 and an average price of $18.84 in the same year.
STORJ Token Price Prediction By Industry Influencers
Popular crypto influencer @blockhiro revealed how platforms like STORJ use an open-market function more explicitly by actively incentivizing redundancy. However, this open-market approach and decentralization give rise to special properties that web3 devs may seek out when building the new web: (a) Censorship resistance (b) Resilience via redundancy (c) Pricing efficiency via open-market dynamics.
With the popularity of Web3 in the crypto space, STORJ network would remain relevant; thereby affecting its price positively.
Conclusion
With the advent of Web3, there will be a push for the adoption of decentralized storage services. On its long-term price prediction, STORJ is an excellent investment. The value could increase to $10 in the future. But it is essential to always know that price prediction is only based on technical analysis, past performances, and new developments in the ecosystem of a cryptocurrency. Hence, never make investment decisions based on these. Always do your own research before investing in cryptocurrencies. 
Storj has a lot of potential ahead of it. As the STORJ ecosystem grows and improves, as well as the overall crypto market, we may see STORJ rise to new heights. All in all, the long-term outlook for STORJ looks promising. However, price predictions are not investment advice and investors should exercise caution when investing in any cryptocurrency. The above article is not investment advice. Investors should do their own research before investing in any cryptocurrency.
Disclaimer. The information provided is not trading advice. Cryptopolitan.com holds no liability for any investments made based on the information provided on this page. We strongly recommend independent research and/or consultation with a qualified professional before making any investment decisions.