As the crypto space continues to evolve, several projects are being rolled out, and investors are constantly looking for the best means to put their monies to work. It is no news that BTC, ETH, and some other assets have gained popularity over time, and investors have made money from them.
Meme coins have now entered the mix, and they quickly became one of the most discussed investment opportunities in 2021, with Dogecoin, Shiba Inu, SafeMoon, and others leading interaction in various crypto communities.
SafeMoon has been making the rounds for a while, and newbie investors ask how to profit from the meme coin. Although it is entirely feasible to profit by speculating meme coins, doing so involves a high level of risk and is more analogous to gambling than it is to traditional financial planning.
If SafeMoon has piqued your curiosity, this guide will assist you in how to buy Safemoon stepwise, including gains and risks on buying the coin.
SafeMoon's price today is $0.000535123732 with a 24-hour trading volume of $49,351.09. SafeMoon is down 9.24% in the last 24 hours. The current CoinMarketCap ranking is #370, with a live market cap of $54,144,682. It has a circulating supply of 562,236,150,289,245 SAFEMOON coins and a max. supply of 1,000,000,000,000,000 SAFEMOON coins.
What is SafeMoon?
SafeMoon is a crypto asset first issued in March 2021 and is based on the Binance Smart Chain (BSC) blockchain (BEP-20 token). The token's value rose significantly in 2021 due to massive campaigns and celebrity endorsements, although the outlook is different now.
The key defining characteristic of the SafeMoon protocol is that it imposes a 10 percent charge on sell orders. For instance, if you sold USD 5,000 worth of SafeMoon, you would be required to pay a $500 charge on the transaction, aside from the costs due to a cryptocurrency exchange for enabling the sale.
According to the SafeMoon team, it was created for long-term investment purposes. The 10 percent transaction charge was set purposefully high to promote long-term holders (HODLers) and deter users from dumping the token. The fee is divided equally among long-term investors and a crowdsourced liquidity pool meant to keep the value of SafeMoon stable.
SafeMoon is regarded as one of the riskiest investments available in the crypto space. Like SHIB and some other meme coins, SFM serves no purpose and receives its valuation purely from people's investments – the more buyers, the high the price, and vice versa.
SafeMoon V2 Upgrade
Toward the end of 2021, SafeMoon founders announced SafeMoon 2.0 – an upgrade designed to improve contract execution, lower transaction fees, and consolidate the original SafeMoon tokens in a 1 to 1000 ratio. For instance, if you are holding 5,000,000 SafeMoon tokens at a unit price of $0.0000005675, you will now have 5,000 SFM tokens at a unit price of $0.0005675.
The V2 upgrade also introduced a remodeled fee structure for SafeMoon. Transfers from one wallet to another now cost 2% in charges, while swaps between paired cryptos feature a restructured 10% buy/sell fee mechanism.
In addition, the token distribution now defers from what it was on SafeMoon Old (V1). For the 2% fee structure, half of it is redistributed to holders; a quarter goes to the SafeMoon ecosystem, while the last quarter is allocated to the liquidity pool. In the case of the 10% Buy/Sell tax, 4% goes to holders, 3% is sent to SafeMoon liquidity pool, 2% to static burn, and 1% to the ecosystem.
The SafeMoon development team has put up several products, including a SafeMoon card, Hardware wallet, and SafeMoon exchange. It remains to be seen how these developments, if and when rolled out, will impact the value of SFM in the future.
Where can you buy SafeMoon?
There are a few hurdles to scale for beginners looking to purchase SafeMoon tokens. First, SafeMoon is not listed on popular exchanges like Coinbase, Binance, Kraken, Gemini, or CEX.io.
Second, SFM can mostly be purchased using other crypto pairs like USDT, WBNB, ETH, and BTC. You will not be able to buy SafeMoon crypto token directly with fiat currency like USD, EUR, or GBP. However, SafeMoon investors in India can purchase the token with the Indian Rupee (INR).
Here are some of the cryptocurrency exchanges where you can buy SafeMoon.
Gate.io
Gate.io is a centralized exchange that ranks among the top ten globally in terms of trading volume. The platform originated in China and dates as far back as 2013. Gate.io is notable for its emphasis on innovative and upcoming cryptocurrencies. It's also possible to buy and sell bitcoin and other cryptocurrencies.
The CEX offers an SFM/USDT trading pair. Traders can easily purchase USDT and swap the desired volume for SafeMoon tokens.
Bitbns
Bitbns is an Indian-based crypto exchange established in 2017 by Buyhatke Internet Private Limited. With 100+ assets currently listed on the crypto exchange, Bitbns provides consumers with a convenient and easy user interface to swap, purchase, and sell cryptos at the cheapest prices.
SafeMoon is paired against the Indian Rupee (SFM/INR), making it easy for Indian traders to buy SFM directly using fiat money.
DigiFinex
DigiFinex is a trading platform for crypto assets such as BTC, ETH, LTC, and altcoins. Blockchain advocates formed the exchange, and its founding team includes members from renowned tech businesses like HP, Tencent, Xunlei, and Baidu.
Newbie crypto investors can assess over 100+ assets on the platform, including SafeMoon. You can choose between any of the SFM/USDT, SFM/BTC, or SFM/ETH trading pairs.
PancakeSwap (V2)
PancakeSwap (V2) is a top 3 decentralized exchange built on the Smart Chain technology by Binance. The DEX boasts a massive list of supported assets, advanced features, lower fees, and faster transactions. You can swap Binance Coin BNB for SafeMoon V2 on PancakeSwap.
Other exchanges where beginners can buy SafeMoon coins include MEXC global, BitMart, Hoo, BitForex, and BitTurk.
How to buy SafeMoon on Gate.io in 3 steps?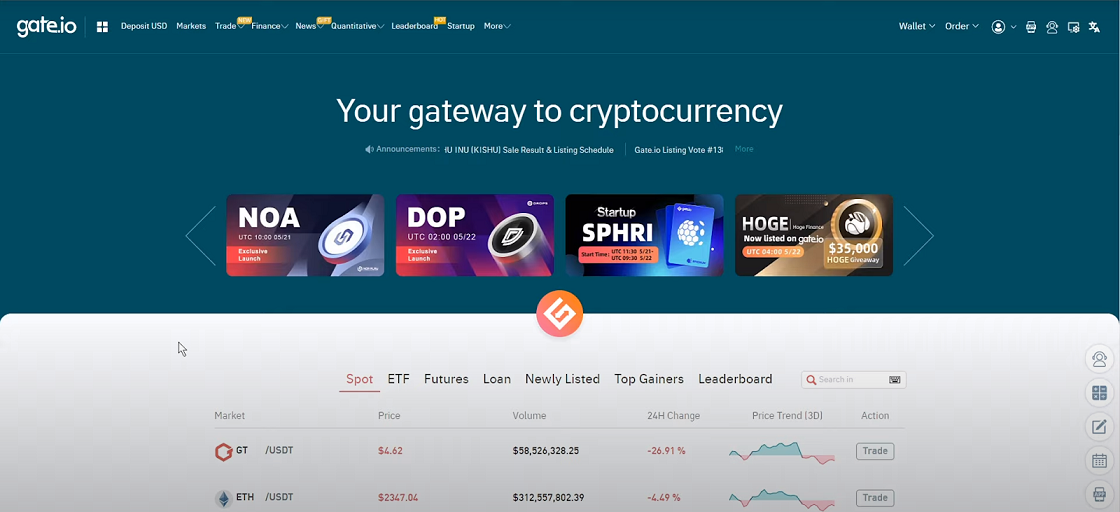 SAFEMOON can be purchased in various ways; however, Gate.io is the most convenient.
Step 1: Setup a Gate.io account
You first want to create a Gate.io account via web or mobile app and complete customer identity verification as instructed. You can choose to register with your mobile number or email address.
Step 2: Deposit Fiat or Crypto
After creating an account, the next thing is to fund the account. There are several options to deposit money into your Gate.io account. You can fund it directly with fiat currency using debit or credit cards or transfer assets from an exchange or crypto wallet.
Since you are buying SafeMoon tokens, there are two options.
You can Buy Crypto with a card or Bank Transfer. Basically, you can purchase USDT with USD using your debit or credit card and trade USDT for SFM tokens.
See this video: https://www.youtube.com/watch?v=SfYKaSLOX8o
Transfer USDT from any cryptocurrency exchange Binance, Coinbase, Huobi Global, etc., to Gate.io and trade the USDT for SFM token on the platform.
See this video: https://www.youtube.com/watch?v=jB65qjH9GoA
Step 3: Buy SafeMoon
Let's assume you already have USDT in your Gate.io account.
Click on the markets tab, type SFM into the search bar, and press enter.
Ensure that you are on the spot trading interface. Put in the volume of SafeMoon you want to buy. If you prefer to type in the USDT equivalent, use the "Total USDT" box.
Click on Buy SafeMoon and Confirm. Your purchase order will be executed at the limit order.
Voila! You have just purchased your first SafeMoon tokens.
How to buy SafeMoon on PancakeSwap (V2) in 5 steps?
Pancakeswap (V2) is accessible in many countries worldwide and offers an easy way for residents in the United States, UK, India, and other parts of the world to buy SafeMoon.
Step 1: Get the Trust wallet (TW) mobile app
To access Pancakeswap (V2) and successfully complete the SafeMoon crypto purchase, you need Trust Wallet. The crypto wallet is available for Android and iOS devices.
To set up a Trust Wallet account, see this video: https://www.youtube.com/watch?v=VSZHiwUzoIo
Step 2: Fund your Trust Wallet with BNB tokens
There are two options to fund your Trust Wallet with BNB.
Purchase BNB with a credit/debit card
Choose BNB smart chain, select Buy, choose the preferred payment processor, and follow the prompts to complete the purchase.
Note: The minimum acceptable purchase will vary, and card purchases on Trust Wallet can be costly in terms of payment processor fees.
First, you will have to purchase binance coin BNB on Binance, FTX, Gate.io, KuCoin, Binance.US, or Huobi Global. Next, transfer BNB from your preferred exchange to TrustWallet, and swap it to BNB Smart Chain.
Here is a demonstration for Binance:
Step 3: Go to PancakeSwap (V2) DEX
You can access PancakeSwap under the DeFi section of the DApps tab on TrustWallet.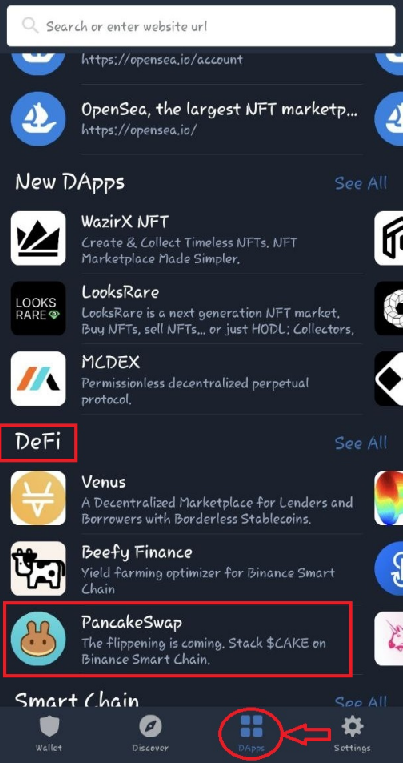 Connect Binance Smart Chain to PancakeSwap (V2).
Connect TrustWallet to PancakeSwap (V2).
Import SafeMoon V2 contract address from Coinmarketcap, and accept the prompts.
Step 4: Swap BNB for SafeMoon V2
Type in the volume of Binance coins you want to swap, and you will see the equivalent SFM tokens.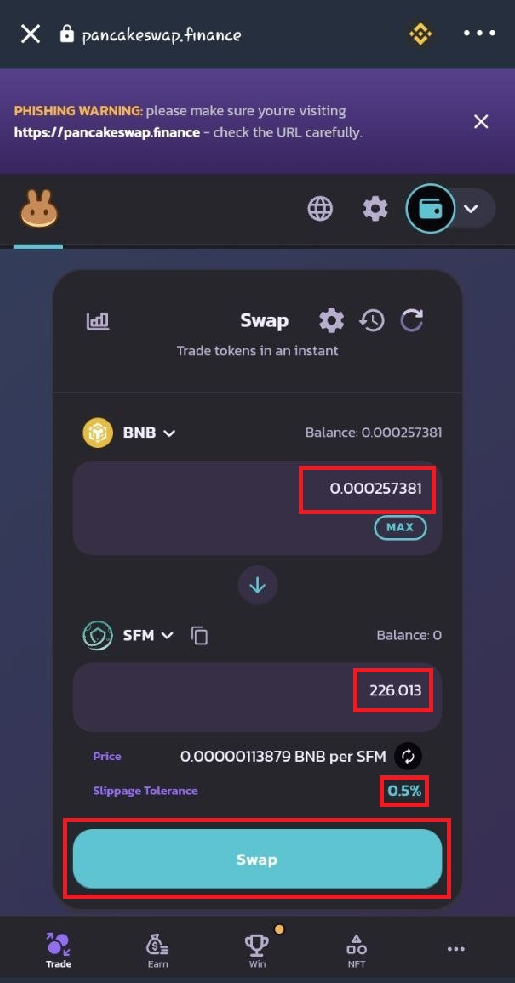 Change the slippage tolerance to 12%, and click Swap to complete the purchase of the SafeMoon coin.
Note: You will pay minimal fees to swap BNB to SFM.
Step 5: Add SafeMoon Contract Address to TrustWallet
So, you've purchased some SafeMoon V2 tokens and are wondering where they are! Not to worry, all you need to do is enable SafeMoon on TrustWallet.
Click on the top right corner.
Type "SafeMoon" into the search bar and switch on SafeMoon V2.
You can also paste the contract address "0x42981d0bfbAf196529376EE702F2a9Eb9092fcB5" into the search bar and switch on SafeMoon V2.
Best crypto wallets to store SafeMoon crypto
Before buying crypto assets, you must first ensure that you have a safe and secure wallet to store them. In the case of SafeMoon, you can either store it on a software wallet or a hardware wallet. Some of the most popular and widely used wallets for SafeMoon V2 tokens are listed below:
Best hardware wallet
At the time of writing, the best-known hardware or cold wallet for SafeMoon coins is Ellipal Titan – a user-friendly multicurrency wallet that supports thousands of assets. The wallet offers a simple-to-use interface for clients to quickly see their portfolios.
Best software crypto wallet
Apart from Trust Wallet, other hot crypto wallets that support SafeMoon V2 include SafeMoon Wallet and MetaMask.
Where can SafeMoon be traded?
You can trade SafeMoon on Digifinex, Digifinex, and PancakeSwap (v2).
Advantages of buying SafeMoon
Massive Gains & High-profile Influencers
SafeMoon is a memecoin, and by characteristics, the token's value could spurt significantly, yielding massive returns for investors. The token has garnered high-profile endorsements since its inception, with celebrities like Jake Paul and Dave Portnoy some of those on the ship. Hence, social media campaigns may easily influence its price movements, as are several other memecoins.
Incentivization for SafeMoon Holders
SafeMoon offers an incentivization program powered by reflections, a protocol that allows long-term SafeMoon token holders to earn passive income. Typically, 40% of the Buy/Sell fees and 50% of the wallet-to-wallet fees are redistributed to holders. Unlike other crypto holdings that only allow you to profit when the market appreciates, you make money by simply holding SafeMoon. Although the rewards may not cover up for market downturns, they could be worth it when prices go bullish.
The SafeMoon V2 upgrade of late 2021 migrated the memecoin to a new smart contracts and ensured that wallet-to-wallet transaction fees were lowered to 2%. Also, the 10% Buy/Sell charges have taken a new model. These developments could potentially make the cryptocurrency token more attractive to traders and crypto exchanges in the future, thereby driving its acceptability. Remember that this is not investment advice, and only invest what you can afford to lose.
Risks of buying SafeMoon
Extreme Volatility and Illiquidity
Buying SafeMoon coin can be extremely risky due to its tremendous price fluctuations and low liquidity. The project doesn't seem to be in the good books of major exchanges like Binance, Coinbase, FTX, etc., making it less liquid than other meme coins like DOGE or Shiba Inu. SFM is more like a token for traders with gamblers' adrenaline rush and a massive appetite for risk; the token's value could crash as much as its gains. It is currently down by over 90% from its current all-time high of $0.007232 attained in January 2022.
Currently, SafeMoon does not have any real-world use cases other than a hold of value. On top of that, it is difficult to trade the token against fiat currencies. It also lacks any sort of technological advantage over coins like ETH, BNB, or BTC in terms of security, transaction speed, or other features.
SafeMoon's centralized ownership is perhaps its Achilles' heel. John Karoly, SafeMoon's CEO, is rumored to possess more than half of the coin's supply, implying that insiders may be earning a sizeable chunk of passive income at the detriment of other investors – sounds like racketeering!
Researchers have cautioned that several notable altcoins seem to be intended primarily to benefit inventors and early investors to the detriment of subsequent buyers. Always do due diligence before investing in any cryptocurrency project.
Should you buy Safemoon?
SafeMoon quickly became a frenzy of interest within a month of its launch. In a matter of days, the SafeMoon price shot up 7000%. According to predictions, Safemoon's price will bounce back for a massive move towards the upside as it nears a critical resistance level. If the memecoin manages a 55% upswing to US$0.00000321, Safemoon has the chance to make its comeback in 2022.
Here's the thing, Safemoon's price is still tied to the price of Bitcoin and the crypto space overall. Sure if Safemoon launches a bunch of products in 2022, the price of SFM will increase. But the overall potential of where we can go depends on what happens to Bitcoin. One friend bought $1000 worth of SFM and checked how much he got just a few days ago:
What does that tell you? It may not be the same for everyone who actively trades the coin, but this is a sad day when all around, most cryptocurrencies' value are dipping and the developers are doing nothing to make the hodlers make the most of their investment.
Disclaimer. The information provided is not trading advice. Cryptopolitan.com holds no liability for any investments made based on the information provided on this page. We strongly recommend independent research and/or consultation with a qualified professional before making any investment decisions.