TL;DR Breakdown
Dogecoin price analysis is bullish today.
DOGE/USD retraced to $0.235 overnight.
Next resistance at $0.25.
Today, Dogecoin price analysis is bullish as a new higher low was set during the previous 24 hours, implying that another push higher will come. As a result, we anticipate DOGE/USD to approach the $0.25 resistance in the next 24 hours.
Dogecoin price movement in the last 24 hours: Dogecoin finds support above $0.235
Technical indicators are bullish and show a substantial likelihood of an upward movement in the next 24 hours.
Dogecoin's price is currently trading at $0.2365, a 0.79% decrease over the past 24 hours. However, DOGE/USD set a new higher low yesterday after breaking out of key resistances.
Dogecoin price is now approaching strong resistance at $0.25 as shown above, which may play a crucial role in DOGE/USD's next move, considering that the 100 SMA just crossed above the 200 SMA on the 1-hour timeframe to indicate that bullish momentum is building up. If this level fails to hold as support, we expect Sellers to push DOGE/USD down to around $0.22 before another attempt at breaking out of this area of interest occurs.
In addition, stochastic indicates overbought conditions for Dogecoin price, which suggests that an upward movement will be imminent very soon if this oscillator continues its bullish signal and aligns itself with the current trend.
On the upside, a break above $0.25 and further upward movement to $0.2650 could be expected if DOGE/USD continues today's bullish momentum. The resistance at $0.25 is indicated by a significant gap between two support-turned-resistance levels: $0.236 and $0.24.
DOGE/USD 4-hour chart: DOGE set to reach $0.25 today?
On the 4-hour chart, DOGE/USD hit a new high yesterday at around $0.237 and is now attempting to defend its $0.25 price level. As shown above, if this level fails to keep support, sellers may continue to drop DOGE/USD down to about $0.22 before an ascent resumes.
Meanwhile, there are bullish signals within the 4-hour timeframe – RSI recently moved above 50 – indicating that buyers have control over price action and could drive Dogecoin price even further north during the upcoming hours if positive news materializes or if stochastic moves further.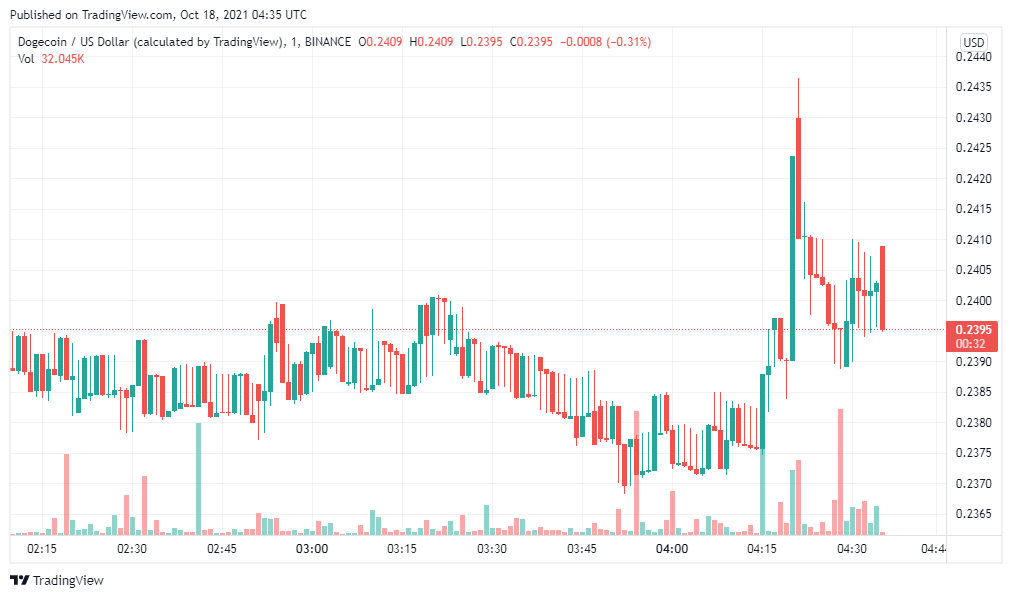 During the beginning of October, Dogecoin's price action showed significant bullish momentum. From the previous swing low of around $0.195, DOGE/USD improved roughly 35% to the $0.265 level on the 5th of October.
Bears ran out of steam, resulting in a retracement to $0.24 and a consolidation within an increasingly smaller range. On October 10th, bearish momentum resumed, pushing DOGE down to the $0.215 level.
Dogecoin's price has been on a tear since the beginning of the year. Since then, there has been considerable upward momentum. Dogecoin's price action has set both a higher high and low, suggesting that reversal has occurred. Overall, DOGE/USD should continue to experience positive momentum later today, with the $0.25 mark as the next target to the upside.
Dogecoin Price Analysis: Conclusion
The Dogecoin price is in an excellent position, with the bulls continuing to drive it higher. The latest high of $0.24 was broken today by another higher low at $0.235 over the previous 24 hours, putting us on track for a further rise later today. DOGE/USD will most likely continue to push higher, with the next goal set at $0.25 Later today
Disclaimer. The information provided is not trading advice. Cryptopolitan.com holds no liability for any investments made based on the information provided on this page. We strongly recommend independent research and/or consultation with a qualified professional before making any investment decisions.