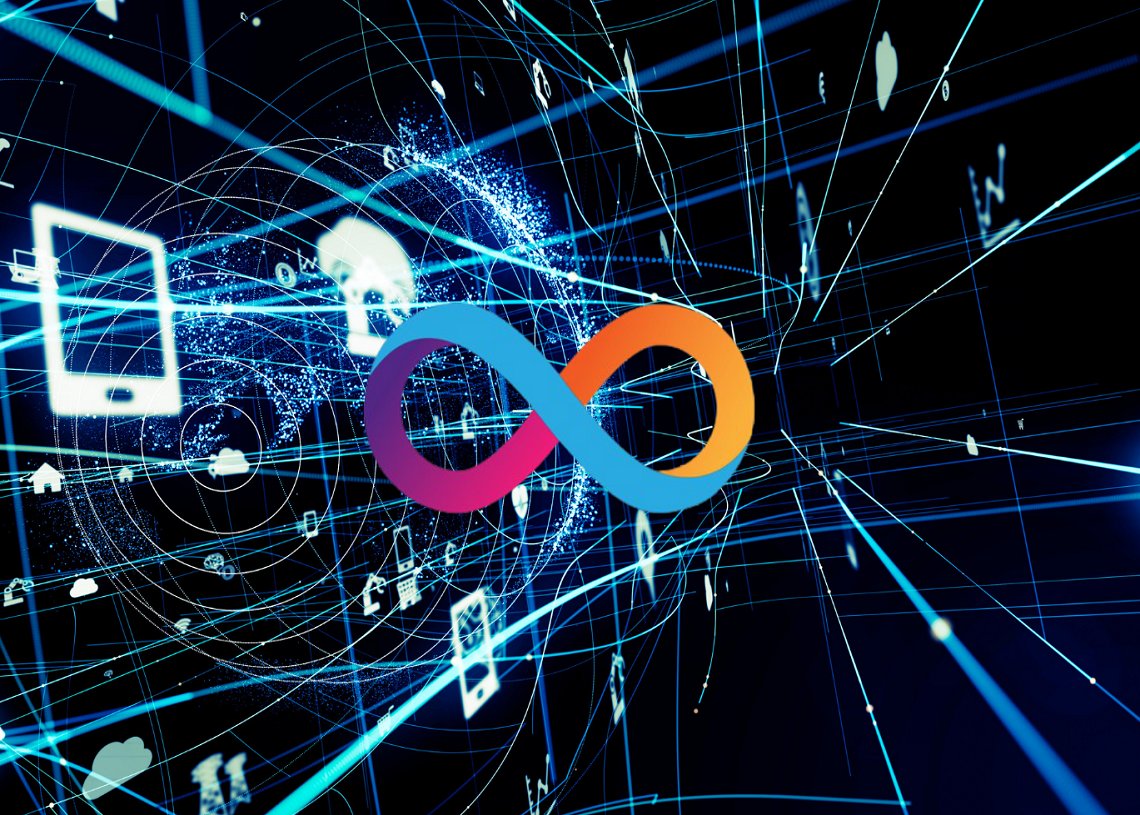 ICP Price Prediction 2023-2032: Is Internet Computer Resurgence Possible?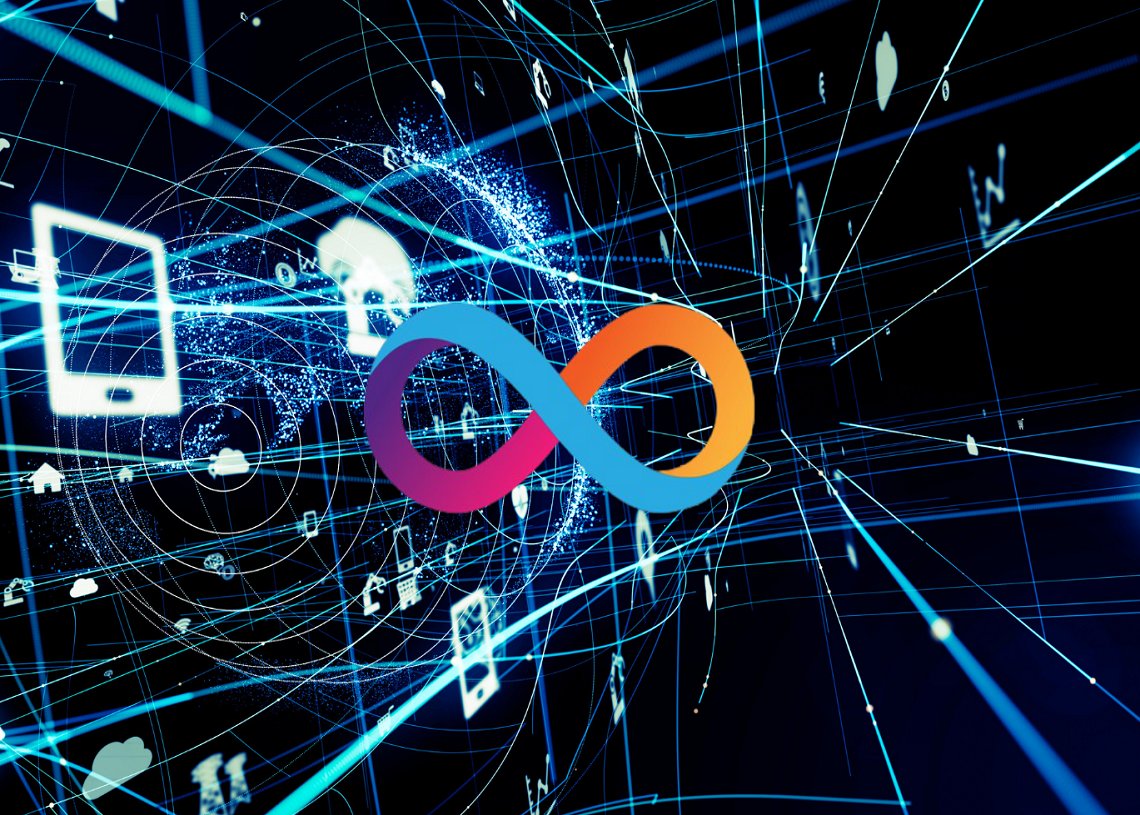 ICP Price Prediction 2023-2032
ICP Price Prediction 2023 – up to $5.20
ICP Price Prediction 2026 – up to $16.19
ICP Price Prediction 2029 – up to $54.26
ICP Price Prediction 2032 – up to $150.64
Internet Computer is the first cryptocurrency backed by a protocol. So many crypto experts believe ICP is a good investment and could grow further and, with new developments, could get better. ICP, the native token of the Internet Computer network, is mainly used for processing the network's power. Will ICP Price Prediction help us sail calmly in this turbulent crypto winter?
Limiting the influence of Big Tech firms like Google and Facebook by changing the Internet might be a farfetched dream but not impossible. We all want to establish a global web 3.0 that is "open and free" by banding together and connected by a protocol in millions of computers. Let's find out if ICP is a good investment and if a resurgence is possible.
How much is ICP worth?
As of the latest update, the current price of Internet Computer stands at $4.563, with a 24-hour trading volume of $80.96 million. The market capitalization is $1.83 billion, and the cryptocurrency holds a market dominance of 0.13%. Over the past 24 hours, the price of ICP has decreased by -4.04%. The sentiment for Internet Computer's price prediction is currently bearish, while the Fear & Greed Index indicates a score of 73, suggesting a state of greed among investors. Internet Computer holds the 20th position in the Layer 1 sector based on market capitalization. In terms of its token metrics, the circulating supply of Internet Computer is 449.70 million ICP out of a maximum supply of 488.51 million ICP. The current yearly supply inflation rate is 63.98%, indicating that 175.47 million ICP were created in the last year.
ICP price analysis: ICP/USD declines at $4.563
ICP price analysis is bearish today.
The strongest resistance is present at $4.820.
ICP/USD is trading at $4.563 at the time of writing.
On the 26th of November, 2023, the Internet Computer (ICP) token experienced a sudden and substantial surge in its price. Within a short timeframe, its value surged from $4.607 to $4.777. However, this bullish momentum was unexpectedly interrupted by a significant price crash, triggering heightened selling activity. This unexpected development occurred despite the previously dominant bullish market sentiment that had driven the token's price to $4.528. The abrupt and pronounced price fluctuations raised concerns among investors. As the price approached the critical threshold of $4.563, certain indicators suggested the potential for a reversal in the prevailing trend. Ultimately, the token stabilized around the $4.563 mark, underscoring the dynamic nature of the market during that particular period.
Internet Computer (ICP) token encountered a sudden and noteworthy surge in its price. Within a brief period, its value escalated from $4.607 to $4.777. However, this bullish momentum was unexpectedly halted by a substantial price crash, sparking increased selling activity. This unforeseen development transpired despite the previously dominant bullish market sentiment that had propelled the token's price to $4.528. The abrupt and pronounced price fluctuations raised concerns among investors. As the price neared the crucial threshold of $4.563, certain indicators hinted at the potential for a reversal in the prevailing trend. Eventually, the token stabilized around the $4.563 mark, emphasizing the dynamic and unpredictable nature of the market during that specific timeframe.
ICP price analysis for 1-hour: Recent developments
The price dynamics of Internet Computer (ICP) underscore substantial volatility, primarily influenced by the prevailing sentiment in the broader cryptocurrency market. This volatility is particularly evident when utilizing analytical tools such as Bollinger Bands. Presently, the price of ICP is situated below the upper band threshold, set at $4.763, indicating a resistance level at this price point. Conversely, in the event of a notable price decline, there appears to be a stabilizing influence around $4.538, representing a robust support level for ICP. These observations highlight the heightened responsiveness of ICP's price to market sentiment, rendering it susceptible to significant fluctuations in both upward and downward directions.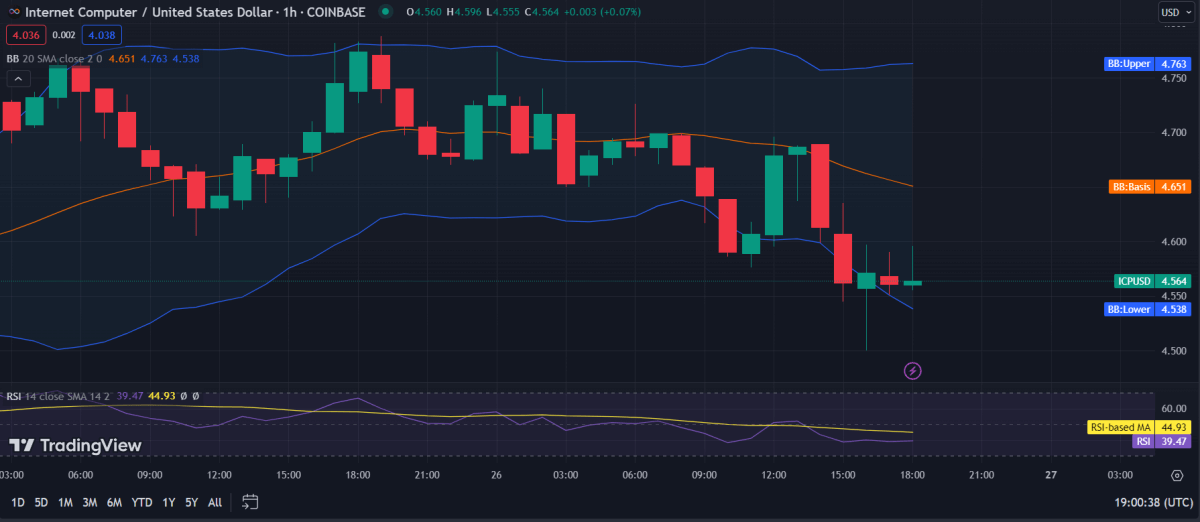 The current evaluation of the Relative Strength Index (RSI) for Internet Computer (ICP) stands at 39, indicating a bearish sentiment in the cryptocurrency market. Despite residing in the lower neutral territory on the RSI, implying an equilibrium between buying and selling pressures, the ongoing linear trend of the RSI suggests that the current level of selling activity aligns with buying activity. This trend may signify an imminent phase of market bullishness. The analysis underscores the significance of monitoring RSI trends, as they offer valuable insights into the market dynamics of the cryptocurrency and potential shifts in sentiment, assisting investors in making informed decisions.
ICP 1-day price analysis: ICP gains downward momentum at $4.563
The price dynamics of ICP underscore its susceptibility to significant market fluctuations, characterized by swift and pronounced price swings occurring within relatively short time frames. This persistent volatility presents challenges in establishing and maintaining a consistent price trajectory for ICP. Analytical tools, such as Bollinger Bands, highlight a crucial threshold around $4.820, where potential price resistance may come into play, potentially reinforcing its upward momentum. Conversely, the lower boundary of the Bollinger Bands, positioned at approximately $4.057, functions as a robust support level, helping to mitigate substantial price declines. Currently, the price trends exhibit a favorable pattern below the Moving Average line, indicating the potential for an imminent change in direction. Investors may find value in closely monitoring these technical indicators for insights into ICP's price movements and potential trend shifts.
A comprehensive analysis of the Internet Computer (ICP) market reveals a current state of moderate equilibrium, exemplified by an RSI (Relative Strength Index) reading of 56. This situates ICP within the upper neutral range, suggesting a possible balance between potential buyers and sellers. However, upon closer examination of the RSI trend, it becomes apparent that selling activity currently surpasses buying activity, indicating a potential upcoming period of price stability. This observation underscores the significance for traders and investors to closely monitor this situation, as it may signal a shift in market dynamics that could potentially influence future price movements for ICP. Staying attentive to such indicators can be crucial in making informed decisions in the volatile cryptocurrency market.
What to Expect from the ICP Price Analysis
In conclusion, the recent developments in Internet Computer (ICP) have portrayed a market characterized by notable price volatility. A sudden surge in value, swiftly followed by an unexpected crash, underscores the inherent uncertainties within the cryptocurrency realm. Technical indicators like Bollinger Bands and the Relative Strength Index (RSI) provide crucial insights into potential support and resistance levels, emphasizing the responsiveness of ICP's price to shifting market sentiments. While the current RSI suggests a period of relative stability with a slightly bearish tilt, investors are cautioned to closely observe these indicators, given the cryptocurrency's susceptibility to significant market swings. The prevailing sentiment, marked by a bearish price prediction and a Fear & Greed Index indicative of investor greed, highlights the need for careful consideration and informed decision-making in navigating the dynamic landscape of ICP.
Recent News on ICP
Dfinity raised over $166 million from a group of investors like Andreessen Horowitz and Polychain Capital. Their investments had ballooned into billions of dollars at the time of listing. Internet Computer's goal was to create a blockchain-based supercomputer that runs in a decentralized way. At the time of launch, the Financial Times claimed that the technology would disrupt cloud computing giants like AWS and Google Cloud.
Internet Computer is not dead, although it has fallen down a deep abyss. Some of the dApps in its system are no longer in development, while others have little or no activity. A look at its explorer shows that there is still some activity in the ecosystem. The question is whether that activity is worth over $1 billion, as ICP's market cap suggests.
Exciting news has emerged for cryptocurrency enthusiasts as Ledger Live, the popular platform for managing digital assets, has announced the addition of support for the Internet Computer Protocol (#ICP). This means that users can now seamlessly send and receive ICP tokens using Ledger Live while ensuring the utmost security through their Ledger hardware devices. The successful integration of this feature is attributed to the dedicated efforts of @zondax, who have played a pivotal role in making this possible. The collaboration highlights the ongoing advancements in the crypto space and the commitment of various stakeholders to provide users with secure and efficient ways to manage their digital holdings. Furthermore, the announcement hints at the imminent release of iOS support for ICP on Ledger Live, adding to the excitement surrounding this development. For those interested in exploring this new functionality, further details can be found in Ledger's official blog post.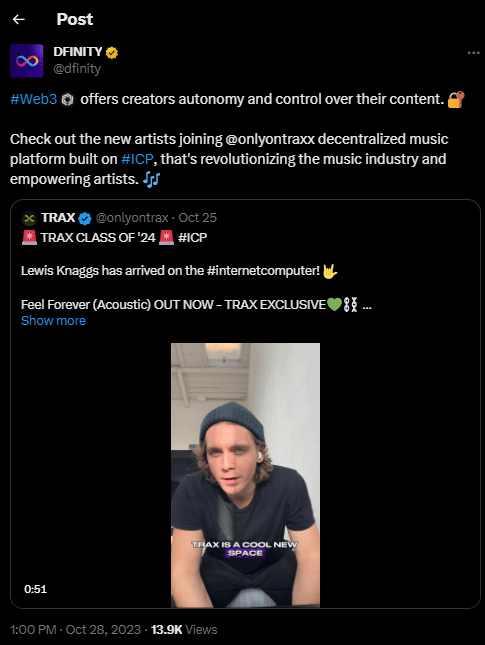 This tweet is highlighting the TRAX Class of 2024, a group of artists who are part of the TRAX decentralized music platform, which operates on the Internet Computer (ICP). The core idea behind this initiative is to leverage the principles of Web3 technology to empower musicians and creators in the music industry. By using blockchain technology and a decentralized platform, artists gain more autonomy and control over their music, allowing them to connect directly with their audience. The mention of Lewis Knaggs joining this class and releasing an acoustic version of "Feel Forever" exclusively on TRAX underscores the platform's role in enabling artists to share their work while bypassing traditional intermediaries. This marks a significant shift in the music industry, where artists can explore new avenues for distributing and monetizing their content.
ICP Price Prediction 2023-2032
| | | | |
| --- | --- | --- | --- |
| YEAR | MINIMUM | AVERAGE | MAXIMUM |
| 2023 | $4.73 | $4.96 | $5.20 |
| 2024 | $6.87 | $7.07 | $8.19 |
| 2025 | $9.22 | $9.50 | $11.57 |
| 2026 | $14.01 | $14.48 | $16.19 |
| 2027 | $20.67 | $21.25 | $24.61 |
| 2028 | $30.73 | $31.79 | $36.19 |
| 2029 | $43.16 | $44.44 | $54.26 |
| 2030 | $60.48 | $62.70 | $73.74 |
| 2031 | $86.21 | $89.34 | $106.57 |
| 2032 | $129.18 | $133.65 | $150.64 |
ICP Price Prediction 2023
Forecasts for the 2023 ICP pricing demonstrate a prevailing positive outlook, anticipating a significant increase from its current value. Predictions suggest a peak price of approximately $5.20, indicating substantial growth. In contrast, the projected lower limit is anticipated to be around $4.73, with the envisioned average market price sitting at approximately $4.96.
ICP Price Prediction 2024
According to our analytical evaluation, we anticipate a potential upper limit of $8.19 for Internet Computer (ICP) in the year 2024. Our calculations generate an average projected price of around $7.07, and there is a potential lower limit at approximately $6.87.
ICP Price Prediction 2025
Following our analysis, our ICP price projection for 2025 anticipates the cryptocurrency reaching a peak value of $11.57. The projected lower limit for ICP during this period is expected to be around $9.22, while the calculated mean value is estimated at approximately $9.50. It's essential to note that the potential for a significant price increase in Internet Computer's value exists, especially if there is more widespread adoption of blockchain-based applications in the coming years.
ICP Price Prediction 2026
Our 2026 ICP price prediction reflects an optimistic market sentiment, suggesting the potential for a substantial increase in the cryptocurrency's value. Our analysis indicates that ICP could reach its peak at $16.19, indicating a significant surge from its current trading price. Similarly, the projected floor price for ICP in 2026 is estimated to be around $14.01. Considering these factors, the anticipated average market value for ICP in 2026 is approximately $14.48, providing a positive outlook for investors who hold a bullish perspective on this digital asset.
ICP Price Prediction 2027
Our 2027 ICP price prediction indicates substantial profit potential for investors, with the cryptocurrency potentially reaching a maximum price of $24.61. Throughout the year, it is anticipated that ICP may sustain an average price of approximately $21.25, and the projected lower limit is estimated to be around $20.67. The potential for a price upswing in ICP can be attributed to its favorable features, including reduced fees, increased transparency, enhanced security measures, and accelerated transaction processing speeds.
ICP Price Prediction 2028
Our ICP price prediction suggests that the cryptocurrency is expected to fluctuate within a range, encompassing a minimum value of $30.73 to a maximum of $36.19, and with an average projected price of approximately $31.79. Recognized as one of the standout performers among digital currencies, ICP is poised to experience an increased demand in the foreseeable future, potentially resulting in a significant upswing in its market value. This optimistic market sentiment implies a promising trajectory for the token, attracting the attention of investors and potentially propelling its value to unprecedented levels.
ICP Price Prediction 2029
Derived from our comprehensive analysis for the year 2029, our ICP price prediction indicates a promising potential for achieving a maximum value of $54.26. This signifies a substantial upward movement from its existing valuation. Furthermore, we anticipate that the average trading price for ICP will orbit around $44.44, with a projected lower limit estimated at approximately $43.16 throughout the duration of the year. Taken together, these indicators paint a favorable picture for the anticipated trajectory of ICP's price performance in the year 2029.
ICP Price Prediction 2030
In alignment with our 2030 Internet Computer price forecast, there is a potential for the ICP price to reach its maximum price at $73.74. This forecast is intricately crafted, taking into account a diverse array of factors such as the overall performance of the market, the pace of ICP adoption, and advancements within the broader cryptocurrency sector. Additionally, our prognostication incorporates a significant bolstering of the price support level, indicating a minimum estimated price of $60.48 for ICP. On an average basis, we anticipate that the market value of ICP will persist around $62.70. The synergy of these elements collectively contributes to fostering a positive outlook regarding the prospective price trajectory of ICP in the year 2030.
ICP Price Prediction 2031
As outlined in our 2031 Internet Computer prediction, we envision a promising trajectory that could lead the cryptocurrency to attain a peak value of $106.57, signaling a significant upsurge from its current market price. Over the course of this timeframe, we anticipate that the average price will orbit around $89.34, with a minimum projected value of approximately $86.21. The substantial growth potential within the realm of digital currencies may catalyze considerable user adoption, serving as a potential catalyst for the observed higher price levels.
ICP Price Prediction 2032
As per our analysis for the year 2032, our ICP price forecast highlights significant growth potential for ICP, projecting a peak price of $150.64. The cryptocurrency's average price is anticipated to remain robust at around $133.65, signifying a predominantly positive trajectory. The projected minimum price is envisaged at $129.18, indicating a relatively firm support level. In summary, the outlook presents a bullish scenario for ICP throughout the year, characterized by the potential for upward movements and periodic fluctuations.
ICP Price Predictions by CoinCodex
According to CoinCodex's current prognostication for Internet Computer, there is an anticipated 9.50% increase in its price, reaching $4.92 by December 3, 2023. Technical indicators suggest a current sentiment classified as Neutral, with the Fear & Greed Index registering 68 (Greed). Over the last 30 days, Internet Computer has experienced 17 out of 30 (57%) green days, reflecting a 6.50% price volatility. CoinCodex's forecast suggests that the present moment is opportune for acquiring Internet Computer. Looking ahead to 2024, the projected yearly low for Internet Computer is estimated at $4.50, with an optimistic prediction of the price reaching as high as $35.29 during the same year. Extending this trend until 2030, the forecast indicates a maximum price of $31.50 for Internet Computer.
ICP Price Predictions by Wallet Investor
According to Wallet Investor's analysis, their prediction for the future price of Internet Computer (ICP) suggests a depreciation, indicating that ICP may be considered a high-risk and potentially unfavorable investment option. Their forecast proposes a potential devaluation of your current investment, with the price estimated to be around $0.183 by the year-end. Investors should exercise caution and carefully consider the associated risks before making decisions based on this projection.
ICP Price Predictions by Digital Coin Price
According to the Internet Computer price prediction from experts at Digital Coin Price, there is an expectation of a long-term increase in value. The forecast suggests that the price of Internet Computer (ICP) could surpass $10 by the end of the current year. Looking further ahead, the 2026 projection anticipates a price of around $23.43 for Internet Computer, indicating that it could be considered as a potentially profitable investment. As with any financial forecasts, it's important for investors to conduct thorough research, consider various factors, and exercise caution in making investment decisions.
ICP Overview
How can a project founded in October 2016 by Dominic Williams attract much interest from the crypto environment? More so, how can it raise a total of $121 million from contributors like Andreessen Horowitz, Aspect Ventures, Electric Capital, ZeroEx, Scalar Capital, Polychain Capital, SV Angel, and Multicoin Capital, and several notable early Ethereum investors?
On May 10, 2021, DFINITY Foundation — founded by Dominic Williams– released the Internet Computer into the public domain, a major milestone that indicates that the Internet Computer currently functions as a decentralized global computer, as mentioned by the release of all of the Internet Computer's source code into the public domain.
DFINITY claims that its Internet Computer is highly scalable and runs at web speed, with some functions taking only milliseconds. The network is governed by an open autonomous algorithmic software system called the Network Nervous System (NNS), and its native utility token is ICP (previously known as DFN).
After Bitcoin, which serves as digital gold, ad Ethereum driving the decentralized finance revolution, the project claims to be the third greatest breakthrough. Let's see why that is.
More on the ICP Network
What is Internet Computer (ICP)?
Internet Computer is developed by a non-profit organization or NGO called DFINITY. DFINITY is one of the most successful foundations that attracted many investors' funds during its initial stages. To understand what the Internet Computer does, you need to dive deeper into the technicalities of DFINITY, and the goals of its founder, Dominic Williams.
Williams founded DFINITY in October 2016. It attracted a lot of attention for its new implementation of blockchain technology. The Internet Computer, on the other hand, was launched in the year 2021, in the month of May by the Foundation.
The contributors to the DFINITY Foundation include Polychain Capital, ZeroEx, Aspect Ventures, and many more firms, including notable Ethereum supporters, in the early stages. The Foundation works on discovering more possibilities in the blockchain industry. There are a number of experts working under the Foundation. With their collective efforts, the Foundation has published 100,000 citations along with 200 patents.
Significance of ICP
In addition to Bitcoin and Ethereum, this is the third significant innovation in blockchain technology. The blockchain-based computer distributes and scales smart contract computation and the data gathered after computation, all at web speed. Furthermore, it facilitates the execution and storage of data with great efficiency and provides dynamic software frameworks to the developers of the ICP community.
To summarize, the ICP blockchain protocol will help to build better and more efficient platforms, decentralized applications, and websites, and produce a more tokenized version of these systems. Therefore, the Internet Computer protocol is a step further into the blockchain world.
Latest ICP Developments
2022 was a new slate for ICP. It raced from $25.36 on 1 January 2022 to $36.55 five days later. This came after the launch of the Terabithia bridge, a function designed to improve interoperability between Internet Computer and Ethereum. Terabithia is a cross-chain communication protocol and asset mirroring protocol. Users can use any ETH tokens, fungible or nonfungible, on the Internet Computer blockchain. This makes ICP a layer-two scaling solution.
Terabithia could be the next step for Internet computers to scale. This bridge allows smart contracts to operate between the two blockchains, meaning assets can be created that function on both Ethereum and Internet Computer. For example, ERC-20 tokens can exist on the Internet Computer blockchain.
By now being cryptographically integrated with the Bitcoin network, The Internet Computer can operate smart contracts on the flagship cryptocurrency's ledger using canisters. Canister smart contracts can now create Bitcoin addresses, send, and receive Bitcoin, eliminating the need for "wrapped Bitcoin" when transferring BTC between blockchains.
Used on blockchain bridges as a quasi-bitcoin token, Wrapped Bitcoin has not proved to be the safest solution due to the frequency of bridge hack attacks. Chainalysis, a blockchain data intelligence platform, reported that $2 billion worth of crypto had been stolen on cross-chain bridges.
On the heels of these three critical developments – smart contract outcalls to web 2.0, integration with the Bitcoin network, and the ability to issue permissionless governance tokens – a bottoming process could be in the works for ICP.
Also Read:
Conclusion
Internet Computer Project maintains its integrity. It would be vital to state that for the platform to surge on the exchange chart following the price increase and decline along with its market capitalization, clients must place their trust in it. By conducting your own research and studying Internet Computer's technical analysis, you must make sure that you are consistently following internet computer forecasts, viewing the daily cryptocurrency values, and purchasing ICP coins. In reality, ICP is also gaining notoriety in the public eye as a vital participant in the blockchain business because of community tie-ups with colossi like Aspect Ventures, Polychain Capital, and Scalar Capital.
The overall health of the cryptocurrency sector will significantly impact the future of the internet. You must be sure that your investment approach is sound regarding ICP. This form of investing is inappropriate for people with an asymmetrical risk profile. It is still a great investment for individuals with a high-risk tolerance and sound financial standing. Along with being speculative, ICP exposes users to global technology and a dynamic ecology. Most Internet computer price predictions indicate a bullish long-term investment.
Be sure to do your own research and get professional investment advice. Remember never to invest more than you can afford to lose.
Is ICP a good investment?
Yes, ICP can be considered a good investment in 2022, as the price crashes making it cheaper to buy. However, the price is expected to rise to new highs where it will be much more expensive to sell, and could potentially earn you a significant amount of money.
What does ICP coin do?
ICP tokens have two uses: first, they can be locked inside the NNS to create 'neurons' which can then vote on governance proposals and earn voting rewards; second, they can be converted into cycles to power computation done by canisters.
Is ICP a Web 3?
Internet Computer (ICP) is one of the world's fastest blockchain networks that helps developers build the future dApps and smart contracts in the Web 3.0 virtual world.
Can you stake ICP?
If you have at least 1 ICP on your NNS account, you're eligible to create a neuron and stake ICP for rewards. You can use the Network Nervous System dapp to create and manage neurons, vote on proposals, and create canisters on the Internet Computer.
Disclaimer. The information provided is not trading advice. Cryptopolitan.com holds no liability for any investments made based on the information provided on this page. We strongly recommend independent research and/or consultation with a qualified professional before making any investment decision.