Flow Coin Price Prediction 2023-2032: Is FLOW a Good Investment?
Flow Coin Price Prediction 2023-2032
Flow Coin Price Prediction 2023 – up to $0.7396
Flow Coin Price Prediction 2026 – up to $2.45
Flow Coin Price Prediction 2029 – up to $7.02
Flow Coin Price Prediction 2032 – up to $22.40
Seasoned traders go by the time-tested formula: invest most of your crypto portfolio in BTC (50%); 35% in a basket of big-cap coins, and the rest in small projects with huge upside. But for beginners, all cryptocurrencies are risky investments, so they must tread lightly and keep all their senses open in the crypto space. Let's see what we can take away from this Flow Coin Price Prediction.
The Flow ecosystem continues to build innovative products and solutions despite what's happening with other similar organizations. Look at some of the Flow community's achievements in Q1 to know the potential as the layer 1 blockchain of choice for building and scaling mainstream powerful innovations.
Much of the broad-based interest in FLOW appears to be due to a big listing announcement. Specifically, crypto exchange Coinbase announced that Flow would be the latest crypto investors can trade on the platform. How high can the "Coinbase effect" take Flow?
We would like to echo a positive perception at this point before we look into Flow coin price prediction:
The global crypto market has seen a transition towards bullishness due to the influx of funds. The changes have been positive, bringing Bitcoin, Ethereum, and others considerable gains. The change is evident from the global market cap value, which is currently about $1.27T. There are little chances that it would cross the previous threshold level. The previous data shows that the market has lingered in the same range and might continue to do so. The downward pull hasn't let it change value.

Cryptopolitan
How Much is Flow Worth?
As of today, the price of Flow stands at $0.768, accompanied by a 24-hour trading volume of $125.82 million, a market capitalization of $1.13 billion, and a market dominance of 0.07%. Over the past 24 hours, the FLOW price has experienced a 0.72% increase. The current sentiment in Flow's price prediction leans towards bearish, contrasting with a Fear & Greed Index indicating a value of 72, representing a state of greed. Flow's circulating supply is currently 1.48 billion FLOW out of a maximum supply of 1.37 billion FLOW. The yearly supply inflation rate is at 42.38%, resulting in the creation of 439.15 million FLOW in the last year. In the realm of market capitalization, Flow holds the top position in the NFT Tokens sector and is ranked 29th in the Layer 1 sector.
Flow Coin price analysis: FLOW gains bullish momentum at $0.768
TLDR Breakdown
FLOW price analysis is bearish today.
The strongest resistance is present at $0.781.
FLOW trades at $0.768 at the time of writing.
As of December 7, 2023, the Flow cryptocurrency demonstrated a gradual upward trajectory, commencing at an initial price of $0.746. Despite occasional fluctuations, its overall trajectory primarily followed an ascending pattern. The cryptocurrency attained a temporary peak at $0.786 before settling within a relatively stable range, maintaining a persistent value around $0.760. Noteworthy is Flow's impressive resilience amid market volatility, maintaining a consistently positive overall trend characterized by an ascending pattern, notably centered around the $0.768 mark and achieving a significant threshold of $0.670.
Flow cryptocurrency showed a gradual upward movement, starting at $0.746 and following a predominantly ascending trend. Despite intermittent fluctuations, it reached a temporary high of $0.786 before stabilizing in a relatively consistent range, with its value persistently hovering around $0.760. Notably resilient amidst market volatility, Flow maintained a positive overall trajectory, marked by an ascending pattern and notably centered around the $0.768 mark. It successfully reached a noteworthy threshold of $0.670, reflecting its commendable performance during the observed period.
Flow Coin price analysis for 1-hour: Recent developments
The Flow Coin has exhibited a consistent and gradual upward trajectory, although there are indications suggesting a potential slowdown in its momentum. A notable challenge is emerging as the coin encounters resistance around the $0.785 mark, posing a potential barrier to its ongoing upward trend. Conversely, a robust support zone is taking shape along the lower boundary of the Bollinger Band, positioned at $0.755. This support level plays a crucial role in bolstering the coin's upward price trend, contributing to its resilience in the face of possible downward pressures. The interaction between these resistance and support levels underscores the current dynamics influencing the price movement of the Flow Coin.
The present analysis of Moving Average levels suggests a bullish trend, indicating an increased likelihood of sustained upward price movements. Traders are advised to proceed with caution and remain vigilant for potential shifts in market sentiment. The current price trend is characterized by an ascending trajectory, with the price marginally surpassing the Moving Average range within the Bollinger Band. A clear breach of this level could signal a reversal, potentially leading to more substantial price increases. Given the current scenario, attentiveness is crucial, and traders are encouraged to promptly recognize any changes in the ongoing trend, allowing them to make informed decisions in response to evolving market conditions.
As of now, the Relative Strength Index (RSI) for Flow Coin stands at 48, signaling a market equilibrium where buying and selling activities are balanced, implying potential price stability. The upward trajectory of the RSI emphasizes the prevalence of buying activity, indicating a probable continuation of the upward trend for Flow Coin. However, despite the sustained buying pressure, it is essential to remain vigilant and acknowledge potential risks that may emerge in the market. Close monitoring of the RSI and staying attuned to shifts in buying and selling dynamics will be crucial for traders to make informed decisions amidst the evolving market conditions.
Flow Coin 1-day price analysis: FLOW finds upward momentum at $0.768
Evaluating the value of Flow Coin is akin to solving a intricate puzzle, shaped by a blend of bullish and bearish factors that contribute to observable price fluctuations. In the inherently volatile cryptocurrency landscape, significant price swings are a frequent occurrence. The reliable Bollinger Bands model plays a pivotal role by highlighting a significant resistance level at $0.781 for Flow Coin. Successfully surpassing this barrier holds the potential to initiate a promising upward trajectory. Equally noteworthy, the model identifies a robust support level at $0.587, serving as a price floor where buyer interest reignites and acting as a safeguard against sharp price declines. This intricate interplay of resistance and support levels underscores the nuanced nature of Flow Coin's valuation within the dynamic cryptocurrency market.
Analyzing the price dynamics of Flow Coin, the current Relative Strength Index (RSI) at 63 indicates a phase of market volatility. The RSI pattern suggests a potential shift toward a bullish market sentiment, aligning with an emerging trend characterized by a slight upward trajectory, where buying activity outweighs selling. The escalating upward momentum signifies active engagement from both buyers and sellers, involved in a competitive struggle to influence and define the market direction. This dynamic interaction highlights the ongoing tug-of-war within the market, with the potential for shifts in sentiment as participants vie for control and influence over the price movements of Flow Coin.
What to Expect from the Flow Price Analysis
In conclusion, Flow Coin's recent performance reflects a dynamic interplay of bullish and bearish factors within the cryptocurrency market. The price analysis indicates a gradual upward trajectory, with notable resistance at $0.781 and robust support at $0.587. While the Moving Average levels suggest a potential bullish trend, traders are advised to exercise caution and monitor market sentiment closely, especially considering the nuanced nature of cryptocurrency price movements. The Relative Strength Index (RSI) at 63 suggests a phase of volatility with a leaning towards a bullish sentiment. The ongoing tug-of-war between buyers and sellers underscores the complexity of Flow Coin's valuation dynamics. As the market continues to evolve, staying vigilant and adaptable will be crucial for traders in making well-informed decisions in response to changing conditions.
Recent news on Flow Coin
Boosting the NFT space: Flow, an innovative NFT (non-fungible token) platform, is poised to revolutionize the NFT market following a successful seed funding round of $3 million. The platform's pioneering 'place bid once, buy from everywhere' technology allows users to bid on NFTs easily. It is being lauded as a means to eliminate frontrunners and curtail excessive gas fees.
Led by Nima Capital, with participation from several other industry leaders, the substantial seed funding propels Flow to the frontlines of a modular NFT ecosystem. The project's founder, neverland, believes that NFT platforms built on this modular stack can gain shared security from an underlying L1 and concurrently build rapid, low-cost NFT trading infrastructure and creator tooling.
Boasting a team of developers from Google and Binance with impressive backgrounds, Flow plans to incorporate Artificial Intelligence (AI) into its platform. This integration includes LLM-based NFT analytics solutions, advanced agents to automate technology, and tools empowering the community to create and deploy NFTs. Flow's trajectory indicates a promising future, not just for the platform itself but for the NFT market as a whole.
The recent activity of Flow Coin highlights the impressive response to the #onFlow hackathon, with an astounding 7,000 developers registering to participate. The hackathon, named "#FlowtotheFuture," commenced on June 15 and promises an engaging month-long period dedicated to building applications on the Flow blockchain. The event boasts substantial rewards, with over $500,000 in prizes up for grabs. Participants can look forward to exploring various tracks, including AI, gaming, mobile, and DeFi (Decentralized Finance), among others. The hackathon is sponsored by prominent tech entities such as AWS Cloud, Azure, Chainlink, Google Cloud, and QuickNode. To celebrate the culmination of this exciting endeavor, an awards ceremony titled "Flow to the Future" is scheduled for August 24 at 9 a.m. PT, during which the winners will be announced and recognized for their innovative contributions. The data invites developers to register and be a part of this forward-looking event by visiting the provided registration link.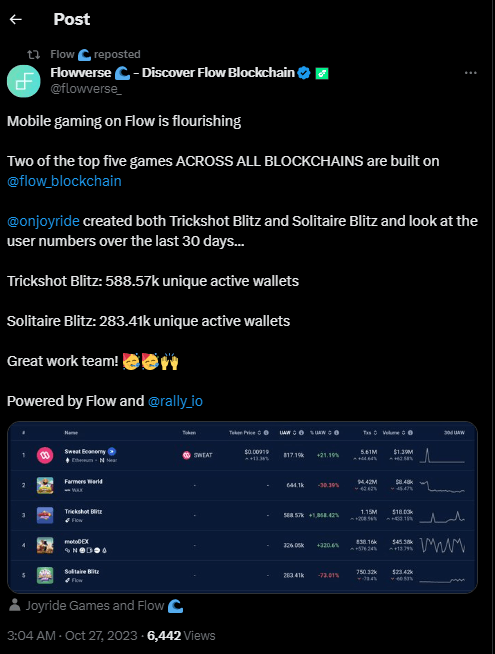 The tweet highlights the thriving mobile gaming ecosystem on the Flow blockchain, where two of the top five games across all blockchain platforms have been developed. OnJoyride, in collaboration with Rally, has created these games, Trickshot Blitz and Solitaire Blitz, which have garnered substantial user engagement in the past 30 days. Trickshot Blitz boasts 588.57k unique active wallets, while Solitaire Blitz has 283.41k unique active wallets, indicating their popularity and success in attracting players. The tweet acknowledges the achievement and teamwork behind these impressive user numbers, emphasizing the growth and success of mobile gaming on the Flow blockchain.
Flow Coin Price Predictions for 2023-2032
Price Predictions by Cryptopolitan
| | | | |
| --- | --- | --- | --- |
| YEAR | MINIMUM | AVERAGE | MAXIMUM |
| 2023 | $0.68 | $0.71 | $0.74 |
| 2024 | $1.01 | $1.04 | $1.21 |
| 2025 | $1.40 | $1.45 | $1.72 |
| 2026 | $2.03 | $2.10 | $2.45 |
| 2027 | $2.83 | $2.91 | $3.52 |
| 2028 | $4.00 | $4.15 | $4.97 |
| 2029 | $6.04 | $6.21 | $7.02 |
| 2030 | $8.80 | $9.11 | $10.33 |
| 2031 | $12.87 | $13.23 | $15.69 |
| 2032 | $17.83 | $18.49 | $22.40 |
Flow Coin Price Prediction 2023
Our Flow Coin price analysis in 2023 points to a promising trajectory, indicating the likelihood of reaching a high point at $0.7396 and a projected low of $0.6799. This forecast results in an average market value estimated at $0.7129. It's important to note, however, that the cryptocurrency market is inherently dynamic and subject to various unpredictable influences.
Flow Coin Price Prediction 2024
Anticipating 2024, our Flow coin price prediction suggests the possibility of reaching a peak at $1.21. Moreover, our projection includes an average price of $1.04, with a minimum estimate of $1.01. The overall outlook leans towards a bullish trend for the token, especially if Flow's ecosystem successfully forges strategic partnerships with significant industry investors and major blockchain networks. Such collaborations hold the potential to yield positive outcomes for investors.
Flow Coin Price Prediction 2025
Looking ahead to 2025, our Flow coin price prediction indicates the potential for a peak reaching $1.72. Concurrently, we foresee a minimum price of $1.40 and an average price of $1.45. These projections underscore the potential for substantial price growth, particularly in anticipation of the widespread adoption of blockchain-powered applications leveraging Flow's technology.
Flow Coin Price Prediction 2026
As we peer into 2026, our Flow coin price prediction reflects a prevailing bullish market sentiment, highlighting a projected maximum price of $2.45 and a minimum of $2.03. Furthermore, our analysis anticipates an average market price settling at $2.10. These projections underscore the potential for substantial price expansion, signaling a growing confidence among investors in Flow coin's prospects for the year 2026.
Flow Coin Price Prediction 2027
As indicated by our 2027 Flow coin price prediction, there seems to be substantial profit potential for investors. Our projection envisions the cryptocurrency reaching a peak price of $3.52, maintaining an average price of $2.91, and having a minimum price of $2.83. These forecasts suggest the potential for attractive returns and promising investment prospects in the Flow coin market in 2027.
Flow Coin Price Prediction 2028
In our Flow coin price prediction for 2028, we foresee robust price growth, projecting a maximum trading price of $4.97. Additionally, our expectations include an average price reaching $4.15, while the minimum forecasted price for the coin stands at $4.00. These projections paint a promising picture for Flow within the cryptocurrency market, signaling high demand for the token and a substantial increase in its price.
Flow Coin Price Prediction 2029
For our 2029 Flow coin price prediction, we anticipate a significant increase in value, projecting a maximum price of $7.02. Furthermore, our forecast indicates that the cryptocurrency will maintain an average trading value of $6.21, with no anticipated price dropping below $6.04 throughout the year. These projections underscore a robust potential for both price growth and stability in the Flow coin market in 2029.
Flow Coin Price Prediction 2030
As we gaze into the future of 2030, our Flow coin price prediction presents an optimistic outlook, featuring a maximum projected price of $10.33, indicative of substantial growth potential. Additionally, we anticipate a reinforced price support level, establishing a minimum price of $8.80. The expected average market price for Flow in 2030 hovers around $9.11, highlighting the potential for sustained positive performance and potential advancements in the cryptocurrency's value.
Flow Coin Price Prediction 2031
Looking into 2031, our Flow coin price prediction outlines a predominantly bullish trajectory, featuring a maximum projected price of $15.69, indicating substantial growth compared to the current market value. Additionally, we anticipate an average price of $13.23, with a minimum projected price of $12.87. These predictions underscore the potential for significant price appreciation and overall positive performance in the Flow coin market throughout 2031.
Flow Coin Price Prediction 2032
In our 2032 Flow coin price prediction, an optimistic scenario emerges, showcasing the cryptocurrency's potential to reach a maximum price of $22.40. Additionally, our projection positions the average trading price for the coin at approximately $18.49, with no anticipated decline below $17.83. These predictions present a positive outlook for Flow, hinting at the prospect of growth and market resilience within the specified timeframe.
Flow Coin Price Prediction by CoinCodex
According to CoinCodex's latest Flow price prediction, there is an anticipated decline of -7.29%, with the price of Flow expected to reach $0.597855 by December 3, 2023. Their technical indicators suggest a current sentiment of Neutral, and the Fear & Greed Index registers at 68 (Greed). Flow has seen 19 out of the last 30 days (63%) marked as green, with a recorded 9.75% price volatility over the same period. Based on CoinCodex's Flow forecast, the current analysis suggests it is a favorable time to consider buying Flow. The estimated yearly low for Flow in 2024 is projected to be $0.560682, with a potential peak reaching as high as $1.485512 next year. Extrapolating this analysis until 2030 using the same criteria, CoinCodex sets the maximum Flow price prediction at $4.62.
Flow Coin Price Prediction by DigitalCoinPrice
DigitalCoinPrice offered a Flow price predictions, suggesting a potential rise to $1.51 within the current year. Looking ahead to 2025, their forecast projects a potential value of $2.48 for Flow. The site further anticipates substantial growth, with their Flow price prediction for 2030 indicating a potential worth of $7.42. It's important to note that such projections are speculative, influenced by various market factors and subject to change based on the dynamic nature of the cryptocurrency market. Investors should exercise caution and conduct thorough research before making any financial decisions based on these predictions.
Flow Coin Price Prediction by Wallet Investor
Waller Investor's forecast for Flow suggests a high-risk investment scenario for the upcoming year, cautioning that its current value could potentially face devaluation in the future. According to their analysis, the price of Flow coin is expected to hover around $0.048 after the span of a year. It's essential for investors to carefully weigh the associated risks and conduct thorough research before considering Flow as an investment option. Market conditions and various factors can contribute to fluctuations, emphasizing the importance of informed decision-making in the realm of cryptocurrency investments.
Overview of Flow Coin
[mcrypto id="141357″]
Flow Coin Price History
The past price analysis and current market status of the Flow coin are based on the data available from Coinmarketcap. Although FLOW has been in the crypto space since 2018, we have carried out this past price analysis based on the earliest available data.
FLOW hit its all-time low of 1.50 USD on January 26, 2021, and the price of FLOW rode with the bulls afterward. A few months later, FLOW attained its current ATH of 46.16 USD on April 05, as seen on the chart. The significant price rise of over 2900% can be attributed to the development in the ecosystem and the overall positive sentiments in the crypto market that also hiked bitcoin prices and those of other assets like ETH and BNB.
Within 7 days, the market value of FLOW has fallen by over 13%. Also, in the last 30 days, the price movement of FLOW has been bearish, with the coin's value attaining 18.90 USD and dropping to 11.61% – a 38.57% price drop. Over a 90-day period, FLOW reached a maximum market price of 28.79 USD, and afterward, it took on a downward trend, losing about 60% of its value.
Although FLOW has seen several bullish movements within the years, the uptrends have been followed by consolidations, corrections, fluctuations, and reversals. FLOW has not performed well lately; could this trend continue for a little longer?
The Flow coin is trading at 0.7448 USD and ranks at no. 58 on the cryptocurrency market, with a market cap dominance of 0.07%. The total token supply of this crypto is 1,036,200,000 FLOW. According to Coinmarketcap, the current ROI is over 13,000% if FLOW was purchased since its launch.
More on Flow Coin (FLOW)
What is Flow Coin?
Flow is a leading blockchain project that seeks to become a better alternative to Ethereum. It is a Proof-of-Stake platform that has faster speeds and lower transaction costs than Ethereum. As a result, its developers hope that it will become the go-to platform for web 3.0 deployments. The platform was created by the team that built CryptoKitties.
The decision by Yuga Labs on ApeCoin deployment and the ongoing permissionless contract development progress could trigger FLOW price action. The upgrade, which is expected to be launched soon, will focus n code-hardening, professional audits, and a bug bounty program.
Developed by Dapper Labs in 2018, Flow is a fast and decentralized layer-one blockchain infrastructure designed to function as the base protocol for NewGen applications, games, and digital assets. The Flow blockchain is created from scratch and intended for applications and internet-scale protocols that demand distinctive customer experience. It's reputed to be the only blockchain-based technology that incorporates user-experience improvement features into its protocol layer.
The team behind the development of this project is renowned for consistently delivering top-notch blockchain consumer experiences with products like Dapper Wallet, NBA Top Shot, and CryptoKitties.
The Flow ecosystem is developer-friendly and has continued to attract top developers and some blockchain enthusiast brands, already building products on the network. Also, Flow has established collaborations with top-tier game developers, including nWay and Animoca Brands; entertainment brands, including LaLiga, NFL, Warner Music, NBA, and UFC; leading crypto platforms, including Binance; development studios, such as Samsung and Ubisoft, and a couple of NexGen high-growth startups like Opensea.
The native cryptocurrency token that fuels the Flow ecosystem is FLOW. It is utilized by developers, validators, participants, and applications on the network. FLOW token is designed to serve several purposes, including network fees, rewards, payment method, and a reserve asset in the long run.
Features that make the Flow network unique include upgradeable smart contracts, in-built logging support, consumer-friendly onboarding, and high throughput without sharding. It leverages Cadence, a resource-oriented programming language for developing app assets and smart contracts.
Now that you're familiar with the Flow network and its features, do you think its highlighted developments and future potential can make FLOW a valuable cryptocurrency both in the short-term and long term?
Flow Coin Partnerships
The Flow Network is continually looking at partnerships. Cheese announced that they would be partnering with the Flow blockchain. Cheeze is a photography-based NFT Media and Entertainment company. They will help to promote the recent NFT development of Flow.
If you remember, on 14 September 2021, Flow announced a partnership with Google Cloud's power. The collaboration is expected to bolster the connection between consumers and app developers globally.
On 1 January 2022, Think Fund, in collaboration with Blocto App, announced a partnership with emerald DAO, the first DAO built on the Flow blockchain.
Flow blockchain started the year by introducing the customers to Flowverse, a new project in the ecosystem.
FLOW has several essential characteristics that make it the ideal currency for a new generation of games, consumer applications, and the digital assets that will power them. Let's delve into more details of the Flow ecosystem, its functions, unique features, technical analysis, and price predictions.
Flow Coin's New Development
Flow Coin network announced that an update on Cadence, the smart contract language used by Flow blockchain.
Metrika has partnered with Flow to release the first-ever Node monitoring platform built for Web3 on Flow blockchain network.
Also Read:
Conclusion
Flow is a good cryptocurrency with good projects behind it. However, investing in this cryptocurrency largely depends on your risk appetite. As you can see from our Flow price forecast, we expect the coin to reach $40.23. Despite being bullish on this cryptocurrency, we advise you do your own research before investing in it.
Is Flow a good investment?
As per the predictions, Flow is a good investment and profitable in the long term.
Where can I buy Flow?
You can buy Flow on Upbit, Binance, OKX, DigiFinex, Gate.io, Huobi Global, and KuCoin.
What might be the Flow price in 10 years?
Flow price is forecast to reach the lowest possible level of $32.57 in 2032. As per our findings, the FLOW price could reach a maximum possible level of $40.23 with the average forecast price of $33.51.
Disclaimer. The information provided is not trading advice. Cryptopolitan.com holds no liability for any investments made based on the information provided on this page. We strongly recommend independent research and/or consultation with a qualified professional before making any investment decisions.