U.S. securities regulators have rejected listings for two proposed ETFs based on spot Bitcoin (BTC-USD) trading. Authorities continued to show skepticism about creating such exchange-traded funds amid government worries about a lack of visibility in cryptocurrency markets. But for Proshares Bitcoin Strategy ETF (BITO), it's business as usual.
Today's BitoPro Exchange Token price is $0.051657 with a 24-hour trading volume of $1,881.02. BitoPro Exchange Token is down 0.79% in the last 24 hours. The current CoinMarketCap ranking is #5886, with a live market cap of not available. The circulating supply is not available and a max. supply of 500,000,000 BITO coins.
BITO vs. GBTC
BITO sold $290M worth of shares in just the first 20 minutes of trading, but the outlook is different now, with Bitcoin in a slump as the rest of the crypto market.
It was one of the biggest first days of trading history, raking in more than half a billion from investors. Still, crypto investors are on the lookout for 2022 for the approval of the first spot bitcoin exchange-traded fund in the United States.
Although the Securities and Exchange Commission greenlighted the launch of ProShares' Bitcoin Strategy ETF this year, the product tracks Bitcoin futures contracts rather than giving investors direct exposure to the cryptocurrency itself.
Grayscale Investments (GBTC) has filed to convert its bitcoin trust, the world's biggest bitcoin fund, into a spot ETF. And there are plenty of other bitcoin ETF applications waiting in the wings. GBTC is a trust that holds Bitcoin but trades like a closed-end fund.
Therefore, GBTC can trade at a huge discount or premium to the underlying price of Bitcoin, which can either enhance or detract from an investor's total return. BITO is an ETF that holds bitcoin futures contracts
What that tells us is where money is today. And 75% is sitting in open-ended mutual funds, but that number has been steadily shrinking and because money has been flowing more rapidly into ETFs than it has in mutual funds," Morningstar's Johnson said.
Rosenbluth, the head of ETF and mutual fund research at CFRA said that thematic ETFs have seen a steady climb, with the focus having shifted to electric vehicles and infrastructure in 2021, compared with cloud computing and cybersecurity in the prior period.

Investors have over 200 thematic ETFs to consider for 2022 as they look to identify the next long-term trend.
Launching of BITO ETF – a looking back
Trading under the ticker BITO, the fund gained as much as 5.4% to $42.15 before paring gains and turning negative at one point. Still, more than 18 million shares worth roughly $740 million changed hands by around 1:24 p.m. in New York, according to data compiled by Bloomberg.
Bitcoin made a run at its record high, gaining as much as 3.4% to trade around $63,475 in November 2021, slightly below its April all-time high of just under $65,000. BITO was up about 1.56% after rising 3% to $41.22 in early action.
After the application was put forth to the SEC for approval of a Bitcoin ETF, it was revealed that a futures ETF has a higher chance of being approved.
This Bitcoin futures ETF is led forth by ProShares. Furthermore, it is legal for the ProShares Bitcoin strategy ETF to be listed on the New York Stock Exchange. Before you start trading Bitcoin futures ETF using BITO, it is essential to check out this BITO ETF price prediction.
Whereas the ProShares fund offers regulated exposure to Bitcoin, it will come at a price to investors. The BITO fund will charge an annual management fee (an expense ratio) of 0.95 percent.
ProShares Fund will invest in Bitcoin while exposing the BTC futures trading on Chicago Mercantile Exchange or CME. The futures market is a volatile field in which investors can indirectly invest using the ProShares ETF, which provides exposure to Bitcoin.
After the approval of this ETF, Bitcoin soared to higher levels, and as a result, investors are bullish. ProShare celebrated this new development in the industry through a ceremony in a press conference wherein the prominent members rang their bell of success.
BITO ETF Technical Analysis
As seen on the price chart, the On-Balance Volume is falling, meaning that BITO ETF's selling volume is currently outperforming its buying volume – which indicates lower prices. Similarly, the chart shows that the MACD line has crossed below the signal, indicating falling prices – this provides the possibility for a short trade.
Wallet Investor
Wallet Investor predictions imply a rather bearish outlook for BITO ETF. They forecast the fund to plummet by 25.41% within the next few days while projecting a valuation of 0.000001 USD in one year.
Coinarbitragebot
Based on historical price data, Coinarbitragebot expects BITO ETF to decrease by 39.81% over the next thirty days. However, their predictions portray a bullish image for long-term traders.
According to their analysis, the token is expected to be valued at $17.89 by this year's end, indicating a 21% gain on the current market price. By 2023, Coinarbitragebot forecasts BITO trading at $31.83. By 2025, they anticipate a BITO market price of $83.34, which would be 6x today's trading price.
Coincodex
According to Coincodex predictions by price data, Proshares Bitcoin Strategy ETF could experience losses of 27.26% and $39.23% in seven and thirty days, respectively. If the price of Proshares Bitcoin Strategy ETF trails the technology sector's growth, Coincodex predicts a bullish market for the coming years.
Based on the expected internet evolution, BITO could have a market price of $15.61 by 2023 and $26.01 by 2025. Interestingly, if BITO follows the development trajectory of major tech firms, for example, Facebook, Coincodex predicts the token to be trading at $18.87 by 2023, with a potential of $131.97 by 2025.
Cryptopolitan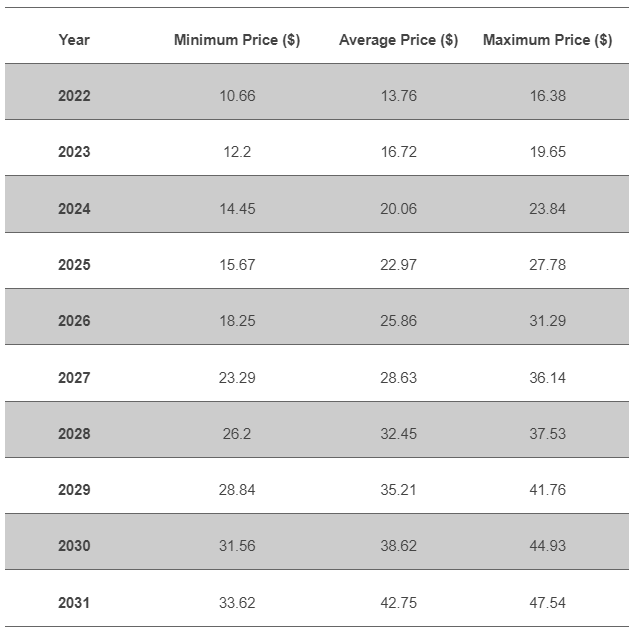 Bitcoin futures account for a sizable chunk of the BITO ETF's holdings. If the value of these futures does not fall this year, we anticipate the Proshares Bitcoin Strategy ETF could trade in a range of $10.66-$16.38, with an average price of $13.76.
According to our projections, 2023 is an optimistic year for BITO ETF traders. We predict the BITO market to have an upward trajectory, leading to an average value of $16.72, a maximum price of $19.65, and a minimum price of $12.20.
With major investments in Bitcoin futures, the BITO ETF growth pattern could likely be affected by the value of Bitcoin. With no drastic losses by the premier cryptocurrency, we expect BITO ETF to maintain its yearly bullish trend, trading as high as $23.84, with a least possible price of $14.45 and an average value of $20.06.
For 2025, Our price forecasts expect Proshares Bitcoin Strategy ETF (BITO) to have a minimum price of $15.67. The expected average value and the maximum market price are $22.97 and $27.78.
With this financial instrument's continual purchase and positive returns, we predict the BITO market trading with an average price of $25.86 and a maximum price of $31.29 by 2026. For this year, we expect the lowest market price to be $18.25
Per our price predictions for 2027; we forecast the Proshares Bitcoin Strategy ETF to reach a maximum and minimum market value of $36.14 and $23.29, respectively. The calculated mean value is $28.63.
Based on our price projections for 2028, investors could anticipate the BITO ETF market to close the year with an average value of $32.45. Our predictions also indicate the expected price range to be $26.20 – $37.53.
Proshares Bitcoin Strategy ETF holdings include a large amount of the U.S dollar. If the U.S dollar appreciates significantly in the coming years, we predict it could contribute to the BITO ETF's mean market value rising to $35.21 by 2029. For this year, the anticipated market support and resistance levels are $28.84 and $41.76, respectively.
According to our 2030 BITO price predictions, the stock could surpass its all-time high value of $44.27. We foresee an average price of $38.62, with a potential valuation of $44.93 and a minimum market value of $31.56.
If the Proshares Bitcoin Strategy ETF sustains a yearly upward trend till 2031, we project a maximum market price of $47.54, a minimum price of $33.62, and an average market value of $42.75. Therefore, one unit of this ETF could be trading at 4x its current value by 2031.
Conclusion
According to our price predictions, we expect Proshares Bitcoin Strategy ETF to continue a bullish market in the coming years, meaning it could be a favorable long-term investment. However, these predictions remain subject to many factors and thus should not be considered investment advice.
BITO ETF remains an investment medium for individuals who desire exposure to Bitcoin without having to hold it. However, while it provides some form of safety against the price volatility levels associated with cryptocurrencies, it is not immune to severe market losses and should be approached with utmost caution.
Although this means profit for investors, BITO ETF must first scale its resistance levels to achieve this feat. Hence, the predictions are not guaranteed, and there is a need to carefully evaluate your investment decisions.
This altcoin provides a low-cost avenue for investors who want to dabble in cryptocurrencies. The fund has grown at record speed, already amassing over $1 billion in total net assets, with an average daily trading volume of 10.4 million. BITO lets investors gain exposure to Bitcoin without needing to own it themselves.
If you are convinced that you can handle the volatility of BTC and have firm faith in blockchain-based projects, you can go ahead with direct investment in crypto. Although the BITO ETF sounds good, some crypto backers who want to trade bitcoin directly argue that this will create an extra cost for end-users. Something which you could avoid by using cash markets. Investors need to be particularly aware of what they're buying and how it's likely to perform.
Before you move on if you want to learn more about long-term cryptocurrency price predictions, visit here.
Disclaimer. The information provided is not trading advice. Cryptopolitan.com holds no liability for any investments made based on the information provided on this page. We strongly recommend independent research and/or consultation with a qualified professional before making any investment decisions.