The king of cryptocurrency Bitcoin (BTC) is not looking very good, Bitcoin price has not been able to get past ten thousand and three hundred dollars ($10300) mark but rather dropped down to the ten thousand and two hundred dollars ($10,200) level today.
The general concept that the market is dependant on the king of cryptocurrency has been failed by different altcoins, including Ethereum (ETH), Litecoin (LTC), Dogecoin, and Ripple's XRP.
Crypto trader and analyst Scott Melker who tweets under the pseudonym The Wolf of All Streets, also hinted on the return of altcoin with the comment that he is in for "altgain" during the past few days, while Bitcoin has not really been showing any promising results despite various predictions.
I am heavily in alts again over the past few days, namely $LTC. $DOGE, $ETH and $XRP.

— The Wolf Of All Streets (@scottmelker) September 17, 2019
Bitcoin price sees a correction
On the one hand, cryptocurrency pundits are throwing one prediction after another, and on the other hand, the traders are seeking results. While Bitcoin price is has gone into a correction despite hitting the high point of ten thousand four hundred and forty-two ($10442) on the 12th of September.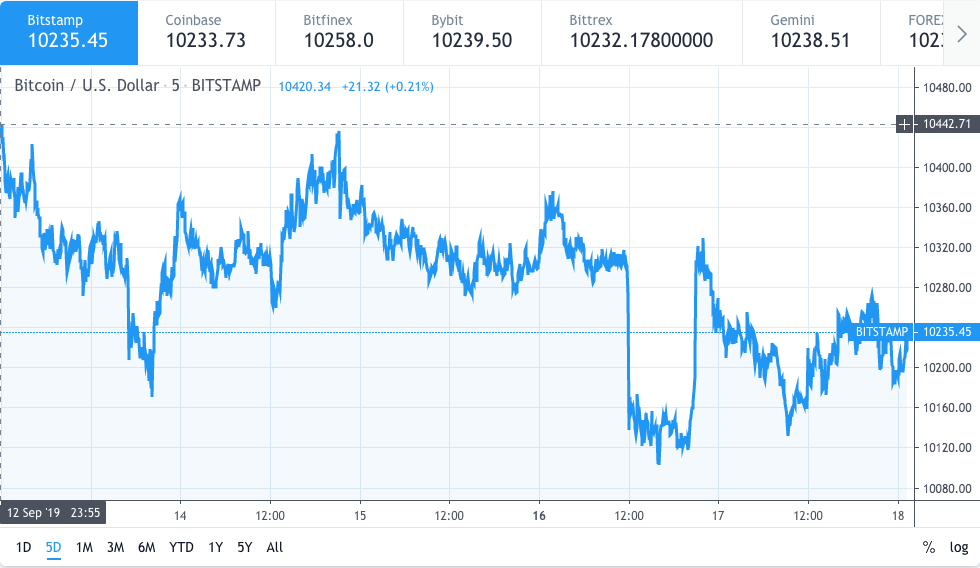 Bitcoin price chart by Trading View
In the past five days alone, BTC price has managed to get past the ten thousand four hundred dollars ($10400) mark twice; however, it bounced back both the times.
Bitcoin price hit the ten thousand one hundred and seventy-one dollars ($10171) mark on the 13th of September after the first rise. While it hit the high mark on 14th of September and on 16th of September, the price fell down to ten thousand one hundred and two dollars ($10102) mark.
What to expect from Bitcoin price action?
Bitcoin price chart by Trading View
TradingShot, a Bitcoin price analyst on Trading View reveals that the new triangle formation shows Bitcoin is likely to rebound from the current dip as well and hit the ten thousand and five hundred dollars ($10500) mark.
While writing the price has jumped up thirty-four dollars ($34) and is now trading at ten thousand two hundred and sixty-nine dollars ($10269).
Whereas the support levels lie at nine thousand eight hundred dollars ($9800) and nine thousand one hundred dollars ($9100) marks.