Ethereum and Ripple the two major currencies that come to mind after Bitcoin are both running in the reds in past twenty-four (24) hours and the analysis coming along are no ray of hope.
Analyst Murad Mahmudov also feels that the currency might show some short term spikes but the long term results have all proved to be bearish over time. These include the bearish wedge, the regular RSI divergence and the OBV divergence simultaneously.
3/ What about ETHUSD?
1. Bearish Wedge broken down on almost all timeframes
2. Bearish regular RSI divergence has been seen on several timeframes for several days now
3. Bearish OBV divergence on several timeframes pic.twitter.com/wx5WLJaWmr

— Murad (@MustStopMurad) January 7, 2019
Mahmudov, a critical analyst is renown for his analysis and he believes that despite the fact Ethereum has recovered almost to the double of the value in December it is still likely to fall further once again.
Though the currency went down about six percent (6.1%) in past forty-eight hours, it also gained over two and a half percent (2.77%) since the dip to stand at one hundred and fifty-three dollars ($153.48).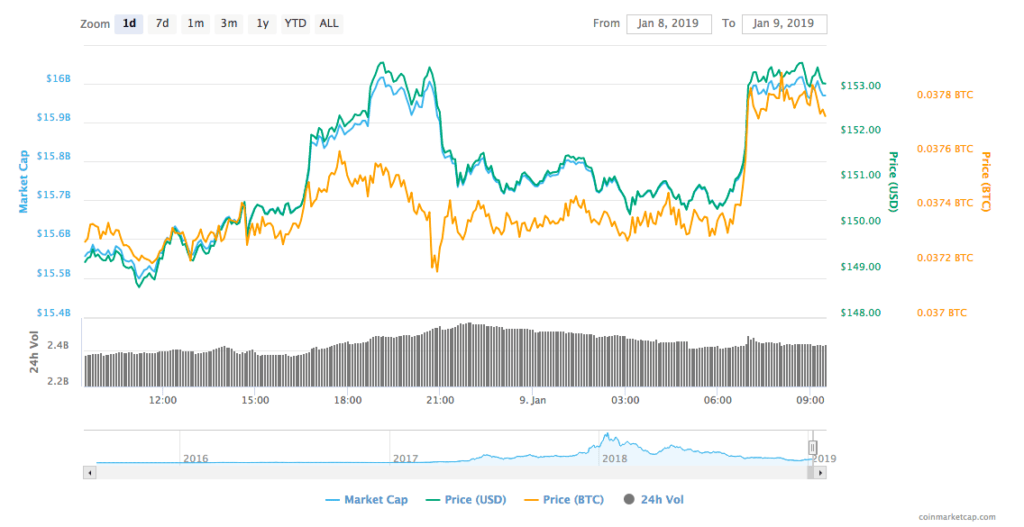 Ripple is performing no better than Ethereum when it comes to high-level bear and bull sway. At one point the currency resisted at $0.38 but then fell down to $0.36 and now struggling between $0.36 and $0.38. Analysts, however, believe that in the current run Ripple might find support at an even lower point.