Dentacoin Price Prediction 2022-2030: Is DCN a Good Investment?
Dentacoin is a blockchain network for the global dental industry. The platform aims to change and revolutionize dental health care across the world with blockchain technology. What are the strategies for 2022? Dental market reports featuring genuine global data, all-sides analysis, and beautiful, comprehensible charts are the newest addition to the DentaVox website! What is more: They will be 80% cheaper than the average and crypto-paid.
Today's Dentacoin price is $0.000008 with a 24-hour trading volume of $182,386. Dentacoin is down 1.45% in the last 24 hours. The current CoinMarketCap ranking is #1013, with a live market cap of $4,482,183. It has a circulating supply of 588,105,296,887 DCN coins and a max. supply of 7,899,848,965,678 DCN coins.
Hence, let's take a detailed look at Dentacoin price prediction and its technical analysis in cryptocurrency markets. Without further ado, let's jump in.
What is Dentacoin?
Dentacoin is a blockchain platform for dental industries across the world. However, the platform is creating a new dental system to: make dental care less expensive through its dental insurance system, allow people to improve their oral hygiene, and imbibe good habits through its dedicated app known as Dentacare.
The platform also offers market data comprising market surveys (known as DentaVox) from patients concerning dental healthcare. Dentacoin is currently delivering a framework that collates and provides real-time market data and feedback to dentists worldwide to improve dental healthcare. The platform also has a secure payment medium with its industry-specific digital asset known as Dentacoin.
However, Dentacoin is futuristic and intends to extend its services beyond what it is now by the end of 2021. So far, the platform has more than a million users from around the world. Dentacoin also offers its services to different parts of the world today.
What is Dentacoin (DCN) used for?
Dentacoin is a cryptocurrency based on the Ethereum blockchain network. Its intended use is to facilitate global dentistry by offering added value to its community through different solutions.
Dentacoin is the first blockchain platform for dental medicine. The creators of this token used different blockchain technologies to improve worldwide dental healthcare. Examples of such technologies in Dentacoin include Dentacare Mobile App, DentaVox web app, Dentacoin Assurance, and a Trusted Review Platform (already up and running).
The token Dentacoin coin (DCN) is used to purchase products and services in the dental industry, and those concerned about their teeth can seek help through an interactive blog.
How does Dentacoin work?
To fully know how Dentacoin works, it is essential to understand what a smart contract is. Dentacoin's whitepaper also gave a detailed look at a smart contract, stating that it is "computer protocol" in the Ethereum blockchain network that helps examine and enhance an agreement between individuals.
Even though that definition might seem complicated, a simple way to understand Dentacoin's Smart Contracts is to relate it to processing a check in the bank. A person gives you a check after signing, and then you go to the bank to clear it, and you then receive the money. However, only if the conditions are met will the bank clear the check.
Concerning Dentacoin's Smart Contracts, certain conditions need to be met before DCN tokens are transferred to you. But in this case, you don't need an intermediary – like a bank — to verify these conditions.
Nonetheless, a user can send or request DCN tokens to another user on any ETH-based wallet. Hence, both parties involved can see the transaction on the ledger before it is actualized.
Goals and visions of Dentacoin
The creators of Dentacoin DCN is the Dentacoin Foundation. The goal of this company is to improve and facilitate the dental industry across the world. It also aims to create a community that will also help drive dental care.
It is also essential to know that Dentacoin isn't competing with other digital assets in the crypto market but to provide solutions to worldwide dentistry.
Polls are done regularly on the DentaVox blog, which is both interesting and intriguing.
How can Dentacoin's goals be achieved?
To actualize its visons, Dentacoin is focused on creating lots of technologies to change the dental industry. However, members of the community are paid in DCN tokens to develop these technologies.
Furthermore, this digital asset will focus on powerful marketing methods and advertising strategies to expand its platform. Due to its focus on developing its platform, the team behind Dentacoin predicts a rapid rise in the number of users worldwide.
Dental patients and other users can share their experiences, take surveys, and reward DCN tokens. These surveys and other essential data are stored in Dentacoin's blockchain.
Before we take a detailed look at Dentacoin price prediction or DCN price prediction, let's take a brief look at its current price and its price history in the past seven days.
Price History of Dentacoin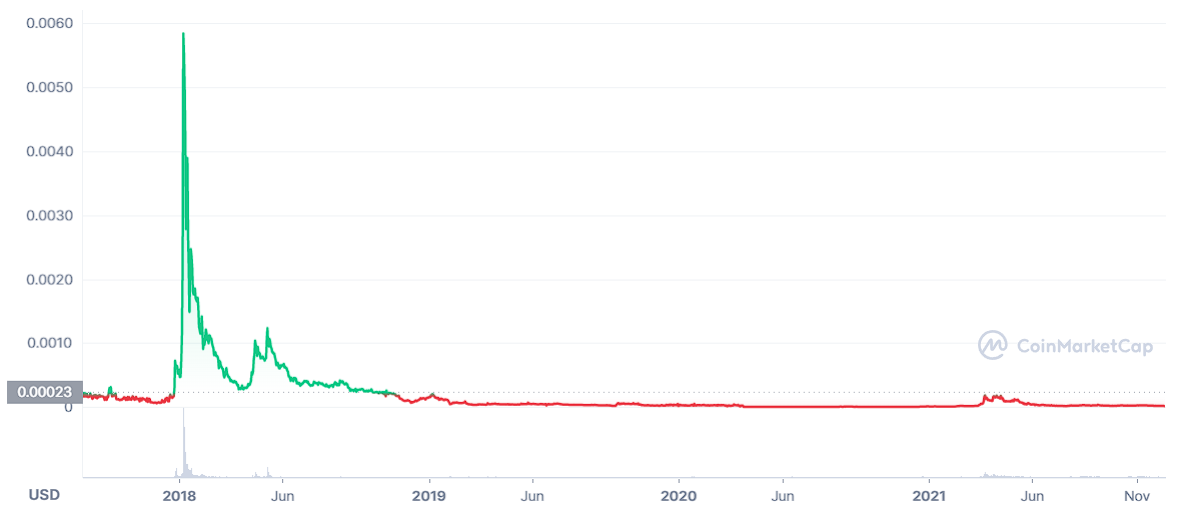 Dentacoin was created in 2017 by a community of young dentists known as the Dentacoin Foundation. However, DCN was listed in major exchanges in 2018. Furthermore, Dentacoin raised funds for its development through its presale in July 2017 and an Initial Coin Offering in October 2017 in which 20000 contributors worldwide participated.
At that time, 1 DCN was valued at $0.00012153. According to historical data, its price was reduced by more than 50% in just a week to $0.00013475, with its volume at $18,739.
The highest price it ever reached was $0.0057 on January, 8th 2018 – that's about four years ago. So let's move on to DCN price prediction for 2021 to 2025.
Dentacoin Technical Analysis
As of this writing, DCN is trading in a negative direction. However, the hourly chart's technical signs point to a purchase. There is a strong sell signal from its Moving Averages. To see whether it can hold above its resistance level of $0.000011, DCN may attempt to test its support zone around $0.0000050 in the coming days.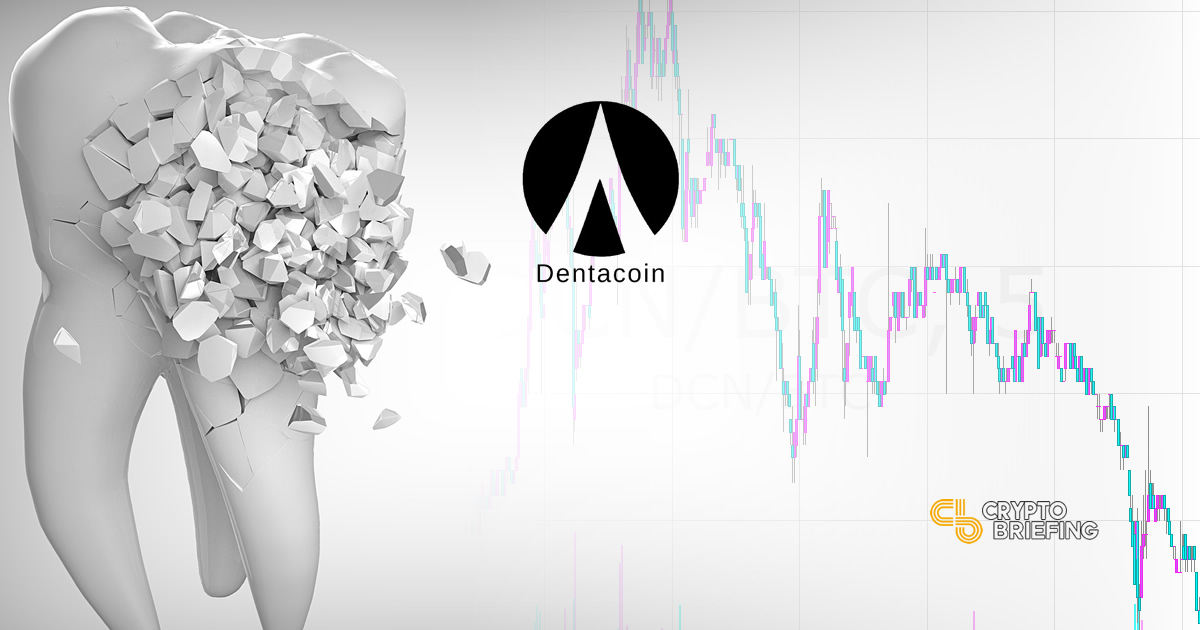 With a market capitalization of $18,402, the DCN price is now $0.00000735. With a current market cap of $5,221,556, CoinMarketCap ranks it at #1180. A total of 710,839,308,006 DCN coins are now in circulation, with a maximum supply of 8,000,000,000,000 DCN coins.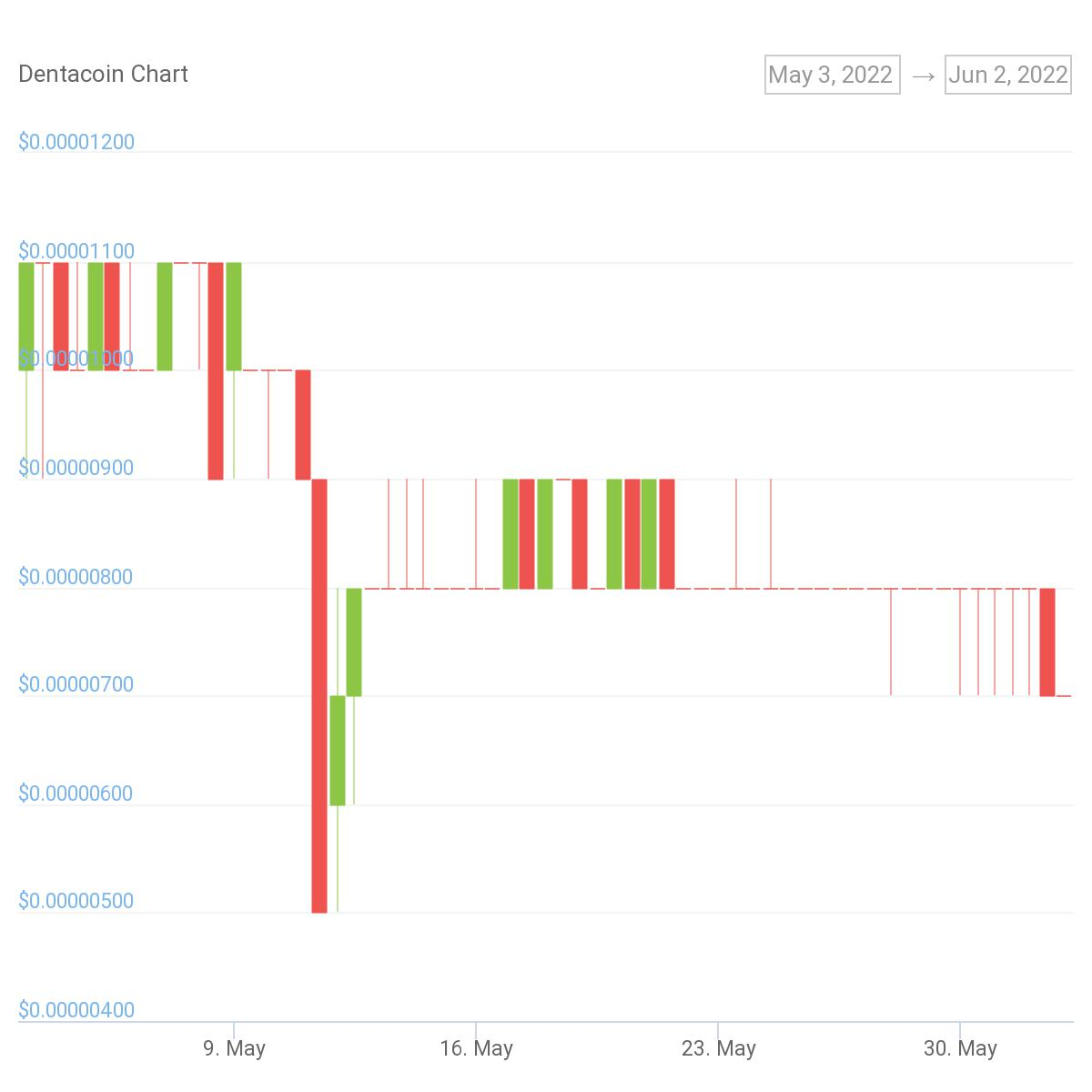 Dentacoin Price Predictions 2022-2030
Dentacoin price future was projected using a deep artificial intelligence-assisted technical analysis of Dentacoin's previous price data. The most recent historical statistics for the DCN currency, include several factors such as previous price, Dentacoin market cap, Dentacoin volume, and a few more. If you want to invest in digital cryptocurrency and get a high return on your investment, read our forecasts.
Wallet Investor
The WalletInvestor Forecast System indicates that purchasing DCN for the long term (one year) is not recommended. It is essential to be aware that the price of DCN can be easily influenced owing to the low market cap of the cryptocurrency. If you are interested in virtual currencies that offer a strong return, investing in DCN might not be the best choice because it is a high-risk alternative. The current price of one Dentacoin is equivalent to 0.00000774 USD as of 2022-06-02, however, the value of your investment may decrease in the years to come.
Trading Beast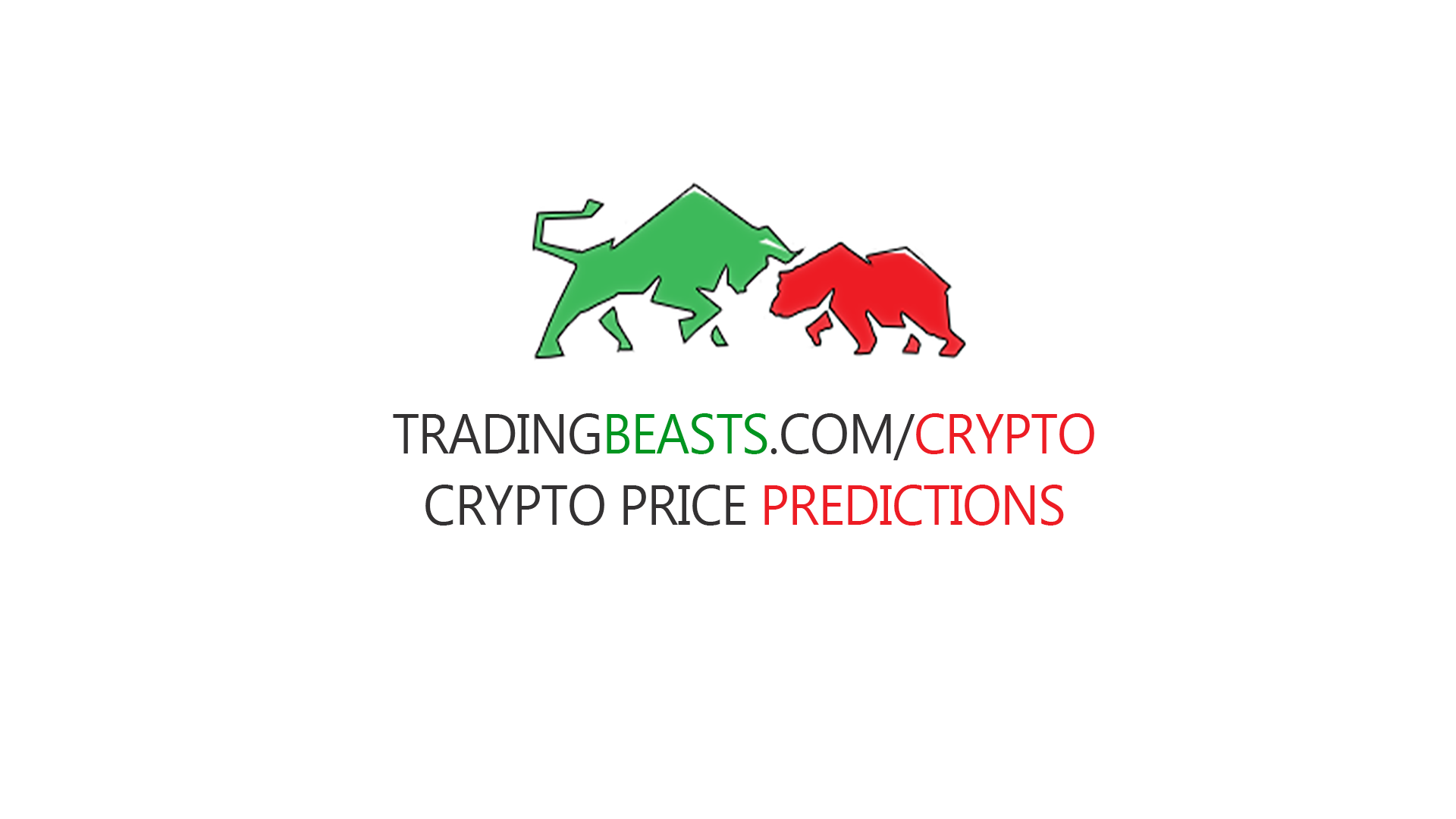 Trading Beast is similarly optimistic about DCN, predicting a strong return on investment over the next three years. DCN is expected to conclude 2022 with an average price of $0.00033058 and a maximum price of $0.0000178, indicating a 15.88 percent ROI.
Trading Beast also forecasts a better ROI by 2023. DCN will have an average price of $0.0000214 and a maximum price of $0.0000268 in 2023, according to them. DCN will also expand by 148.67% by 2025. They predict that by 2025, DCN will have an average Dentacoin price of $0.0000305 and a maximum price of $0.0000381.
Cryptopolitan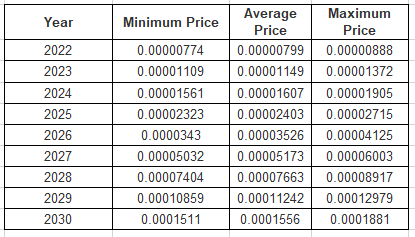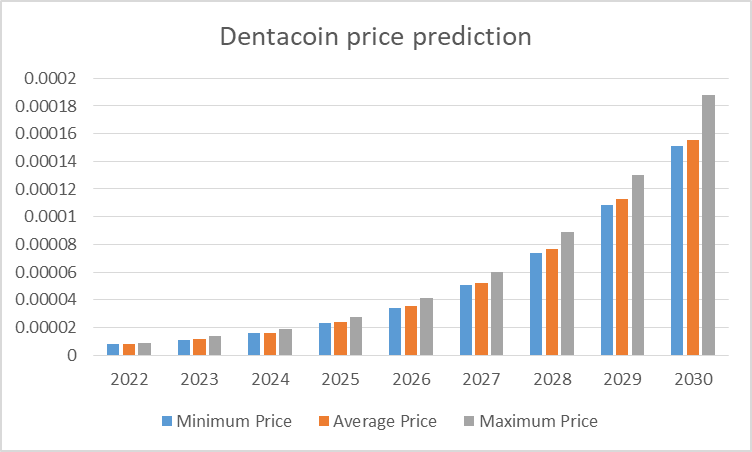 Dentacoin Price Prediction 2022
According to our in-depth technical research of DCN price history, the price of Dentacoin is expected to hit a low of $0.00000774 in 2022. With an average selling price of $0.00000799, the DCN price may reach a maximum of $0.00000888.
Dentacoin Price Prediction 2023
Dentacoin is expected to achieve a minimum price of $0.00001109 in 2023. Throughout 2023, the Dentacoin price might reach a high of $0.00001372 and a low of $0.00001149.
Dentacoin Price Prediction 2024
According to the prediction price and technical analysis, the price of Dentacoin in 2024 is expected to be $0.00001561. With an average trading price of $0.00001607, the DCN price may reach a maximum of $0.00001905.
Dentacoin Price Prediction 2025
In 2025, Dentacoin price is anticipated to fall to $0.00002323. Throughout 2025, the DCN price can reach a high of $0.00002715 and a low of $0.00002403.
Dentacoin Price Prediction 2026
Dentacoin's price is expected to go as low as $0.00003430 in 2026. According to our results, the DCN price might reach a high of $0.00004125, with an average projected price of $0.00003526.
Dentacoin Price Prediction 2027
According to our in-depth technical research of DCN price history, the price of Dentacoin in 2027 is expected to be about $0.00005032. Dentacoin has a maximum price of $0.00006003 and an average trade value of $0.00005173 in USD.
Dentacoin Price Prediction 2028
Dentacoin is expected to achieve a minimum price of $0.00007404 in 2028. Throughout 2028, the Dentacoin price might reach a high of $0.00008917 with an average trade price of $0.00007663.
Dentacoin Price Prediction 2029
According to the projection and analytical analysis, the price of Dentacoin is anticipated to hit a low of $0.00010859 in 2029. The DCN price may reach a maximum of $0.00012979 with an average of $0.00011242.
Dentacoin Price Prediction 2030
Dentacoin is expected to attain a minimum price of $0.00015110 in 2030. Throughout 2030, the Dentacoin price might reach a maximum of $0.00018810, with an average trading price of $0.00015560.
Conclusion
Based on these price predictions, DCN might be a rewarding investment idea, though the forecasts differ. It is critical to remember that DCN coins will continue to be influenced by the volatility of the crypto market. As a result, the token will face further resistance and support levels this year and in the next years. Also, it is important to be aware that the price of DCN can be easily influenced owing to the low market cap of the cryptocurrency Before investing in this coin, conduct your own research.
[the_ad_placement id="writers"]
What is the highest DCN projected price for 2022?
At the end of 2022, the DCN price is anticipated to reach a high of $0.00000888.
Is Dentacoin (DCN) a decent cryptocurrency to invest in?
Dentacoin's value is projected to climb further since scarcity encourages price increases. Please keep in mind that each investment involves some risk. Simply invest in what you can do before drawing any judgments and conducting as much research as possible.
Will the Dentacoin price drop?
These are some of the most common queries that investors have. The fact is - that no one can accurately predict the future of Dentacoin (DCN). All we can do is use various algorithms and run technical analysis.
Can I buy Dentacoin on Binance?
You can do it via many top-rated cryptocurrency exchanges like Coinbase, Binance & Coinmama. The greatest advantage of sending DCN from your Dentacoin address to another one is how easy and fast it is. Whether the recipient is located across the world or near you, the process is secure & effortless.
Disclaimer. The information provided is not trading advice. Cryptopolitan.com holds no liability for any investments made based on the information provided on this page. We strongly recommend independent research and/or consultation with a qualified professional before making any investment decisions.