Dash price showed an alternating curve while reaching its highest for the day at $57.40. However, it toppled over and continued a path downwards to close at a price slightly over its opening price. 
The past week has majorly been coupled with consistent falls in price. Although the 23rd shows that the effects of the market volatility are still present, it is clear that it is slowly subsiding.
Dash Price Analysis – 23rd November (DASH/USD)
Dash Price Chart by Trading View
As showcased by the graph above, the price of Dash showed volatile movement as the day progressed. It reached its highest value in the evening around 16:01 GMT to its value of $57.40. Till this point, the coin was showcasing promising movement upwards.
However, the coin then followed the opposite path downwards as it neared its close. A few hours before the day closed, the coin fell over its support zone. This value was shown to be approximately $53.80. Although the coin surged slightly after this fall, it did so by very little.  The coin closed at $56.7 after opening at $55.48,
Technical Indicators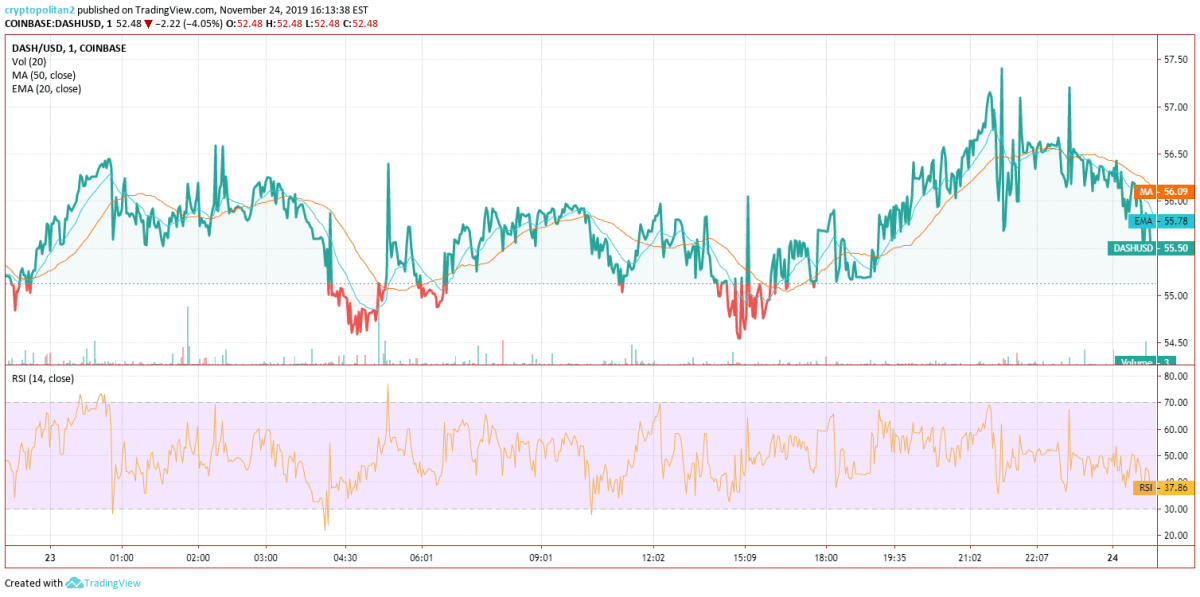 Dash Price Chart by Trading View
The Relative Strength Index (RSI) attained a value of 47.34, which tilts towards the bearish angle as opposed to a bullish one. However, it is rather close to the mid-point (50), which could mean that the bulls and bears are preparing for a battle.
Similarly, near the close, the price of Dash remained above the daily moving averages. The 50 Day Simple Moving Average (SMA) closed at $56.44, whereas the 20 Day Exponential Moving Average (EMA) closed at $56.32.
Featured Image Background by Cody Schroeder