The world today is gradually accepting the fact that Bitcoins and other cryptocurrencies are here to stay. Indeed, more and more people are jumping on board the crypto wagon, even going as bold as transacting everyday businesses using cryptocurrencies. But with the crypto market being ever-volatile, how can you buy, sell, or receive payment in cryptocurrencies at their true price? Crypto.com is a cryptocurrency wallet that lets you transact cryptocurrency at its true price.
An Overview
With Bitcoins and other cryptocurrencies becoming acceptable across the world, it helps to have a safe and secure wallet in which you can receive and keep your cryptocurrencies. Crypto.com's Wallet App is designed to give a wholesome cryptocurrency wallet experience.
Not only can you receive cryptocurrencies, but also buy and sell them right from the app! Additionally, the app is designed to work seamlessly with other Crypto.com services, which include the MCO Visa Card, Crypto.com Chain, Crypto.com Invest, and Crypto Credit.
The Crypto.com Wallet App is free to download on Android and iOS platforms. With the app, you get to transact your business in fiat and cryptocurrencies. Additionally, the app acts as the primary manager for the MCO Visa Card, allowing you to track and manage the transactions done over your card. 
Pros and Cons of Crypto.com Wallet App
Pros
Has a simple design on both Android and iOS
Crypto.com does not put you at war with your wits between Android and iOS. The developers deliver a compact app on both platforms, so you can be comfortable with the ecosystem you are accustomed to. The app is built with a clean user interface for everyone to use. It is also packed with powerful features such as the track coin function to give you a wholesome experience in transacting cryptocurrencies.
Works with 7 fiat currencies and 53 cryptocurrencies
Crypto.com's Wallet App opens up doors to international markets. Through the app, users get to buy and sell up to 53 cryptocurrencies, including Bitcoin, Ether, Litecoin, Binance Coin, and Ripple. You can also exchange any of these cryptocurrencies with up to 7 fiat currencies so you can transact wherever, whenever.
Accepts deposits from bank transfers, debit and credit cards
Do you wish to buy an item but can only pay in cryptocurrency? This is the very reason the Crypto.com's Wallet App exists. Simply deposit fiat currency to your wallet address and buy cryptocurrencies at their true price right from the app. You can also make your deposit through debit cards, credit cards, or bank transfers.
Easy access to funds with MCO Visa Card
The wallet app is part and parcel of the MCO Visa Card. The app provides a secure and straightforward way to view and manage all transactions on your MCO Visa Card.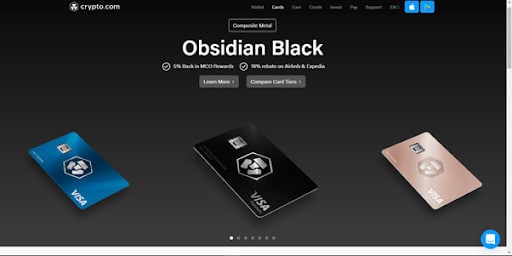 The MCO Visa Card managed by the app gives users a chance to win incredible loyalty rewards, which include discounts on premium subscriptions such as Spotify, Netflix, and Expedia, and Airbnb.
 Send fiat and cryptocurrency to wallet users at no fee
Crypto.com does not charge you any fees when sending fiat or cryptocurrencies to other users of the wallet app. Additionally, it charges low fees when sending money from your wallet to external addresses, a fee lower than current competitors offer. 
Cons
The fee-less transactions are only valid if you are buying or selling fiat and cryptocurrency with another wallet user.
Cannot accept fees from Crypto Invest
While users in other countries can accept fees from Crypto Invest, users in the U.S., Hong Kong, and Singapore cannot, as Crypto Invest is not available.
Terms of MCO Visa Card rewards
Some of the rewards you would stand to win from using MCO Visa Card with the Crypto.com's Wallet App, require you to have an ongoing MCO stake. 
Features of Crypto.com Wallet App
Exchange crypto and fiat currencies at true price
The major worry for most merchants when transacting in cryptocurrencies is the market volatility. Crypto.com's Wallet App uses the Vortex Trading Engine, which pools liquidity from different global exchanges, analyses them, and provides you with the best execution price in the market. What's better is, it does so with no fees or markups.
The app, with the help of Crypto.com's Vortex Trading Engine, lets you track 200+ coins from various exchanges. What's more, you get to enjoy the whole tracking package, which includes tracking volumes, market caps, and all changes.
Integration of Crypto.com's Wallet App with Crypto Pay makes transactions seamless and low-cost. Crypto Pay lets merchants accept payment in cryptocurrency directly from an online shopping website into your wallet address!
Rewards for MCO Visa Card
The MCO Visa cards come with different rewards depending on the card tier, which are explained in detail here.
Ratings by users
The most lovable feature of the Crypto.com's Wallet App is the ability to buy and sell fiat and cryptocurrencies at true price. It blurs international boundaries by offering a faster, more convenient means of transaction for conducting business both locally and internationally.
Users also appreciate the coin track feature, which helps in making key decisions when transacting. Besides, the MCO Visa Cards used with the Wallet App complement trading currencies at true price, a favorite feature for most users.
Additionally, the no-fee transaction between Wallet users has won the hearts of many, as it expands global reach at no additional cost.
Conclusion
Crypto.com's Wallet App meets the average trader at the very core of the transaction, determining the true price of the exchange. Its integration with Crypto Pay streamlines business transactions across online markets, allowing you to receive, buy, and sell cryptocurrencies at their true price.
Although some perks are limited to the Crypto.com ecosystem, Crypto.com's Wallet App delivers efficiency and swift execution in giving you access to international markets while keeping you on the true side of the price!
Crypto.com's Wallet App is the go-to, all-in-one cryptocurrency wallet app. With Vortex Trading Engine giving support for true price derived from a pool of different exchanges, you are guaranteed to buy, sell, or receive payment in cryptocurrencies without losing out on value. Also, integration with Crypto.com services such as MCO Visa Card and Crypto Pay makes the whole experience worth investing in.
Interface
Fees
Trading Pairs
Customer Support
Reputation
Trading Limit
Payment Modes

Simple User Interface

Free within the Crypto.com ecosystem, low prices for external addresses.

Fiat and Cryptocurrency

Active support. Click

here

to view.

Renowned. Partnership with Metropolitan Commercial Bank.

High

Debit, credit, direct cryptocurrency deposit.
As with all crypto online transactions, do your own due diligence.