Bitcoin whales manipulating BTC high to $10000?
Bitcoin whales are often criticized for market manipulation and it seems that the current high run to the $1000 mark is just another manipulation effort by the hidden players.
The Whale Alert service is dedicated to reporting major whale transactions including that of Bitcoin and the past 24-hours to show a series of suspicious transactions starting before the current bullish run that took Bitcoin price above the $10000 mark.
Bitcoin whales manipulating the market
The first series of transactions came hours before the rise when the Bitcoin price was actually going through a dip. The first 6 transactions were worth 562 Bitcoins each with the exception of the first transaction worth 565 Bitcoins. While all of the transactions were from OKEX to unknown wallets.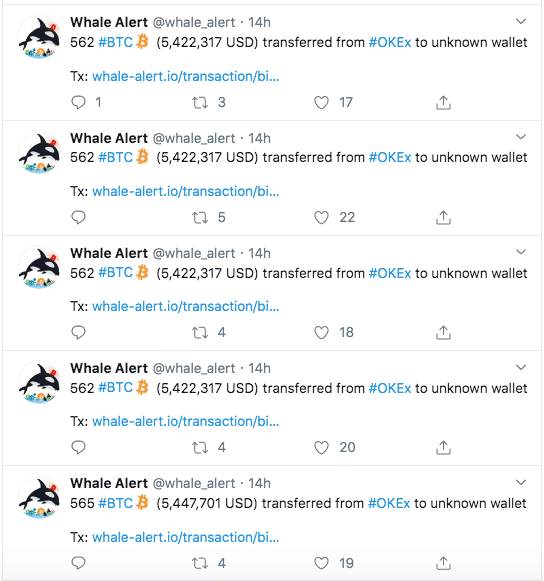 Following the first set, another large set of transactions continued to take place, however one particular transaction that seems to be a sell-out increased the volume in the market, perhaps in a bid to throw observers away.
🚨 🚨 🚨 🚨 🚨 6,000 #BTC (58,383,678 USD) transferred from unknown wallet to #Bitfinex

— Whale Alert (@whale_alert) February 18, 2020
The story doesn't stop here as the whale transactions continue to occur, however, this time the amounts were a little bit different but relatively close to the first set of suspicious transactions. Moreover, the new set of transactions was taken up on different exchanges.
Another interesting transaction occurred right after the set of transactions above when a large amount of Tether was moved back to Tether Treasury. It's worth mentioning that Tether has also been associated with Bitcoin manipulation techniques in the past.
5,996,033 #USDT (6,001,939 USD) transferred from #Bitfinex to Tether Treasury

— Whale Alert (@whale_alert) February 18, 2020
The Bitcoin whales didn't stop there as transaction after transaction Bitcoin trading volume was built up while at the same time that the king kept climbing the bullish ladder on the charts towards $10000 mark.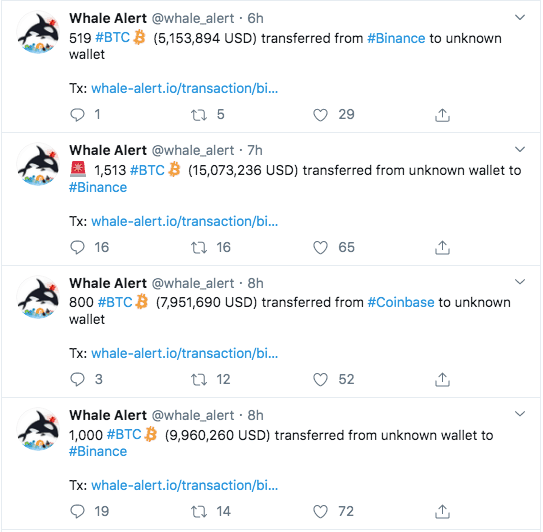 Interestingly, these sets of transactions occur only until an hour before the Bitcoin coin price hits up the $1000 mark, i.e. five hours prior to the time of writing. What is even more conspicuous is the fact that a similar series of transactions was observed the last time Bitcoin price had hit the $10000 mark.
To find the Bitcoin whales involvement reading the time on the screenshots above makes it as easy as 2 + 2 = 4 to understand that the long series of transactions that started 14 hours before the time of writing ends a little before the high point on Bitcoin charts.
Featured Image by KDM