The king of cryptocurrency Bitcoin (BTC) has made a comeback today when the Bitcoin price hit the ten thousand one hundred and twelve dollars ($10112) mark after playing out of the three consecutive head and shoulders formations.
Bitcoin price had been moving on a flat line for the past few days in the seventy-four hundred dollars ($7400) range.
Bitcoin price chart by Trading View 
Friday, the 18th resulted in Bitcoin reaching a low of an amount below eight thousand ($7800), indicating that the bearish market might be in order.
This allowed the bulls to pave way up to eight thousand and three hundred dollars ($8300), resulting in the evasive diamond top-two collocated symmetrical triangles forming a diamond. This has to be preceded by a bearish trend, and further causes a downward trend.
Bitcoin price breaks past expectations
Previously, Akira Marx, who is a crypto-currency analyst, pointed out that the pattern indicates the return to $7800, where the currency would then face the imminent hazard of a downward dive.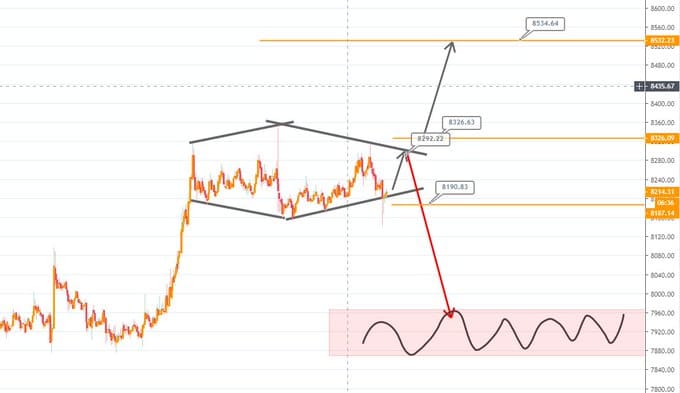 The next support could be at seven thousand ($7000), owing to the short timespan pattern coupled with it being a right shoulder pattern.
Will Bitcoin Price Test $10,000 again?
The Bitcoin market cap has been unable to retrieve its bullish movement ever since the disintegration of several months' sloping triangle above this year's parabola.
The cryptocurrency's value fell close to seven thousand and four hundred dollars ($7,400), which was when the exchange range was contravened. At this stage, the assets started to gather again. It climbed upwards once more, halting at eight thousand and five hundred dollars ($8,500), after which it fell back.
The bulls tried to exchange at a whopping eight thousand and eight hundred dollars ($8,800), but there was a strong wave of rejection. This further led to the formation of the head and shoulders design. After this, it was able to retest at its low value. The currency once again crept into the diamond top formation, creating a right shoulder on a bigger, longer timespan.
The analyst pointed out that the cryptocurrency will be taken down to seven thousand dollars ($7000), mark, but in a bullish reversal, Bitcoin price has hit the new monthly high. The crucial support, now broken, requires that the investors pace forward hastily in order to allow the bulls to take over. In case it recovers back above ten thousand dollars ($10,000) mark, the crypto winter would be delayed further.