Since 28th June, the fabulous five virtual currencies i.e. the king of cryptocurrencies Bitcoin (BTC) the queen Ethereum (ETH), along with Litecoin (LTC), Bitcoin Cash (BCH), and Ripple (XRP) have dived by minus two point three percent (-2.33%) cumulative.
LTC lead the way having price around one hundred and seventeen dollars ($117.27) yielding a return of zero point four two percent (0.42%) to its holders.
BTC has been the worst performing of the Fab Five which came five point seven three percent (5.73%) down driving its price to eleven thousand six hundred and forty-six dollars ($11646.65).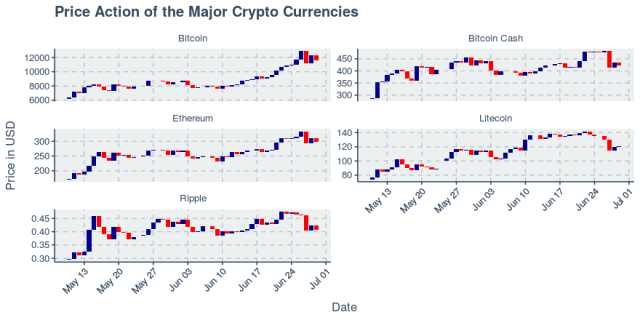 None of the Fab Five coins showed startling traffics i.e. their costs oscillated within the usual range experienced since last few weeks. Technical dealers may notice the following advancements in price action:
Those looking for up-trending coins should ruminate BTC and ETH who have been experiencing uptrend for the past two weeks.
The currencies without a clear trend since the past 14 days are XRP and BCH who can be your allies in rangebound markets.
The blockchain experiencing the highest number of recorded transactions was ETH which recorded 982,592 transferals which are ninety-percent (90%) higher than the dealings recorded on Ripple.
BTC experienced the largest deals across all blockchains. The major transaction on its chain valued $273,760,352. The flowing worth of all BTC is two hundred and nine billion dollars ($209.63 B) currently that makes BTC account for more than sixty-two percent (62.54%) of the total virtual currency market.
Crypto market is expected to be majorly volatile during the weekend so let's see what the coming holds for us since the last two weeks have been full of surprises.