The king of cryptocurrency is going through extremely volatile and at the time of writing Bitcoin price is hovering at the newest low of $4800 range. Bitcoin price fell from above $5000 less than an hour ago and despite a short revival above the $5000 range, it was unable to sustain that price range.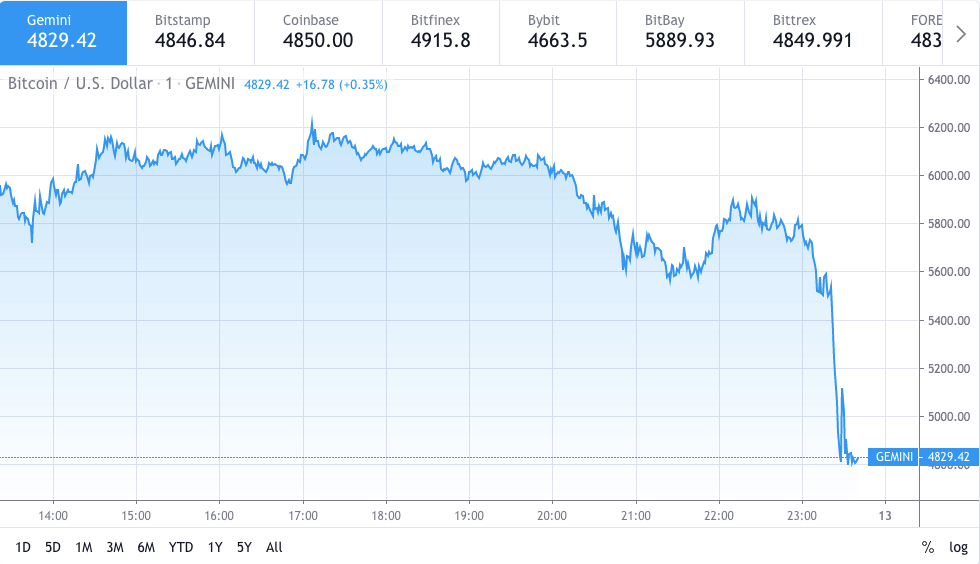 Bitcoin price chart by Trading View
While writing there has been a slight change in the price as it dips further below to the $4671 mark. Bitcoin price is quickly losing support towards the $4600 mark. While at the same time the cryptocurrency is trying to gain valid support for a position above $5000.
Bitcoin price movement: Reverse head and shoulders to rescue?
Cryptocurrency trader and analyst on Trading View, Trading Shot predicted that a reverse head and shoulder movement may be able to save the day for Bitcoin but the prediction did not play out as expected.
Bitcoin price chart by Trading View
TradingShot believed that the BTC price would hit a low around $7200 mark and then rally back up in an inverse head and shoulders movement. Although Trading Shot's prediction may not have come into action the possibility of an inverse head and shoulder still persists.
Bitcoin price chart by Trading View
BTC price has been hovering in the $5600 – $5800 range for quite some time and the current drop to the $4800 range has opened another inverse head and shoulder pattern opportunity for the cryptocurrency. Bitcoin price had been shaky throughout the week and we saw 4 consecutive head and shoulder patterns in February 2020. If the inverse head and shoulder patterns form this time, a good return in the $5000 or even $6000 range can be expected.
Featured Image by Dmitry Demidko
Disclaimer: The information provided is not trading advice but an informative analysis of the price movement. Cryptopolitan.com holds no liability towards any investments based on the information provided on this page.