Binance posted an update that it will suspend deposits and withdrawals of LUNC (Shuttle) via Ethereum network (ERC20) and USTC (Shuttle). It will also suspend transactions via BNB Smart Chain (BEP20), Ethereum network (ERC20), and Polygon network. The withdrawals and deposits will be suspended indefinitely effective from 7 September 2022.
 The Binance announcement triggered LUNC's negative price action and registered a 6% decline in its 24-hour performance. At press time, LUNC was trading at $0.00024169.
A few days before, we have the LUNC price pumping by 70%.  The sudden rally shows that the LUNA-tics are giving LUNC another chance and have done something to warrant this rise. Recently, the LUNC token staking went live with the LUNC V22 upgrade.
Some signs of recovery are making everyone watch closely: Terra LUNA price has made a spectacular comeback in the past few days as speculation in the market continues. The rally has been fueled by the ongoing recovery of Terra Classic USD, the stablecoin that was the nerve of Terra's ecosystem. LUNA rose to a high of $2.20, which was about 47% above the lowest level in August.
The stablecoin has had a major comeback in the past few months as it remains about 530% above the lowest level this year. It is trading at $0.03, which is much higher than the all-time low of $0.0070. This recovery has led many buyers to believe that the coin will soon regain its peg at $1. 
Investors are probably hoping for a recurrence of the June 18 events which caused LUNA prices to rally 73% in under ten days.
A quick recount: the original Terra Chain was rebranded as Terra Classic. Click here for the Terra V2 CMC page. The official announcement regarding the migration can be found here. Due to the de-pegging of UST, LUNA is experiencing extreme volatility. Please proceed with caution. The Terra blockchain was also halted. Please be properly guided before proceeding with any investment plans.
Today's Terra Classic price is $0.000245 with a 24-hour trading volume of $431,222,962. Terra Classic is down 4.35% in the last 24 hours. The current CoinMarketCap ranking is #208, with a live market cap of $1,614,943,895. It has a circulating supply of 6,586,708,455,240 LUNC coins and the max. supply is not available.
Also Read:
The Aftermath of the LUNA Debacle
While speculators ponder on their losses and the recovery plan, the Lunatic community has already charted the way forward for Luna through its decentralized voting platform. Amid the crash, TerraLabs founder and CEO Do Kwon offered a Luna recovery plan to stabilize the current crypto wreckage. This comes amid talk about a Luna delisting and trade suspension from exchanges.
Notices placed on CoinMarketCap: The original Terra Chain will be rebranded as Terra Classic. Click here for the Terra V2 CMC page. An official announcement regarding migration can be found here. Due to the de-pegging of UST, LUNA is experiencing extreme volatility. Please proceed with caution. The Terra blockchain was also halted.
Recovery Plan
The cryptocurrency Terra (LUNA) has collapsed by more than 99 percent. The coin's value tumbled dramatically on Wednesday, falling from $6.75 to just over $1. It fell further on Thursday and was valued at just $0.02 on Thursday afternoon, May 12, 2010. On the other hand, Terra's UST stablecoin fell as Low as 65 Cents before rebounding: what went wrong? Why did the stablecoin lose its peg, which is the US Dollar?
Just 2 months previously, Terra price analysts predicted a bullish trend for the day as the steep increment in LUNA/USD value had been detected. The price has recovered up to $96.77 after the bullish efforts seen on 9 March. The Independent offered a palliative to prevent a further "crypto run":
Cryptocurrencies are increasingly moving in sync with tech stocks, with investors treating both as risk assets and often retreating to safer corners of the market during bouts of market volatility.

Michael Kamerman, CEO, trading platform Killing
Also Read:
What is Terra (Luna)?
Terra Luna was an algorithmic blockchain configured to peg to the value of their fiat currency counterparts. An example was Terra USD pegged to the US dollar; the Luna token was then used to absorb volatility from the system. The systemic attack on Luna saw the algorithm crash into a death spiral.
Central to the recovery plan is the institution of a new chain Luna 2.0, with the old chain assuming the name Luna Classic. The recovery plan will see Luna 2.0 airdropped to UST, Luna, and UST holders about the post and pre-attack snapshots.
Terra Luna 2.0 Token Distribution
Terra LUNA Overview
Terra is a crypto payment solution that has gained a lot of traction since its initiation in January 2018 by Daniel Shin and Do Kwon, the men behind Terraform Labs.
The platform was built to keep in mind the price volatility of blockchain-based assets and perceive them. Terra focuses on price stability and usability and uses smart contract-enabled cryptographic versions of fiat currencies, called stablecoins, in its platform.
Terra has rolled out multiple fiats pegged stablecoins, including TerraUSD (UST), TerraCNY, TerraKRW, TerraEUR, and other digital currencies. The platform offers easy and quick transactions across borders without any hassle and is used by retailers worldwide.
The native token of the network, LUNA, is an essential element in the Terra Ecosystem and is responsible for platform governance. The LUNA token is responsible for operating the collateralizing mechanisms which keep the stablecoins in check and avoid massive fluctuation.
LUNA uses the Proof-of-Stake consensus and has an elastic supply depending on the platform's need for stablecoins in circulation. Terra has a wallet called the Terra Station that can give direct access to stablecoins. One can access the DApps built on the Terra blockchain by using the wallet. Furthermore, the Terra Station can operate on a phone and a computer without failure.
Terra Overview
Terra Overview
Coin
Symbol
Price
Marketcap
Change
Last 24h
Supply
Volume (24h)

LUNC
$

0.000286

$

1.96 B

2.82%

6.90 T
$

591.10 M
Luna 2.0 is finally here, with the genesis block produced on May 28, 2022.
Terra LUNA Classic History
The chart below by Coinmarketcap charts LUNA Classic price against time for the entire period since inception. Luna performed exceptionally well in 2021, reaching the year high at $54.77 on November 27, 2021.
The growing utility of UST and support from the Lunatic community had the price surge in 2022. Due to its stability and 20% annual staking APY, UST served as a haven for many investors. Before the attack, Luna was at position 14 by market capitalization.
Luna Classic registered an all-time high of $119.18 set on April 5, 2022, and an all-time low of 0.00001675 on May 13, 2022, after the attack.
LUNA Technical Analysis
Here we develop an ordinary least squares regression model for Terra applied against its price change over a chosen time using the Terra Best Fit Change Line. The slope of the best fit line is -0.37, suggesting that the Terra market price is likely to continue falling. There are 122 data points included, and the total squared variances between the anticipated Terra price change and the average price change is 5088.04.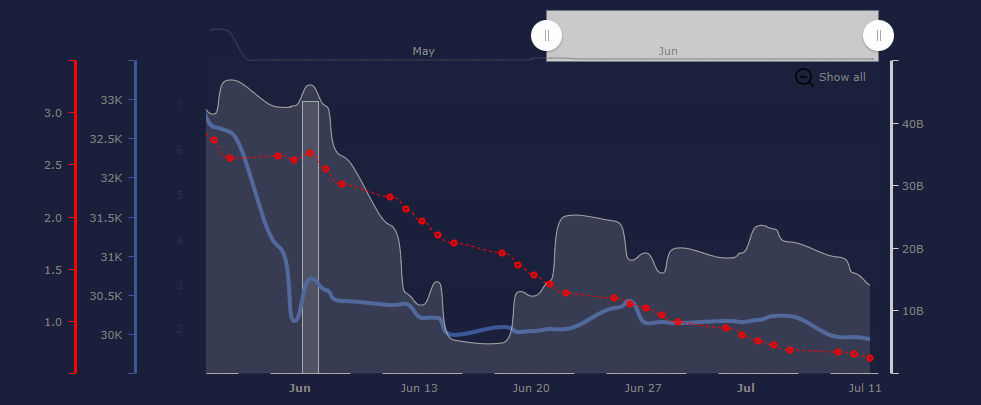 Terra Luna Technical Analysis
The Wiliams Alligator trend lines are dropping sharply, suggesting an adverse price movement. Terra Luna classic has traded in the oversold territory since the crash in May and currently registers little price momentum.
Terra Luna Price Predictions by Authority Sites
Coinlore
The Coinlore Terra Luna Classic price prediction is extremely bullish. Terra Luna's value is expected to trade above $1 by the end of the year. Luna classic will continue recouping its losses and average $156.70 in 2023. In 2024 it will average at $236.60, in 2025 at $284.40, 2026 at $385.73, 2027 at $418.73, 2028 at $498.04, 2029 at $597.85 and 2030 at $647.39.
The cryptocurrency market is highly volatile, and the predictions do not constitute investment advice.
Coincodex
According to Coincodex, the value of Terra will fall by -1.82% to $0.000280 by October. According to the Terra Luna forecast, now is not the time to buy Terra Luna Classic. The coin will be in a bear run for the coming week.
Terra Luna's price projection for 2023 will range from $  0.000130 to $0.000225.Terra Luna's price projection for 2025 will range between $ 0.000213 and $ 0.001106.
Digitalcoin Price
Terra Luna has been highly volatile this year and has had its value drop since the beginning of May after the UST depeg. Terra Luna coin's price is expected to rise to an average price of $0.000333 in October and trade sideways at $0.00034 for the rest of the year. Terra Luna will be profitable for the entire period between 2023 and 2031; Terra Luna will trade at an average price of $0.000561 in 2023. It will reach a maximum price of $0.000612 and a minimum price of $0.000528. Terra tokens will trade at an average trading price of $0.00102 in 2025, reaching a maximum price of $0.00106 and a minimum price of $0.000954. Terra Luna will trade at an average price of $0.00347 in 2030, reaching a maximum price of $0.00351 and a minimum price of $0.00342.
Cryptopolitan
Terra Luna Price Prediction 2022
The Terra price prediction for 2022 is $0.00015968. Well, Don Kwon lost his $11M bet on the value of Luna in one year after the depeg event that marked the beginning of his woes. The community now governs Luna classic.
Its price will range from $0.00015305 to $0.00017121.
Terra Price Prediction 2023
The Terra price prediction for 2023 is $0.00022753. The Lunatics passed a tax burn on Luna's classic transactions to cut down the excess tokens minted when UST depegged. The burn will hopefully help the community recover from the losses they encountered.
Its price will range from $0.00022115 to $0.00026745.
Terra Price Prediction 2024
The Luna crypto price prediction for 2024 is $0.00032743. Luna classic still commands a powerful presence in crypto owing to its earlier accomplishments. It has listings in top-tier exchanges and on social media. It will leverage partnerships and ecosystem developments.
Its price will range from $0.00031833 to $0.00038138.
Terra Price Prediction 2025
The Terra price prediction for 2025 is $0.00048986. Future decisions by the Lunatic DAO will be crucial in developing the Luna classic network. New utilities on the network will attract more investors and help revive the Luna spirit. Its price will range from $0.00047676 to $0.00055513.
Terra Price Prediction 2026
The Terra price prediction for 2026 is $0.00072573. Lunatics will ensure more customers on the Terra platform; investors can bet on high interests at stake, with the returns standing close to its initial 20 %APY. The incentive will attract more investors over time; its price will range from $0.00070614 to $0.00083145.
Terra Price Prediction 2027
The Terra price prediction for 2027 is $0.001. We combined technical and fundamental analysis on future price growth, and the projection for 2027 is a 20% growth, with the price reaching $0.001. Its price will range from $0.00099785 to $0.001.
Terra Price Prediction 2028
The Terra Luna coin price prediction for 2028 is $0.002. It's debatable whether Luna will ever break its all-time high. To reach its previous highs, Terra Luna will require an innovation that matches its previous accomplishment; otherwise, it will just remain a shadow of itself. Its price will range from $0.002 to $0.002.
Terra Luna Price Prediction 2029
The Terra price prediction for 2022 is $0.002. In 2029 hype and high investor confidence in cryptocurrencies will push Luna prices higher, and bull markets will send Luna almost two times its price in the previous year. Its price will range from $0.002 to $0.003.
Terra Luna Price Prediction 2030
The Terra price prediction for 2030 is $0.003. Most crypto enthusiasts and researchers who are bullish on Luna agree it will trade above $0.003 in 2030. Adverse publicity and repercussions from Do Kwon's judgment will derail Luna Classic's performance. Its price will range from $0.003 to $0.004.
Terra Luna Price Prediction 2031
The LUNC price prediction for 2031 is $0.005. In 2031, Tera Luna Classic will trade above the $0.005 mark; however, due to its low pricing and market capitalization, it will be highly volatile. Its competitor Terra Luna 2.0, might have better chances of restoring Luna's dignity. 
Terra LUNA Classic price will range from $0.005 to $0.006.
Terra Price Predictions by Industry Influencers
Classy Crypto Youtube channel presenter anticipates Luna Classic to trade sideways this year. Long term, he expects the Luna burn initiative and staking value to pump Luna Classic to about $1 in one year.
Conclusion
At the close of 2022, analysts anticipate that the price of the Terra Luna classic will peak at a level equal to $0.00017121.
It is anticipated that the value of Terra will continue to rise following the implemented 1.2% burn on all transactions; scarcity often causes prices to rise. Please be aware that there is risk associated with any investments.
If we predict the strategy for the next five years, we see that the coin will likely cross the $0.01 threshold without difficulty.
Terra Luna Classic possesses the exceptional potential to achieve new heights in terms of its pricing. Certain industry professionals and financial analysts predict that by the year 2031, the price of Terra will have reached an all-time high of $0.005.
The Terra Luna stable coin crash has left a scar on crypto space. With 70% of Luna held in the top 10 wallet addresses, the chain is not as decentralized as we would like it to be. Luna 2.0 has an uphill task. Its CEO Don Kwon is already under investigation by the Korean government for task evasion and other civil suits.
Current investigations indicate the Luna crash was not an inside job but a lousy actor motivated by money or rather vice intentions.
Will Luna 2.0 rise to its former glory? Not likely, but time will be the true judge. The Lunatic community remains shaken and, at the same time, hopeful.
Exercise caution when it comes to investing in algorithmic stablecoins, if you are not knowledgeable about the crypto market and its volatility, it is advisable to stay off from trades to avoid Had I know.
If the teams succeed and make UST peg to USD, users who bought and hold UST now will be in massive profit but this might be risky because the team might not be able to peg UST to USD.
Disclaimer. The information provided is not trading advice. Cryptopolitan.com holds no liability for any investments made based on the information provided on this page. We strongly recommend independent research and/or consultation with a qualified professional before making any investment decisions.