Shiba Inu coin, one of the most talked-about cryptocurrencies in 2021, continues on its upward streak. The Shiba Inu coin offers fast transactions, very similar to Bitcoin, but lower-priced and affordable.
Price hikes like Shiba Inu's are attributed to people and governments increasingly accepting cryptocurrencies.
The coin is currently trading at $0.000045 and has stopped its upward rally. The trading volume is down by 44%. The coin witnessed a high at $0.00008845, after which it decided to take a quick rest.
On successive days before this, a whale bought massive SHIB coins under its portfolio mid Nov.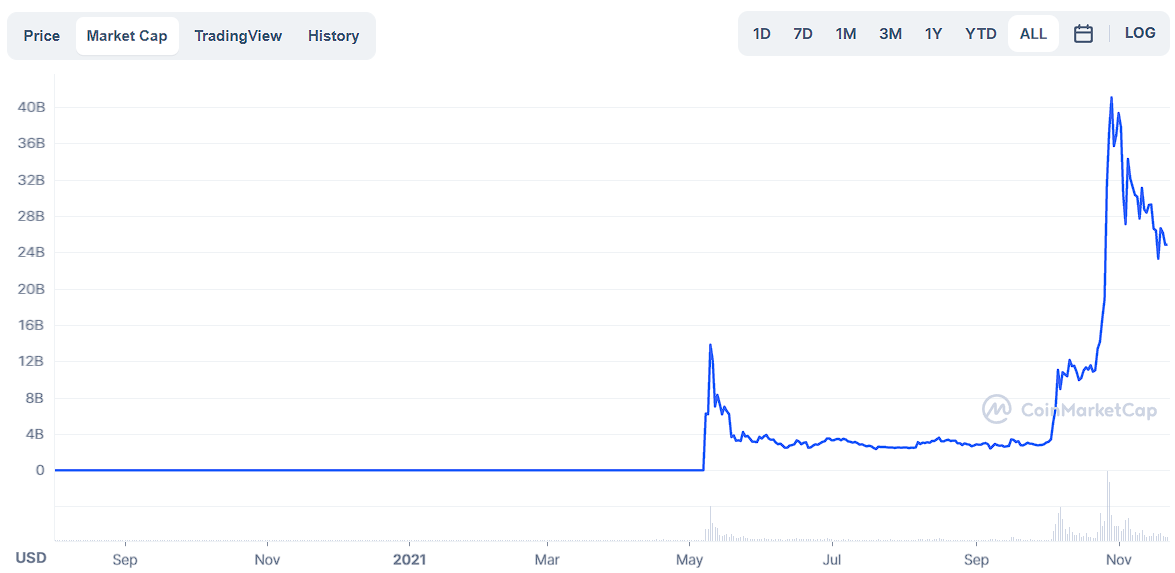 In addition to volatile market movements, volumes on the market have also increased significantly, which is the first indication of a high number of over-leveraged positions on the market.
Several questions need to be answered regarding the price of Shiba Inu Shib in the future. Crypto traders and investors are interested in knowing the predictable end of crypto tokens such as Shiba Inu Shib.
Supporters project that the ShibaSwap, Shiba Inu's decentralized exchange launched last July 6, 2021, will boost the popularity of the coin by allowing users to trade among Shiba Inu and other cryptocurrency tokens.
By considering the market capitalization of Shiba Inu and the unexpected surge in its price, it is clear that the cryptocurrency is destined to continue to do the same. It is backed by a vicious community that propagates social media hype to ensure the coin's value rises to the moon.
What is Shiba Inu?
Shiba Inu is arguably among the most popular meme-coins today, named after the Shiba Inu dog. The coin has gained tremendously over the years. It is essentially a decentralized meme token that has managed to evolve and amassed a vibrant community for its ecosystem. The dynamic community-building approach has made Shib popular, resulting in the name "the DOGE coin killer." It is available today on most decentralized exchanges.
Shiba Inu has recently recorded relatively high price gains in the recent months since its launch in August of 2020. The future appears bright for digital assets as forecasts show that a majority will continue to increase worth over more extended periods.
Since Shiba is dependent on the Ethereum blockchain and has support from Elon Musk, it is highly likely to experience exponential growth.
Shiba Inu is essentially the most popular cryptocurrency inspired by the famous Dogecoin. Most of these dogecoin-inspired tokens have gained popularity due to the unprecedented endorsement by Tesla CEO Elon Musk – who has openly endorsed Dogecoin.
Shiba Inu has realized significant gains following its recent listings on popular crypto exchanges like Binance. However, there are bold critics of this ranking by market cap. In this writing, Shiba Inu is ranked #12 with a market cap of $24.8 B.
Recently, AMC decided to enlist SHIB into the list of cryptocurrencies that will accept crypto payment.
Shiba Inu price history and technical analysis
Whenever we attempt to perform a Shiba Inu Coin price prediction, it is essential to analyze its price history. As the famous quote goes, you must know the past to comprehend the present and predict the future, and it applies directly to price action and technical analysis.
Since Binance listed the Shiba Inu token, the price has undergone some rollercoaster. Arguably, this is because of the recent bear market that was imminent, according to most technical analysts.
When Shib was first listed on the Binance exchange, the Shib price quickly skyrocketed, as expected, from $0.00001416 to a whopping 0.00005007 before slowly tanking.
The DOGE coin killer price portrays enough room for growth in the current bull market. Therefore, Shib coin is an excellent coin to invest in today to profit in the current crypto market. SHIB was initially created with a total supply of 1 quadrillion. Still, almost 50% of the tokens were sent to Vitalik Buterin – Ethereum co-founder, who consequently burned the cryptocurrency in a dead wallet.
Today, the total circulating supply, according to CoinMarketCap, is 549 Trillion Shib tokens.
Pros and Cons of investing
Shiba token is regarded as one of the most volatile cryptocurrencies alongside Dogecoin. These cryptocurrencies fluctuate in price quite often. Some of these fluctuations result from endorsements, or lack thereof, from Tesla Founder and CEO Elon Musk.
However, investing in crypto can be a good idea, while it can also go against expectations. Below are some of the pros and cons of investing in Shiba Inu, given the projected USD predictions.
Pros
According to recent Shiba Inu price prediction, the Shib price has an incredible potential to realize significant growth in a bull run.
Elon Musk's tweet directly influences the price of Shiba Inu Shiba; whenever Elon endorses these meme coins, the price of Shiba Inu is expected to skyrocket.
Investing in the cryptocurrency market generally allows you to benefit from high percentage growths from relatively new tokens like Shib.
Since we're are in a bullish market, most tokens should increase in value. Shib is no exception, and if the bull run continues for long, Shiba Inu price prediction on the Binance exchange could see a new all-time high.
Cons
Many people make investments intending to make more money out of them. However, investing in Shib may result in significant losses since the market does not always guarantee positive growth.
Trading with Shib can only be profitable if you pay attention to crypto news and be aware of any that may affect the forecast price positively or negatively.
Market Prediction for Shiba Inu Coin-2021
In 2021, Shiba Inu's price is expected to fluctuate. Essentially, all crypto assets fluctuate in value; however, at the beginning of 2021, most coins experienced an impressive bullish trend until Tesla's CEO openly mentioned that the Electric carmaker would no longer accept Bitcoin as payment. Following these remarks, a global downward trend began as more and more negative news flooded the market.
Below are some Shiba Inu price prediction 2021 data from various analyses.
Shiba Inu coin price prediction from TradingBeasts
TradingBeast bases its predictions on historical data. And according to their forecast, it is evident that the price of the Shiba Inu coin is expected to grow.
According to the analysis, the coin is a good investment due to its future price forecast. By their current data on Shiba Inu, the price of Shiba Inu, by the end of 2021, is projected to be $0.0000728, implying a 21% increase.
The 2021 forecasted Shiba Inu price indicates a strong buy signal for the meme coin, and crypto users should consider including it in their crypto investments portfolio. The future cost of Shiba Inu shows a positive trend, creating an ample investment opportunity for crypto investors.
Shiba Inu coin price prediction from Wallet Investors
According to Wallet Investors' forecast, Shiba Inu Shib price is rising. If you want to increase the dollar value of your investment, investing in the recently listed Inu coin would be profitable.
Based on the forecast, the coin provides the opportunity to achieve up to +71% in a single year. Wallet Investor forecasts that Shiba tokens will increase to $0.000068 by the end of 2021.
Comparing the forecast to TradingBeast's, Shib tokens will likely continue the bull run for the subsequent years.
Shiba Inu Coin Price forecast by Longforecast
The Longforecast forecast shows that the price of this token will undoubtedly increase. Since its launch, the cryptocurrency has experienced normal price fluctuations. Within five years, Longforecasts predicts that the token will hit a +131%% rise to $0.00015512; therefore, Inu is a good token for long-term holders.
Considering the long-term potential portrayed by this Shib price prediction, Shiba coin will continue to rally high in the crypto market, with Shiba hoping to continue hitting new highs.
Cryptopolitan's verdict on Shiba Inu Coin
Cryptopolitan's verdict on Shib Inu's place in the cryptocurrency market is quite interesting. We acknowledge that the token is in an upward trend, and it can hit higher highs presenting an excellent opportunity to increase your portfolio's value in USD.
Cryptopolitan's Shiba Inu forecast indicates that SHIB tokens continue their growth in the future. Your Shib cryptocurrency investment can skyrocket on the Binance exchange and other related exchanges within the next five years.
Shiba Inu Coin price prediction for 2022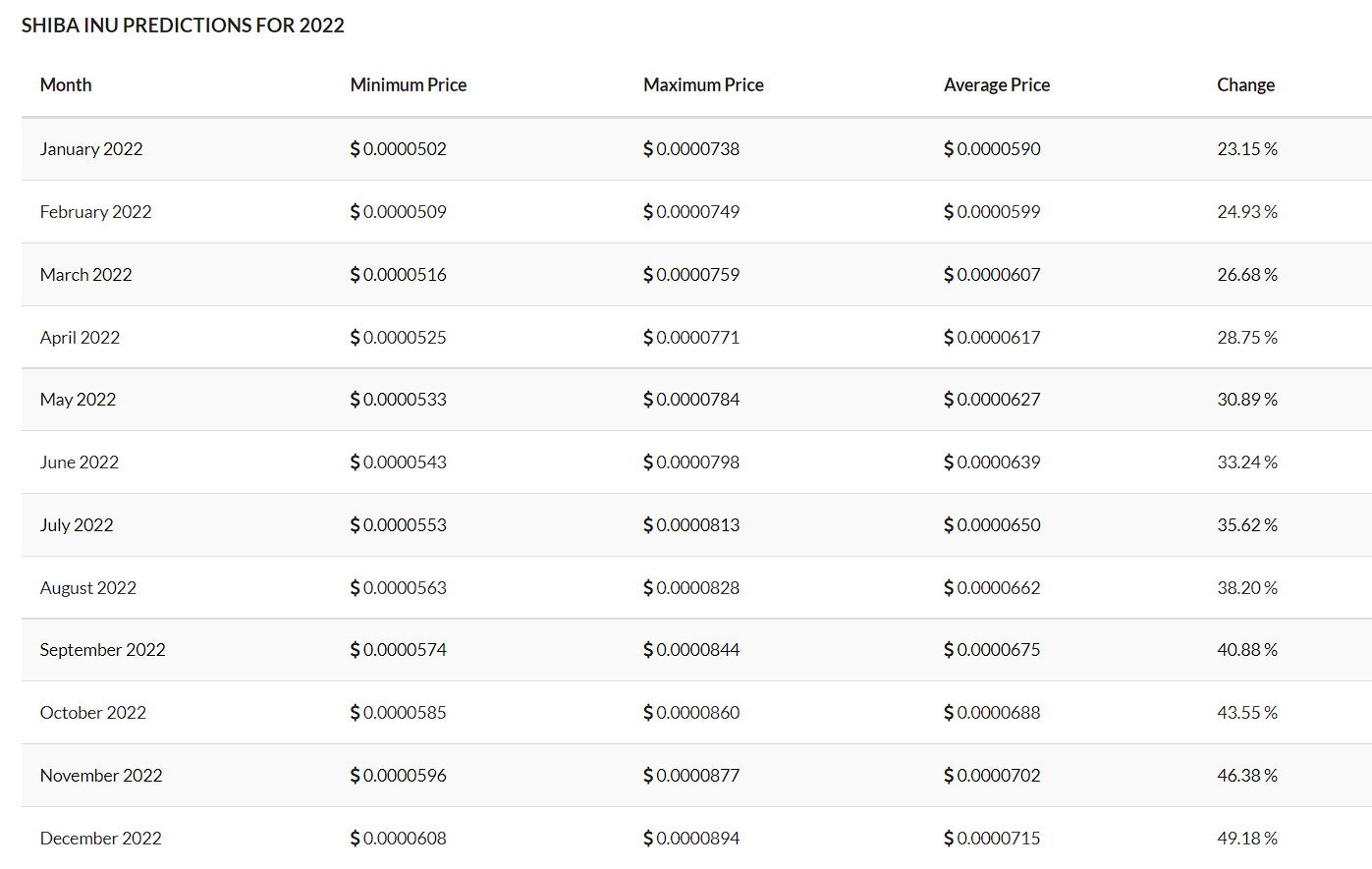 In 2022, the bullish run associated with Shib is expected to continue. According to our predictions, SHIB may continue to experience a short bearish trend in the first half of 2022 due to the current market sentiment that has led to the short-term bearish prices in the crypto world. You should definitely buy Shiba Inu coin in the dip.
By the end of 2022, Shiba Inu forecast shows that crypto traders will trade SHIB for $0.0000608. The forecasted minimum price is $0.0000715, and the maximum expected Shib token price is $0.0000894.
Shiba Inu Coin price prediction for 2023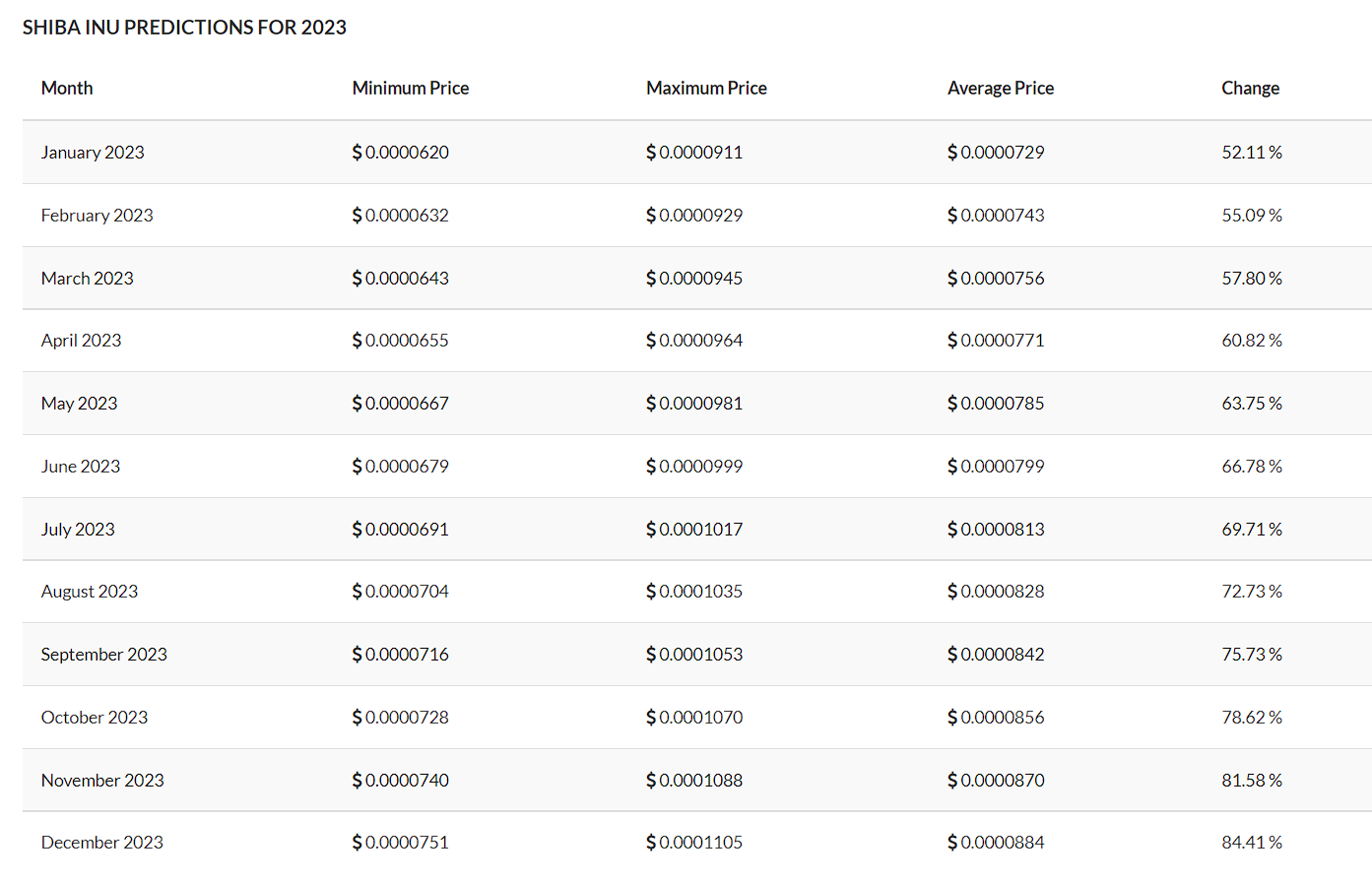 Shiba Inu's price will continue to rise in the future. In 2023, the average cost of the meme coin is expected to be $0.0000751 in December. In the same month, the Shiba Inu tokens could record minimum prices of $0.0001105 and a maximum of $0.0000884.
Considering the Shiba Inu forecast and price prognosis, 2023 is an overall bullish year for Shiba.
Shiba Inu Coin price prediction for 2024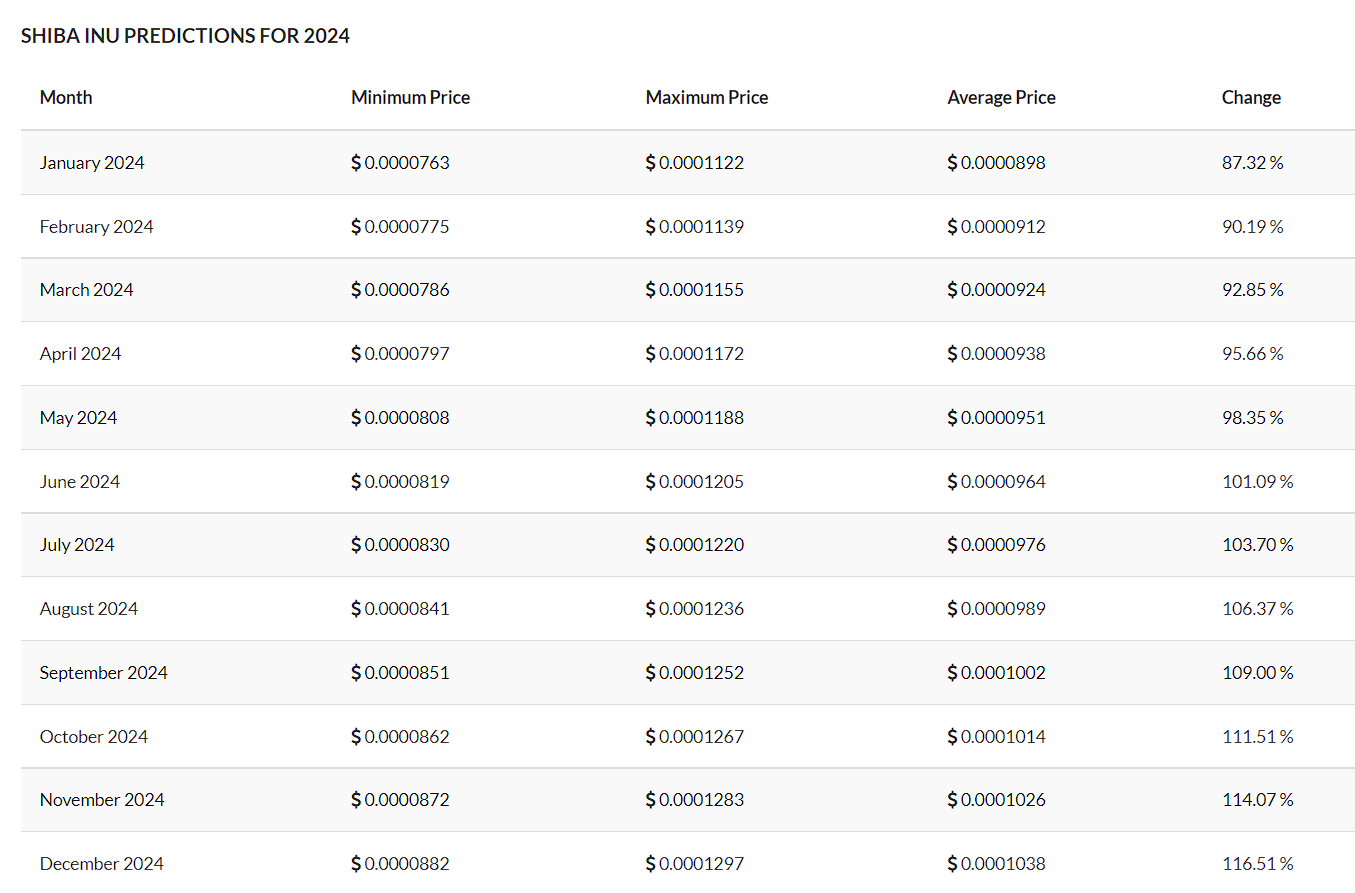 Shiba Inu's price predictions for 2024 seem to follow the same bullish trend that has been earlier determined. The crypto market has been essentially growing, and more growth is expected in the long term for solid crypto projects like Shiba Inu Shib.
In 2024, Shib price is projected to hit a new ATH as more investors continue to buy Shib. More exchanges are listing Shiba Inu Shib, increasing access to these coins. Consequently, the increased adoption of Shib by traders will undoubtedly raise the price.
Considering our projections, Shiba will trade at an average value of $0.000042, and the minimum price and maximum prices at $0.000037 and $0.000048, respectively.
Shiba Inu Coin price prediction for 2025
Shiba Inu's current position provides a good chance for investors to hop on and make significant gains in the future. From the prediction, Shiba Inu's price will rise even further.
In 2025, the investment decisions of crypto traders may be impacted differently based on the prevailing technologies. However, there is a bright future for proof of stake, a consensus algorithm used by Ethereum. Shiba is based on the Ethereum blockchain and is expected to benefit as well.
From crypto analysts' available data and opinions, Shiba's price can be $0.000149 by the second half of 2025 if it follows the current growth pattern. Similarly, the minimum and maximum prices for Shib tokens are $0.000136 and $0.000164, respectively.
Shiba Inu Coin price prediction 2030
By 2030, we expect significant gains for Shiba Inu Shib. The Shib price is expected to record massive increases in the next nine to ten years. Based on the available data from the crypto markets, Shiba tokens can trade at $0.002 or more.
Conclusion
Shib is a token that is poised to dethrone Dogecoin in future. The ERC-20 token analysis shows that the cryptocurrency is trading at significantly lower prices. According to our data, most analyses support the upward trend that began in June, making it one of the most impressive coins built on the Ethereum network.
Several questions need to be answered regarding the price of Shiba Inu Shib in the future. Crypto traders and investors are interested in knowing the predictable future of crypto tokens such as Shiba Inu Shib.
By considering the market capitalization of Shiba Inu and the unexpected surge in its price, it is clear that the cryptocurrency is destined to continue to do the same. It is backed by a vicious community that propagates social media hype to ensure the coin's value rises to the moon.
Therefore, looking forward, Shiba Inu has the potential to rake up enormous gains for investors. However, having a long term perspective is crucial for Shiba investors since significant gains are projected to happen after a long time horizon. Also, investors should employ exemplary risk management skills when investing in Shiba for the long term.
FAQs
Is Shiba Inu a good investment?
Shiba Inu is generally a good investment. It is considered to be a fantastic investment opportunity for investors who are looking to buy and hold.
Shiba Inu proves to be a good investment based on available factors such as market capitalization, current price, circulating supply, and total supply.
Should I buy Shiba Inu now?
Shiba Inu's prediction shows a slight downtrend. The Shib price prediction. However, it indicates that the short-term bearish run will end soon, and Shib will resume its usual bullish trend.
Information obtained from crypto analysis indicates that Shib prediction is bullish for the long term; therefore, Cryptopolitan encourages investors to invest in Shiba Inu. Shiba is available on major exchanges today, including Coinbase pro and other DEXs that allow Shiba swap.
Is Shiba Inu coin good for long-term investing?
A long-term crypto investor stands to gain more from Shiba Inu in the long term. Careful considerations of all the metrics indicate that Shiba can experience massive gains due to its robust community's occasional social hype and support.
Is Shiba Inu an excellent coin to invest in for the short term?
Short-term investors may find it risky to invest in Shiba. Although Shiba will most probably increase its worth, it may not be worth the risk in the short term.
However, a day trader may realize good returns trading with Shiba pairs due to frequent price fluctuations. A crypto expert and trader may take advantage of these fluctuations and make good returns.
Shib prediction indicates minor price changes in the subsequent few months; therefore, it might not present good earning opportunities for the short term from a market realist point of view.
Is Shiba Inu cryptocurrency a stable project?
Based on the analysis of the project, the Shiba Inu project is a stable project with no visible signs of crashing in the future due to its crypto community support.
Disclaimer. The information provided is not trading advice. Cryptopolitan.com holds no liability for any investments made based on the information provided on this page. We strongly recommend independent research and/or consultation with a qualified professional before making any investment decisions.