Have you ever wondered if there's a platform like Google but for Blockchain? Wouldn't it be nice to be able to search for Bitcoin blockchain blocks, specific blocks, and transactions? 
Well, we're here to tell you that such a platform exists, and they do aim to become the Google, or actually the DuckDuckGo, of Blockchains. 
Blockchair is a fantastic tool for every blockchain and crypto enthusiast. It's a private search engine that allows its users to search for transactions, addresses, blocks, and text data.
Blockchair is undoubtedly an innovative service provider that needs to be addressed. So we made sure to deliver an unbiased review of the platform. 
Overview of Blockchair 
Pros: user-friendly interface, famous partners, multilingual support, multiple blockchain support, private.
Cons: little or no information for newbies
Blockchair is an online platform that allows users to search through 10 types of blockchains and find the desired data. They also support Segwit addresses, Xpubs, the Omni-layer and ERC20 tokens and offer Data Dumps and an API for developers and scientists.
The company was founded in 2016, and it has grown immensely since then. Till early 2018 they only had Bitcoin blockchain support, and today they feature nine other blockchains:  Ethereum, Bitcoin Cash, Litecoin, Bitcoin SV, Dash, Ripple, Dogecoin, Stellar and Groestlcoin. 
In other words, Blockchair is a block explorer. 
How it works: 
Go to the website

Blockchair.com

(no need for registration, think of it as a Google search engine)

Type your keyword in the search bar (it could be some kind of information about transaction, date, address, specific block information, or text).

Explore the results (see the example below)
Example: Just by typing a random keyword Beautiful I found several blocks that led me to explore the results even deeper. Try it yourself.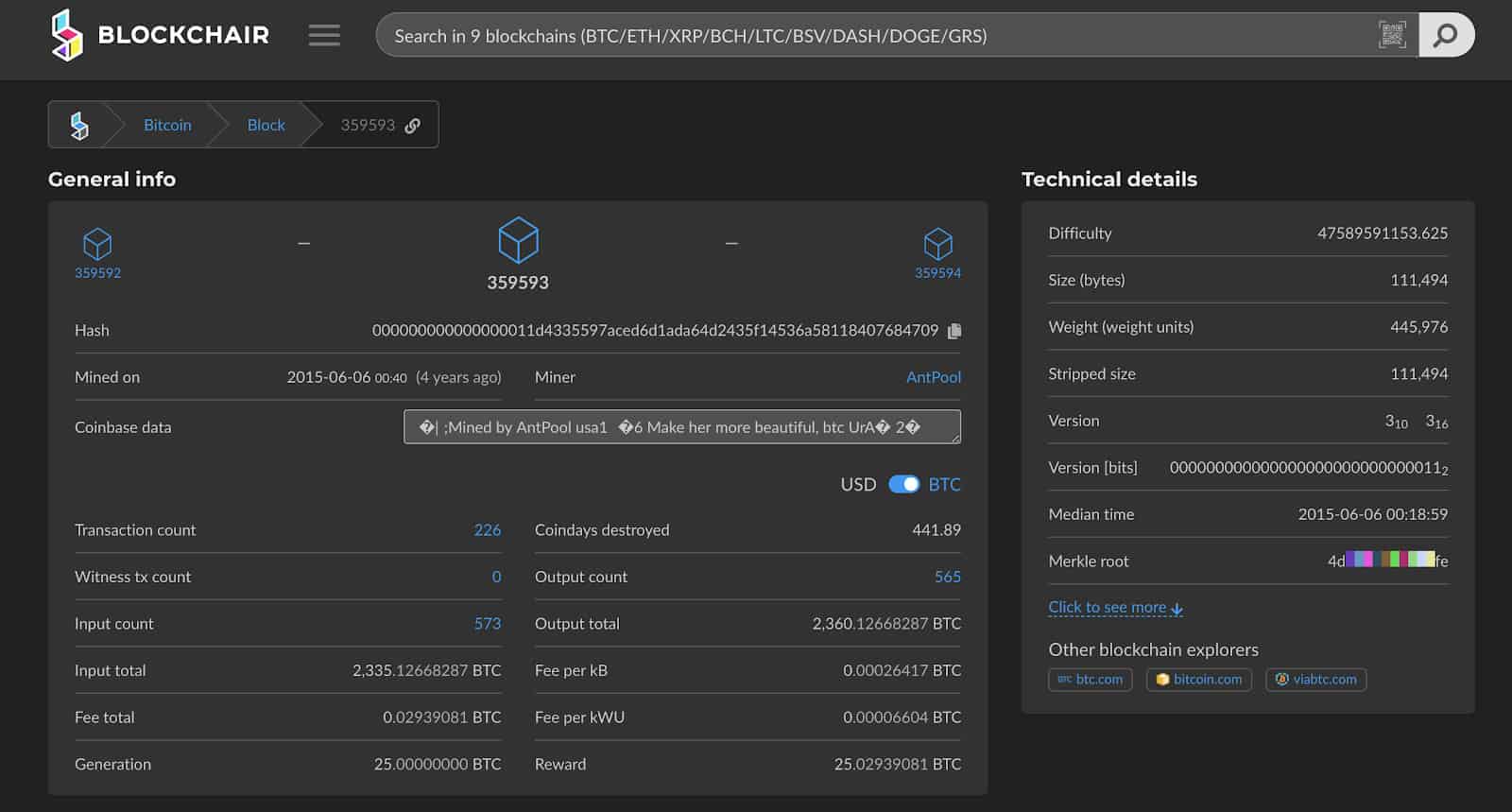 "We aim to become Google for blockchains," says the team in their About Us section. They plan on expanding the platform and giving the users the possibility to search through more decentralized projects like IPFS and SWARM.  
Additionally, if you're researching something, you can easily transport (convert) the data gathered on Blockchair as a batch in one document. 
They have a privacy policy in which they explain that they do not use analytic tools (Google Analytics, Baidu Tongji, Yandex, Metrica), advertising platforms and similar third-party services and do not permanently store user information. In this way, third-parties do not gain knowledge of the transactions and addresses that a user looks up, and only the user knows which transactions and addresses are linked to him. 
Even more good news for the night owls – Blockchair website has a night mode (an additional perk), which you can switch at the end of the site or from the drop-down menu. 
What is a block explorer?
We mentioned the words block explorer, block search engine, Google of Blockchain a lot. It seems like a good time to explain what a block explorer is. 
Can you sit down and imagine Blockchain visually? It's practically impossible to imagine the whole Blockchain, yet again, find the desired block in that line of blocks. Every 10 minutes, a new Bitcoin block is mined, and look at the unconfirmed transactions and how fast they move. 
Block explorers ease the task of searching through a Blockchain. 
Uses of Blockchair 
Research the blocks 
You can research the blocks from 10 blockchains and see their average sizes by filtering the date. This might help you to get an approximate image of when Bitcoin (and how) fluctuates up and down. 
Researchers also use such services to see the hashrate distribution over the past several weeks. The platform is giving you the freedom to explore all the blocks on your own and mine the desired data.
Research the transactions
You might be looking for some information in the transactions. Imagine Blockchair as a digital library of all the Bitcoin and 9 other blockchain's transactions. You can search for one and filter them by date. Blockchair offers over 200 sorts and filters on their platform.
Some of the most often search terms and uses include:
Researching the transactions involving over $1 million.

Researching the biggest blocks of Bitcoin, Bitcoin Cash, Ethereum, etc. 

Looking for the transactions involving specific wallets and addresses.

Checking transactions involving satoshi.id.

Viewing blocks mined by Slush. 

Viewing transactions with special messages like "Marry Me" or "Happy Birthday" to see what transactions were involved in proposals and other messages. 

Researching transactions involving more than $5 in fees. 

Checking addresses starting with 1dice

Checking mempool transactions or

Coinbase transactions
Use your imagination and the research needs to check on the blocks and transactions, or text data.  
API integration
Blockchair offers a stable API to the blockchain data for wallets, exchanges, universities and others. Scientists can use this to sort and filter data for their research, and wallets and exchanges can use the API to query data of addresses and transactions. In this way, they can drop their own infrastructure, outsource it to Blockchair and spare the node maintenance time and server costs. 
They offer elaborate API documentation and maintain an API page. Though, they have not published the prices for commercial API-keys, there are discounts available for non-commercial and academic projects up to 100%. There is a public API available for free with a daily limit of 1440 requests. For a higher limit they ask to reach out for an API key. 
The team behind Blockchair
Since 2016, the team of Blockchair has been working hard to deliver high-quality services to those who search through the never ending libraries of crypto recordings. 
Blockchair has a diverse team from different countries. Nikita Zhavoronkov, Lead Engineer and Bitcoin Explorer Developer, is based in Moscow and is currently leading the company. Nikita, alongside with Yedige Davletgaliyev, Ethereum Explorer Developer from Kazakhstan, are running the company and are assisted by front-end developers, business developers, a researcher and a small team of 3 for other issues such as legal, translation management and office management. 
Partners of Blockchair
As we slowly dive into discussing the legitimacy of the platform, we mention several of their partners. Blockchair managed to partner up with Bitmain (China),  the National Research Nuclear University (Russia), Astana International Financial Centre (Kazakhstan) and blockchain veteran Bitcoin.com. 
Through 3 years, the Blockchair team managed to gather many famous partners. Below is an overview of the most important ones. 
Wallets featuring Blockchair:
Magnum Wallet

Edge

Exodus

Trust Wallet

Atomic Wallet

others.
Hardware wallets featuring Blockchair:
Exchanges featuring Blockchair: 
Bilaxy

Dobi Trade

Big.One

SimpleSwap

Coinmerce

CoinEx

others. 
Mining pools featuring Blockchair:
This is just a small list of the Blockchair partners. You can see the full list following this link. They have listed down all the media partners, explorers, market data providers, crypto processors, dApps, and academic partners. 
Customer Support
After researching more about Blockchair, we noticed that the support in the public Telegram is sometimes a bit slow, but they also offer dedicated support through info@blockchair.com. For questions about lost funds, unprocessed transactions and Bitcoins sent to a Bitcoin Cash address, there is an FAQ section to which they refer.  
They have a Contact Us option on their website, that will show you links to Social Media for further communications. Although you can also contact them at info@blockchair.com. 
Some users complain that their customer support is poor and they're not too present on social media. Although they operate an active Twitter account, so maybe that's where you should go for updates and more info?! Additionally, they have a good community management in their Telegram group – https://telegram.me/Blockchair. 
Conclusion
In the end, Blockchair presents itself as a professional blockchain search and analytics engine that acts as a block explorer and expands its services through time. It can be a great help in your research for blockchain recordings, transactions, and text data.  
Let us know in the comments below if you found this review helpful and how you're going to use Blockchair. 
FAQs

Does Blockchair have additional services like cloud drive to save the researched data?
No, but you can download their data dumps. It's currently free, but limited to only one file per time. 
Are they going to add more blockchain research options? 
We've seen them develop the platform since 2016. At first, they only supported the research of Bitcoin blockchain. Currently they have 10 Blockchains and they plan to add more continuously. They have also added new language support to the platform and promise to add more in the future as well. 
Can I find a transaction I made? 
Of course you can, if you remember a certain keyword, wallet, address or other information. If you remember the keyword such as "Happy Birthday" (in case you giftet several cryptos to your friend on their birthday), you can type in the keyword and find your transaction by filtering through the list.