Maker (MKR) is one of the most extensive decentralized applications (dApps) on the Ethereum blockchain. The Maker technology was designed by a disparate group of developers and is governed by the MakerDAO. Maker (MKR) is the governance token of the MakerDAO.
Three months ago, there's a question on the main benefit of owning MKR. We surmise that the benefit seems to be voting rights to maintain DAI price, which is interesting but sounds like work. The downside of owning MKR tokens is that if the DAI-USD peg slips, the financial responsibility falls on MKR holders to cover the difference. Not sure the potential costs outweigh the benefit of being able to vote. Is there some other benefit? Is it the association with DAI and ETH that keeps the price up?
What does the average crypto investor see in owning MKR?
DAO Maker
The MakerDAO is a Decentralized Autonomous Organization (DAO) or a cryptocurrency exchange made entirely of Maker shares. These Maker's MKR shareholders can stake their Maker crypto to vote on proposed changes to the Maker protocol and engage in crypto trade with their Dai token. This maker governance structure has helped Marker maintain its integrity.
For all of its vast differences, holding Maker coin in the cryptocurrency market is somewhat similar to owning stock in a traditional company, in the sense that the shareholders have a say in determining how the company functions. The Maker ecosystem was one of the first DeFi projects to achieve significant success- a testimony of a genuinely effective decentralized exchange governance.
Maker's MKR token goal is to create a DAI stable coin and a crypto asset without concerns over reserve-backing. With the collateralization mechanisms and the further failsafe of MKR, Maker DAO has a secure wallet to protect the value of DAI, which could lead to its wider use.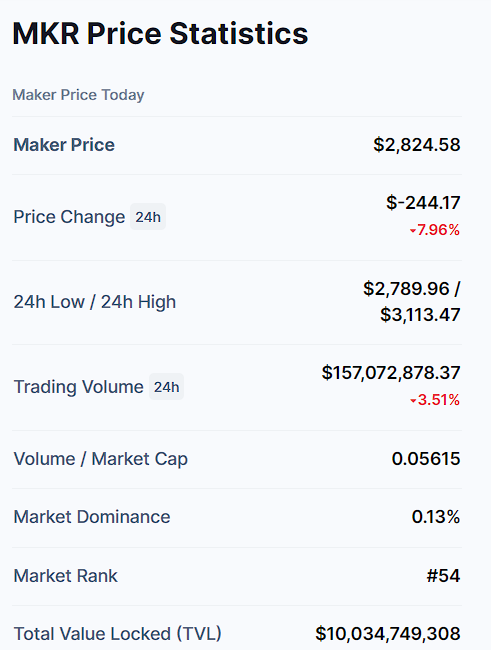 MKR circulating supply and total supply
MakerDAO initially launched with a supply of 1 million MKR tokens. There is currently a circulating supply of around 991,328 MKR with over 2.7 billion USD market capitalization. However, the total supply of Maker tokens, and therefore their value, vary depending on market prices and conditions.
If cryptocurrencies stored in a Maker Vault smart contract suddenly drop in price, they may no longer have sufficient value to collateralize the generated stable coin, leading to liquidation.
If Dai raised during auctions is not enough to cover the vault's obligations, new MKR tokens will be minted. On the other hand, if it is the case that more Dai than necessary is generated, it's used to buy back Maker tokens and burn them. As a result, the total supply of MKR changes dynamically, thereby affecting its price.
What makes it so special?
The Maker token helps to keep its partner stable coin DAI at the same value as $1. MKR can be created and destroyed in response to DAI price fluctuations to maintain DAI's dollar-equivalent value. DAI uses a system of collateralization (essentially insurance), whereby holders act as part of the controlling mechanism to help manage the network.
DAI is issued when buyers purchase a smart contract-based collateralized debt position (CDP) which behaves much like a loan. CDPs are bought with Ether (ETH), and DAI is returned. ETH acts as the collateral to the loan, the same way a house serves as collateral for a mortgage loan. The system means that individuals can, in essence, obtain a loan against their ETH holdings. The DAI is "burned" or destroyed when the loan is repaid. Fees occur in MKR along the way.
The Maker token is a solution for a scenario where the price of ETH falls too quickly for the DAI system to handle. If the collateral system is not enough to cover the value of DAI, then MKR is created and sold to the market to raise additional collateral.
The Maker Platform, formerly known as MakerDAO, is the protocol and governance framework for DAI and MKR. The decentralized autonomous organization (DAO) on the Ethereum blockchain.
How does Maker work?
The Maker Protocol generates new Dai through smart contracts known as 'Maker Vaults.' These contracts can be created through different web UIs and apps that act as portals to access the network. When a user wants to retrieve their collateralized cryptocurrency from the smart contract, they must first pay back the Dai they generated along with a stability fee.
MKR price prediction by DigitalCoinPrice (2022-2029)
According to DigitalCoinPrice, the price of MKR is expected to reach $3,366.19 at the close of 2022. Furthermore, when 2023 comes to an end, Maker MKR would have earned $3,886.84 in 2023 as the forecasts show that MKR will be in a bullish mood, so its rise will take the prices to $5,504.37 in 2025. Finally, the predictor projects that MKR will reach $10,474.26 in 2029.
MKR price predictions from WalletInvestor (2022-2023)
MKR coin closed with the highest of $2,422.33 in 2021, while it had started with the high of $600.52 in January of the same year. The all-time high for MKR in 2021 was $5,500. Experts at Wallet Investor believe that MKR will reach $4946.780 in one year.
MKR Price Predictions from CryptoGround (2022-2026)
Maker Short-term Prediction
According to CryptoGround, the short-term change for one day is expected to be -2.70%. Due to this dip, the price will change to $2,404.9750. The weekly forecast projects that the change will be about 2.65%. In the 1-month forecast, the price will see a dip of 2.13%, reaching $2,418.9037.
Maker Long-term Prediction
According to the long-term Maker price prediction by CryptoGround, the price of Maker for one year will be $4,311.5026 with a 52.67% change. Next, for five years, the price is projected at $8,018.3633 with a 224.42% change. If you invested $100 today on MKR, your investment would be worth, more or less, $324.42 in 5 years. The idea is (if you believe in the project), HODL to help the project push through with its roadmap.
Maker Price Prediction by TradingBeasts (2022-2025)
The above-given chart shows that TradingBeasts have given an optimistic forecast.
Maker Price Prediction for February 2022
The average price for Maker during January 2022 is expected to be $2,346.323. At the same time, this forecast says that the minimum price is expected to be $1,994.374, compared to the maximum price of $2,932.903.
Maker Price Prediction for March 2022
The average price of MKR coin for March 2022 is $2,347.694, while the minimum price will be $1,995.540.
Maker Price Forecast for April 2022
TradingBeasts forecasts that the average price for MKR will be $2,345.406, while the maximum price will be $2,931.757.
Maker Future Price Prediction by TradingBeasts
TradingBeasts projects MKR price will reach a maximum of $4,734.902 in December 2024. The price is expected to grow further and might cross $5,766.621 in 2025.
TradingsBeasts are optimistic in their MKR price prediction, as seen from the chart above.
According to TradingBeasts, there might be a slump in MKR price by 2024, and your investment could decrease in value by as much as 3.87%. If you invested $100, that could mean a loss of $3.87.
Conclusion
The more you study the MKR price forecast, the more you will understand this coin's importance and how vital it is for the market. Being the first tradable Ethereum token and the DAO, Maker MKR has become the most popular currency in the crypto market. It would not be wrong to say that this network has vast popularity compared to other cryptocurrencies, and with time it is growing more. As the price of MKR is increasing at an all-time high, you can expect a more rise and new developments.
FAQs about Maker
How high will Maker go?
Based on long-term analysis and MKR price forecast, after one year, the price of MKR can escalate to almost 8200 USD. However, investors keep track of the current market movement and keep their expectations minimal with Matic price prediction.
Will Maker go up tomorrow?
If you see the current algorithm of the MKR price forecast, you will notice a high rise in its market price.
Will DAO Maker price reach $10,000?
According to DigitalCoinPrice predictions, MKR will see a gradual jump to $4,811. Nevertheless, it will break through the $10,000 mark in 2025. Thus, MKR will probably surpass$10,000 with a bullish price movement in the next five years.
Is Maker better than Bitcoin?
A mixed review from the investors, crypto influencers, and crypto traders has been collected to figure out whether MKR is better than Bitcoin or not. The MKR network allows you to trade with another currency through a regular trading system. But with Bitcoin, it is not possible. With time, Maker crypto will be at the market level of Bitcoin because this currency is all set to give tough Bitcoin competition.