TL:DR Breakdown
DOGE price prediction shows the crypto coin is consolidating in a downward triangular pattern.
Despite the optimistic prediction, Dogecoin appears to be a lack of buyers.
Further price decline past the $0.044 support level might see DOGE trigger a 50 percent price depreciation to $0.022.
On the other hand, if Dogecoin manages to move past the $0.051 resistance level, it might spark the beginning of new bullish momentum.
According to Dogecoin's price fluctuations today, which has seen the crypto asset depreciate by 45 percent from $0.088 to $0.048, the crypto coin is not attracting crypto buyers.
This has led Dogecoin to flip significant buying demand into supply barriers. For DOGE to change the trend and start recording new price upsurges and new milestones, the crypto asset needs to put in more vigor to push through these levels.
DOGE Price Prediction: Dogecoin might be in for lower lows
Since the 7th of February, the DOGE price movement has been recording lower highs for the crypto asset due to the new traders' culture of aggressively selling whenever its price appreciates. The problem with such lower highs is that they destabilize stable support levels, at DOGE's instance, the $0.044 mark.
When these lower highs and the horizontal support level are connected, a downward triangular pattern is evident. This then means DOGE's price is still up for more downward spiraling.
According to DOGE's technical indicators, the crypto asset is more liable to experience a 50 percent downward price trend, and the DOGE price prediction states a distance between the $0.049 swing high and the $0.0485 flat demand level, added to the $0.0431 breakout level. This trend predicts Dogecoin exchanging at about $0.0215.
Adding traction to this bearish prediction is Dogecoin's price movement under the 50, 100, and 200 4-hour MA or moving averages, which discourage any upsurge price movement. Therefore, if the selling pressure is not checked, the 4-hour candlestick might move close below the $0.043 flat support level to confirm a downward price trend.
If things move in this direction, DOGE's price might move towards settling at the $0.021 level.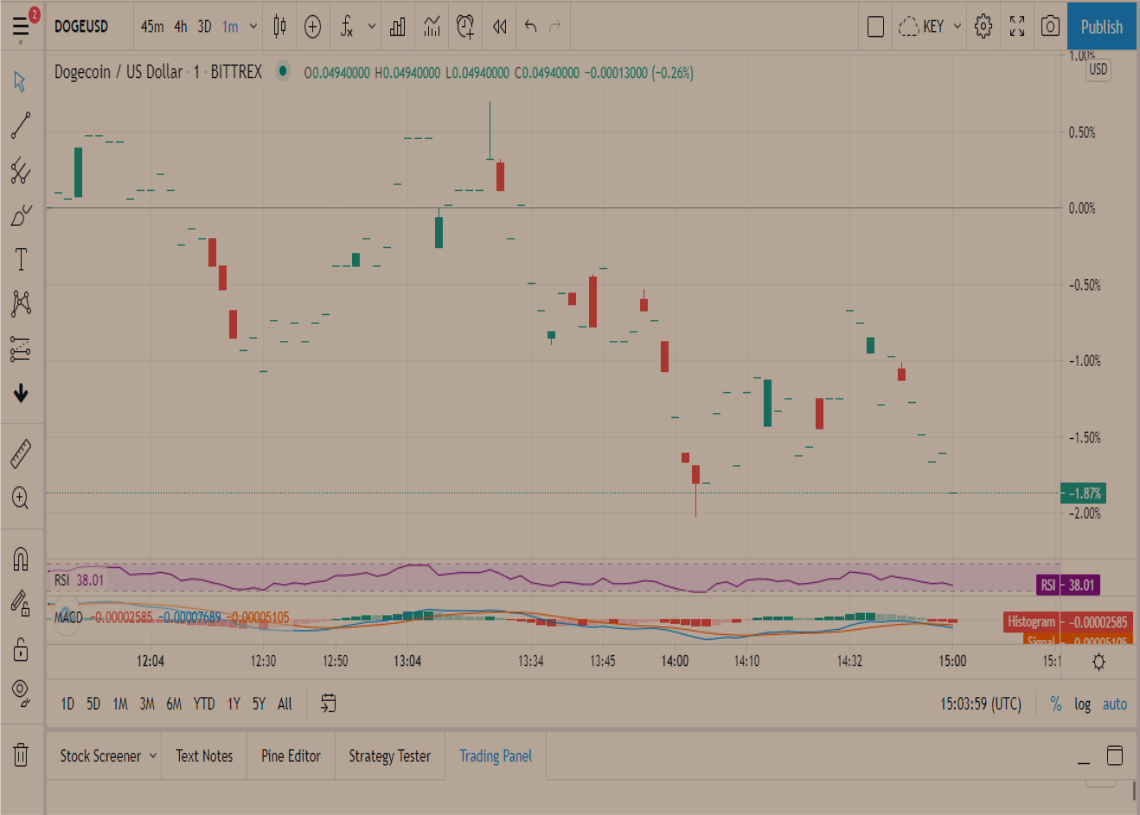 Dogecoin's spiraling downward trend leaves a lot of investors worried
At present, most Dogecoin die-hards are finding themselves in challenging situations as the crypto coin's downward trend seems far from over. Contrary to the 300 percent price surge DOGE witnessed from 30th January to 7th February, the crypto asset has been on a steady trend of forming a series of lower lows and lower highs.
As at 24th February, DOGE witnessed a bullish breakout that saw it move past the $0.055 mark. Despite the move sending positive ripples in the crypto market by putting the crypto asset on the map, the party did not last long. DOGE holders seized the opportunity to sell the crypto asset.
What to expect from DOGE price?
At the time of writing, DOGE appears to be facing continuing selling pressure from several technical indicators.
For example, DOGE's SuperTrend sell-signal indicators have continued to reject the crypto asset's bullish spikes for the past 2 weeks. Therefore, if the current trend persists, DOGE might move past its initial support level at $0.047 to settle in new lower lows.
However, if DOGE manages to form a 4-hour candlestick above the $0.05 mark, it will overturn the current bearish outlook. In such a case, Dogecoin could record impressive price surges of up to 50 percent that might see the crypto asset hit the $0.075 mark.
Disclaimer. The information provided is not trading advice. Cryptopolitan.com holds no liability for any investments made based on the information provided on this page. We strongly recommend independent research and/or consultation with a qualified professional before making any investment decisions.