Although the Binance Coin BNB price had turned bearish from the day prior, it showcased some bullish momentum as the new day continued its route to the closing value. In doing so, it showcased gains by 0.27 percent when compared to the closing value from the day before.
Binance Coin BNB Price 1-Day Analysis – 15th December (BNB/USD)

Binance Coin BNB Price Chart by Trading View
As displayed by the graphs, the bullish turned bearish price route welcomed the bears for another day as the 15th of December initiated. The bearish path ensued until the bulls aimed to conquer, allowing the surge upwards. This ultimately allowed the price to gain some momentum, but only raised the price enough to return to its opening range.
The Binance Coin price opened at the $14.34 mark, continuing from where it closed on the 14th of December. It fell to its support zones below the $14.25 mark. It attained its lowest at 01:49 GMT with a value of $14.11. At about 07:46 GMT, a surge occurred, and the bulls garnered enough momentum for the price to do so. It attained its highest at $14.48. The coin allowed three more dips before it closed with a relatively less volatile pathway at $14.38.
Technical Indicators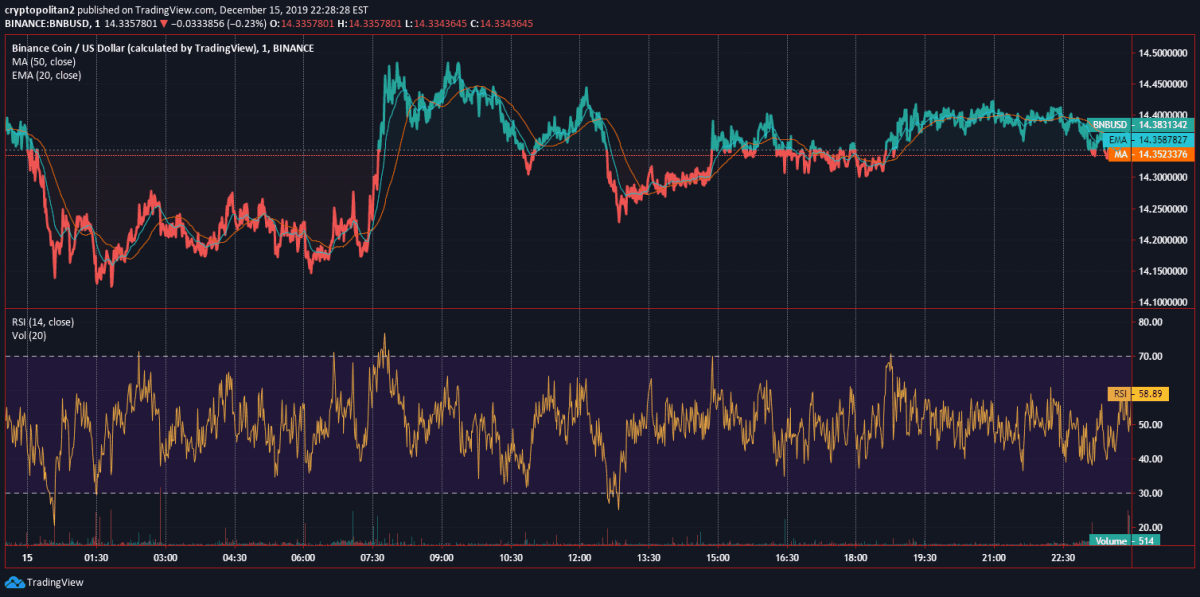 Binance Coin BNB Price Chart by Trading View
Although the price of the cryptocurrency deviated from the moving averages through the progression of the day, it was brought closer by the day's end. The 50-Day Simple Moving Average (SMA) closed at $14.35 and the 20-Day Exponential Moving Average (EMA) closed at $14.35.
On the Relative Strength Index (RSI) scale, two instances of overselling and three of overbuying are apparent. Shares were oversold as the day had just initiated which dipped the price to its lowest. The RSI value rested at 20.63 at this point. The next dip was also a result of the overselling (RSI 25.46). The surge in price was caused by the overbuying (RSI 76.93). The RSI closed at the 58.89 value. 
Featured Image Background by Tommy Boudreau