Scams in the blockchain world are nothing new to the community. For many years we have endured the numerous phishing and investment scams with companies offering us a sweet release of risk-free investing, only to turn tail and run once their monetary goal was achieved.
Many countries are suffering from such attrition, especially Australia, but the most recent scam is currently underway in the Russian Federation.
As you may all know, Russia is in the process of implementing a cryptocurrency regulation, in order to prevent scams like the one we're about to showcase.
Kinodanz scam
Kinodanz is a mediocre media company that's sole purpose is to copy popular blockbuster movies and ruin them in their twisted point of view. They also tend to make TV shows that are hard to find even at the very bottom of Netflix's trash can, which they heavily copyright only within Russia (for an obvious reason of being sued if aired elsewhere)
There are already strong allegations that the company is government-sanctioned as they partake in censoring and "getting rid" of freelance movie makers on YouTube such as Badcomedian.
There have been multiple occasions where the company filed copyright claims (that were fake by the way) on numerous Russian movie makers on the popular video portal. Due to YouTube's absurd copyright policy, those videos are not able to generate any income, and even worse, generate income for Kinodanz themselves.
The company is affiliated with the Russian Ministry of Culture, that provides funds for them to feature movies on popular Russian TV channels. However, the problem is that most of these movies fail and do not fall within the frameworks of the Russian viewer's interests. [Here some numbers and examples, can be easily googled, for example, original Divergent collected $288 million in box offices, Kinodanz copycat "Dance to Death" only collected $180,000, partially thanks to a scenario that did not make any sense, according to critics.
Overall, the background of the company is already shady, as they've been caught multiple times for trying their luck on censorship, and it looks like they are succeeding as we speak.
The company has nothing to do with the blockchain but is now preparing to launch its own system called ECU – Entertainment Crypto Universe. Needless to say, the community should be very careful when trying to register or even check them accordingly.
Kinodanz Phishing
When we attempted to visit the company's official website, we received an official warning from our antivirus (don't know if it justifies it), that the website has been flagged as a Phishing scam.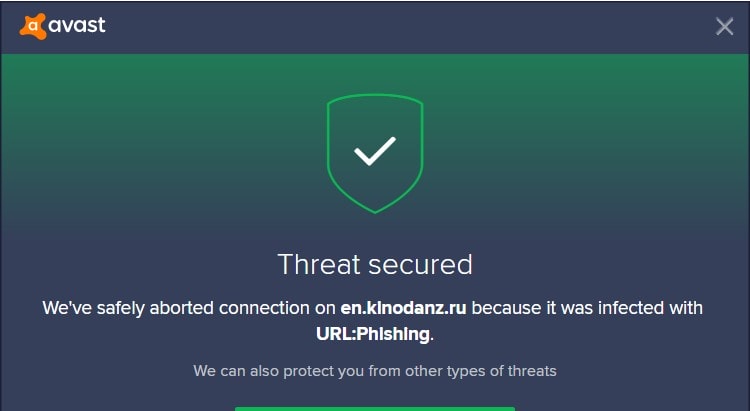 Phishing is where a third-party user gets remote access to your device and tries to access all of your personal files, as well as banking log-in credentials and etc.
Although we couldn't really see what the scam was about, the Phishing warning was already enough to make us leave and classify the platform as a scam. We suggest every interested member of the blockchain community do the same.
We couldn't even do research on the platform and don't even know what they are trying to offer, but most likely they're trying to create something similar to Netflix and have cryptocurrencies as their main payment method.
To be honest, it was more than expected that a company like Kinodanz would attempt such a blatant cash grab. Being supported by the government tends to fill companies like this with ego, believing themselves to be untouchable by the community. But very little can be censored in the internet and people always find a way to express their opinions.
The company has already been an antagonist of the Russian film industry, be it professional or amateur. They've been bashed on their YouTube video the official intro, with more than 200 dislikes compared to just 13 likes which they probably got by forcing their employees to like it.
The Facebook community has similar opinions. The ones that give the company 5 stars come with absolutely no context, while people who don't recommend it, strengthen their opinion with arguments. One review struck is as most important where a young woman mentions her experience of being employed with Kinodanz, where she had to wait for her payment more than a month, and some of her employees didn't even receive the payment.
Once again, we suggest every crypto investor stay as far away from the Kinodanz scam as possible.
Disclaimer: This is a guest article. The views, opinions and positions expressed within it are those of the author alone and do not represent those of Cryptopolitan. The accuracy, completeness and validity of any statements made within this article are not guaranteed. We accept no liability for any errors, omissions or representations. The copyright of this content belongs to the author and any liability with regards to infringement of intellectual property rights remains with them.