TL;DR Breakdown
SLP price analysis is sluggish for today, down by 0.59%.
The nearest price support for SLP/USDT is present at $0.0667.
The resistance is at $0.0761, which currently remains unbroken.
Smooth Love Potion token, popularly known as the SLP token, is one of the most sought-after coins in the 2.6 trillion dollars crypto market. SLP price analysis is sluggish for today, with data from CoinmarketCap showing a 26.16% drop in the trading volume of the token.
On the other hand, the price has action has been quite bearish for the past two months, with a 50.39% drop in August followed by 44.94% in September. For a long-term look at the price analysis of SLP, visit our Price Predictions section.
For the month of October, the market cap of the token is up by 1.26%, while the prices on the monthly candle is up by more than 8%. The token is 83.86% down from its all-time high while being 608.91% up from its all-time low.
SLP price analysis on the daily chart using technical indicators
The SLP price analysis has been sluggish for the past few days as the price action is below the 50-day and 100-day Moving Averages, indicating a bearish outcome.
On the other hand, the Bollinger Bands have become narrower, indicating that price volatility will die down in the short term. However, the current scenario shows that it is possible for the token to break out from the lower end of the Bollinger Bands.
The Relative Strength Indicator (RSI) for the Smooth Love Potion price shows a bearish condition, with a value below 50-level. This means that the selling pressure has increased while the buyers are unable to meet the void created by the sellers.
The MACD indicator shows that the MACD line and the Signal line are nearly overlapping, and it is possible for either to get an edge. From the chart below, it is clearly evident that the price action has been bearish since August.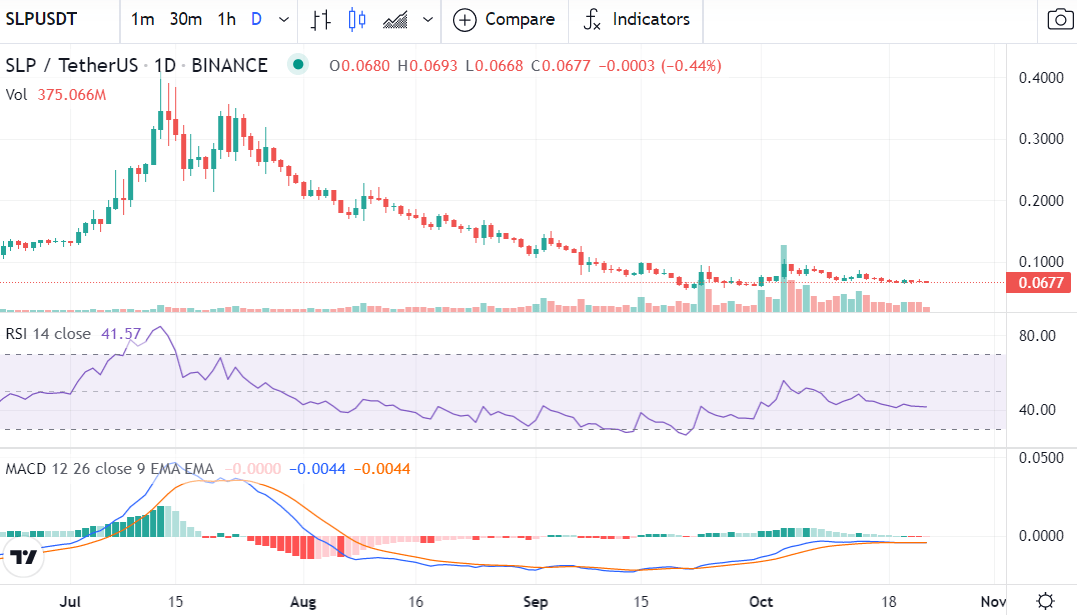 Final verdict
The SLP price analysis can be concluded on a bearish note for the long term, while for the short term, the prices remain sluggish. If the bulls take over the market, we can expect higher prices soon. Until the time arrives, have a look at our guides.
[the_ad_placement id="writers"]