TL;DR Breakdown
DYDX price analysis is bullish for today, with prices up by 4.6%.
The nearest resistance has been found at $20.3, while the nearest support is at $14.2.
In 24-hours, the price of the coin surged by more than 38%, from $14.9 to $19.3.
One of the best-performing altcoins in the past three days has been DYDX. On 2tth September, the price of the coin rose by more than 15%, i.e., from $12.1 to $14.3. The bulls continued to raise the price of the coin yesterday, as prices surged by over 38%, i.e., from $14.9 to $19.3. This makes DYDX/USDT one of the best performing altcoins in recent days. The DYDX price analysis for today is also bullish.
After the huge gain from the past two days, it is natural that the price of the coin will cool off today. According to the data by Coinmarketcap, the trading volume of the cryptocurrency has surged by 32.30%, which gives a hint at the bullish price surge. The market cap is up by 12.47%, at 1.1 billion USD.
On the other hand, the price of Bitcoin is looking to maintain the $43K price level. If the bulls continue their upward movement, we might see Bitcoin trying to take over the resistance at the $46.7K price level.
DYDX price analysis: Technical indicators still bullish
The price action was trading in the narrow Bollinger Bands a few days ago when the price broke out from the upper end of the Bollinger Bands. This was followed by a huge price surge for DYDX/USDT. According to our DYDX price analysis, the price movement is still bullish as the price resides in the upper end of the Bands.
The price rose above the 100-day and the 50-day Moving Averages on 25th September. The bullish green candles demonstrate this on the 4-hour chart below.
The RSI indicator reads a value of 70 as the gradient is nearly neutral. These levels have been in the overbought zone for the past 24-hours and now are entering the bullish zone above 50. This shows that the bulls are still in charge, making the DYDX price analysis bullish.
The MACD indicator shows bullish divergence, and the MACD line is above the signal line, but both are gradually moving towards each other. This indicates a price cool off. If the blue line continues to progress above the orange one, the price will remain bullish.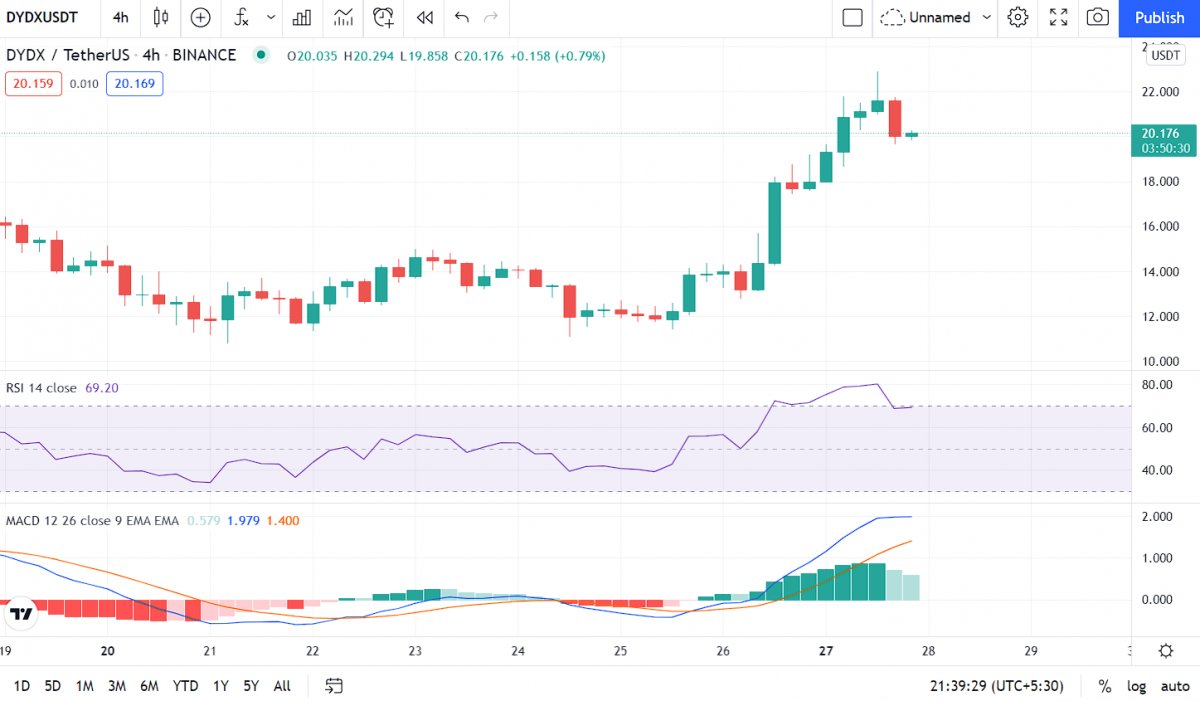 DYDX price analysis: Conclusion
The DYDX price analysis is concluded on a bullish note for today, but we might see a cool-off period in the short term. If you are looking to know about crypto investment and other important aspects of crypto trading, have a look at our guides.
[the_ad_placement id="writers"]