The short-term analysis of the price of ZEN/BTC has shown that the market is surging and is showing good performance on the price chart.
The four-hour time frame has revealed the positive trend for trading for over the average of 200-period. Different technical indicators have indicated various patterns on the charts; the famous indicator pattern watch has shown a pattern of a bullish-to-bearish trend over the chart.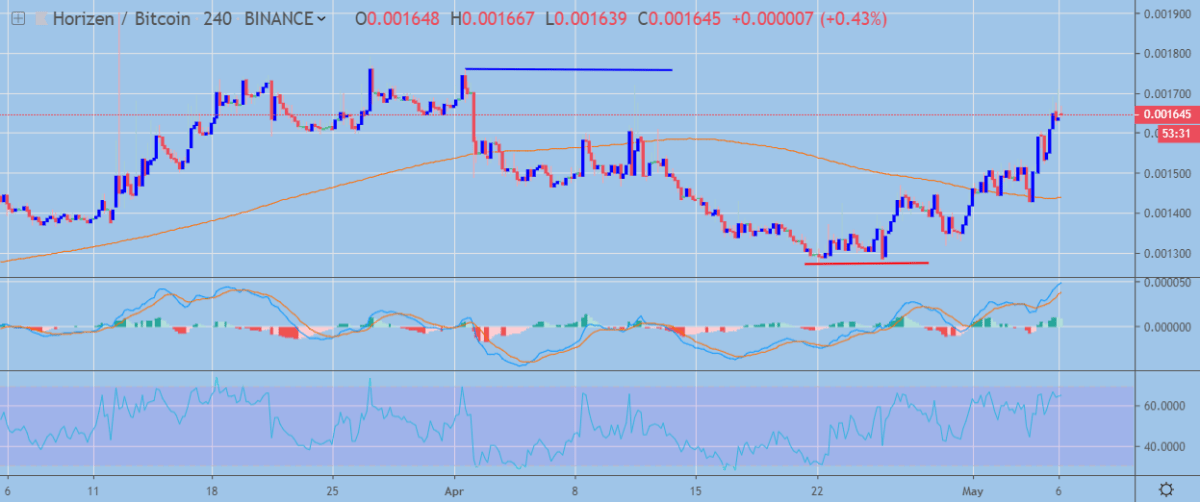 Horizen ZEN price chart created with Trading View
It is further predicted that the market would show positive momentum if the current situation continues. The RSI and MCAD have shown the patterns of a bullish market.
The reason that the ZEN price is rising is due to the fact that the Horizen lab has started making collaboration with digital currency groups and is also making an effort to establish blockchain technology and make progress in this sector as indicated by fundamental analysis.
The medium-term price inspection of ZEN/BTC has indicated similar interpretations as of short- term analysis has shown that the market is surging and is the best time for the investors to invest.
The technical indicators have shown different patterns as the pattern watch has pointed out the upturned head and shoulder pattern.
The RSI and MCAD indicators have revealed positive momentum and bullish market trend. The Horizen has a strong potential for growth and is currently working on enhancing its technical operations.
The last month was not very positive for cryptocurrency trading, however recently the Zen is striving its best to remain bullish against Bitcoin if the ZEN/BTC pair will continue to show good performance it is expected that some remarkable results will be seen in the near future.