In 2021, Robinhood became a household brand, with retail investors boosting active user numbers and trading volumes. The stock prices of GameStop, AMC Entertainment, Blackberry, and Virgin Galactic, among others, soared, as did the company's retail user base. Things seem to be on a fast track for Robinhood in 2022.
A question often asked is how to transfer crypto from Coinbase to Robinhood? You can't transfer any coins into or out of Robinhood. To use Robinhood, you must purchase crypto using the USD fiat currency via a connected bank account. You can't move your coins unless you sell them for cash.
Also Read:
• How To Transfer From Coinbase To Kraken?
• How To Transfer From Coinbase To Coinbase Pro?
• How To Claim Spark Tokens On Coinbase
• How To Close A Coinbase Account: All You Need To Know
• How To Stake On Coinbase: Safety And Profitability?
Cryptocurrency: the easiest way to achieve Robinhood's goals
Steve Quirk, the firm's director of brokerage, believes that the best approach for them to reach a worldwide audience and get the greatest momentum is via cryptocurrency, and then maybe through other components of the service.
He said that adopting the cryptocurrency route is the demanding path for the firm to take, noting regulatory considerations and "other parts" of the industry. Robinhood means Robinhood Markets and its in-application and web experiences with its family of wholly-owned subsidiaries, including Robinhood Crypto, financial news, and securities.
Robinhood provides 100% commission-free stock, options, ETF, and cryptocurrency trades, making it attractive to investors who trade frequently. Should you want to transfer your funds from Coinbase to Robinhood, here are easy steps.
Easy steps to transfer from Coinbase to Robinhood
First, you need to create an account on Robinhood. You can do this by going to the website and clicking "Sign Up." Then log in to your account.
Click on "Transfer Funds" at the top of the page. Now enter the amount of cash you want to deposit to Robinhood by clicking on "Enter Amount" and typing in the desired amount.
Once done with that, click on "Transfer Now." If everything is correct, then go ahead and confirm your transfer by clicking "Confirm."
Your funds should now be available in your new account. Purchases are available using funds in your account or directly through a connected bank account or card. You'll need these numbers when it comes time to buy or sell stocks/crypto assets on Robinhood.
You may start with a bank account or a brokerage account connected to your Coinbase account. You should also know the details of how Coinbase operates.
Benefits of the Robinhood platform
Because it's one of the few stock brokerages that still allows free cryptocurrency trading, Robinhood stands out from the crowd. In contrast to pure-play crypto brokerages, though, Robinhood's glitter is fading.
Robinhood Advantages
No commission fees
User-friendly application
Stock and crypto trade options
Robinhood Limitations
Can't withdraw crypto funds
Only seven cryptocurrencies
Only available to U.S.-based users
Regarding the safety of both Coinbase and Robinhood exchanges, the same rule applies, never keep your crypto where they can get hacked, but keep them in cold storage.
Disadvantages of using Robinhood
Although its low fees and usability are sure to hook users, investors should be wary of Robinhood. In recent years, Robinhood has faced regulatory fines, public scrutiny, and lawsuits. In 2020, Robinhood was hit with a $65 million fine by the Securities and Exchange Commission (SEC) for misleading customers.
There are also similar disadvantages you encounter using Coinbase where the access to your account is restricted due to downtime as you hustle to buy or sell cryptocurrency. Can't access Robinhood is a similar complaint, better known as the server error.
Historically, non-accessibility had occurred many times during bear markets and downward trends when many investors and traders searched for ways to get out. The best way to figure out the issue is to visit Robinhood's official status page and see if any news of server issues is reported.
The following features found in other brokerages are missing or deficient:
No retirement accounts: Robinhood only offers taxable brokerage accounts.t.
No mutual funds or bonds: The lack of mutual funds and bonds may make it difficult to build a truly diversified portfolio.
Limited customer support: Service, though more responsive, is still not on par with other brokerages.
Reliability: Untimely outages which causes trade restrictions amid market volatility. For this and other reasons, Robinhood has been charged by regulators for misleading customers, resulting in significant fines.
How to buy coin stock on Robinhood
There are two main ways to purchase coin stocks from Robinhood markets. The first is by using the app's search bar, you'll type "Coin Stocks" into the search bar and press enter.
The second way is by using the menu on the left side of the app's main screen. Under "Investing," select "Stocks." Then, scroll down to the bottom of the page, and select "Add a New Stock."
Either way, they will bring up a list of all publicly traded companies, including those that issue cryptocurrencies. Remember, you cannot buy all coins. You can only buy the stocks of publicly traded companies that issue cryptocurrencies.
Beyond placing trades, you can also quickly maneuver around the app to find your portfolio account value and access several account management options. Customers supporting them have done a fair bit to clean up their reputation for poor customer service.
How to withdraw from Coinbase
In your mobile app, go into your account on Coinbase and submit.
You will be asked how much crypto you want to send from your equity.
Fill out all necessary information, including the address of where you want your cryptocurrencies sent.
Once everything has been filled out, hit send. Trades above $200 have a percentage-based fee rather than a flat fee. In addition to fixed trade fees, Coinbase transactions are subject to a spread-based fee of 0.50%.
Is it safe to buy on Robinhood?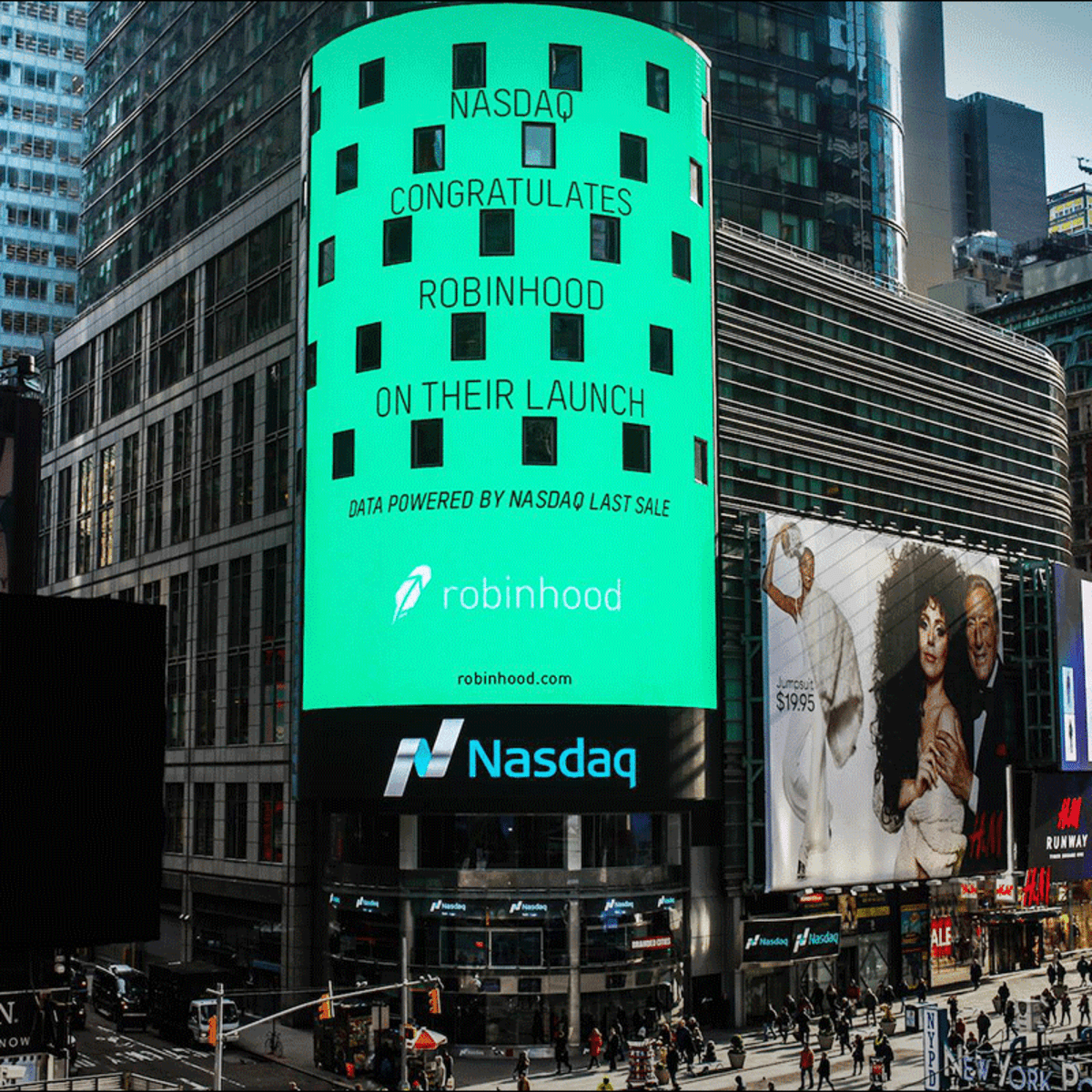 It has been gaining popularity due to its services free commission upon withdrawal which can save the users a lot of revenue over time. There are also other features that can help traders:
No commission fees for customers
You can buy and sell stocks for free without having to pay any fees
You can trade during certain hours of the day
Cash management account currently pays 0.30%; includes a debit card and free ATM withdrawals from more than 75,000 ATMs, and offers up to $1.25 million of FDIC insurance thanks to Robinhood's agreements with several banks.
0.3% APY is paid on cash stored on the platform, which gets deposited monthly.
Candlestick charting on its mobile app allows .
Savings account works seamlessly with your brokerage account allowing you to close a position and spend your gains immediately.
Robinhood also makes it incredibly to find and use your ACH and routing number.
You can open Robinhood accounts simply for access to Dogecoin.
Robinhood is great for fractional shares, whether you want to buy or reinvest your dividends.
You'll be able to place trading with as little as $1 of your assets, and you can buy as little as one-millionth of a share.
What is the catch with Robinhood?
One of the main catches with Robinhood is that it's the industry is only available in a limited number of statesin the US. If you live outside of one of the supported states, you will not be able to use the mobile app.
Another catch with Robinhood is that it's only available on mobile devices. This can be an annoying catch for people who like to trade from a desktop computer instead of using their phone or tablet for everything.
The app has been known to be glitchy and unreliable. Many people have complained about various glitches that have caused them to miss opportunities. This can be a major downside since you don't want to risk an unreliable app messing with your stock trades.
Can you lose funds on Robinhood?
The app does have a few downsides: They don't charge any fees for crypto trading, which could mean that the company is making its cash elsewhere.
Their user interface can be difficult to use, especially if you're trying to buy or sell crypto.
They don't have as much history as some more established exchanges.
It is best to consult with qualified professional traders before making any financial decisions.
Is Robinhood good for beginners?
You can buy and sell an individual stock, crypto trading, and options without paying a cent in commissions or fees in Robinhood markets.
It all boils down and offers users one thing; you don't need additional features (like Robinhood Gold) to access more advanced features.
When it comes to no-fee brokers, you get access to almost free services: cheaper entry costs and a simplified interface.
But when it comes to options trading, which is an important part of growing your overall investment returns, Robinhood's a great choice for a beginner diversifying his portfolio.
Do I own the Bitcoin I buy on Robinhood?
This stock trading app allows you to buy and sell stocks without paying minimal transaction fees. But did you know that they also offer a platform for buying and selling cryptocurrencies? We will answer the question.
It does not offer a way to directly send or withdraw cryptocurrencies. This means that you cannot send from your account to another wallet. However, you can still sell on the platform and transfer the proceeds into another wallet.
The short answer is no; you don't. When you buy the USD coin, the app creates an account on your behalf with one of its partner exchanges. This means that you do not own it but rather an IOU from Robinhood's partner exchange (Gemini).
Robinhood only says that "the Securities Investor Protection Corporation does not protect cryptocurrencies in your Robinhood Crypto account.
Conclusion
Robinhood's streamlined trading platform can give you the pleasant mobile experience you need to trade stocks, ETFs, options, as well as 7 cryptocurrencies. To use Robinhood, you must purchase crypto using the USD fiat currency via a connected bank account. You can't move your coins unless you sell them for cash. However, transferring crypto from Coinbase to Robinhood and vice versa is not allowed. Many online brokers now offer commission-free trades and investors can afford to shop for the broker that suits them best.
FAQs about Robinhood
How to get a Robinhood wallet?
Click here to obtain a Robinhood wallet for your cryptocurrency. The wallets will allow Robinhood customers to own directly and transfer Bitcoin and other cryptocurrencies to pay for goods and services rather than trade crypto as is currently allowed.
What's the main difference between Coinbase and Robinhood?
The Coinbase exchange platform is mainly used to buy, sell, send, receive, and exchange 107 kinds of cryptocurrencies. Coinbase allows its users to easily transfer coins and pay for services that accept payments in cryptocurrency.
Robinhood, on the other hand, offers commission-free trades of stocks, ETFs, options as well as for 7 crypto assets within the platform.
How to develop a cryptocurrency portfolio on Robinhood
Buying and holding investments is perhaps the simplest strategy for achieving growth, and over time it can also be one of the most effective ways of growing your portfolio.
One good news is that you don't need to pay any management fees when investing in crypto coins. You can buy fractions of coins (meaning your holdings are not tied to one single coin in your accounts) and also sell them at different prices.
For instance, you can hold $50 worth of Bitcoin on your Robinhood accounts right now, but if it goes up to $100, you can sell some of your shares as well as buy more if you want.