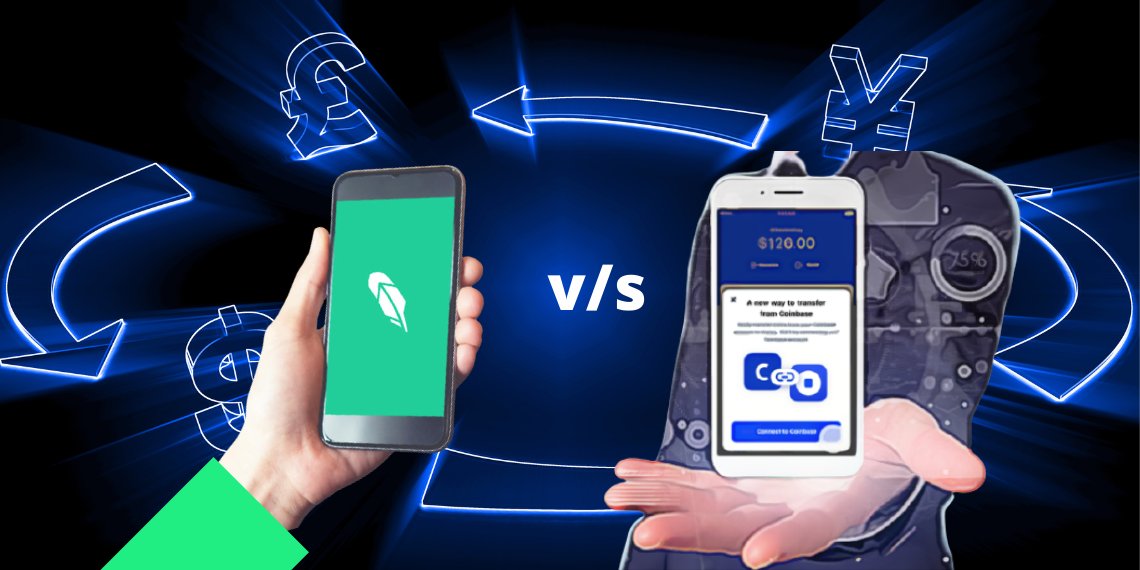 Coinbase vs. Robinhood: What's the better crypto trading platform?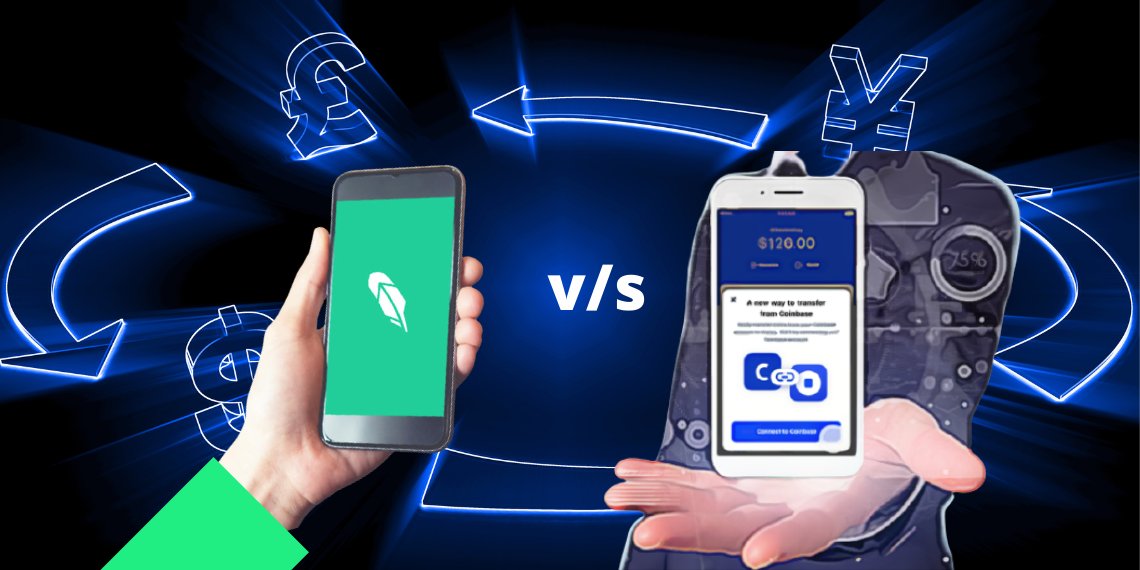 On paper, Coinbase and Robinhood are two of the best crypto exchanges available for users in the U.S. However, both platforms are significantly different in functions, features, fees, and the overall crypto trading process. For instance, Coinbase offers a large selection of cryptocurrencies to buy, sell, and trade. However, Robinhood only offers trading for 7 cryptocurrencies.
Also Read:
• Best Coinbase Alternatives
• Coinbase Vs Binance: What'S The Best Crypto Exchange?
• Best Crypto Exchange: eToro Vs Coinbase
On the other hand, Robinhood offers low fees and unlimited trading, perfect for beginner crypto traders. There are also a lot of similarities between the two exchanges. They offer high-end security features, insurance against platform hacks, and dedicated mobile apps. They are also launching a crypto wallet for 2022.
So, if you wanted to start cryptocurrency trading today, which exchange would be the better choice? To answer this question, we compared both platforms in detail, comparing their standard and advanced features, benefits and drawbacks, and overall user experience. Keep reading to see how these cryptocurrency exchanges compare.
Coinbase vs. Robinhood: Tradable coins
The first most significant difference is the nature of the platforms. Robinhood allows users to trade multiple assets, such as ETFs, Stocks, Options, ADRs, and Cryptocurrencies. However, Coinbase solely provides crypto trading services.
Coinbase has fifty-one (51) crypto coins listed on its platform, compared to only seven (7) on Robinhood. If you're looking to invest in a wide range of altcoins such as Cardano (ADA), Solana (SOL), XRP, Polkadot (DOT), Shiba Inu (SHIB), then Coinbase would be your go-to platform. To consider Robinhood for crypto trading, you'd have to be only interested in the following coins:
Coinbase vs. Robinhood: Trading process
Buying and selling cryptocurrency on Robinhood is very straightforward. You'll have first to deposit USD into your Robinhood account using a direct bank transfer. Once the money arrives in your Robinhood account, you can use it to buy stocks, ETFs, or Cryptocurrencies. Once you sell a crypto asset, the money is funded back to your Robinhood account. You can then withdraw it to your bank account.
Coinbase offers different ways to buy and sell crypto. You can deposit USD in your Coinbase account just like Robinhood and buy crypto using those funds. In addition, Coinbase also offers 'instant buy using your credit/debit card. When selling your crypto on Coinbase, you can also cash out instantly using Visa debit/credit cards or RTP-enabled US bank accounts.
In terms of USD deposits, Robinhood has an 'Instant Deposit' feature, while it takes 3-5 business days for funds to be deposited to the Coinbase wallet from a U.S. bank account. USD deposit and withdrawal on both platforms are free.
The most significant difference between Coinbase and Robinhood is crypto wallets. In addition to buying and selling crypto, you can also send and receive cryptocurrencies from different wallets into your Coinbase wallet. For example, you can send your owned Bitcoins to another platform or receive Bitcoins from someone else to your Coinbase account. You can also convert or swap your owned cryptocurrencies. For instance, you own some Bitcoins, but you want to convert them to Ethereum. Coinbase allows you to do that.
However, Robinhood users can only buy and sell crypto. The platform doesn't have crypto wallets but develops one for crypto giving. So, users can't send, receive, or convert cryptocurrencies they already own. According to the SEC, from the beginning, Robinhood made most of its profit by selling customer orders to high-speed traders and market makers for users' information. External companies also execute the trades and make a small profit from each trade. However, the regulator has concerned that the trades may not have the best interests of brokerage clients.
The investigation is at an advanced stage. If Robinhood agrees to settle with the SEC, the company might have to pay a fine of over $10 million.
N.B.: It's important to note that Robinhood will be launching its crypto wallet in 2022. While developers still test the feature, Robinhood users can join the waitlist to access the crypto wallet as soon as it rolls out.
Coinbase vs. Robinhood: Fees and Prices
Trading fees are commissions you pay to a cryptocurrency exchange when buying and selling crypto on their platform. Robinhood doesn't charge any trading fees or commissions. Buying and selling crypto on the platform is entirely free. However, there's a small amount of hidden fee on Robinhood called "order flow fee," which occurs due to the fluctuating price of crypto.
On the other hand, Coinbase charges a very high transaction fee. On every trade, the platform charges 0.50% as a commission. The transaction fee is 3.99% for credit card purchases and 1.49% if you're buying directly through your debit card.
Coinbase vs. Robinhood: Security features
Insurance coverage
Both Coinbase and Robinhood provide advanced security features to protect your investment and funds. Robinhood is a registered member of the SIPC (Securities Investor Protection Corporation). The platform carries crime insurance to protect its user's assets against hacks, security breaches, or theft. It's important to note that any hack or theft due to personal mistakes or unauthorized access is not insured. For instance, if you lose your account credentials, Robinhood won't be liable to cover the damages. Robinhood only ensures assets lost due to security breaches on the platform.
Although Coinbase is not a registered member of the SIPC, it also offers similar crime insurance against hacks and cybersecurity breaches. However, there is an undisclosed insurance limit on Coinbase. So, if users lose crypto assets exceeding the insured limit, the whole amount might not be recovered. In such cases, Coinbase promises to compensate its affected users as much as possible.
The USD balances on both Coinbase and Robinhood accounts are insured by the Federal Deposit Insurance Corporation (FDIC).
Advanced account security features
Both Robinhood and Coinbase have two-factor authentication (2FA). Users need to go through the 2-step verification process every time they deposit/withdraw USD and trade crypto assets. Most of the cryptocurrencies on both platforms are held in Cold (offline) storage, protecting them against any hacks. Coinbase stores 98% of its overall customer funds in offline storage.
The Coinbase app also offers some additional security features not available on the Robinhood app. Users can activate biometric fingerprint login on the Coinbase app. Crypto wallets on Coinbase are secured using the AES-256 encryption, the most robust encryption standard available in current digital technologies.
History of hacks and data breaches
Robinhood was recently hacked in 2021. Although there were no financial losses, the hackers got access to over 7 million customer data. The hackers gained access to the company's customer support system by social engineering a customer support employee over the phone.
Coinbase was also hacked last year, as hackers stole funds from over 6,000 wallets. The hackers exploited a critical flaw in the SMS authentication system of the platform to gain access to the user accounts.
While both platforms are highly secured, Coinbase has a certain edge in securing crypto assets with its biometric access feature and AES-256 encryption on the platform. The Coinbase app offers more frequent security updates compared to Robinhood.
Unique features of Coinbase
Advanced trading dashboard
Coinbase has an advanced trading platform that allows cryptocurrency investors to make better decisions. The dashboard provides real-time crypto market information with live trading history, interactive charts, and order books. When trading on this advanced platform, you can analyze the patterns of crypto price changes and make better decisions. Experienced traders can also sign-up for a Coinbase Pro account to trade large crypto volumes and manage multiple trading portfolios.
Crypto staking rewards
Users can take their owned cryptocurrencies on the Coinbase platform and earn up to 5% interest annually. You can stake as little as $1 worth of crypto.
Instant buy
You can instantly purchase crypto on Coinbase with a credit or debit card without having to deposit any cash balances on the platform.
Commercial solutions
Coinbase offers a wide range of solutions to integrate and accept crypto payments from customers worldwide.
Payment method
Coinbase offers several payment methods for buying crypto. In addition to the traditional bank transfer and credit/debit cards, it also supports wire transfer, Google Pay, Apple Pay, and PayPal.
Multiple supported currencies
In addition to USD, Coinbase also supports GBP (British Pound) and EUR (Euro). It also supports AUD (Australian Dollar) but only for crypto purchases.
Unique features of Robinhood
Buy stocks and ETFs
With Robinhood, your investment options are never limited to cryptocurrencies. You can also invest in stocks, options, and ETFs.
Zero commission fees
Robinhood doesn't charge users any trading fees or commissions for buying and selling assets on the platform.
Easy sign-up process
Robinhood has one of the most accessible sign-up processes. You only need a U.S. Social Security Number and a legal residential address to get verified instantly.
What's wrong with Robinhood?
Here are some quips on why Robinhood is not a reliable broker for your money: its app is down when the market is up and running away.
Robinhood's failure to stay online during periods of stock market stress is akin to going into your doctor with a cold, and him somehow chopping off your leg. He can't technically cure you, but there's no way he should make it worse.
Douglas Boneparth, CCN
Points brought up by the same analyst:
We can allow the tech startup some accommodation for offering no-commission trades, which is now the norm, so they aren't unique in that regard.
Earning money by "rebates" is perfectly normal behavior for a broker, so long as they don't pretend you're not losing anything.
Robinhood is commoditizing your trading preferences, and directly selling your data but you should get something for it.
They have been criticized in the past for being misleading in their marketing, but now, they're being incompetent and getting away with it.
Conclusion
Wall Street insiders have licenses to trade overnight and during the daytime. If you can't access your trades during these recent periods of volatility, you might as well give up. It's not only nerve-wracking to lose access when the timing is crucial but to lose 24 hours is unacceptable.
Trading is a warzone, and the guy who can access his buy-and-sell options at the most critical time at trigger-fast reactions will win. A financial trading app needs to have fair prices and be there when you need it.
If you are getting into the warzone of financial markets, you are on your own, and everyone is your enemy. The significant funds trading against you want your money, and even people holding the same position will eventually want to get out at a better price than you. So, is it Coinbase who will do it for you? If you are in a position and have a sniper vision, use the crypto trading app, which has trigger action.
Disclaimer. The information provided is not trading advice. Cryptopolitan.com holds no liability for any investments made based on the information provided on this page. We strongly recommend independent research and/or consultation with a qualified professional before making any investment decision.